If you've ever thought about edible landscaping and wondered how to pursue it, this guide will save you tons of time and even wasted effort. Learn how to design your edible landscape, planning tips, plant ideas, and even more edible landscaping ideas in this foodscaping guide.
We've been gardening for a few years now, but up until the past few years, we had never really done much in the way of edible landscaping. Everything was either in our raised garden bed or in small container gardens along our driveway.
First, we started with some fruit trees including cherry, apple, and pear trees to add some color and bounty to our country landscape in our front yard. Next, it was time for some side yard ideas.
We decided it was time to make better use of some hard to mow areas, we thought we might as well brighten up our yard in the process. We figured out how to landscape a hill along our driveway and turned it into a raspberry garden.
All of these sections in the yard are now beautiful areas to look at, but now they're bountiful, too. I love having edible landscaping in our front yard and even some in our side yard.
Not only is edible landscaping visually pleasing,it's also a beautiful way to enjoy homegrown foods. With just a little bit of effort, you can easily design your edible landscape to suit your family, your food preferences, and your yard.
Keep reading for a guide to edible landscaping along with edible landscaping ideas that will bring your garden to a whole new level.
What is the meaning of edible landscaping?
While an edible landscape will include edibles such as fruits, vegetables, herbs, and even flowers – it may also include non-edible plants. Foodscaping, or edible landscaping, keeps the beauty of landscaping in mind and pairs it with your typical edible garden to create a design that is both eye-catching and bountiful.
One of the great things about an edible landscape is that you don't have to be an expert gardener to start one. As long as you're invested in taking the time to care for it, you can try growing one.
Reasons to grow an edible landscape
If you're unsure if edible landscaping is for you, here are a few reasons to start today.
Stress Relief
Gardening is a great way to de-stress. Spending time in nature can be a great way to ease anxiety and depression as well. By creating something that is both functional and beautiful, you can relax by your landscape or enjoy the act of maintaining your edible garden. Spending time outdoors also helps with getting a good night's rest and getting exercise.
Fun Exercise
Gardening is a great workout, despite the fact that it's fairly low-impact. You'll be carrying, lifting, pulling, digging, and stretching to accomplish most of the tasks. Gardening works well for those that dislike true exercise (running, going to the gym, etc) and would prefer to move through every day activities.
Family Bonding
If you're looking to detox your screen time with your family, gardening is a fun way to do it. You can water plants together, weed the landscape, plan the edible landscape design, care for the plants together, go shopping for supplies, and more. Quality time like this will give your family lasting memories for years to come while you work towards a common goal.
If you're trying to help your younger children enjoy gardening as well, you might want to consider these gardening books for kids.
Save Money
Edible landscaping is also a great way to live more frugally. While it does take some money to start, you can easily save money in the long-run. You can also start small (which will cost less) and build on to it as you have more time and money available.
Know What You're Eating
By growing edible garden plants, you'll know exactly what is in and on your food. Skip the produce covered in pesticides, herbicides, and other unwanted things by growing your own high-quality food.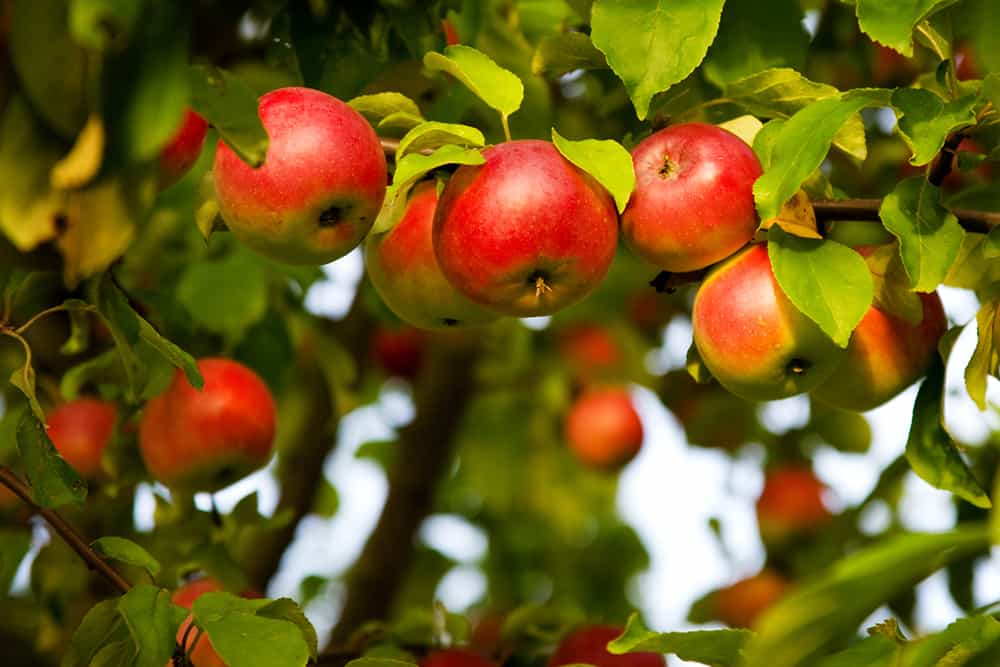 Things to Consider Before Pursuing Edible Landscaping
So you've read the pros and you're have all kind of edible landscaping ideas swirling around in your head. Now you need to decide if you can easily pursue edible landscaping. When you're trying to decide if edible landscaping is right for you and your yard, there are a few things to keep in mind.
The first one is the climate that you live in. It's important to pay attention to what works best in the area you live. Look at the zone you live in and only buy plants that thrive in that zone. Local garden centers can offer great advice for what will grow where you live. They can usually offer tips and tricks on soil adjustments, spacing, planting combinations, and more.
Second is space available to landscape. Foodscaping does not require a tremendous amount of space. You can easily create your edible landscape in a small yard, although larger yards will give you more opportunity to work with a variety of plants and designs. Even if the ideal landscaped area includes rocks, shade, grass, open space, or trees – you can create an edible landscape that is perfectly matched to the area you have available. You just may have to get a little creative with what or how you plant!
You might also want to check out these edible landscaping books for more edible landscaping ideas before you begin!
Fruits and Vegetables to Grow in Your Edible Landscape
Fruits and vegetables are some of the easiest edible garden plants to add to your edible landscape, especially if you're looking for a pop of color. They'll serve both purposes – beauty and function – and can be easy to grow, even for beginner gardeners. Landscaping with fruits and vegetables will prove to be some of your best options when it comes to saving money by growing your own food as well.
Fruits
Fruit trees are a great way to add more than ground cover to your edible landscape design. It's also one of the more bountiful edible landscape ideas.
Depending on your geographical area, there are a variety of trees to consider when landscaping with fruit. Apple trees are some of the most popular and one of the most versatile when it comes to consuming the harvest. Cherry trees, peach trees, and pear trees are also great ways to add color with your trees. For a more savory option, consider planting an olive tree.
Edible landscaping with fruit trees is not the only way to yield a delicious fruit harvest. Landscaping with edible garden shrubs like berries (discussed more in depth below) is also a fantastic way to add more height to your edible landscape.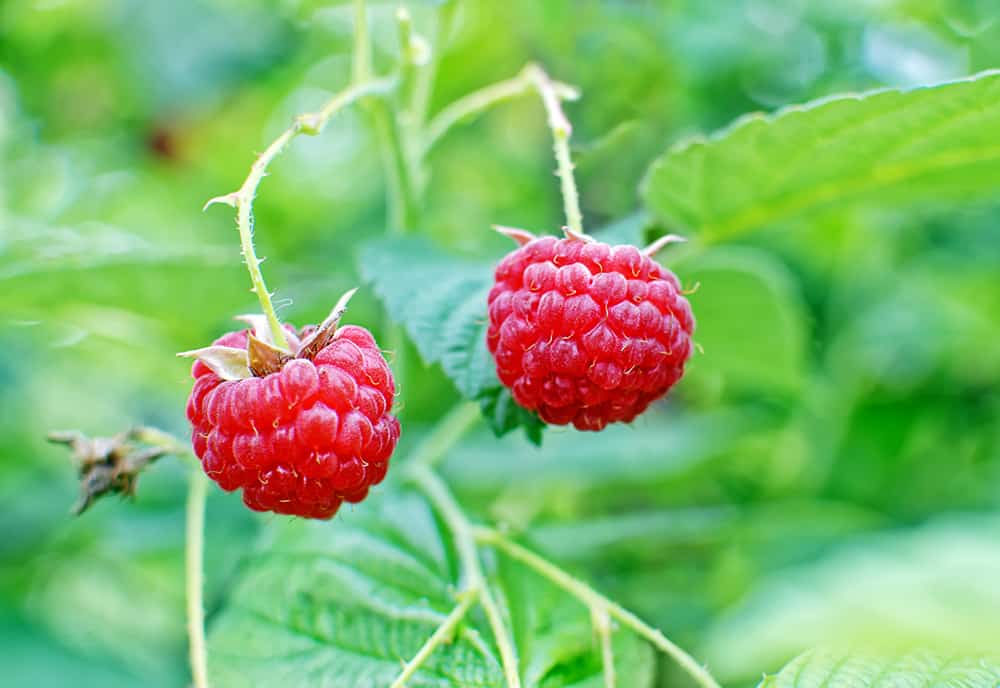 Berry bushes
If you're trying to decide which edible berry bushes you want to use in your design, here are a few edible landscape ideas.
Raspberry Bushes
Raspberries are one of the most popular edible garden shrubs and for good reason. Along with the pretty pops of red, they're packed with:
Fiber
Magnesium
Manganese
Vitamin B6
Vitamin C
Not only are raspberries filled with nutrients, they're perfect for baking and weeknight meals. Muffins, breads, sauces, smoothie bowls, tea, and more can be enhanced with this beautiful berry.
Blueberry Bushes
If you're looking for antioxidant packed berries as an edible garden shrub, consider blueberries. These edible landscaping berries are also a great source of flavonoids. These blueberry muffins are a delicious way to use them, but they also make a great addition to smoothies or smoothie bowls, desserts, sauces, and more. You can also make frozen dog treats.
Blueberries freeze really well so if you're looking for edible landscaping berries to plant in excess, these are it.
Strawberry Plants
Although not your typical edible berry bushes, strawberry plants are a great option for edible landscaping. One of the reasons is that they are super versatile when it comes to how you can plant them. From garden beds to vertical gardens and containers and hanging baskets, you can almost always find a spot that's perfect for strawberries.
Strawberries are loaded with Vitamin C and are great for snacking, appetizers, desserts, sauces, smoothies, breakfast dishes, and more. You can also make a super easy DIY face mask.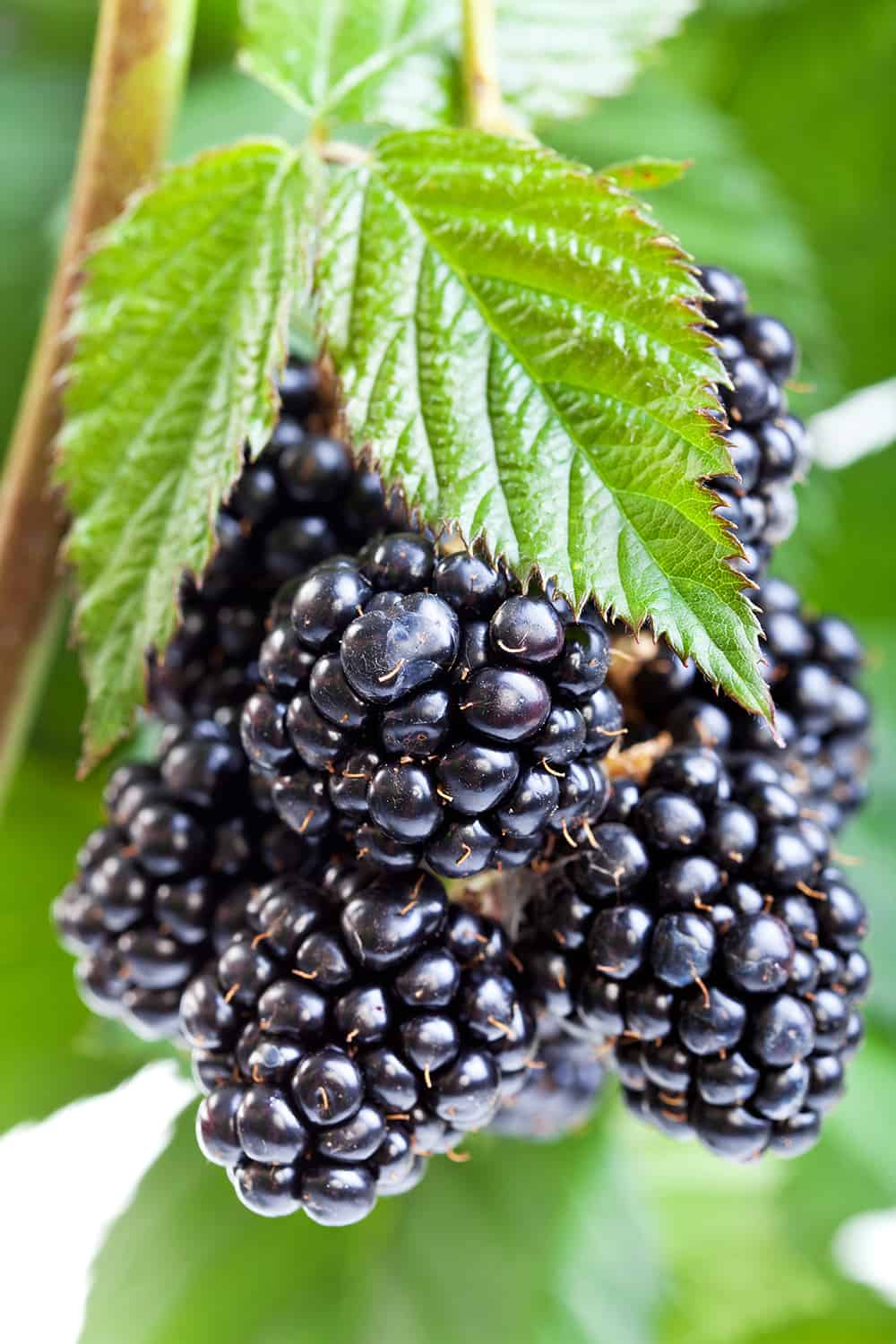 Blackberry Bushes
Blackberry bushes are fairly easy to grow and are packed with antioxidants and vitamins. Blackberries are great in smoothies, sauces, jams, jellies, salads, trifles, and more.
Gooseberry Bushes
If you're looking for some more unique edible landscaping ideas, gooseberries are something you should definitely consider planting! These less common berries contain antioxidants, vitamins, and minerals that can aid in combating aging, inflammation, cancer, and neurological diseases.
Gooseberries are tart, making them good for desserts or cooked sauces. They also make delicious pies and crumbles.
Vegetables
Vegetables should also be plentiful when it comes to your edible landscaping ideas. There are SO many to choose from that will bring bright bursts of color into your edible landscaping.
Tomatoes are a versatile option for vegetables in your edible landscape. They can be eaten plain or used in sauces, soups, on sandwiches, condiments, casseroles, and more. Paired with peppers and you can make delicious salsa with your harvest. Zucchini is another versatile vegetable that can work in a variety of recipes.
Lettuce and Swiss chard are a great option for ground coverage with varying shades of green and different textures. Eggplant is a delicious fiber-filled vegetable that can add a beautiful purple hue to your landscaping and it can work well for bordering your edible landscape design.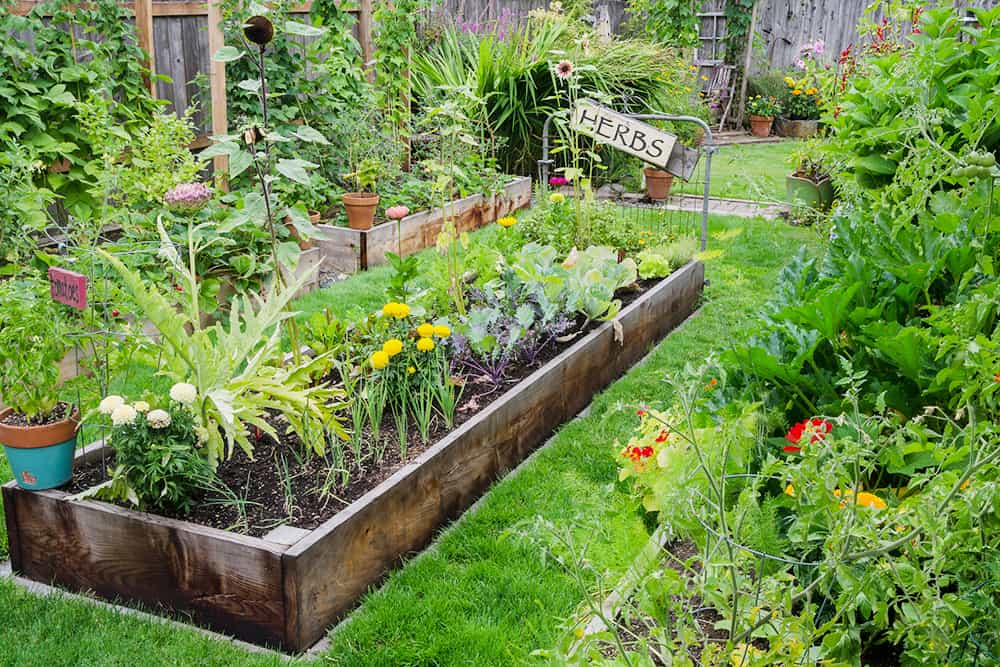 Herbs to grow in your edible landscape
Herbs a wonderful addition to your edible landscape because of their versatility. You can use herbs to cook with, make bath teas from herbs, plant herbs that repel mosquitoes, create delicious drinks with herbs, and more.
When you're considering herb focused edible landscaping ideas, think about the herbs that you most enjoy using in your cooking or herbs that have a pleasant scent to you. If you feel as if your knowledge of how herbs taste is a little lacking, head to the store to grab a few herbs to try before you grow your own.
Also, think about the types of dishes you regularly cook. Or what types of dishes you would regularly cook with the fruit and vegetables you plan to grow with the rest of your edible garden plants.
Do you love to cook sweet and savory dishes? Mint is a great option for both.
Are you a big fan of chicken? Dill, thyme, sage, and rosemary are excellent herbs to use.
Have salads and potato side dishes become staples in your home? Consider growing chives.
Big fan of pizza night? Basil and oregano are must-haves for homemade pizza.
Do you like to make your own tea? Lemongrass is a delicious addition to a lot of tea blends.
Are you always indulging in taco Tuesday? Consider planting cilantro, parsley, or Mexican oregano.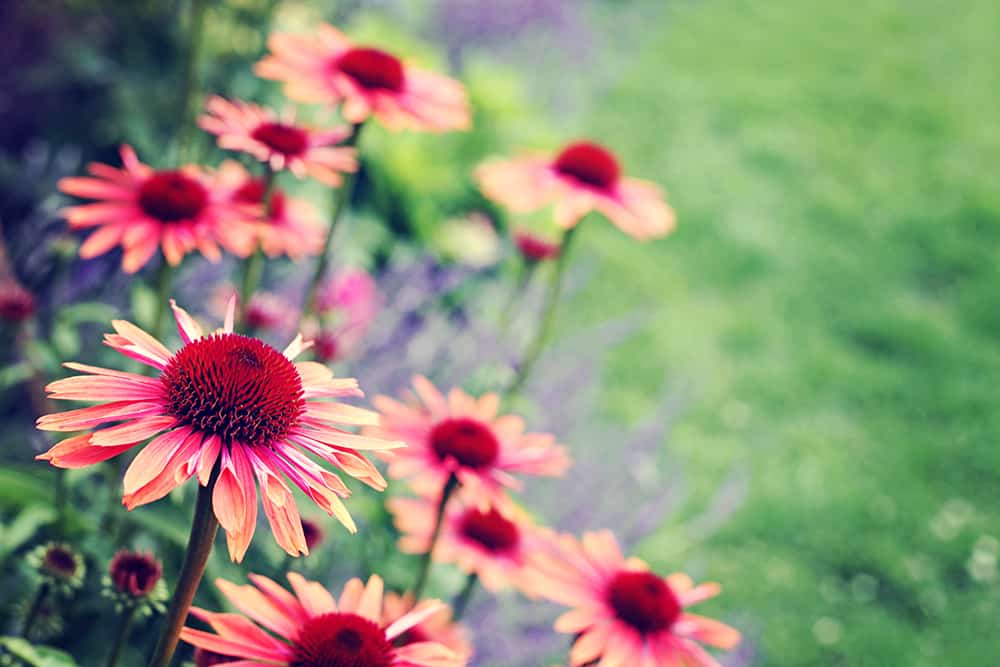 Depending on the herb, it can change where they will best grow. Some herbs will work as a fantastic way to cover a large area of ground. Others, like lemon balm and basil, work to help naturally repel bugs and could be planted strategically to help make gathering areas in your yard more enjoyable.
If there are herbs you enjoy, but don't want a large amount of, you could consider planting them in an indoor herb garden instead.
Or if you worry that you might end up with too many herbs, preserve them! Learn how to dry herbs or even how to freeze herbs so you never run out of fresh herbs.
Edible flowers to grow in your edible landscape
If you're looking for plants that are dual purpose in your edible landscape, edible flowers are a great addition. Not only will they add beauty, but they'll also be functional.
What are edible flowers?
Edible flowers are exactly like what they sound like – flowers that you can eat. If you're unsure of what flowers are edible, keep reading for some ideas. This is not an all-inclusive list, but it will give you a good place to start for ideas for edible flowers to grow in your edible landscape.
Calendula
Chamomile
Chives
Daisy
Lilac
Pansy
Sunflowers
Using edible flowers is a great way to add color to your edible landscape design. It's a unique edible landscape idea as well as many people are unaware of the types of flowers that can be consumed or that flowers can be eaten at all.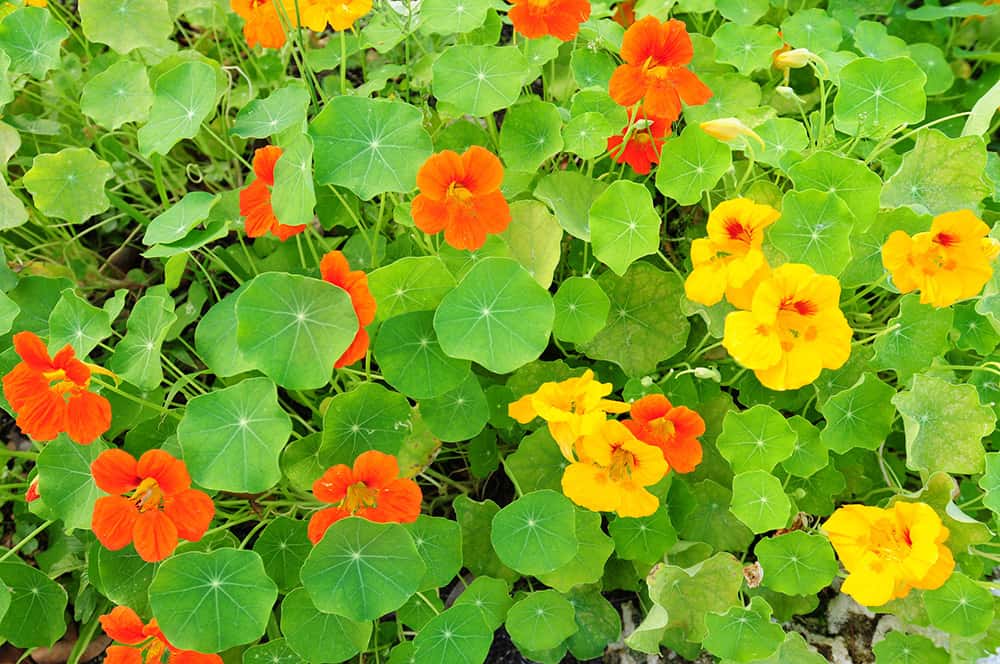 What are the ways to use edible flowers?
You've probably seen edible flowers for cakes, but did you know that you can use edible flowers for salads? Or garnish? There are so many uses for edible flowers that they should be more of a staple of every kitchen. You can use edible flowers for all kinds of things including:
Frying
Tea
Cocktails
Floral ice cubes
Popsicles
Ice Cream
Lollipops
Donuts
Jams and jellies
Marinades and sauces
And if you're wondering can you plant flowers with herbs, the answer is most definitely yes! Just pay attention to any specific details of the other plants (height, water needs, size when fully matured, etc) so the flowers aren't overcrowded.
Planning Your Edible Landscape Design
Now you've decided edible landscaping is right for you, you have a rough idea of what you want to grow, and you're ready to plan! Deciding on an edible landscape design can be a decent amount of work, but these tips will help make it easier. Using a garden planner can make it even easier!
If you want to plant your garden from start to finish (edible or otherwise), check out this garden planner. It has everything you need to track, plan, design, and manage your garden tasks!
Collect Ideas
My starting point for deciding all of the edible garden plants for an edible landscape is to collect ideas of anything you want. Doesn't matter if it goes together or even if it's logical to put them together. Collect everything so you can eventually pair it down to what you want and what will work for your area. Pinterest is a great source of inspiration, but magazines can be useful, too.
Landscaping:Collect anything that catches your eye whether it's non-edible landscaping or edible landscaping. Think about things like:
Do you like the design or shape?
Do you like the materials used?
What are your favorite colors?
What types of plants feel pleasing or relaxing to look at?
Edibles: Edibles have a bit more to consider when it comes to landscaping. Think of how big plants get and how much they may crowd other plants. Spacing is a big factor here. Also, some plants are very weed like and can easily consume a garden.
To figure out the types of plants of really want to harvest, ask yourself what you'd like to eat from your garden. Flowers? Herbs? Fruits? Vegetables? Write it all down. And think about how you'll use edible landscaping.
Will you use fresh herbs in cooking?
Do you want to make fresh pies from your berry shrubs?
Would you like to use edible flowers for cakes?
Are you hoping to preserve vegetables for winter?
From here, start a master wish list (also featured in this garden planner) for all of your ideas. This will be your master list to plan from and what you'll use if you choose to meet with your local garden center.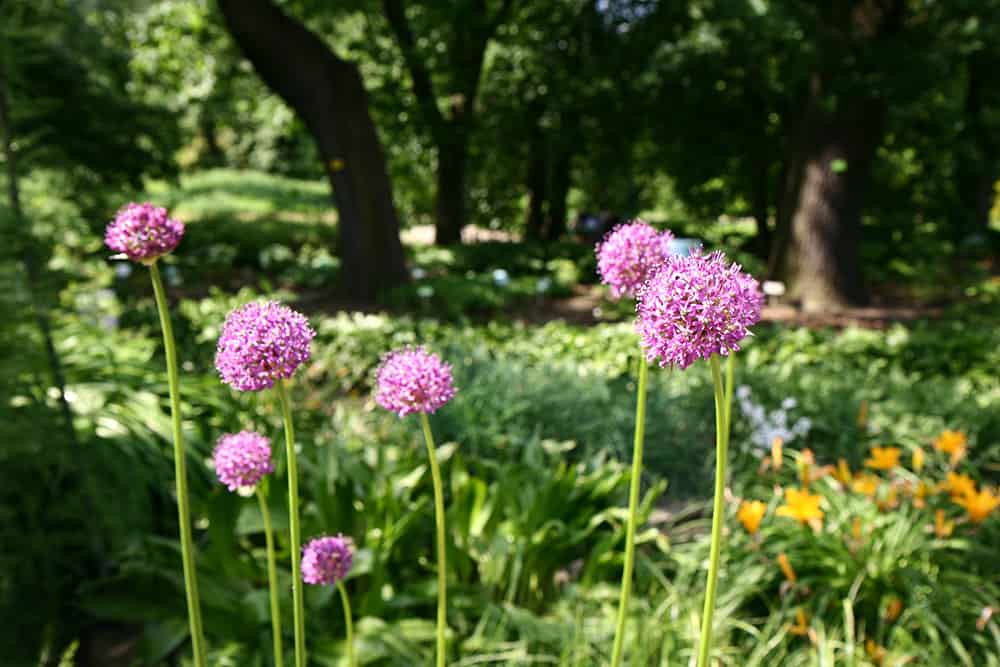 Prune Your List
If you collected anything and everything that caught your eye for edible landscaping, your wish list might be a little lengthy. Now might be the time to prune your list.
If you're starting small, stick to the most important plants that will yield you the highest rewards. This can be visually or the harvest you receive.
If you have a larger area that you're trying to landscape with edible plants, think about designating sections for certain looks. This could be types of plants, colors of plants, or even plant requirements like full sun or partial shade.
If you're unsure of what should be trimmed off the list, skip the pruning and head straight to the local garden center to see what you'd have the most success with.
Consult an Expert
So you compiled all of your ideas into a master wish list – now what? Now is time to meet with a local garden center or landscaping professional. You may have a great list of fruits and vegetables and flowers that you would love to plant, but it doesn't mean that they're perfect for you.
Even if they do grow well in your zone, your yard may not be the perfect home for certain trees or plants. You also may not be able to easily grow certain plants you want to grow together.
Save yourself the time, money, and frustration by meeting with an expert to ensure your edible landscape will thrive before you start designing. If you're unfamiliar with your area, just head over to Google and type in:
Landscaping near me
Gardening near me
Garden center near me
And you should be able to find someone nearby! If that doesn't yield results that you're happy with, you can reach out to your local hardware store and they may be able to recommend someone.
Create Your Edible Landscape Design
Wish list? Check. Research? Check. Now it's time to put everything together to create your edible landscape design.
A good first step is to get the exact dimensions of the area you want your garden to be in. Then, using grid paperor even plain paper, sketch out a simple outline of the area. Then start marking where all of your plants will be.
I know this seems like a lot of steps, but we've had our share of garden fails thanks to lack of planning out what we wanted. Just a little bit of planning can go a long way to truly enjoying your edible landscape.
Planting Your Edible Landscape
When you start the process of bringing your edible landscaping ideas to fruition, always start with the design that you had planned out earlier. It will serve as a guide to help you create the perfect landscape and can help motivate you to keep going even when the work gets a little tough.
Although you may have come up with the perfect edible landscape ideas on paper, keep in mind that your plan may need to change as you begin. You may find that the soil is different than anticipated or the look that you had designed on paper doesn't look as ideal as you bring it to life. If something ends up not working out the way it was initially sketched out, step back and reassess what can be done to make it your ideal landscape design now that you're actually working on it.
You might want to test your soil as well. This will help you get healthier blooms and ensure that your soil is right for the edible plants that you intend to plant in your landscape.
If you're designing and planning before you can plant, you can always start seeds indoors for certain plants!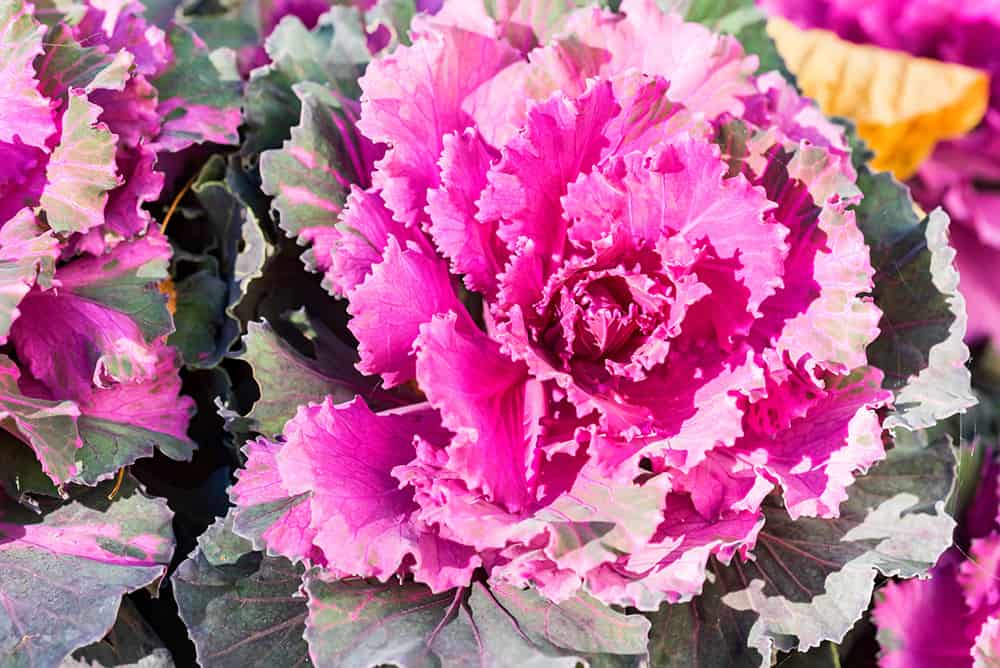 Maintaining your edible landscape
After all of your edible landscaping ideas are put into place and your edible garden is planted, now it's time to maintain it's beauty.
Regular Maintenance
To help ensure your edible landscape remains stunning to look at and yields bountiful harvest, maintaining a routine to care for it is key. Find a way to manage your weekly or monthly garden tasksand keep it as a high priority.
If you're unable to care for it on your own, enlist some help from your family or friends. As discussed before, gardening with your family can have benefits that stem well beyond maintaining your gaden. But if you don't have family members able or willing to help, a friend is another great option. You may be able to barter some of your harvest from your edible landscape in exchange for their assistance.
Diseases and Pests
You also need to stay on top of diseases and pests. With the close proximity of plants within an edible landscape, minor diseases or pests can spread rather quickly and can affect the entire garden before you know it.
If you're unfamiliar with the issue your edible landscape is suffering from, head back to your local garden center to get some ideas. They should be familiar with common problems in the area as well as common issues that specific plants suffer from.
Pay Attention to Each Plant's Needs
Each plant has different needs in terms of harvest and maintenance. Research how they need to be trimmed, the best way to yield the biggest harvest, etc. Some plants will also need more water or different nutrients so it's important to treat each plant separately despite the fact that they will all be in the same landscaped area.
Safety Precautions With Edible Landscaping
Pay Attention to Allergies and Health Issues
Those with seasonal allergies may react strongly to edible flowers being planted in the garden. If this is a concern, you may wish to skip planting flowers entirely or be sure to remove pollen from the flowers before bringing them indoors.
Know What is Edible
If you're mixing non-edible plants with your edible landscaping, mark everything that's planted. (This can be a good idea even if everything is edible so you remember what everything is.) This is especially important if you're trying new herbs or flowers. No one wants to accidentally ruin a recipe because you added the wrong ingredient!
I would recommend a book on edible plants to ensure you're safely consuming your harvest. This will also help you better care for your plants.
Avoid Harmful Chemicals
One of the benefits of edible landscaping is that you know exactly what is going on your food. When possible, use a natural pesticideon your plants so you can naturally keep pests away.
You also may wish to use a natural fertilizer that's made with seaweed or cocoa mulch to keep the nutrition levels in your soil high.
And after all of that, it's time to celebrate! You researched, gathered edible landscape ideas, planned, planted, and maintained your garden. Now you get to enjoy the harvest and bring delicious new foods to your table.
Edible landscaping can require a bit of effort up front, but the rewards that you get to reap in the end make the hard work worth it. Your tastebuds will be delighted with the fresh flavors you bring into your home from your yard and you'll be able to appreciate the beauty of your yard all summer long.
Want to remember these edible landscaping ideas? Pin it to your favorite gardening Pinterest board!