Rid your garden of unwanted pests in a natural way with this easy to make Herb and Essential Oil Pesticide DIY so you can enjoy your fresh veggies!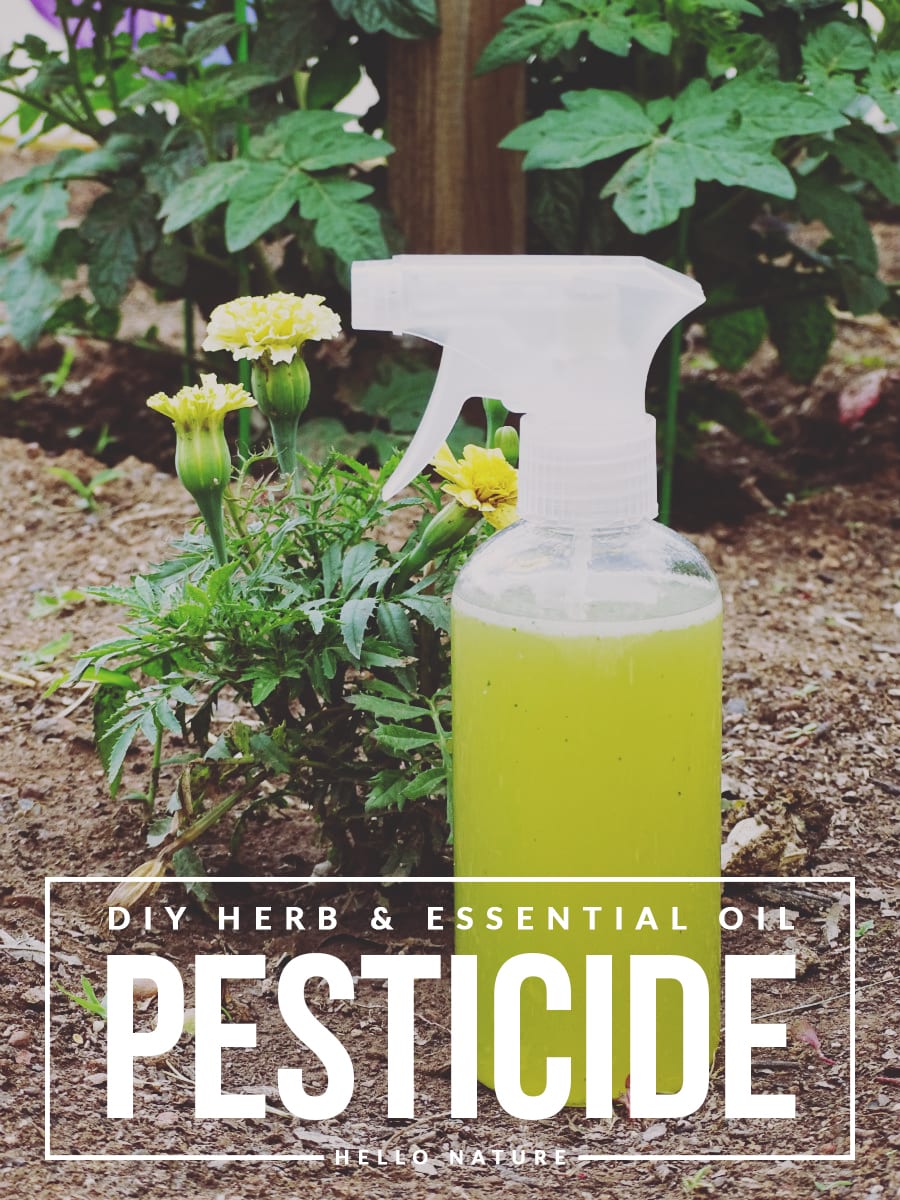 As much as I truly love spending time out back in my garden, there's one thing I absolutely hate – bugs! Nothing makes my skin crawl more than encountering one of these creepy-crawly critters while I'm just trying to enjoy the sunshine and do a little gardening. I've gotten a little better about digging up an earthworm or finding a spider nearby, but I'm still not thrilled with their presence.
I know that the great outdoors is their home and I respect that and leave them alone. However, when there are pests using our vegetable garden as their daily salad buffet, I need to swing into action to protect our plants.
A few years ago, we decided to grow spinach and kale. I absolutely loved the idea of going to the garden to make spinach salads and kale chips from our fresh greens. That was until I discovered that something else was enjoying them first! After finding out that our spinach and kale were being greatly enjoyed by cabbage worms (yuck!), I did some research and learned that I could make my own natural pesticide using herbs from my garden.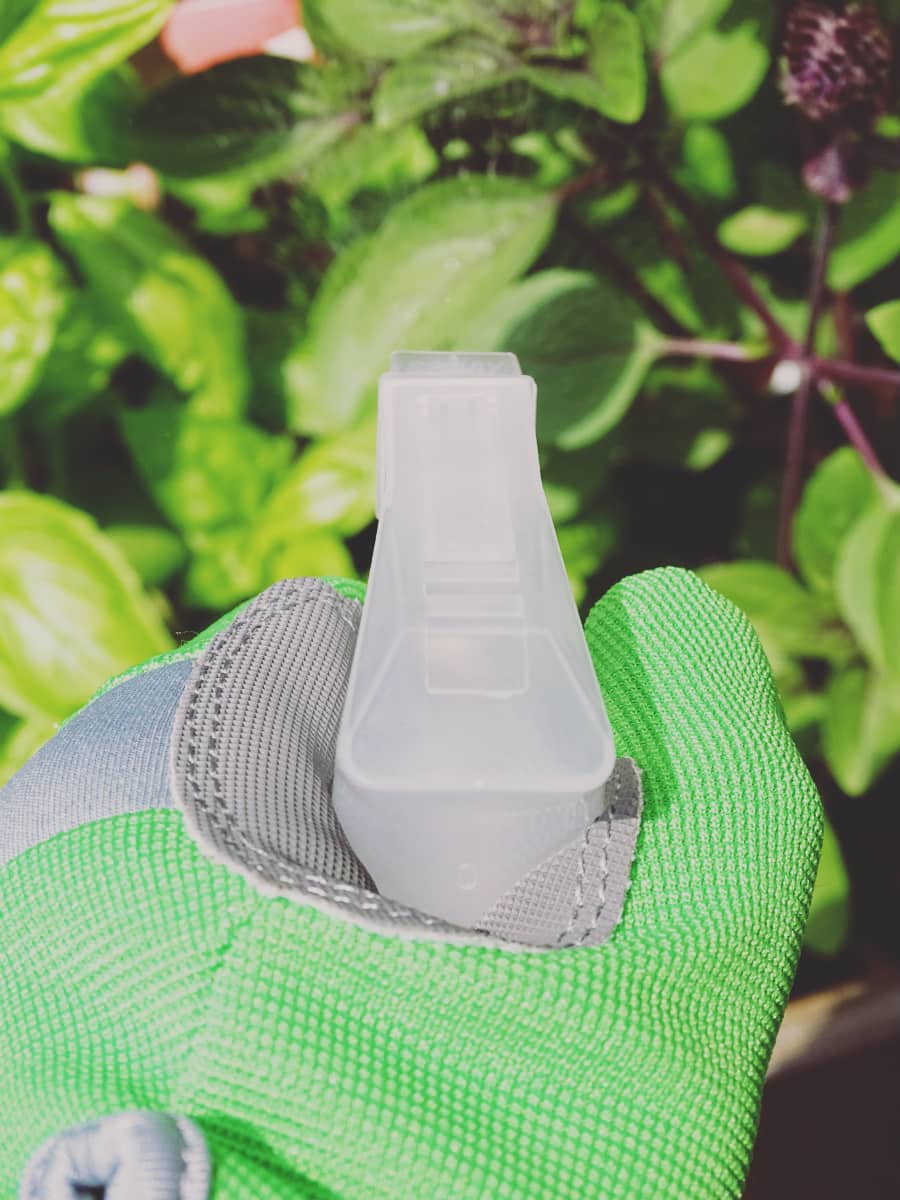 So today I'm going to share an easy way you can protect your Summer garden from pests by making a chemical-free pesticide that's safe for your plants and your family! Along with our garden herbs, my collection of essential oils I've been using for candles and DIY beauty projects will come in quite handy to use in natural, homemade pesticide, as well!
You probably already know that citronella naturally repels mosquitoes, but I've read that it's also good for repelling fruit flies. Lavender is also a great pest deterrent. It's known to keep away flies, mosquitoes, moths, and more. If these essential oils aren't available to you, plant a lemongrass plant and a lavender plant in individual containers. The herbs are supposed to work just as well as the oils, which is why I used fresh mint for this pesticide.
Mint is a plant that you just can't kill. I didn't use much of my mint plant last year and tried to dig it out of its container this year before Spring really took off. Well, the mint came back in full force, so I decided to take advantage of it! Turns out, it'll keep aphids, gnats, beetles, and many other pests away!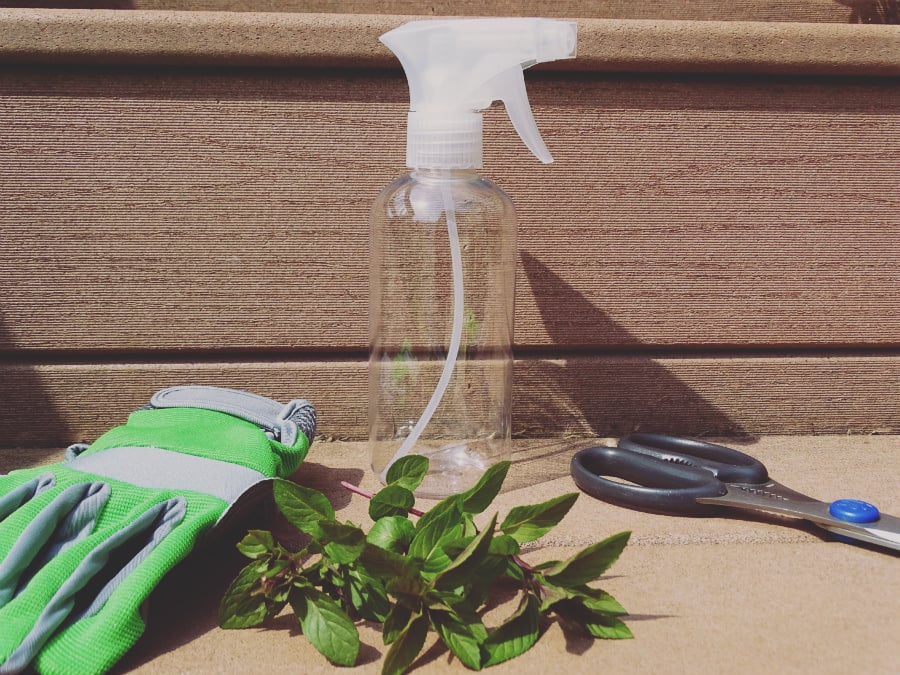 Herb and Essential Oil Pesticide Supplies
Herb and Essential Oil Pesticide Steps
Add 1/2 cup water, garlic cloves, and mint to a blender. Pulse until completely combined and liquefied.
Unscrew spray top from bottle. Insert plastic funnel and strain blended liquid into the spray bottle, pressing out liquid from the garlic and mint pulp.
Add lavender essential oil and citronella essential oil to the bottle.
Screw spray top back onto the bottle and give it a good shake.
Label your bottle, if desired, and spray directly onto plants.
Store pesticide in a cool, dark place. Shake bottle again before using.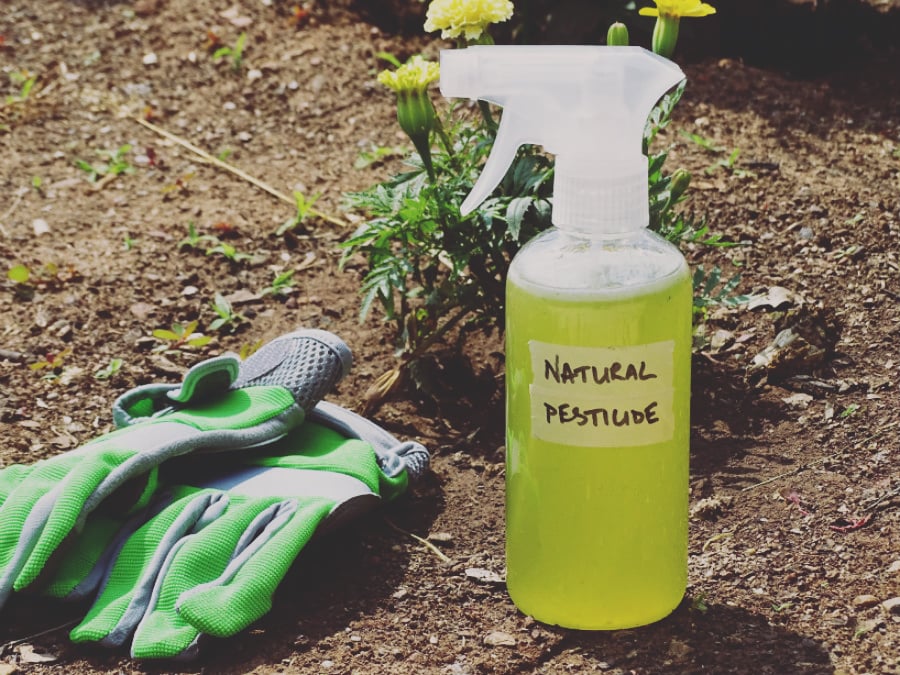 Even though this pesticide is completely natural, always rinse edible plants before consuming. It might be a good concoction to keep the pests away, but you probably wouldn't want to eat it either!
LET'S CHAT!
Do you have any tips or tricks for keeping pests away from your garden?
You might also like: