When I think of gateway games for our family, two come to mind. While Wingspan was mine, Catan Junior was the family one that pushed us to really pursue family gaming.
Catan Junior is a fantastic introduction to strategy games and is family focused with child-oriented building and trading skills.
Keep reading to see our Catan Junior game review. Be sure to scroll all the way to the bottom of the post to see our rating system as to why we gave it a 4.5!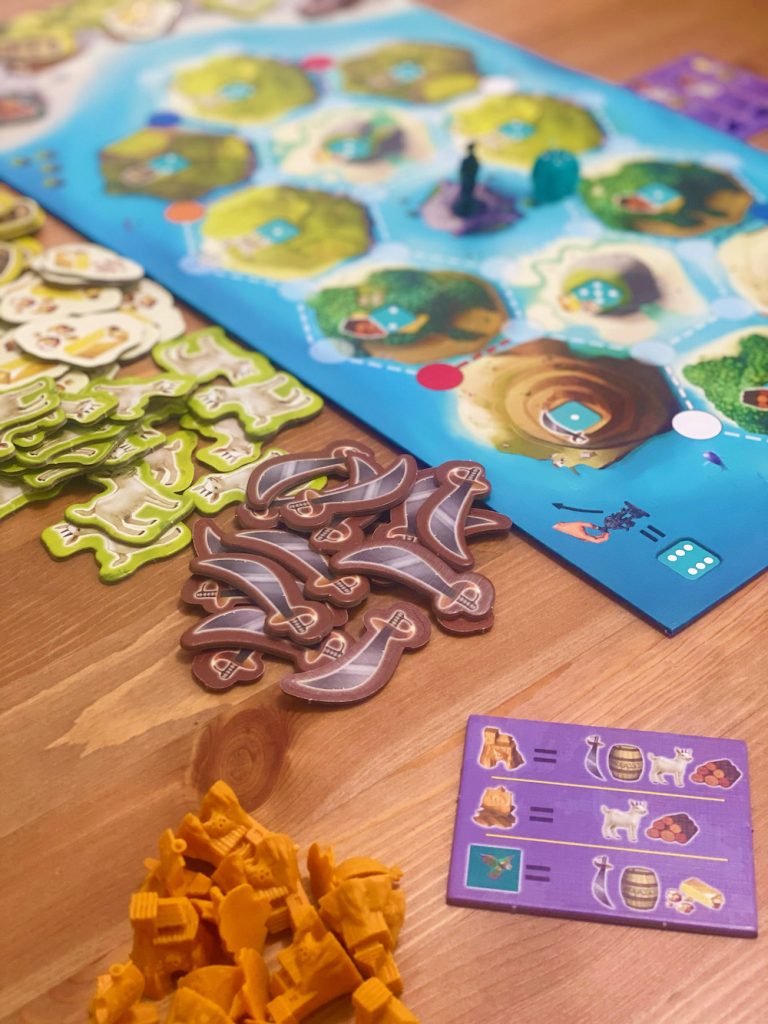 Catan Junior Game Instructions
The Catan Junior game instructions are easy to follow and allow for you to learn how to play in approximately 15 minutes. Not only do they have very specific written instructions, it also includes photos if you're more of a visual person.
Everything is explained in great detail and it allows for easy reading as you play through the game when you're unsure about something.
2-4 Players and Ages 6+
Ages
Catan Junior recommends this game for those that are 6+.
Lily started playing around 4.5 and loved it immediately. Since no reading it required to play, I think the determining factor on age is attention span and how willing a child is to follow even a small strategy. Her strategy has always been to buy as many Coco tiles as possible and she's won numerous times.
If you child can sit through a game for about 30 minutes and the resource exchange or trading, this game should work for them.
Players
We've played with 2 and 3 players and have had a blast every time. The game play isn't significantly affected either way. That being said, the more players, the harder it can be to place lairs or ships as they start to follow the same course.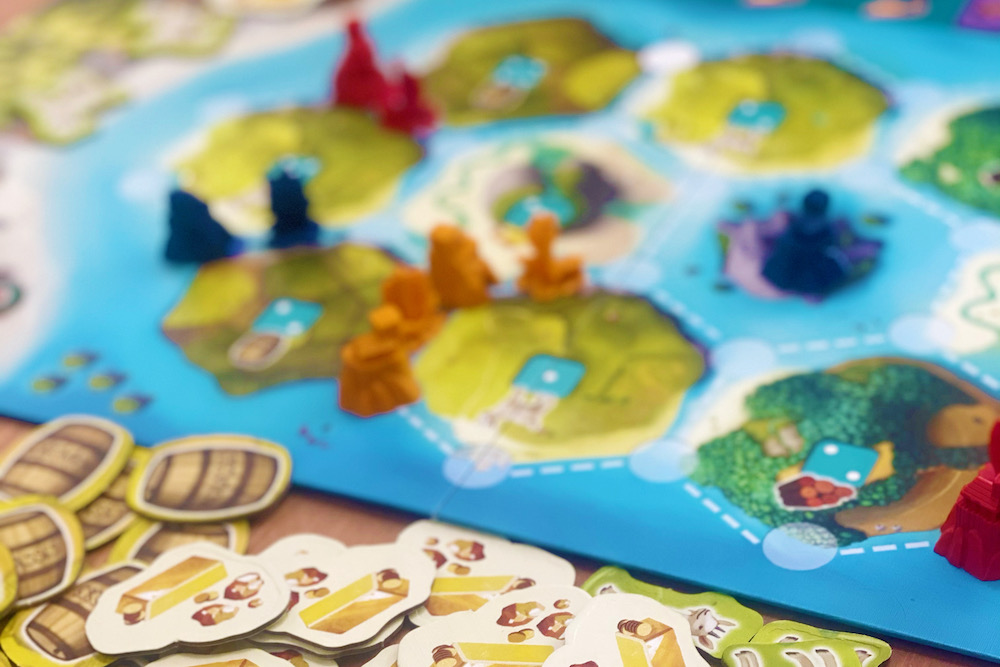 Catan Junior Game Setup
Catan Junior is fairly easy to set up. Place the board down on the appropriate side (2 player versus 3/4 platers) and sort the resources (cutlasses, goats, wood, gold, and molasses.) Place these resources by the board and add one of each to the market. Place the Coco tiles near the board as well.
Place the Ghost Captain on Spooky island and place 2 lairs and 2 ships of your color in the appropriate spots on the board. (The board and the instructions show you where.) Everyone gets one wood and one molasses and then you're ready to start playing!
One of the great things about the setup of Catan Junior is that Lily is able to help. She's prone to getting bored even before we play a game if she's not involved so that's a big plus for us.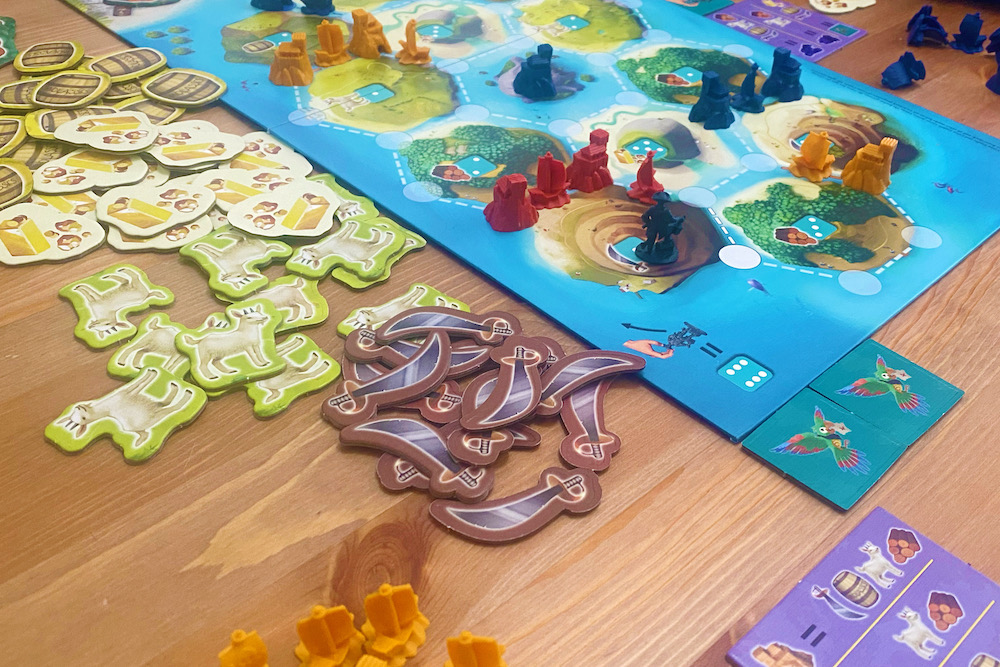 Catan Junior Game Time
Catan Junior generally takes us about 30-45 minutes to play. We've had some quick games and some really long games. This is somewhat dependent on the dice roll and what Coco tiles we draw in the beginning.
Sale
CATAN Junior Board Game | Civilization Building Strategy Game | Adventure Game | Fun Family Game for Kids and Adults | Ages 6+ | 2-4 Players | Average Playtime 30 Minutes | Made by CATAN Studio
A CATAN ADVENTURE FOR FLEDGLING SWASHBUCKLERS! CATAN Junior lets younger players experience the world of CATAN by introducing a simpler playing style. Designed for players as young as 6, it's the perfect introduction to the CATAN series of games for kids and families.
ADVENTURE GAME: CATAN Junior takes place on a ring of tropical isles—including the mysterious Spooky Island, home of the Ghost Captain. Each island generates a specific resource - wood, goats, molasses, or cutlasses. You can also find gold. Just watch out for the dreaded Ghost Captain!
STRATEGY BOARD GAME FOR KIDS: Start with 2 pirate lairs and build ships in order to expand your network. The more lairs you build, the more resources you may receive. Use your resources to build ships, lairs, or to get help from the wise Coco the Parrot. You can even trade in the nearby market. The first player to control 7 pirate lairs wins!
FUN FAMILY GAMES FOR GAME NIGHT: CATAN Junior is not just a game for kids but a genuine family game to be enjoyed by adults and young children alike. An international favorite, CATAN has been called the "Perfect Social Game". Check out our entire collection of CATAN board games for adults and kids to enjoy on family game night. Enjoy hours of fast-paced, interactive fun!
NUMBER OF PLAYERS AND AVERAGE PLAYTIME: This fun family game is designed for 2 to 4 players and is suitable for ages 6 and older. Average playtime is approximately 30 minutes.
Skills Taught by Catan Junior
Catan Junior is a great introduction to strategy and teaches some tactical skills at the same time.
The option to trade with others (not just the market or stockpile) makes room for helping others succeed even when you're being strategic. When it comes to family games, I appreciate when games show that you can help others while helping yourself and Catan Junior can do a fantastic job at that.
Catan Junior Replayability
On average, I find Catan Junior lands on our table every couple of weeks. There's a couple reasons for that:
This is a pretty low-conflict game. The Ghost Captain is the "bad guy" of the game and when it's utilized, it's not really a "take that" move.
Catan Junior is a fairly quick game that requires little setup.
It's easy for Lily to understand and play without feeling too much pressure or tension.
There's some luck involved with winning which makes it easier when Lily loses. While she's generally not a sore loser, it happens from time to time, but the idea of luck (and that there was nothing she could have done better) helps soften the blow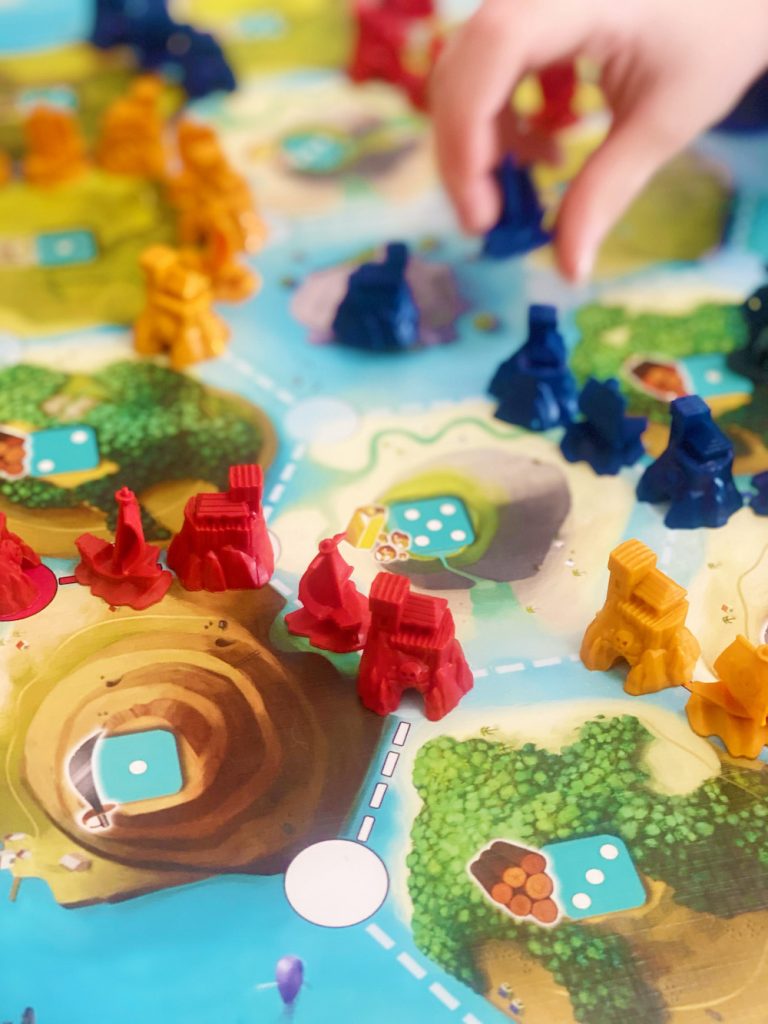 Overall Thoughts on the Catan Junior Game
Catan Junior is an awesome introductory board game for kids and families. It's quick, easy to understand, and great for non-readers. The low-conflict setup allows for simple strategic and tactical game play. A must-have for families that are looking to ease their way into heavier games.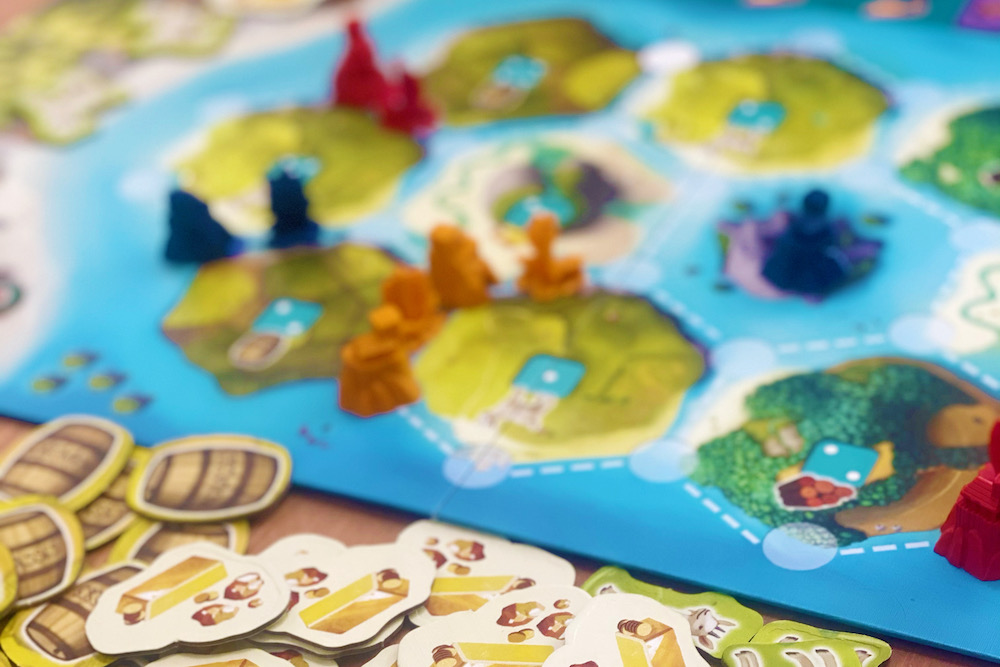 Conclusion
A must-have for families, especially ones with non-readers, that are looking to ease their way into heavier games.
Positives
Easy setup
Easy to play
No reading required
Simple strategy game