Backyard bird watching is fun for the whole family. Make it even more enjoyable by making homemade bird food for your backyard birds! You can even make homemade bird feeders to go with your homemade bird seed mix.
I love feeding the birds in our backyard. During the winter, I love knowing that we can provide them a source of food and the pops of color against the wintry white backdrop is beautiful.
But feeding them during springtime and early summer is even better. Because a lot of our birds migrate for the winter, we don't see as much variation during the colder months. When spring returns though, the bright primary colored birds return. I could probably spend hours staring outside, waiting for them to show up.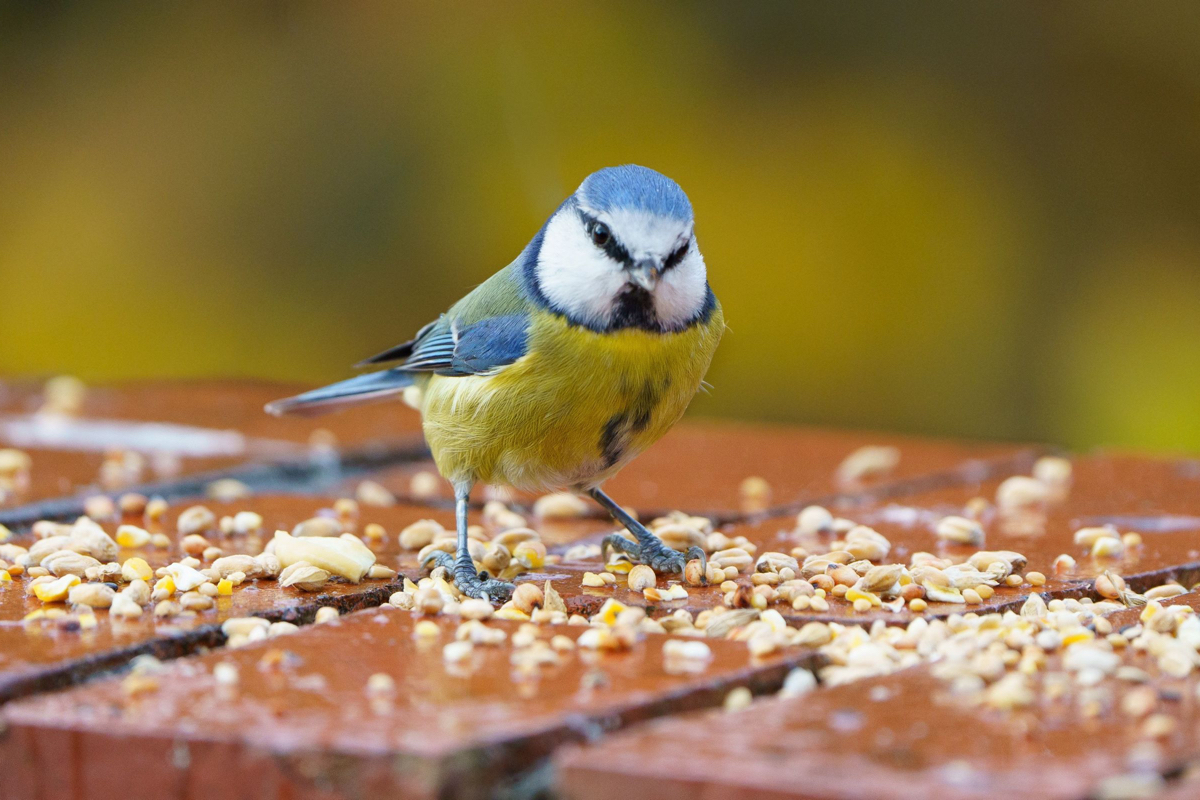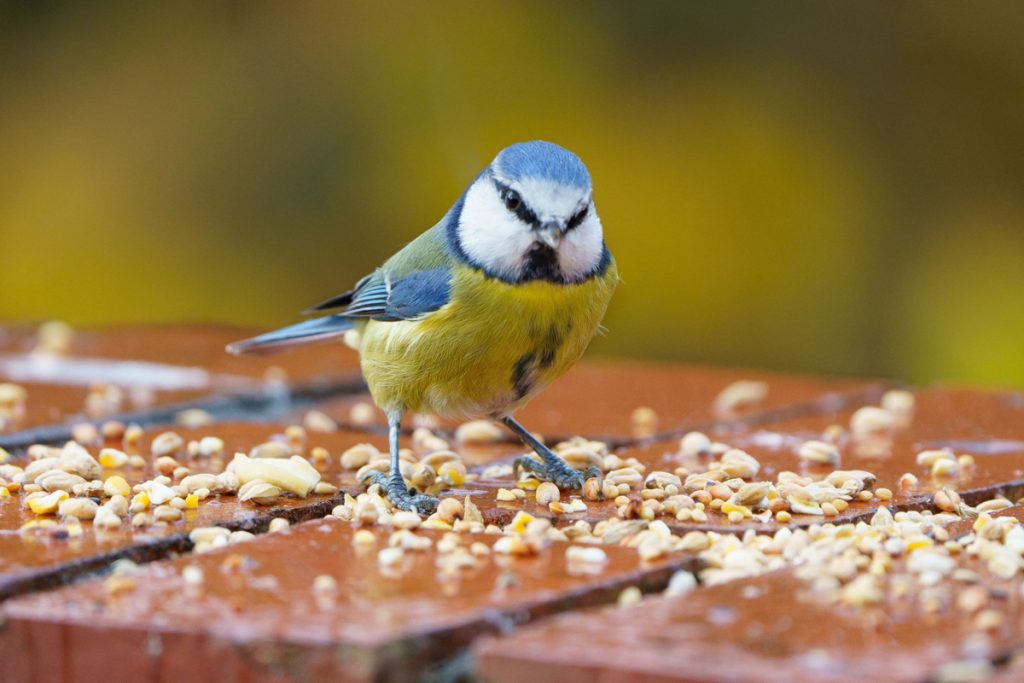 While bird seed can be somewhat inexpensive if you wait around for the right deal, I've actually found it's cheaper to make your own homemade bird food. Not only is it less expensive, but you can also customize it to the types of birds you want to attract.
If you're wanting to make your own homemade bird food, there's a good chance you already have everything you need (and even a simple bird feeder!) Keep reading to see how easy diy bird food is.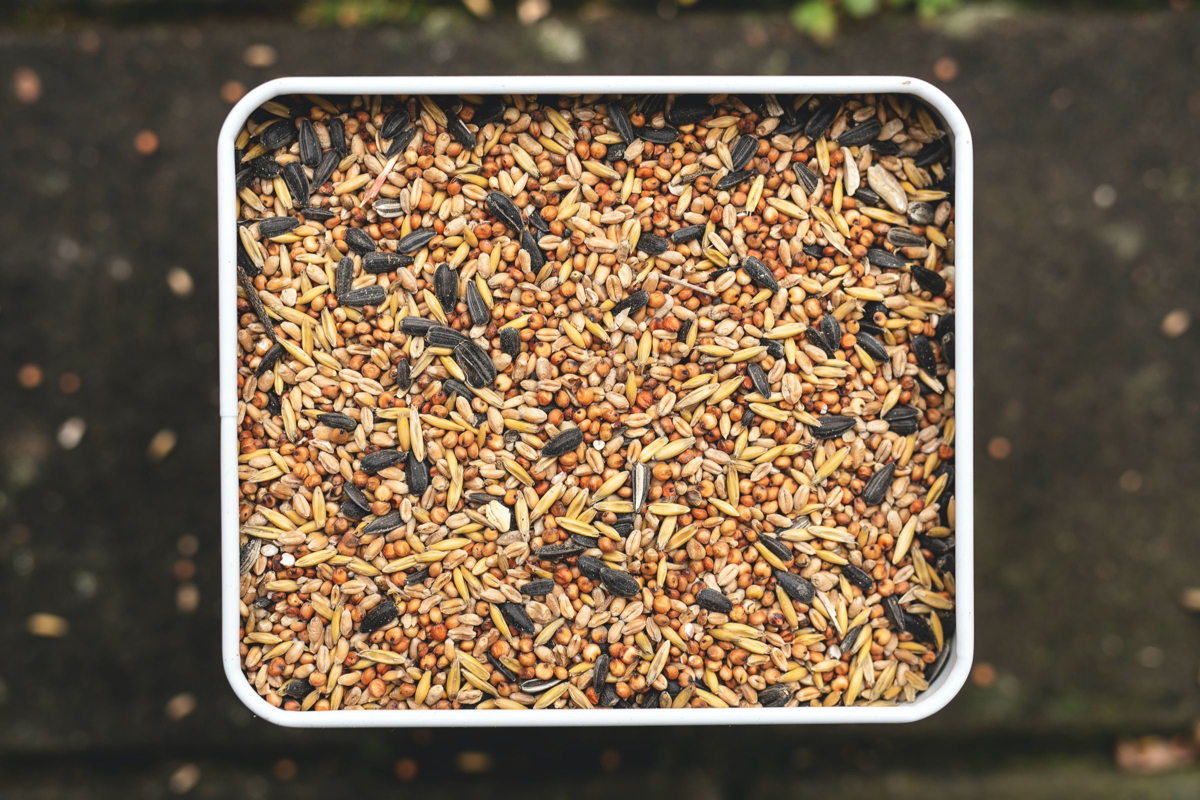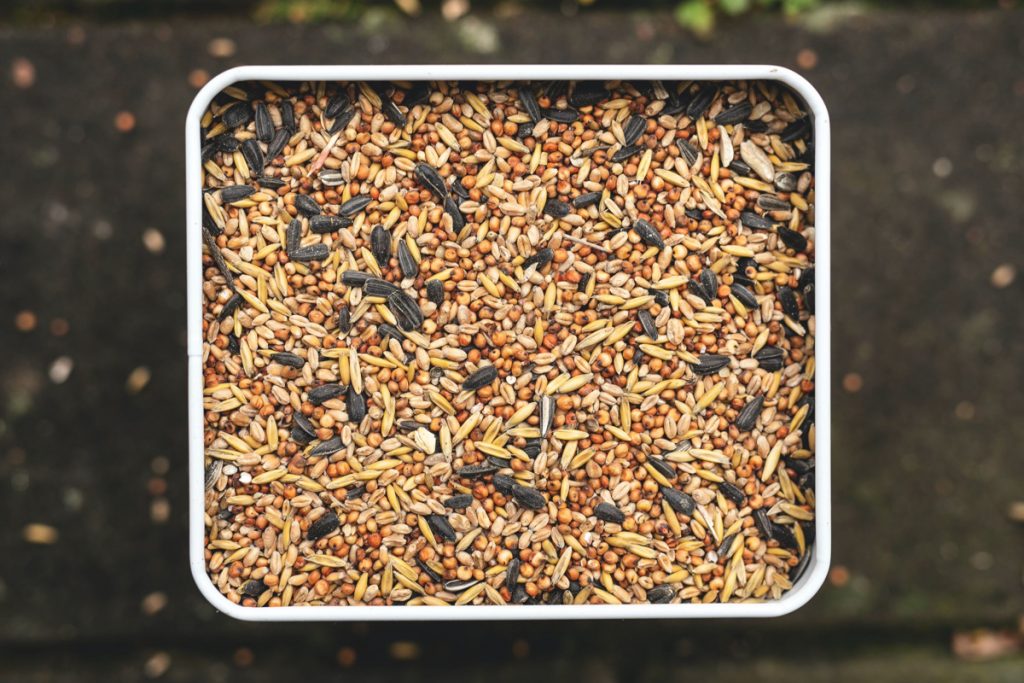 How to Make Homemade Bird Food
Most wild birds like to eat seeds, grains, fruits, and fat. Many also enjoy bugs, but you probably already have those in your yard.
To make your own homemade bird seed, simply combine the bird-friendly items that you have on hand. Use mostly seeds and grains, with moderate amounts of fruits and fats. You might even find that this ends up being free bird seed if you have stale ingredients or scraps that you wouldn't consume anyway!
Here are some things you put in your bird seed mix that you probably already have in your kitchen:
You can use some or all of these bird food ingredients for easy homemade bird food recipes. There's no specific formula – it all depends on what your birds in your area like. Test out a few things and see what they like! That's one of the reasons I love DIY bird seed – it's easy to find what's right for the bird in your area with a little bit of trial and error.
If you're looking for a basic bird seed blend to start with, you could start with a simple homemade bird food recipe that consists of:
1 cup of whole wheat flower
1 cup corn meal
1 cup of sunflower seeds
Seeds from one watermelon
Just combine all of the ingredients for this bird seed recipe together and then store until you're ready to add it to your bird feeder! (Consider these bird seed dispensers for storage.)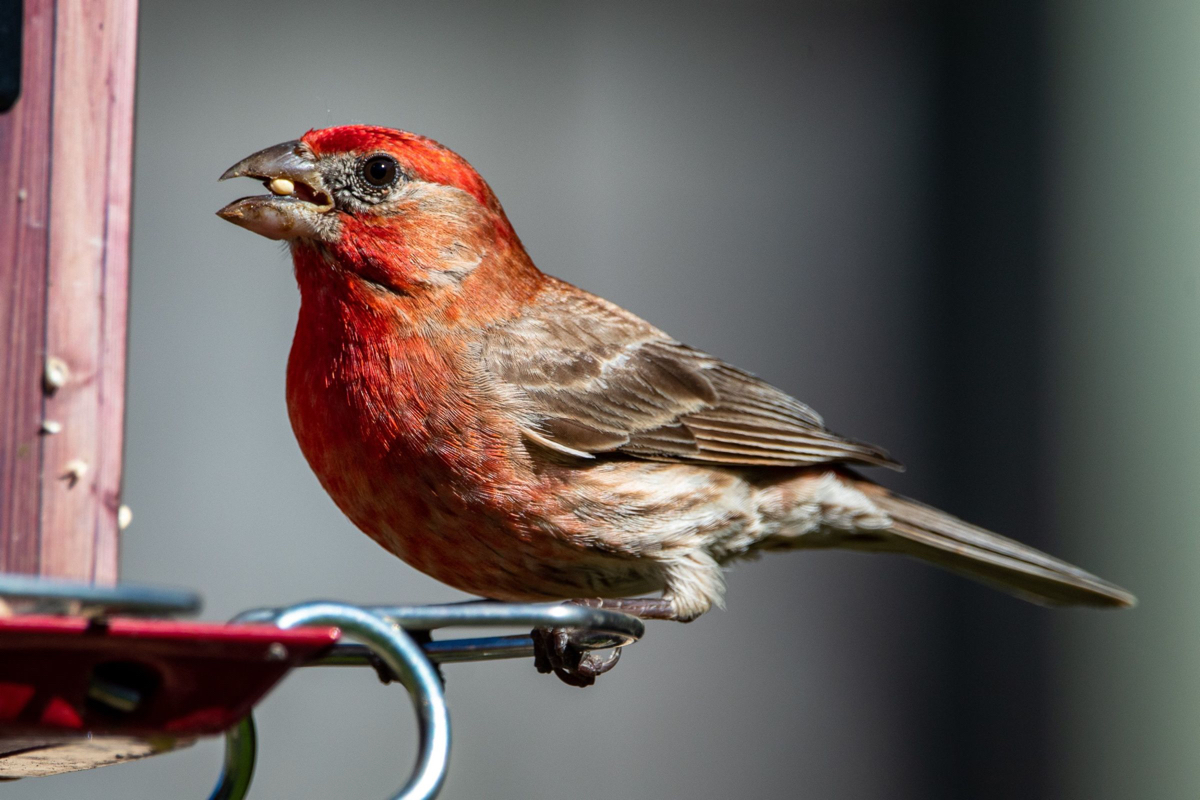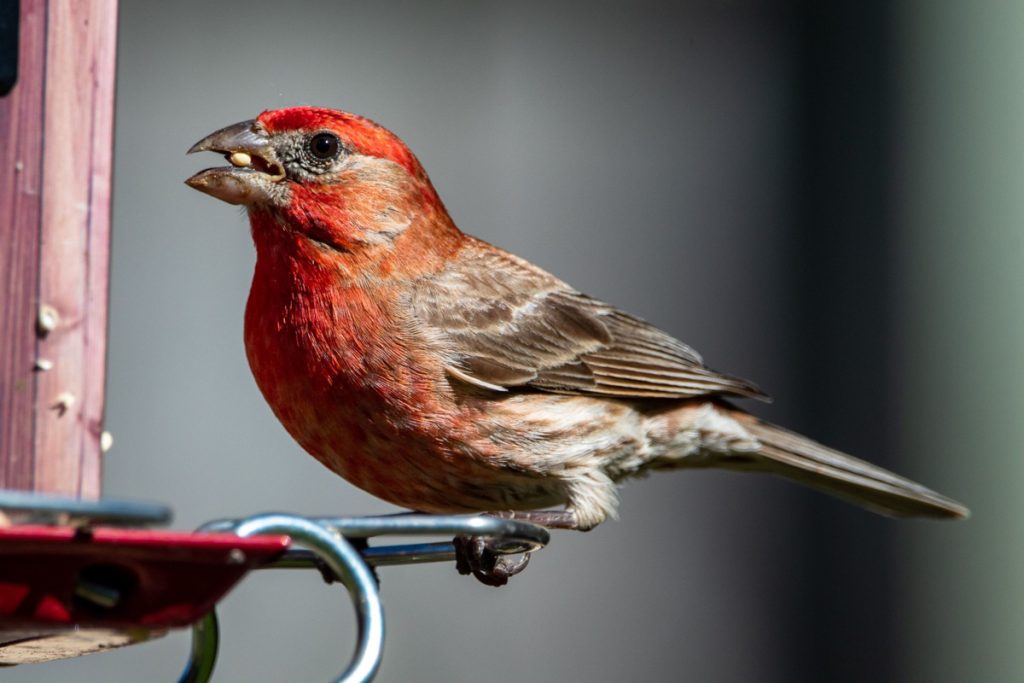 How to Make Simple Homemade Bird Feeders
Now that you have your own homemade bird food blend, it's time to offer it to your neighborhood birds. If you don't already have a bird feeder, there are several ways to make homemade bird feeders with simple materials.
Pine Cone Bird Feeder
Spread peanut butter on a pinecone and roll it in bird seed mix. Use string to hang it up outside. This is an easy and fun activity for kids, too.
Plate Bird Feeder
Use macrame style tying or carefully drill small holes in a glass plate to hang it up outside. Just keep the bird feeder filled with birdseed.
Toast Bird Feeder
Toast bread until it is very dry and spread it with peanut butter on both sides. Apply peanut butter and then dip in birdseed so that the entire surface is covered. Carefully punch a hole in the bread with a small utensil and hang it up outside with string. The birds will devour the whole thing!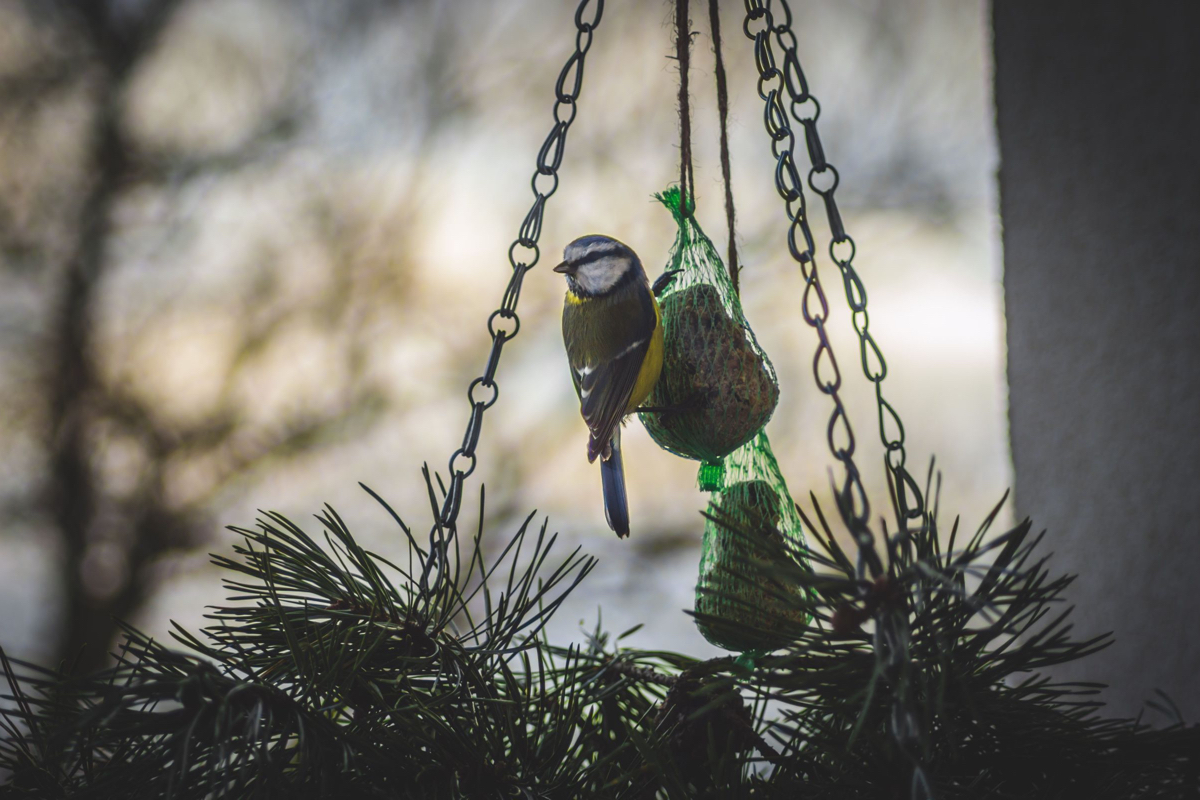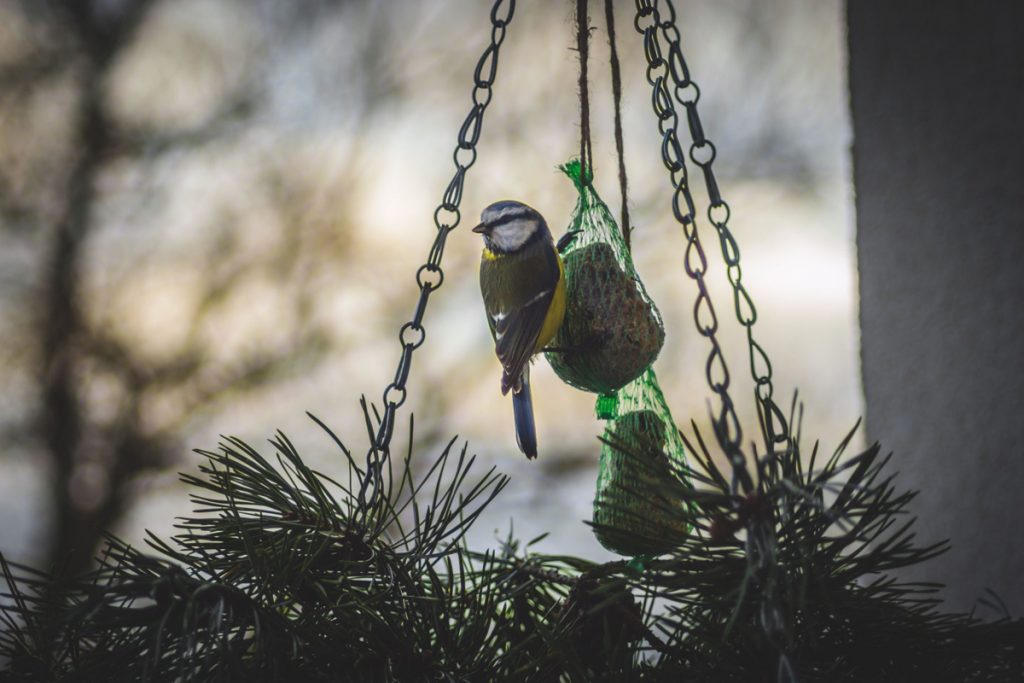 Benefits of Attracting Birds to Your Yard
Now that you know how to make bird food, you might be wondering why you should be encouraging birds to visit your yard. Luckily, there are many reasons to enjoy having wild birds in your yard. Here's why you should attract them:
Birdwatching is educational. Wild birds are beautiful, and learning to identify them can be a great educational experience for people of all ages.
The sounds of birds are relaxing and stress-relieving. It's one of the most widely reported sounds to be calming and relaxing, enjoyed by people all over the world.
Birds eat pests. Many eat mosquitos and garden-enemies like aphids, so they serve as a natural pest killer – no toxic chemicals needed!
Weed control. Birds will eat many seeds that might otherwise take root and grow into weeds in your yard.
Wildlife conservation. Creating a safe, attractive environment for your local native wild birds helps preserve the ecosystem in a time when many habitats are at risk of damage and destruction.
If you want to learn how to identify the birds that appear in your yard, keep a bird identification book on hand.
Backyard Bird Items You Might Like
Sale
Window Bird Feeder with Strong Suction Cups, Clear Window Bird Feeders for Outside - Transparent Bird House, Balcony Glass Mount, Acrylic Cat, Kids & Elderly Viewing Clear Bird Feeder for Window Perch
BIRD WINDOW FEEDER GIFT - Perfect for birding and bird lovers, our window bird feeder is a great outdoor present for kids, cats, and the elderly. They arrive in a holiday-ready box, perfect for the season!
SUCTION CUP BIRD FEEDER WINDOW - 6 Ultra-Strong weatherproof suction cups are included. To install, clean your window on both sides, slightly dampen suction cups then press them onto the window firmly to secure.
YOUR NEW FAVORITE BIRD BUDDY - Bird feeders for outdoors hanging from Nature's Hangout are EASY TO FILL AND CLEAN! Simply slide out our patented tray, fill with your favorite seed, and slide back in. To clean, just wipe with a cloth. The elderly and children will have NO trouble!
WINDOW MOUNTED BIRD FEEDER - Bird feeders for outside by Nature's Hangout provide an unobstructed view! With no hole to get in the way, the clear backing is the perfect place to watch and enjoy your favorite birds.
SQUIRREL FREE WINDOW BIRD FEEDER INSIDE HOUSE - Squirrels can't climb glass! Keep your feeder 5 feet away from any ledges and viola! The drip holes in the bottom of the tray keep your seed dry for only your favorite birds to enjoy!
SAND MINE Panorama Bird Feeder, Hexagon Shaped with Roof Hanging Bird Feeder for Garden Yard Decoration (Grey)
DURABLE BIRD FEEDER - Gazebo-style design bird feeder is constructed of heavy-duty plastic for long lasting use.
WHIMSICAL DESIGN - Beautiful gazebo design, features an inclined roof to shade birds from the sun and rain. Tray style feeding port and circular perch lets birds feed from all angles.
LARGE CAPACITY - Bird feeder can accommodate up to 2.6 lb of all varieties of wild bird seeds to attract red finches, tits, house finches, birds, blue birds, warblers, starlings and more!
HANGING OPTIONS - Comes fully assembled and ready to hang, great for decorating courtyard, garden, patio, backyard and front porch, making your life interesting.
EASY TO FILL & CLEAN - Bird feeder is equipped with a twist lock cover to keep the lid safely closed. Clear plastic feeder makes knowing when to refill the feeder, just turn to unlock then refill seed. Wide opening and detachable lid for easy filling and cleaning. Note: Sure Lock cap locks lid in place to keep squirrels out.
WOSIBO Hanging Feeder Seed Tray, Platform Metal Mesh , Outdoor Garden Decoration for Wild Backyard Attracting Birds
FUNCTIONAL DESIGN: The bird feeder tray is designed to attract the eye of birds and will not turn over when the birds stand on the side of bird feeder for food. And the metal rust-free mesh tray allows the water to easily drain out and keep seeds dry
HIGH QUALITY: Made of durable mesh metal, sturdy and lightweight. And black powder coated for weather-resistant, will last for years to use.
EASY TO USE AND HANG: Easy to hang and simply fill the bird seed into the feeders. And easy to clean, just turn the bird feeder tray face down, wipe it and clean it with cloth or rinse it with water
PERFECT FOR YOUR GARDEN: Hanging a bird seed tray in your yard or garden, attract and feed birds, add a beautiful look in your garden, enjoy the scenery of flying birds with your family and friends.
GIFT IDEA: A unique gift for home and garden lovers or nature lovers. Hanging the bird feeder tray, attract the birds to fly into their garden. The hanging bird feeder tray is a thoughtful and great present for them
Sale
Happy birdwatching! I hope this guide has helped you learn how to make bird seed. I'd love to hear any other ideas you have for a diy bird feeder.