If you're trying to wash clothes without a washer, it can feel super intimidating. But for thousands of years, people did their laundry by hand. In the event you might find yourself in a situation where your washing machine isn't usable (it breaks down, you're camping, you're at a hotel, you're without electricity, or maybe you're simply trying to be more eco-friendly) – clean clothes are still an option.
With a little bit of time and effort, you can easily wash clothes in the tub. A few tools and a little bit of muscle can get your clothes clean wherever you are or whatever your situation may be.
Keep reading to see how you can wash clothes in the tub (or any other large bin) with just a few supplies.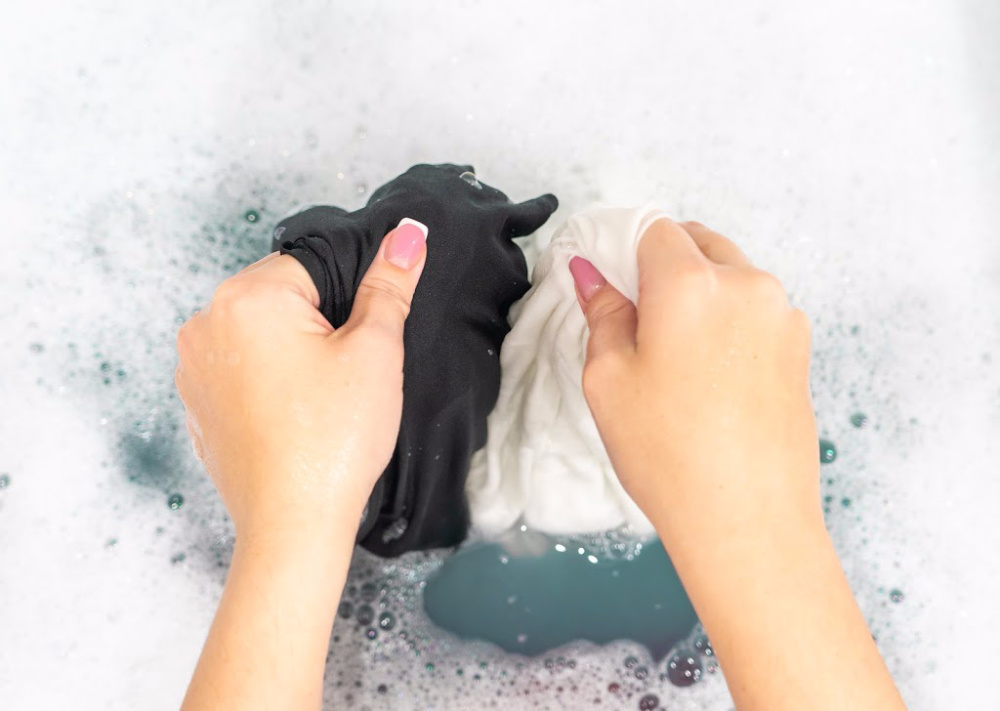 Before You Wash Clothes By Hand in the Tub
First, you'll need to make a few decisions and gather some supplies that will make it easier to wash your clothes by hand.
Decide Where You Will Wash Your Clothes
Start by deciding what you will wash your clothes in. A bathtub is easy for a significant amount of clothes, but a sink or large bucket/bin will work for a few garments or multiple loads.
And if you're looking for something really portable and compact for washing clothes, look at the Scrubba. We've used it camping, at hotels, and on road trips with the SinkSuds. You need to really put your muscles into it to get the detergent out, but it works great!
Best Detergent for Hand Washing Clothes
Next, you need detergent. Depending on how big your load of laundry is and where you're washing, it'll help you figure out the best detergent for hand washing clothes. Use the following as a guide:
Full Bathtub: When using a bathtub that would hold a full load of laundry like your washing machine would, use approximately the same amount of detergent you would for your washer.
Sink or small bucket/bin: If you're using a smaller area to wash your clothes, you might want to consider these SinkSuds that are good for 2-3 garments. (You can use more than one if you're using a larger bin or bathtub, too)
Camping: If you're camping or out in the woods where your laundry water is likely to be dumped in nature, opt for a biodegradable detergent.
Hand Washing Clothes Tools
Depending on how soiled the laundry is, you may wish to use a pair of elbow length gloves.
Although not required, you may want to get a washboard as well. This can help you really scrub your clothes clean, but if your clothing isn't heavily soiled, this isn't necessary.
Pay attention to the types of clothing your washing. Read the tags carefully so don't ruin any of your garments.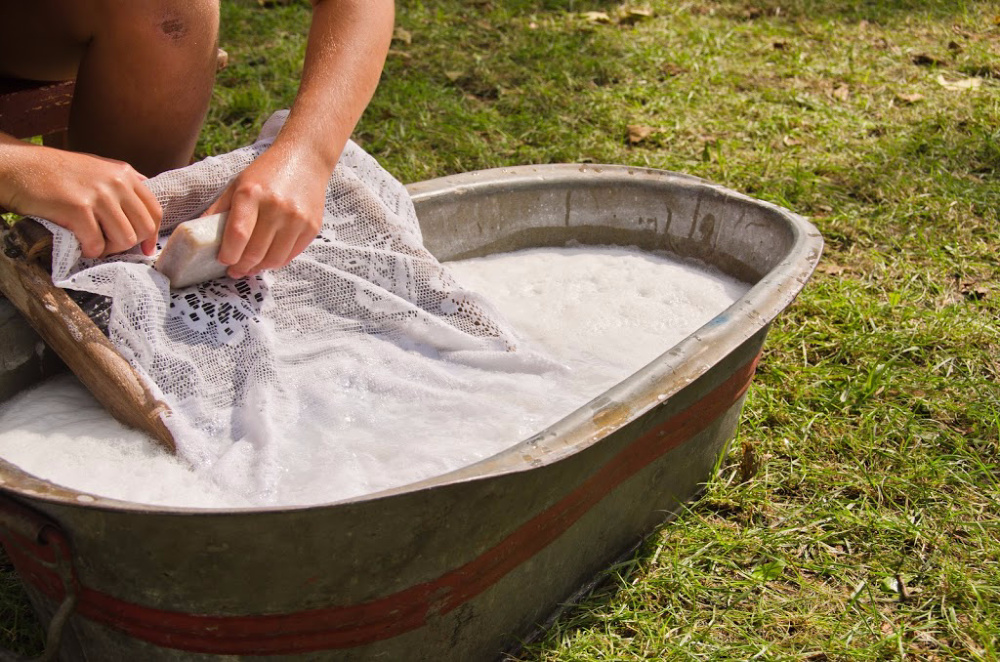 How Do You Wash Clothes in the Bathtub?
Now that you have your supplies, it's time to manually wash your clothes.
The first thing you need to do to do laundry in the bathtub is to fill your tub with cool water.
If you're cleaning towels, sheets, or anything else that may be more soiled than other garments – you may need to use warm or hot water. But if your only option is cold water, don't fret! Cold water and detergent will still get your items clean enough for use.
Next, add the detergent. You'll need to follow the instructions of the detergent you're using for the amount of garments that you're washing.
Add your clothes to the tub or bin you're using. Be careful to not overfill. Too many clothes will make it too hard to actually clean the clothes. The garments should fit loosely in the tub.
Allow the clothing to soak for a few minutes and then swish them through the sudsy water. Keep swishing until the garments are clean. If they aren't coming clean, scrub the problem garments or areas.
Next step is to drain the tub. Fill with cool water again and swish the clothing until the soap is removed from the garments. If you feel like the clothes are still holding detergent, repeat (drain, fill, swish) until they are soap free.
Once the detergent is gone, drain the tub a final time. Gently squeeze (do not twist as this can stretch the fabric) each piece of clothing to remove the excess water.
Hand Washing Clothes Hack
Want to shorten the drying time? Set your garment on a clean, dry towel and roll up the towel to reduce more of the excess water. Then dry as usual.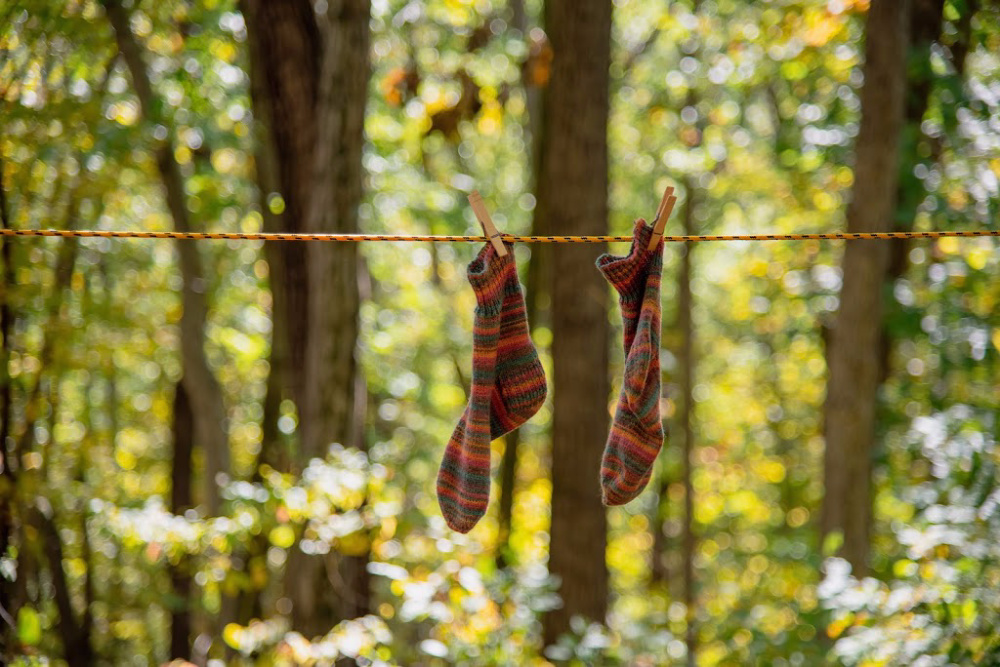 How to Dry Clothes Without a Dryer
Now that you've washed your clothes without a washer, you might be wondering how you can dry clothes without a dryer. Luckily, this is even easier!
You could use drying rack hangers or a foldable drying rack. A travel clothesline is another great option that can work really well while camping.
If you're able to utilize one of these options outside, you'll find your clothes will smell more fresh and dry quicker. The sunlight can also act as a natural dryer and sanitize your garments. This may not be able option where you are or year-round, but all of the drying options for hand washed clothes mentioned above can be used indoors as well.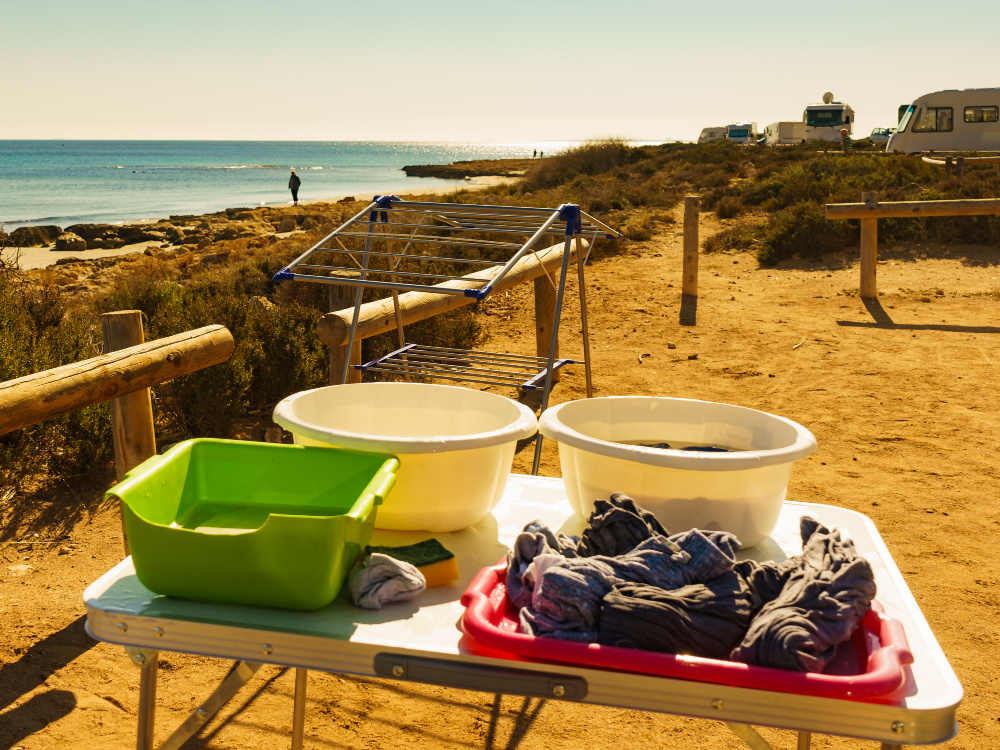 I hope these tips have helped you learn how to do laundry without a washing machine! And even more so, I hope it saves you some headache on your next trip or the next time your power goes out.
Helpful Items for Hand Washing Clothes
SinkSuds Laundry Detergent | Travel Size Liquid Soap | TSA Compliant | Safe For All Fabrics | 8 Packets
USE THEM ANYWHERE: SinkSuds were designed to be taken anywhere and used anywhere; they are a travel must have! Wash clothes on-the-go no matter your amenities – sink, bathtub, or washer. Phosphate free and biodegradable.
SINKSUDS, IT'S SIMPLE: Simply mix the packet in water, wash your garments, and hang dry. Use 1 packet for 2-3 garments and 4 packets for a full load of laundry. Includes 8 unscented, 0.25 fluid ounce packets.
PERFECT SIZE: This portable laundry soap is premeasured for your convenience. We created these laundry detergent packets to be TSA compliant and fit right in your carry-on or backpack.
WASH ANYTHING: Our liquid laundry detergent can be used on all types of clothes and won't stretch, shrink, or cause fading. It can even be used with delicates or baby clothing.
A TRAVEL ESSENTIAL: SinkSuds is the perfect travel size toiletry no matter what type of adventure you go on. Use it for vacation, business trips, cruises, backpacking, camping, or any extended hotel stay.
Scrubba Portable Wash Bag – Foldable Hand Washing Machine for Hotel and Travel – Light and Small Eco-friendly Camping Laundry Bag for Washing Clothes Anywhere
FAST & CONVENIENT: The patented washboard-in-a-bag design gives a machine quality wash in just minutes and you can wash anywhere – perfect for hotels, hostels, camping, backpacking, dorm rooms, RVs and scout trips.
SO SMALL AND LIGHT: Weighing just 5.3 oz. and folding to pocket-size, this world's smallest washing machine takes up no space and lets you travel clean, light and free.
EASY TO USE: Space, water and time-saving, and electricity free. With the simple six-step instructions displayed on the outside of the bag, anyone can wash clothes quickly, hygienically, and effectively and reduce their impact on the environment
VERSATILE & MULTIFUNCTIONAL: Ideal for small to medium loads including T-shirts, underwear, socks, bras, delicates, dishcloths and more. Between washes use it as a dry bag to keep gear dry or as a dirty laundry bag.
JOIN 300,000+ SCRUBBA WASH BAG USERS WORLDWIDE: Grab yours and travel cleaner, lighter and with more freedom. Plus have the peace of mind that it's backed by our 1-year manufacturer's warranty. If something goes wrong, we will make it right.
HAWATOUR Travel Clothesline, Portable Retractable Clothesline with 12pcs Clothespins for Indoor Laundry Drying, Outdoor Camping Accessories, Blue
Those who understand the trouble of drying clothes when in travel or cost of using a gas or electric dryer when cleaning clothes know the paybacks of using a clothesline. The clothesline is made of stainless steel material that makes it strong, durable and rust retardant. It is ideal for home, indoor and outdoor use. It is a recommended clothesline for regular travelers, campers, and hikers that love spending much of their time outdoors.
What makes it unique is the black clips that restrain the 12 pieces of clothespins from sliding. Therefore, clothes won't glide to the center. Again, the clips can be moved smoothly from left to right and vice versa by press and hold the little button on the top of the clips. Those who prefer the freshness of line dried linen can rely on this clothesline. It can be used in hot, humid, wet and dry environments.
Used to hang different types of clothes such as towels, cloth diapers, underwear, socks as well as bathing suits. Those that love traveling, camping, swimming, fishing, boat riding etc. can use it between the trees or in their canopy to attach wet towels and trunks. Moreover, it is capable of retracting, hence, can save a lot of space when not in use. It can be stored with ease as it takes the least space in a traveler's backpack.
Hawatour Portable Travel Clothesline also comes with steel hooks at both ends that can be attached anywhere: hotel, bathroom, laundry, RV, boat, balcony or even attached on trees. The user can have an instant drying space anywhere and whenever they need. Additionally, clothes dry naturally, smell fresh and retain their original properties thus increasing their lifespan
It's elastic and can be stretched to any length up to 10 feet