Have you ever wondered how to make seed bombs? I've got you covered with this simple Seed Bomb DIY guide. It will help you brighten up your backyard in no time!


One of the downfalls of living in a duplex was never being able to do much with our yard. So as soon as we moved into our house, I knew one of my projects would be homemade seed bombs. I'm a little disappointed that these took me so long to make, actually. They are so easy and fun!
One of the things I love about DIY wildflower seed bombs is that you never know quite what you'll end up with. You can make DIY flower seed bombs ten different times with the same ingredients and you'll end up with different flowers blooming next to each other nearly every time. I love that!
You'll only need a few ingredients and less than an hour of your time to create this seed bomb DIY. The bulk of the time was spent combining all of our seed packets.
Be sure to check out the tips for the instructions to make sure your seed bombs have the best chance of yielding beautiful flowers in your yard!
Keep reading to see how easy seed bombs are to make so you can make your own!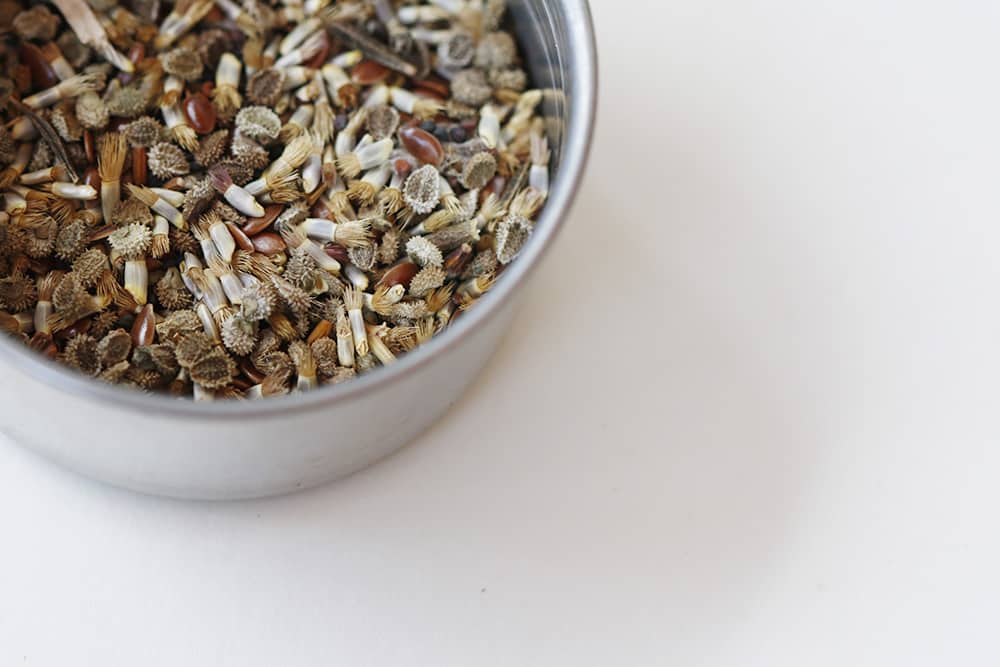 Wildflower Seed Bomb Supplies
To make these flower seed bombs, you just need three ingredients. These seed bomb ingredients can easily be found on Amazon or potentially at your local craft store and gardening center.
You'll need four parts clay to one part soil and one part seed. For our mixture, I used:
4oz Air Dry Clay (I used this one)
1oz Potting Soil (Something like this)
1oz Flower Seeds (These are a great option)*
Optional ingredient: although we didn't use it, many people use red clay powder to make wildflower seed bombs as well.
*See note below (Tips for Making Your Seed Bombs) for the best way to select flower seeds to use in your DIY flower bombs.
How to Make Seed Bombs
Before I get to exactly how to make flower seed bombs, I want to stress one thing: be sure to mix everything thoroughly. Making wildflower seed bombs is really easy as long as this is done. With only three ingredients in this seed bomb recipe, they all play an important role!
Now let's get into how to make a seed bomb!
Spread out the clay to be large enough to pour the dirt on it. Doesn't matter what size – just make sure there's plenty of room for the dirt and everything else to pile on top of it. (Tip: Don't make it too thin or the flower seed bomb ingredients will start to fall through and you'll might lose some of them.)
Pour the dirt on the clay and then pour the seeds on top of it.
Fold together and then knead until the mixture is thoroughly mixed together.
Roll out into a 3/4 inch log and make a cut every 1/2 inch. Roll each section into a small seed balls.
Let sit in the sun to dry out if necessary and then toss where you'd like the flowers to bloom.
Keep the wildflower seed balls dry until after they've been tossed where you'd like to plant them.
The supplies listed above and the number of cuts I mentioned in the steps for these DIY flower bombs will yield 23 seed bombs.
You may want more or less DIY seed balls depending on the area(s) you plan to bomb. If that's the case, just adjust the amount used of the ingredients and keep the same ratio or adjust the size of each of the homemade seed bombs.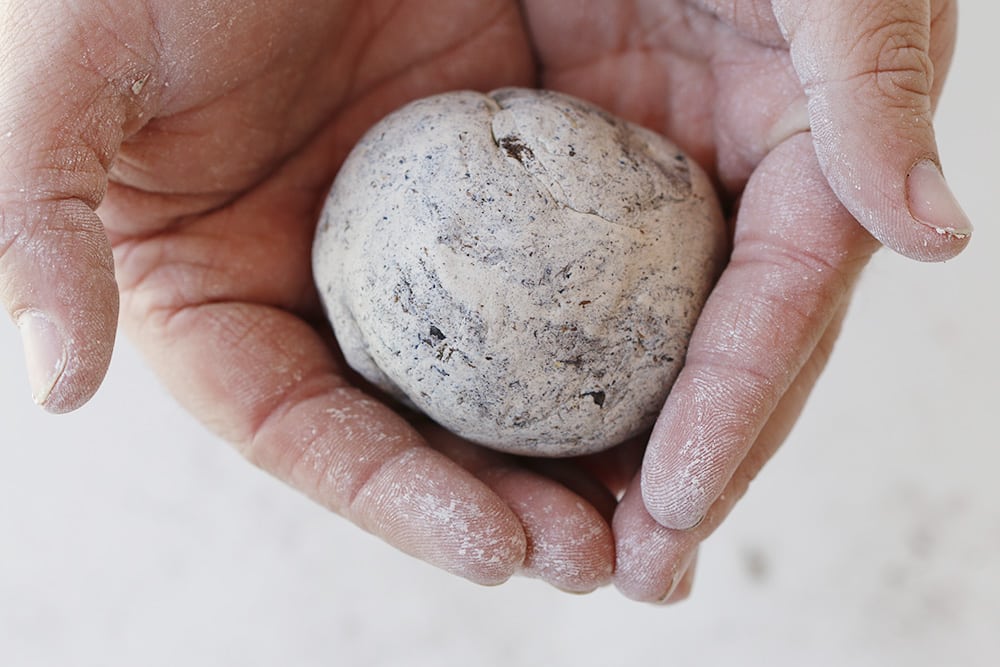 Tips for Making Your Seed Bombs
While this wildflower bombs DIY is pretty easy to follow, there are a few tips I have on how to make wildflower seed bombs work for your yard.
Be selective about your seed bomb flowers
Plants that are native to your area are much more likely to grow and less likely to endanger the bird/insect populations as well as the environment. This is why it's important to be selective about the flowers you get to make a seed bomb.
Also, be sure to choose flowers that match the area you're bombing. If you're choosing a spot in full sun, make sure to get flowers that are best in full sun.
Not all seeds will sprout so make sure each seed bomb has an assortment of seeds. This is why it was so important to mix it thoroughly when making wildflower seed bombs. I'd hate for you to end up flowerless!
Make sure clay covers all of your seed bomb seeds
Birds and other animals are less likely to eat things covered in clay. In order to give your seeds the best chance at germinating, protect them by ensuring the clay covers all of your seed in your homemade seed bombs. Once your seeds are ready to germinate, it will be able to break through the clay and spread its roots into the ground.
How To Plant Seed Bombs
Spring is the best time to toss these DIY seed bombs in your yard. Try to time it before a heavy rainfall in order to help the seeds germinate. Just toss the seed balls in the yard and wait for them to grow!
You can also use this seed bomb DIY in summer, depending on the area you live in and the type of flowers you're planting. Just make sure that when you're planting and making seed bombs, you'll be able to water the flowers according to their instructions.
Seed Bombs as a Gift
These homemade seed bombs would also be a cute wedding favor or gift for someone. You can easily make seed bombs in bulk, too, which makes it even easier.
If you're planning to give these to a loved one, keep them dry and in a dark place before you gift them. Just DO NOT let these seed bombs get wet before they're in their designated location to bloom.
That's it! Easy peasy, right?
These homemade seed bombs are a fun DIY for the whole family and they're the perfect way to spruce up hard to plant areas in your yard. Can't wait to see your results!
If you use this wildflower seed bombs DIY, I would love to see pictures of your yard in the comments!
You might also like: