Container gardening just got more fun! With just a few supplies, you can turn a simple kitchen utensil into a unique DIY Hanging Colander Planter.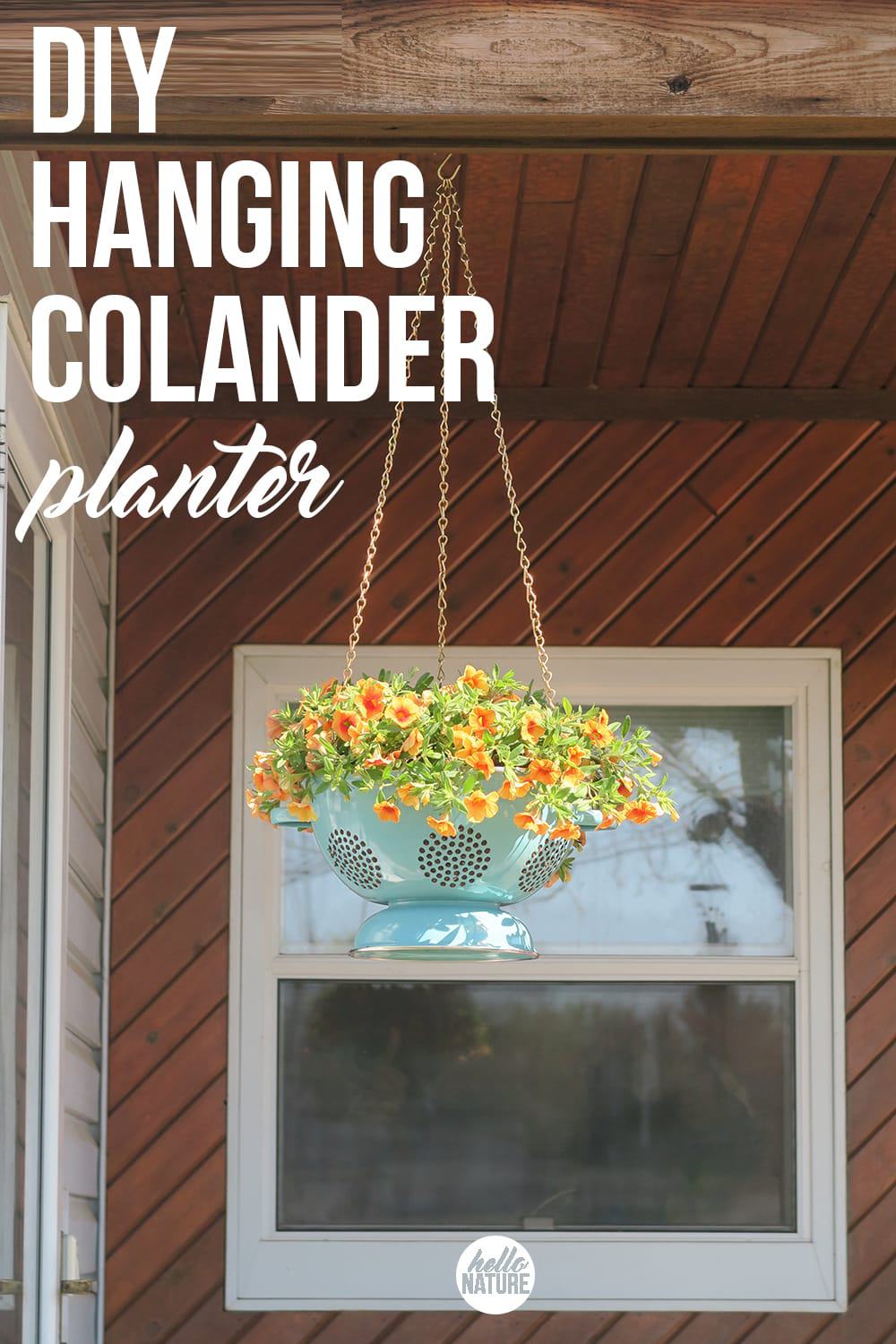 I wanted to do something really fun and unique for Mother's Day this year so I set out to find the perfect gift. I kept drawing a blank on what exactly I wanted to do though. So I went shopping with zero idea of what I was going to get and hoped I would find something.
Instead of finding something to put in a bag and call it a day, I walked out with the supplies needed to making this hanging colander planter.
If I would have done this sooner (you know, not two days before Mother's Day – whoops!) – I totally would have searched for a used colander to upcycle it. Because those things are everrrrrywhere at thrift stores and rummage sales. So if you're looking to do this project on the cheap, keep an eye out for one!
Related Reading: Everything You Need to Know About Container Gardening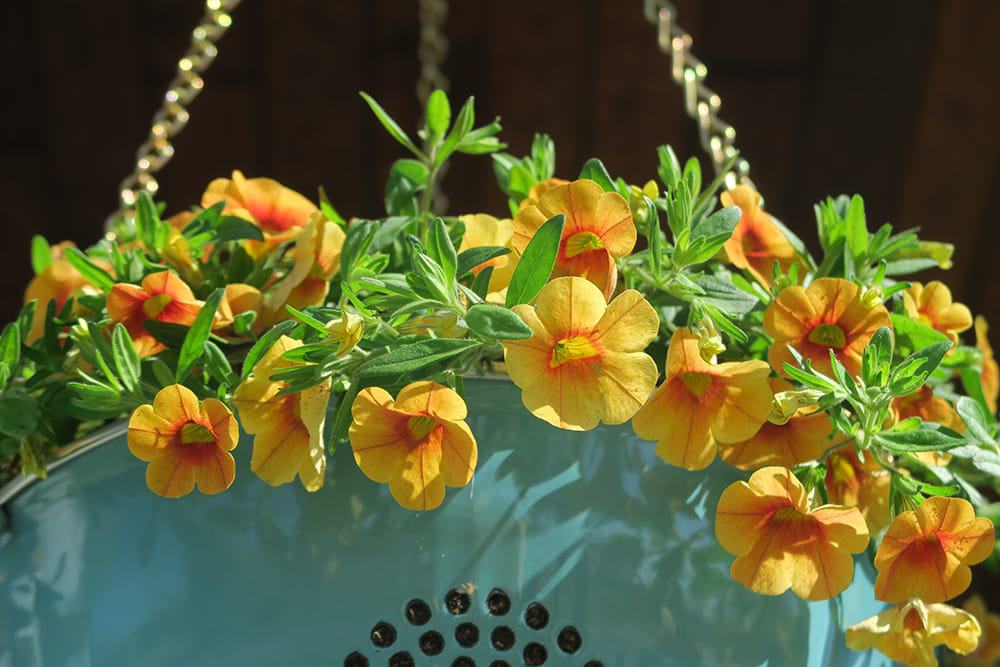 I'm forever grateful for Nathan for putting this together for me. I was battling a moody, teething baby and he made it about two hours before we saw my family on Mother's Day. Procrastination at it's finest.
Luckily, this is super simple! In less than 30 minutes, you'll go from simple supplies to beautiful hanging colander planter. It's the perfection addition to your container garden, too!
Related reading: 21 Upcycled Idea for Container Gardens
[clickToTweet tweet="In less than 30 minutes and $15, you can make this beautiful hanging colander planter." quote="In less than 30 minutes and $15, you can make this beautiful hanging colander planter."]
Here's what you'll need:
Hanging Colander Planter Supplies
Metal Colander – like this
Drill
Three small bolts and nuts that are the size of the hole you drill
Potting soil
Flowers, fruits, veggies or seeds to plant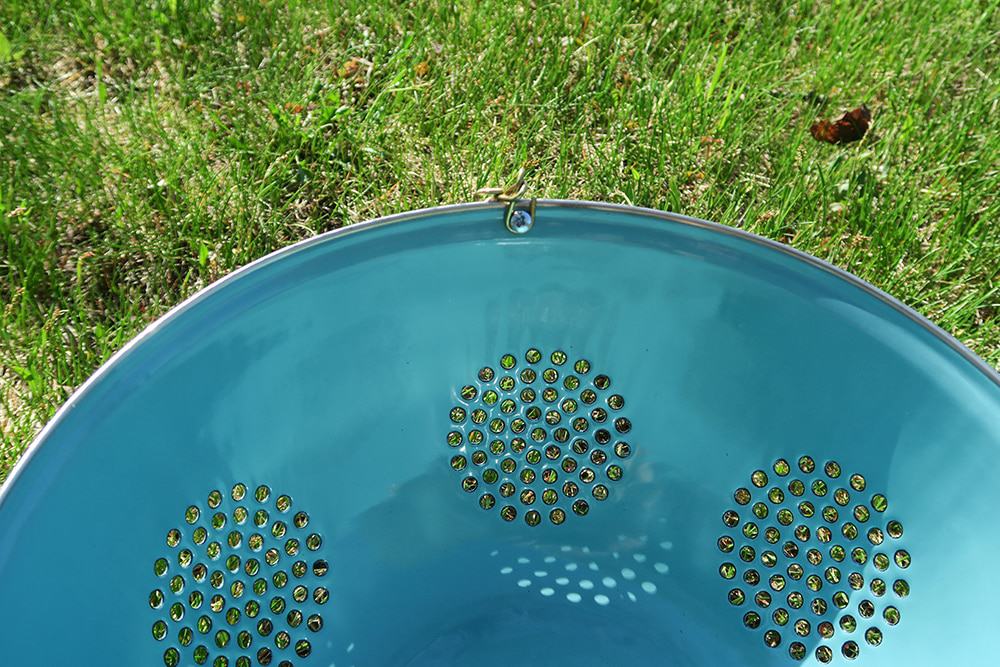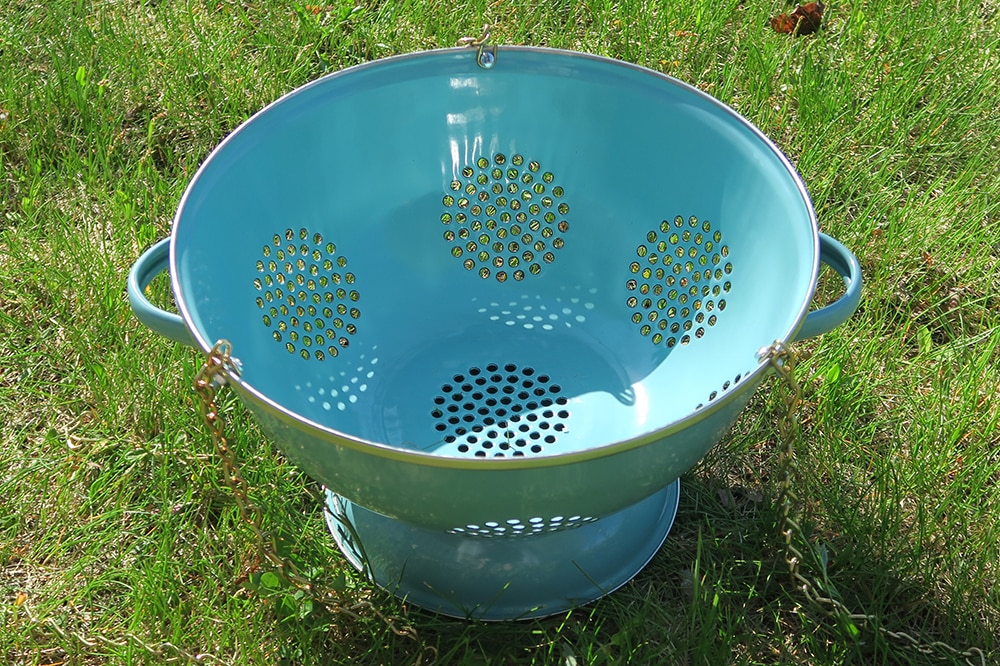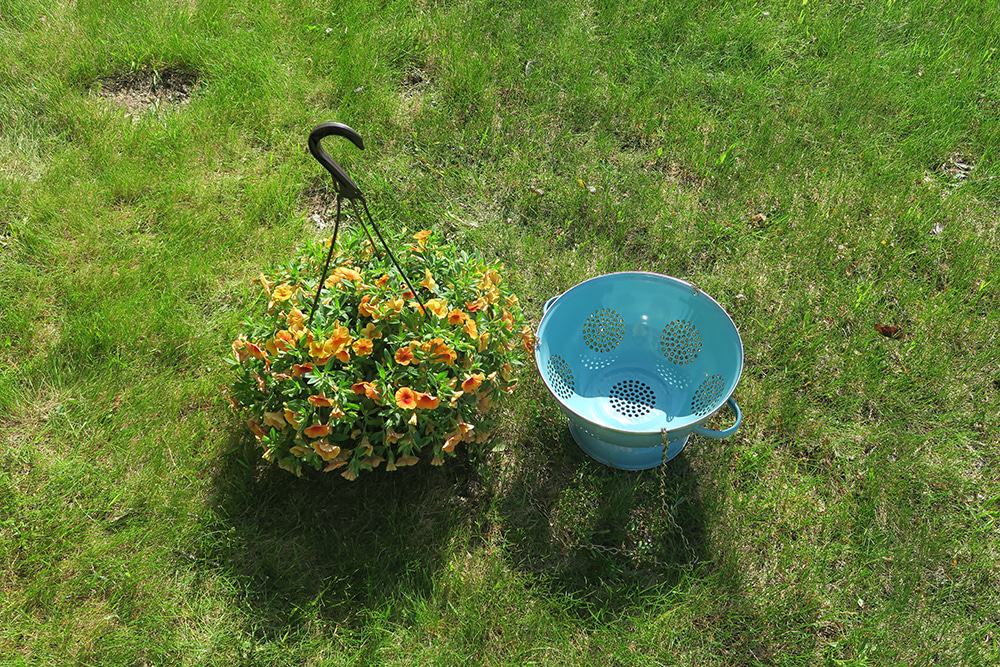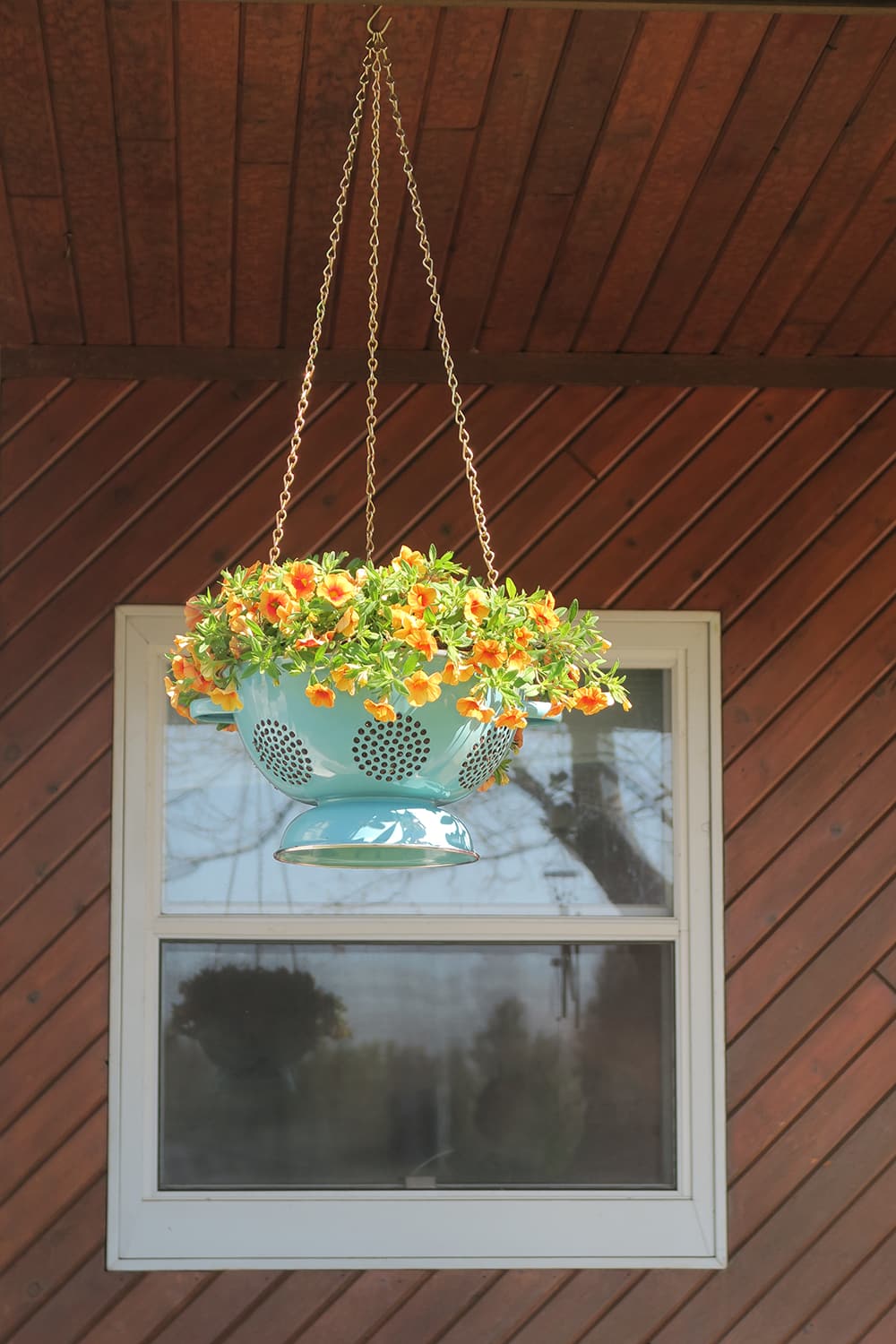 Hanging Colander Planter Steps
Measure the circumference of the colander top and divide it into thirds. Mark where the holes will be with a permanent marker (they should form an equilateral triangle if they were connected.)
Drill your holes towards the edge of the colander top, but not too close.

Loop the chain from the hanging kit around the bolt head. Repeat on all three bolts.
Screw in your small bolts with the bolt head on the inside.
Put a nut on all three bolts and tighten.
Plant your flowers or fruits or veggies in the colander.
Hang and enjoy your ready to use planter that can drain on it's own.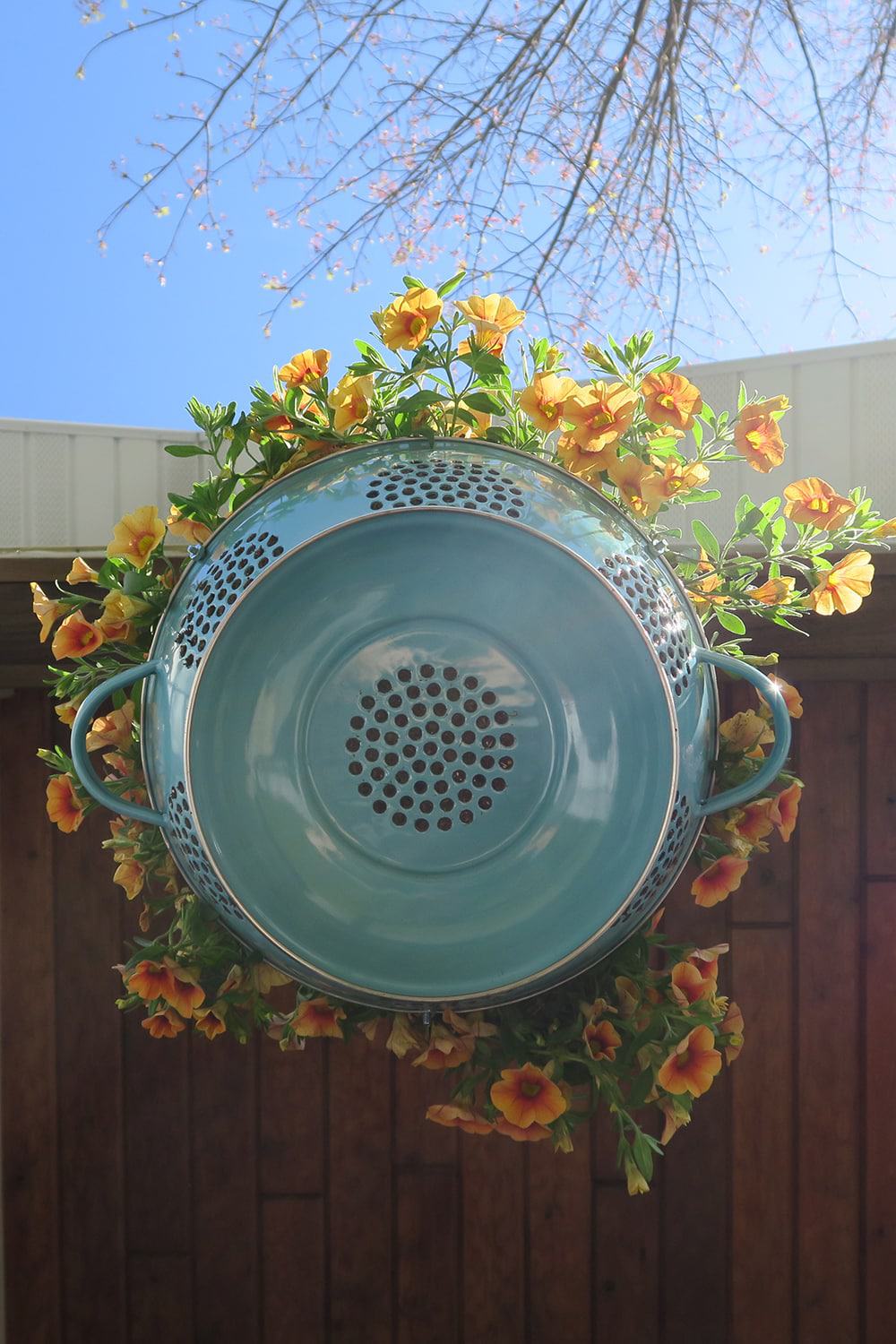 That's it! Easy, peasy and beautiful.
I won't lie – I was sad to give it away. It looked like it belonged on our front porch! So now we're on the hunt for a colander in our thrifting adventures.
And if you would rather have flowers on the ground, consider making these DIY wildflower seed bombs to toss!
What would you grow in your hanging colander planter?
You might also enjoy: