Not sure what container gardening is or if it's for you? This simple container gardening guide will help you figure out what you need to make it work!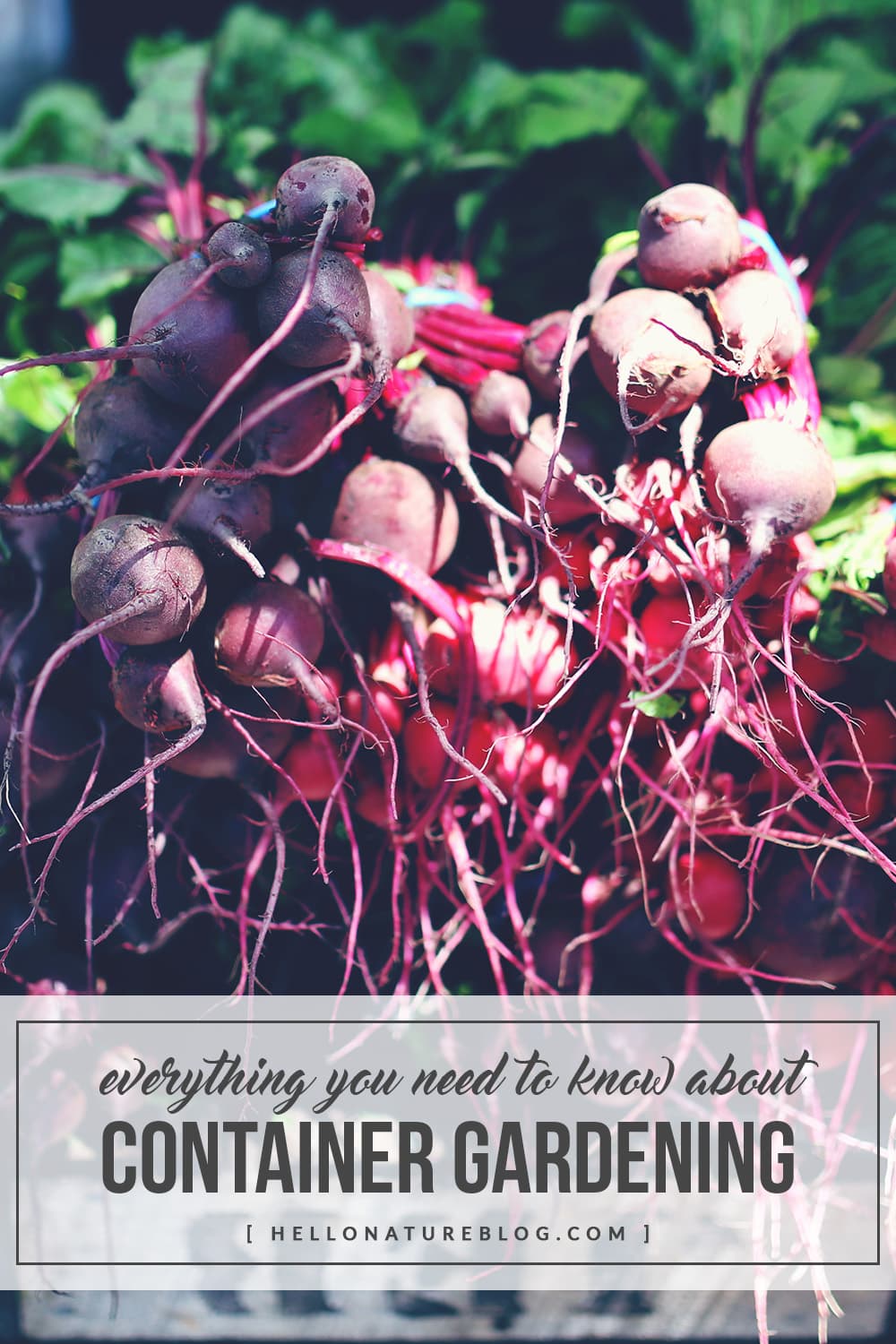 Low on space, but still love gardening? Container gardening is the ideal solution! And this container gardening guide will help you make a container garden that flourishes.
What is container gardening?
Container gardening is pretty straightforward. Instead of using land outside to plant a wide selection of vegetables or flowers, you use containers instead.
Who is container gardening for?
Container gardening for anyone that wants to garden. Whether you have land or no land, it's the perfect small space solution for gardening. Those that live in the city, apartments, or in houses with little to no land benefit from container gardening especially. A balcony or patio is the perfect spot for container gardening.
What are the container gardening supplies I need?
Container
So the cool thing about container gardening supplies is that there is no real right answer for the container. I've seen raised planters, old bathtubs, plastic pots, stacking pots, sinks, jars, bowls, ceramic pots, fabric pots, boots, watering cans, wagons, tires, wood containers, and so much more used. As long as your chosen contain will hold the plant with some soil and water, you're good!
The container will need to have the ability to drain water though. Even if it doesn't have one already, you can add one. Depending on the type of container you're using, you may be able to just drill a few small holes through it.
A few great places to look for container gardening supplies (especially if you're looking for inexpensive options):
Thrift stores
Rummage sales
Your local dump
Your basement or garage for unused items
Tip: Choose a larger container for easier maintenance. Smaller containers dry out more quickly. Self-watering planters are also a great option.
Soil
One thing I would recommend not skimping on is the soil. While you could use soil from your yard, there is a chance it may bring diseases or weeds or even insects with it. (This herb and essential oil pesticide DIY might be a good option to have on hand regardless!) A good bag of soil should cost you less than $10 (maybe even less than $5 if you find it on sale) and should last for a few containers.
Simple garden soil generally will not be enough though. Growing vegetables in the ground with garden soil works just fine as it can easily drain. However, soils for containers need to drain well, retain moisture, and be well aerated.
A good potting mix for container gardens holds moisture and gives nutrition to the plant roots to prevent stunted growth. Materials such as peat moss and perlite are great options for better growth. Mixes with fertilizer can help, but remember that mixes with fertilizer that is designed to last awhile may run out sooner in the hotter months.
Not sure of the quality of your soil? Place it in a pot, water it and see how it drains. The water should start to drain within 10-15 seconds. It the water drips out or the soil is rather soupy, it's not high quality.
Gravel/Rocks
At the bottom, you'll need to put a layer of rocks or gravel by the drain. This will help keep the soil inside the container and will also allow the excess water to more easily drain out.
How do I plant my container garden?
Plant your container garden the same time that you would plant a regular garden. Place the potting mix in the container and leave 1-2 inches from the top. Soak the potting mix completely and allow it to drain excess water for a few hours. Plant according to the package directions.
How much sunlight will my container garden need?
It varies! Depending on what you plan to grow, your containers may need varying sunlight or all the same. Flowers and vegetables also need differing times. On average, container gardens will need about five to six hours of direct sunlight each day though.
What can I grow in a container garden?
This container gardening guide cannot even come close to covering everything you can grow because there are SO many options. But I'll cover some of the most common fruit, vegetables and herbs that can be grown in container gardens. Many of these easy fruits and vegetables for the beginner gardener are great options!
You can grow:
Basil
Beans
Beets
Broccoli
Cabbage
Carrots
Chives
Cucumber
Eggplant
Green Beans
Herbs
Kohlrabi
Lettuce
Mint
Onion
Oregano
Parsley
Potatoes
Peas
Peppers
Radishes
Rosemary
Spinach
Squash
Strawberries
Swiss Chard
Tomatoes
Zucchini
I hope this container gardening guide helped you! You can also check out this guide on how to regrow fresh produce for some other fun small space gardening.
The awesome thing about container gardening is that there are so many ways to make it your own. Just decide on your container, get the right soil, choose your plants and you're set! You'll be amazed at how easy and rewarding it can be to have your own container garden.
Is there anything else that you would add to this container gardening guide? Do you have your own container garden? What do you grow in your garden?