Go green and repurpose some of your worn out household items with these upcycled container ideas for container gardens!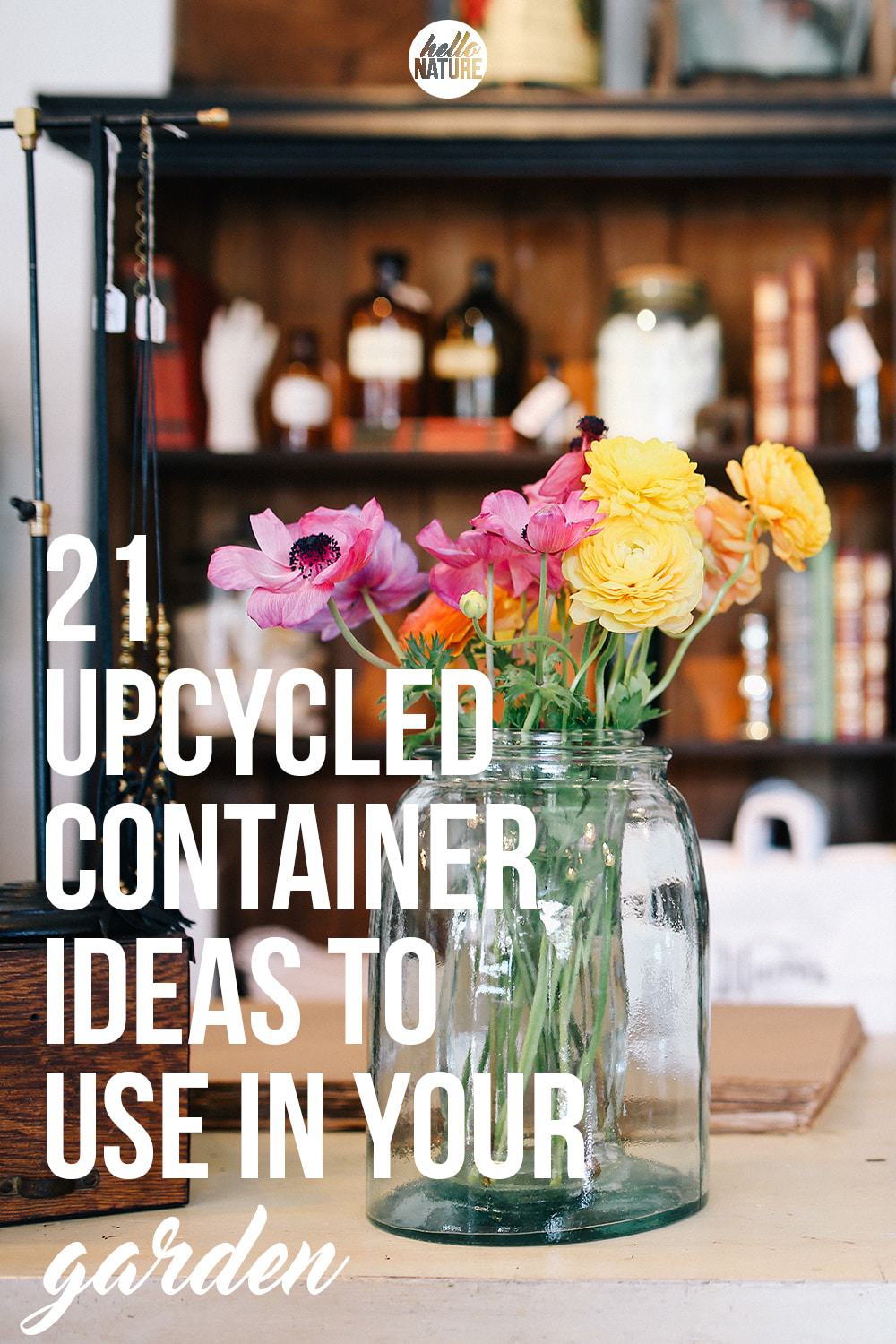 Container gardening is a great way to keep your garden flexible and make the most of your space. I love that there are so many ideas for container gardens that no two gardens are the same. While there are tons of planting containers you can buy, you can also make the most of items you already have at home. I love using these upcycled container ideas for container gardens because of how eco-friendly they are!
Before we get to the list of ideas for container gardens, here are a couple of helpful supplies to have on hand to make the most of what you have at home.
Coffee Cans: Remove the label and drill small holes in the bottom for water drainage. You can even paint them different colors to match or coordinate with your garden design.
Old Tires: You can paint old tires or just fill them with dirt. If you want to get even more creative, you can also cut them into interesting and attractive shapes.
Muffin Tins: Muffin tins can be great for seedlings. Aluminum tins are easy to add holes to for water drainage and flexible enough to make transplanting easy when the time comes.
Kiddie Pool: For a large contained area to plant in, use a kiddie pool! It probably has a drain already, but you might want to add more depending on what you're planting.
Tin Cans – Remove the label from cans and use them as is or paint them. Drill a hole in the bottom for drainage.
Coffee cups: If you own more than you use or one of them chipped, use it as a planter.
Wine bottles: Use a glass bottle cutter to turn old wine bottles into beautiful colored containers for your garden.
Wagon: Fill it with dirt, drill a few holes, and plant in a wagon to create a mobile garden.
Baskets: Wicker baskets are ready to plant in – the woven design helps water drain but keeps the dirt and plants inside. If it has handles, you can easily hang it up somewhere with rope or string, too.
Pocket Shoe Rack: A canvas shoe rack can be used as an organized vertical garden for small plants like herbs or flowers. Other types of shoe racks can also be useful for hanging other containers, depending on the design. These are very useful for maximizing vertical space!
Large Tubs: Any large unused tubs will make a great planter as long as you add small holes to the bottom. Bathtubs are always unique, fun plants that stand out.
Pails and buckets: 5 gallon buckets are often given away for free at restaurants and can be used as large planting containers. Any type of pail or bucket will work though!
Jars: Glass food jars make beautiful planters. Simply remove any labels and drill a small hole in the bottom for water drainage.
Cardboard Egg Containers: Cardboard egg containers make wonderful containers for seedlings and can be transplanted directly since they'll biodegrade. (Unfortunately we rarely find these at the store anymore or even when we get farm fresh eggs. So if you like this option and have the same struggle, check them out on Amazon!)
Tea Kettle: An old tea kettle is an attractive and funky container for the garden as it is! Place it on the ground or hang it somewhere.
Bowls: Plant succulents or other small plants in bowls of all sizes. Can be mixing bowls, home decor, serve ware, etc.
Old pots and pans: Don't throw away warped or cracked pots and pans – grow something in them instead!
Drawers: An old dresser can turn into several planting containers for the garden – use the drawers as is and turn the frame into a stand.
Tool Box or Chest: Big or small, tool boxes can provide an easy structure for container gardening. Depending on the size, you may be able to do a multi-tiered container garden in one as well.
Colanders: A colander already has drainage holes and is also remarkably easy to hang up with rope or string. (This DIY is coming to the blog soon – it was SO much fun!)
Wheelbarrows: Easy to move around and it can hold a larger container garden for plants that grow well with others.
Upcycled items make wonderful containers for plants of all sizes and they can be some of the most unique ideas for container gardens.
What are your favorite upcycled container ideas for container gardens?