Not sure where to go for your next family trip? Kalahari Resorts are the ultimate family vacation! They've got something for everyone!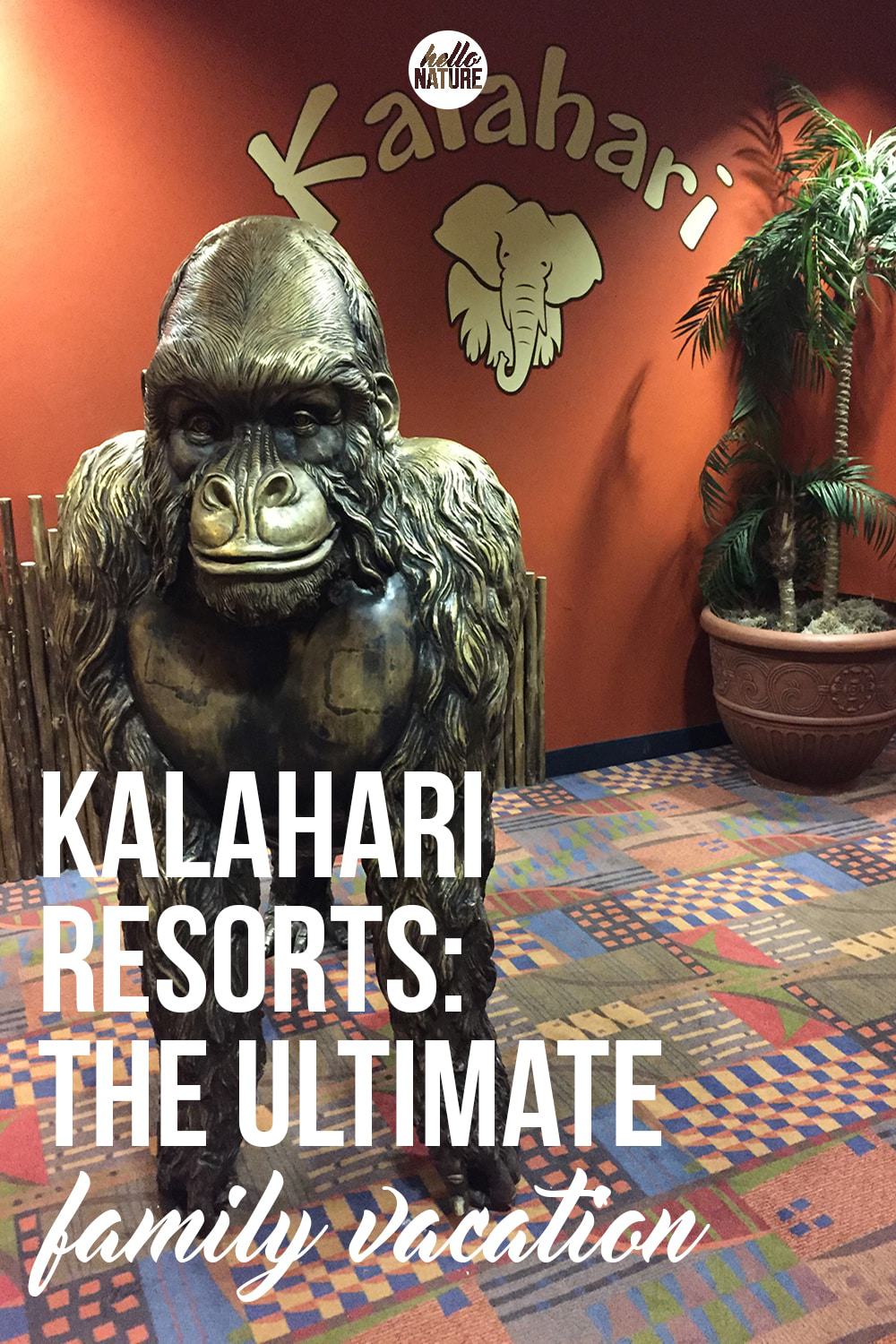 Nathan and I stayed at the Kalahari in Wisconsin Dells last year for our babymoon and it was by far one of the best trips we've taken. Despite the fact that I was pregnant, there was SO much I could do – and even more I could look forward to doing when we return.
The indoor theme park/arcade was a ton of fun and I had a prenatal massage (which was ahhhmazing!) And the food! OhmyYUM, the food. It wasn't just pregnancy related, I promise. Nathan loved all of the food, too.
We're already planning a return trip over the Winter with Lily and I am ridiculously excited. Check out some of the reasons I think Kalahari Resorts are the ultimate vacation below along with a bit of a sneak peek at the new ride they added!
The food
Between their little snack shacks, their buffet, the restaurant and the shops in the lobby – I was in heaven! SO many choices and the prices were reasonable as well. I felt like every meal left me satisfied which is a lot to say for a pregnant lady. Also, you can make cookies in the lobby (for free!) and they're delicious.
And yes, those are butterfinger pancakes that I could have eaten for days.
The Indoor Theme Park
Like I mentioned, we went during Winter so we didn't get to see everything outside. But the indoor theme and water parks kept us plenty busy! They have a ropes course, go carts, a ferris wheel, mini golf, laser tag, arcade games, bowling and more. No shortage of things to do when the weather isn't ideal for being outside.
The Rooms
We loved our room, especially because we paid a bit more for the whirlpool tub that felt like heaven at the end of the day for my tired feet. Most of them have an awesome view of the water park and tons of fun little touches. There is plenty of space for the whole family and they have a ton of different options for suites and villas.
And of course the waterpark. (Let's ignore the fact that I literally took zero pictures of the waterpark so I snagged a couple from the press page. Apparently I was too busy enjoying the lazy river and eating delicious food to take photos. Always a good sign of an amazing vacation!)
The waterpark was SO much fun, even for pregnant me. I bet I totally looked like a creeper in the baby area as I was all heart eyes over the little ones playing though. The wave pool and the lazy rivers were my best friends for those couple days. Nathan loved the rides, too. We were both happy and relaxed the entire trip.
We already wanted to go back during the warmer months to spend time in the outdoor park, but they just made me want to even more with their new ride! Check out the The Smoke That Thunders!
Zip, zoom, twist, twirl, slide and splash all under the summer sun! Delve into the gushing waterfalls of The Smoke That Thunders, one of the wildest raft rides. Soar through a dark tube, around in a circle and then maximize the thrill with some of the longest hang times, facing zero-g oscillations as you sweep up and across the wall, virtually defying gravity before sweeping back down.
CRAZY, right? Crazy awesome.
Obviously, in case you haven't figured it out yet, we cannot wait to go back. The price is incredibly reasonable considering all of the variety of attractions that are under one roof. Not having to leave their convenient location for days on end made for an even more relaxing trip. And like I mentioned earlier – the spa was fantastic! Pregnant or not, I'd go there just for a massage.
I'd absolutely recommend the Kalahari Resorts for your next family vacation. Whether you want to eat great food, relax, go on thrill rides, get wet, get some exercise, or just have a ton of fun in one location – they've got you covered! And if Wisconsin Dells is a little far from you, be sure to check out their other locations in Sandusky, OH and Pocono Mountains, PA!
Have you ever been to any of the Kalahari Resorts? What is your favorite type of water ride?