No matter where you're headed this camping season, there are amazing places in each of the 50 states. Check out this list of the best campsites all across the United States so you don't miss an incredible campground!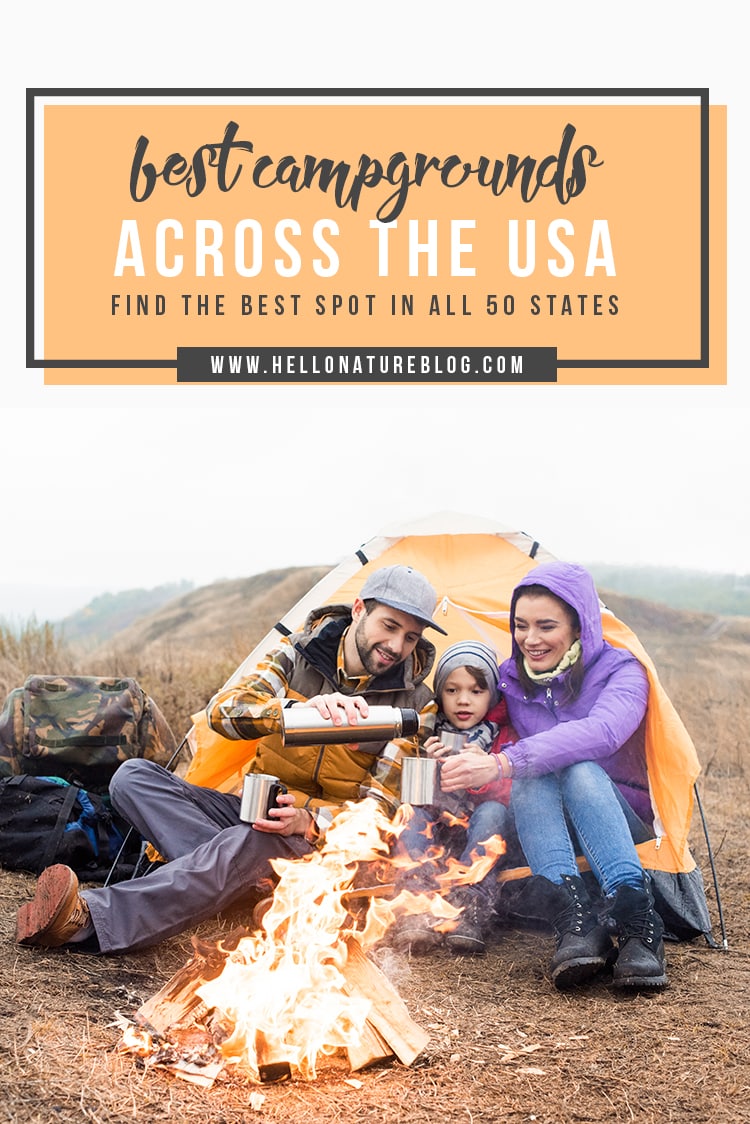 It's time to go camping!
No matter where you're headed this camping season, there are places to camp all around the country. Each state has something beautiful to offer. Between backcountry campgrounds and unique resorts, you'll find something unique all across the country.
So if you're headed out for a cross country trek or maybe just looking for a new places to camp near your home, you won't want to miss the best places to camp in each state!
Best Places to Camp in All 50 States
Alabama
Dauphin Island–
Dauphin Island, AL is the perfect place for beachfront camping, bird watching, and family fun!
Alaska
Yukon – Charley Rivers–
Camping in the Yukon will allow you to experience true Alaska beauty. Free public use cabins are available along the river on a first come, first serve basis.
Arizona
Grand Canyon National Park–
Camp in developed areas or go backpacking and stay within the Grand Canyon. There's something for everyone in this wondrous national treasure.
Arkansas
Ouachita National Forest–
This Hot Springs Arkansas area is a beautiful place to experience nature in the forest that covers 1.8 million acres in Arkansas and Oklahoma.
California
Pismo State Beach–
Located on the Central California coast, Pismo Beach is the perfect place to camp with your (leashed) pets near the water.
Colorado
Rocky Mountain National Park–
If you've thought about camping in the mountains, this is your stop. Enjoy the scenic drive on Trail Ridge Road before arriving at your destination.
Related Reading: Best United States National Parks to Visit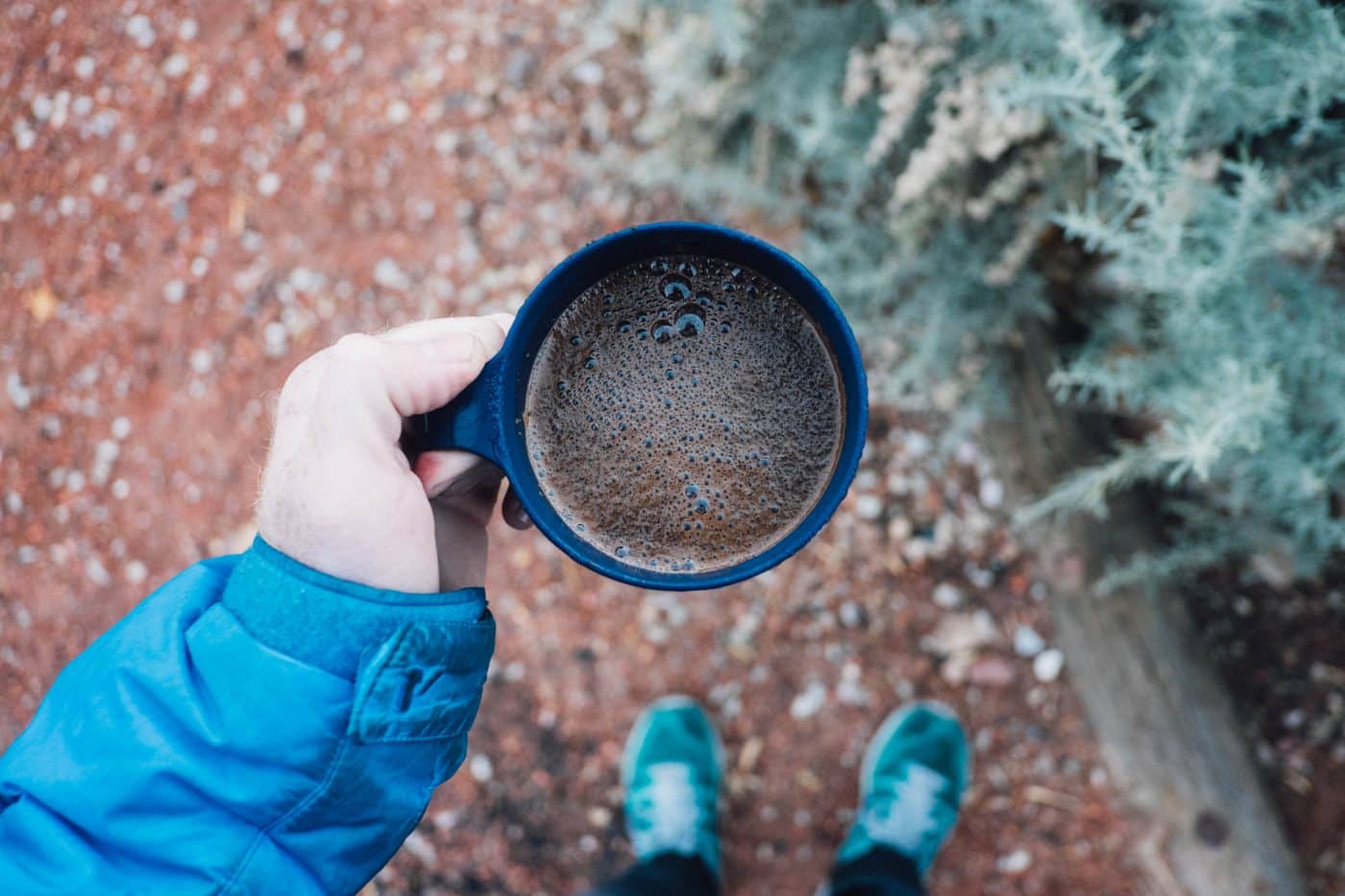 Connecticut
Hammonasset Beach State Park–
Enjoy this Connecticut coastline park with lots of water activities and walking trails.
Delaware
Treasure Beach–
This park is popular for RV camping with lots of amenities including swimming pools and fishing. It's just a short drive from Ocean City, Maryland.
Florida
Disney World–
Disney campgrounds are surprisingly affordable and so much fun!
Georgia
Black Rock Mountain State Park–
This cooler climate is perfect for camping amidst the Blue Ridge Mountains. The views are the best in Georgia.
Hawaii
Hawaiʻi Volcanoes National Park–
See the footprints preserved in the desert ash on the Big Island in this beautiful open camping site.
Idaho
City of Rocks–
Malta's City of Rocks has 64 campsites of varying elevation, perfect for hiking and exploring.
Related Reading: Camping Essentials for Dogs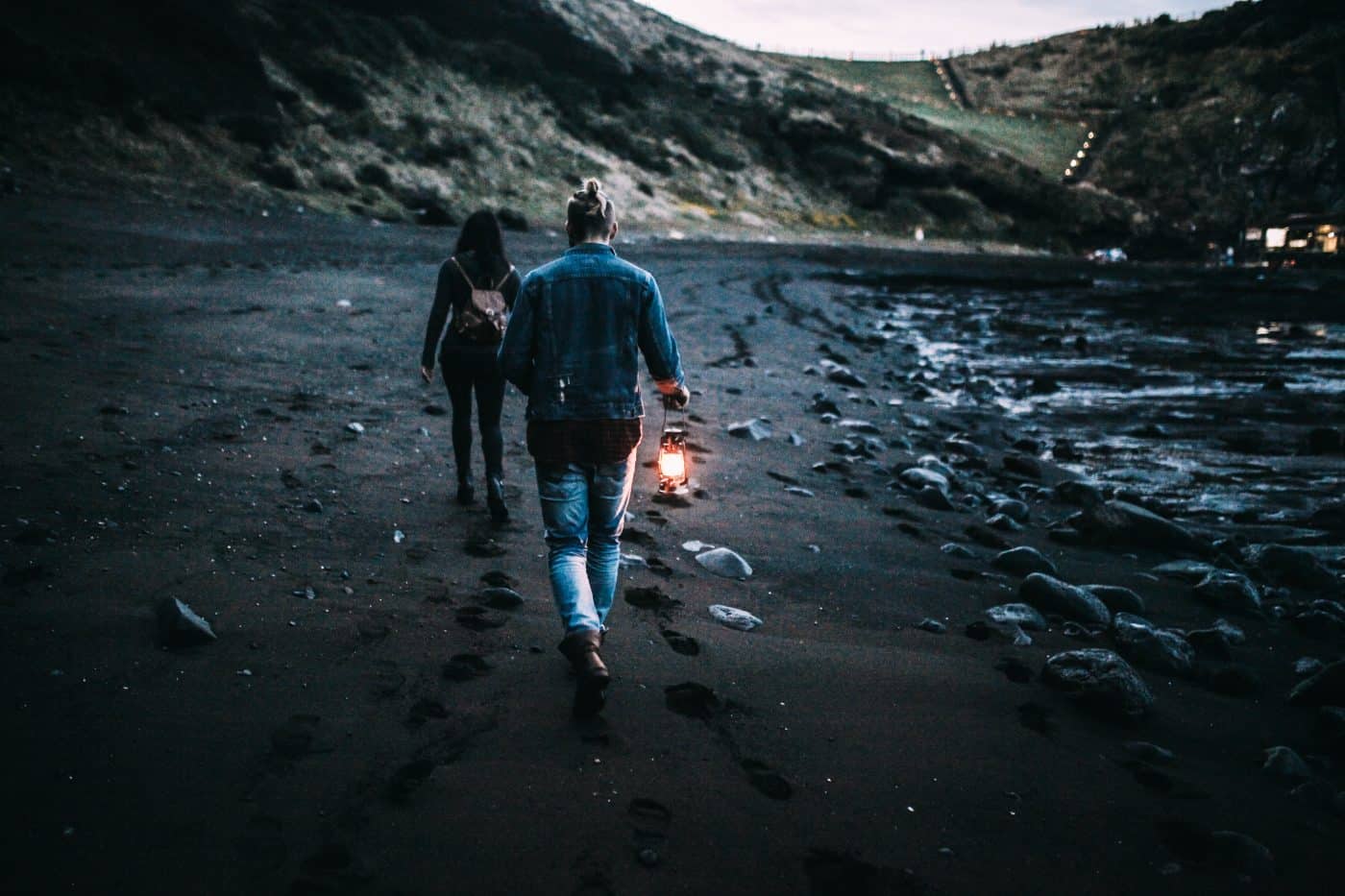 Illinois
Starved Rock–
Located in Utica, Illinois, Starved Rock is the perfect place to hike and see majestic waterfalls.
Indiana
Caboose Lake–
Enjoy this Remington, Indiana campground with fun summer activities for the kiddos!
Iowa
McIntosh Woods State Park–
Camp in a yurt! You'll love cabin/tent hybrids in Clear Lake, Iowa, one of the Midwest's best kept secrets.
Kansas
Scott State Park–
Experience Native American history in this picturesque registered historical site in Kansas.
Kentucky
Blue Licks Battlefield State Resort Park–
Camp near the site of Kentucky's last battle of the Revolutionary War and experience history.
Louisiana
Fountainebleau State Park–
Gorgeous sunsets and beach walks make this a romantic camping spot for couples.
Maine
Natanis Point Campground–
Lakes and hunting close to Canada make this private campground in Maine a wonderful place for families.
Maryland
The Treehouse Camp (Maple Tree Campground)–
Have you ever thought of camping in a treehouse? Check it out in Rohrersville, Maryland!
Related Reading: Easy Camping Food for Your Next Camping Trip
Massachusetts
Boston Harbor Islands–
Explore New England history in Boston Harbor. With a close drive to the city, you can extend your camping trip to visit some famous Boston landmarks!
Michigan
South Manitou Island–
This quiet island park is a great place to camp with your family. For extra fun, check out ghost towns and the wagon tours!
Minnesota
Split Rock Lighouse State Park–
Check out the historic lighthouse, go fishing, and take a hike in this state park on Lake Superior's North shore.
Mississippi
Choctaw Lake Campground–
This quiet, small campground has 21 campsites and lake access along with fantastic hiking trails.
Missouri
Indian Point–
Access to Table Rock Lake and proximity to the Ozark Mountains make this a fine Missouri campsite
Montana
Point Pleasant–
Enjoy a pleasant camping trip on this public campground site in Swan River State Forest Park.
Nebraska
Niobrara State Park–
The beautiful Niobrara River provides a backdrop for this park which offers amenities and events throughout camping season.
Nevada
Cathedral Gorge State Park–
Former volcanic activity made this park a famed picturesque camping site for your family to enjoy.
New Hampshire
Franconia Notch State Park–
Camp, visit Echo Lake Beach, Cannon Mountain, and enjoy the scenery from the aerial tramway.
New Jersey
Pleasant Acres Farm Campground–
If farming appeals to your family, this is the place to take your New Jersey camping trip. Milk a cow, ride a horse, and learn about farming.
New Mexico
Rockhound State Park–
Wildflowers and wildlife are in abundance at this gorgeous state park in New Mexico.
New York
Adirondack Park–
This six million acre protected area is a must-see in upstate New York. There are hundreds of campgrounds available for all interests and levels.
North Carolina
Hanging Rock State Park–
This site is a camper's dream come true with waterfalls, trails, horseback riding, boating, and more!
North Dakota
Far Loop Campground–
True to its name, you'll find a loop of different campsites. Enjoy everything here from from sunsets to campfires.
Ohio
Indian Lake State Park–
As a major bird migration route, this campground is a thrill for aviary enthusiasts.
Oklahoma
Robbers Cave State Park–
Boasting stunning scenery, this spectacular camping spot is located in the San Bois Mountains and will not disappoint!
Oregon
Camp Blanco State Park–
A coastal gem, this State Park offers everything from hiking to fishing. Much of it is accessible to those with physical disabilities.
Pennsylvania
Otter Lake Camp–
Located in the Pocono Mountains of Pennsylvania, this lake is your destination for your next camping vacation!
Rhode Island
Bowdish Lake Camping Area–
Escape to nature in the spacious and secluded campsites of Bowdish lake. Facilities for season-long camping are available.
South Carolina
Dreher Island State Park–
This State Park overlooks the lake and is still close to the city. Boating, fishing, and hiking are just some of the activities offered.
South Dakota
Palmer Gulch Resort–
This Hill City, South Dakota resort is perfect for true campers and those that like to be close to amenities. (You'll want to check out Turtle Town!)
Tennessee
Cedar Creek Campground on Old Hickory Lake–
Named after President Andrew Jackson because of his tough, aggressive personality, this campground is the place for spirited individuals ready to take on nature.
Texas
Goose Island State Park–
Visit this campsite to see one of the largest live oak trees in Texas!
Utah
Devil's Garden Campground–
Explore the heart of Arches National Park while taking adventures on hiking trails and admiring different species of cacti.
Vermont
North Beach Campground–
Here you will enjoy gorgeous sunsets, hiking trails, hanging out at the beach, or just the lush natural surroundings.
Virginia
New River Trail State Park
With four primitive campgrounds without vehicle access to showers and bathhouses, this campsite gives you a chance to really rough it in the wild.
Washington
Fields Spring State Park–
Stay in a real wood and canvas teepee in this unique campsite in Washington State.
West Virginia
Summersville Lake–
This Mountain Lake Campground is great for swimming or scuba diving. Fishing is plentiful as it's stocked with trout in the spring and the fall.
Wisconsin
Big Bay State Park–
View some of the state's preserved wilderness. Wake up to the sounds of waves outside of your tent, and fall asleep under the sunset on the beach. Check out this list of Things To Do in Wisconsin, too!
Wyoming
Sand Mesa Campground – Boysen State Park–
Catch rainbow trout, perch and walleye from the Boysen Reservoir in this fisherman's paradise.
A quick tip on for finding a great campsite outside of the ones listed. Whether you're looking for tent or RV camping, state campgrounds and county campgrounds offer nice campsites at a reasonable price.
---
I hope you were able to find an awesome campsites with these amazing options across the country! Did I miss a campground? Or is there another one that's a close second? Let me know where you think the best places to camp are in the comments!
And if you're in need of some travel entertainment while you're figuring out the best place to camp for your family, check these items out: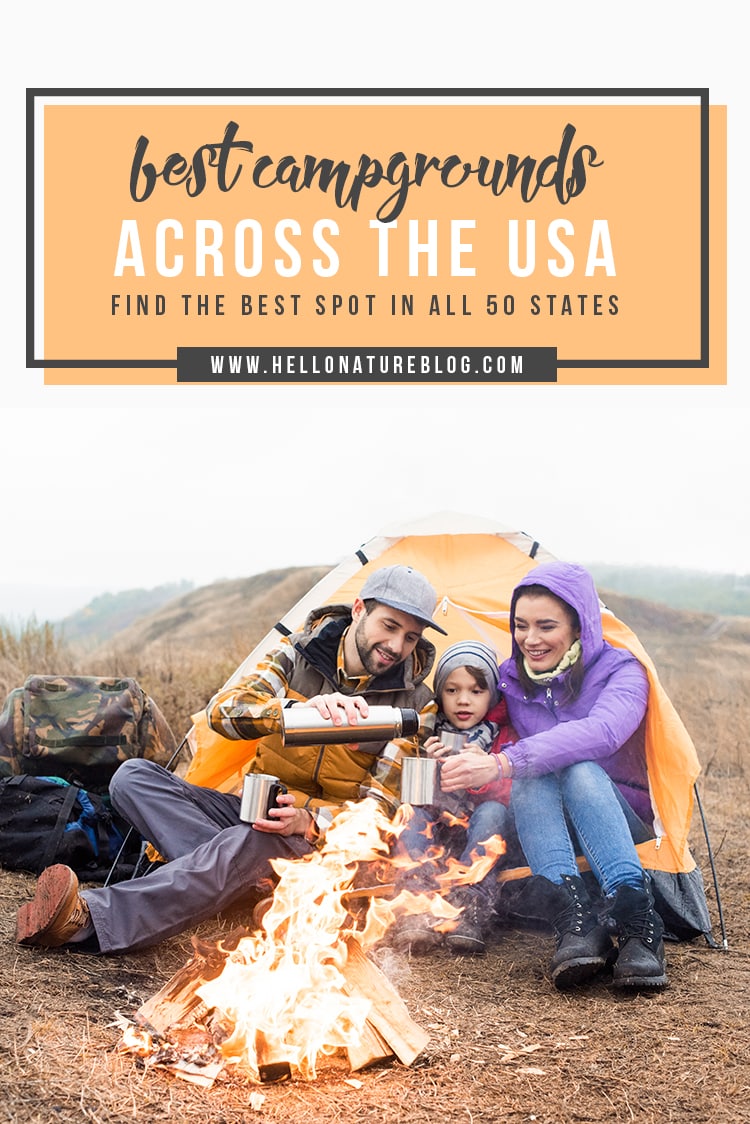 You might also like: