If you're in need of the perfect drink whether you're enjoying your campsite or at home wishing you were outdoors, this S'mores Latte recipe is it!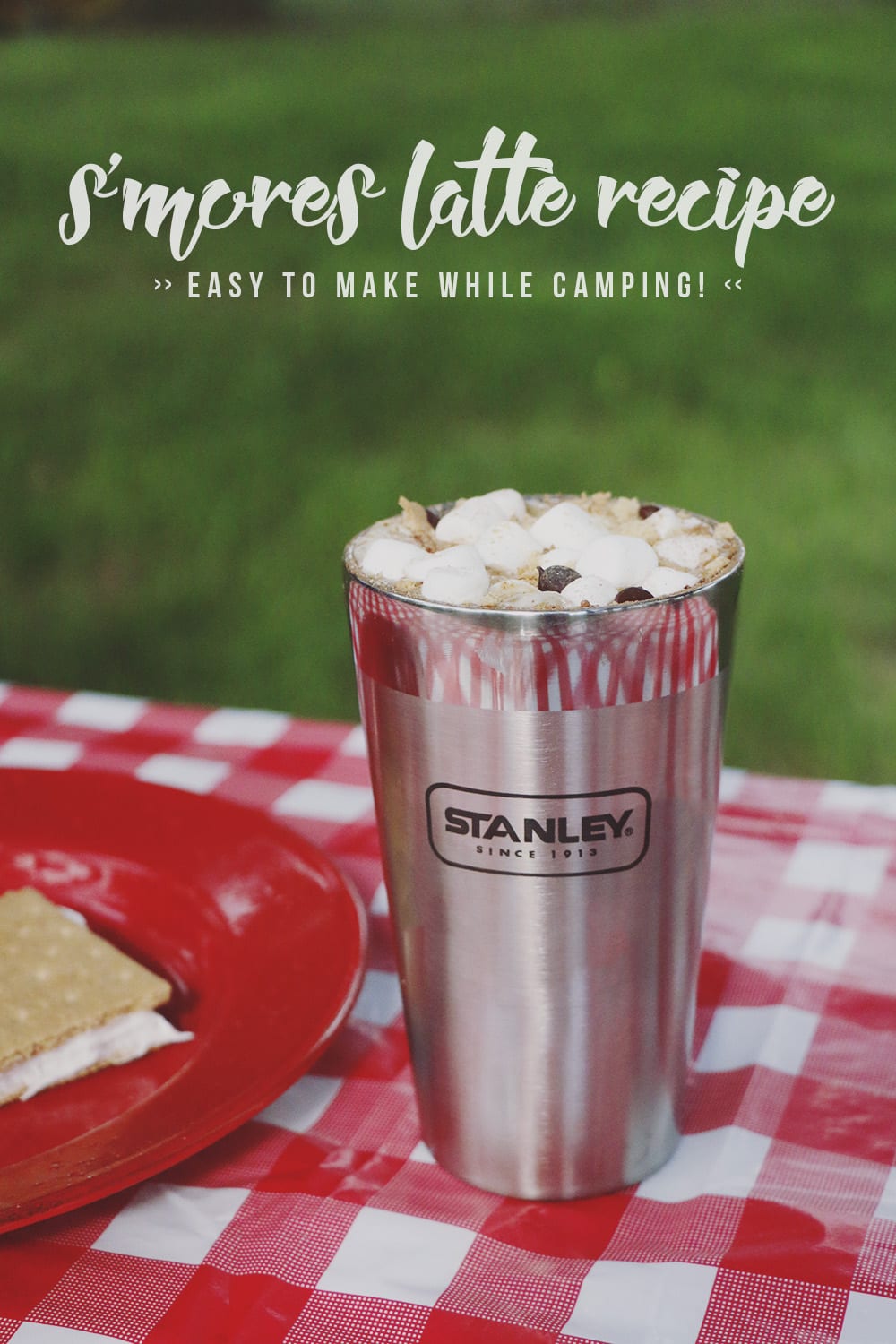 What is the one thing you think of when it comes to camping?
There are SO many good things about camping that it's hard for me to pick one thing, but if I had to choose – I'd pick s'mores. I grew up enjoying them and my mom always made sure that we had the ingredients packed for them when I was younger. My dad always toasted the marshmallows to the perfect level of doneness (brown and a little crunchy, but never burnt!)
My sweet tooth ensured that to this day, if there's a s'mores flavored anything, I'll probably try it. And while I'm all for making s'mores any time of the day (seriously – I can't think of many better ways to start the day than a gooey s'more) – I wanted to diversify a little bit. Combine breakfast with dessert. Bring a little more flavor to my morning cup of joe.
And with that idea the s'mores latte recipe was born.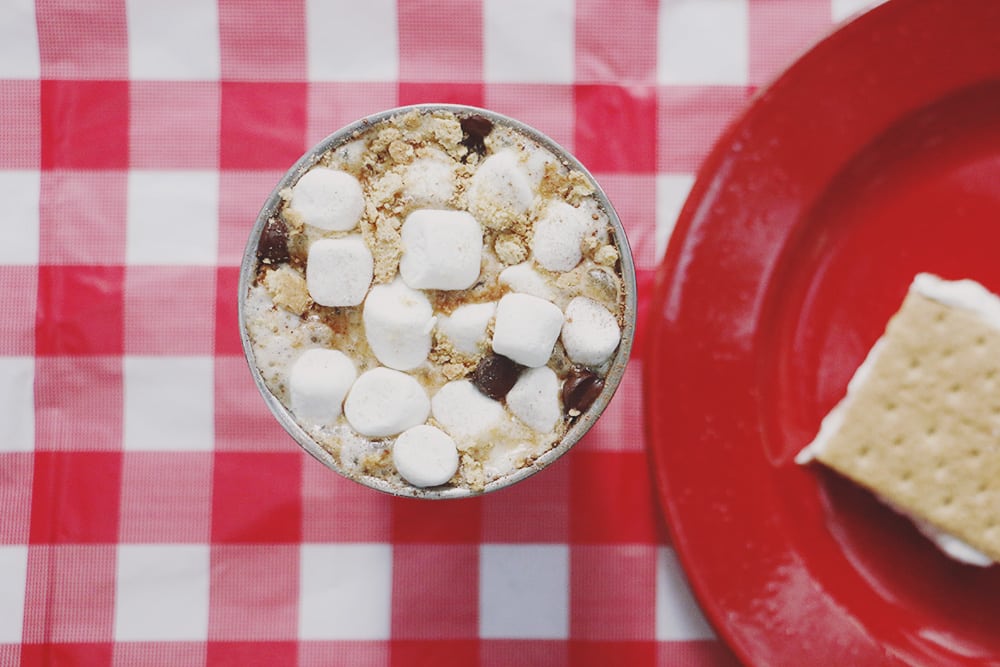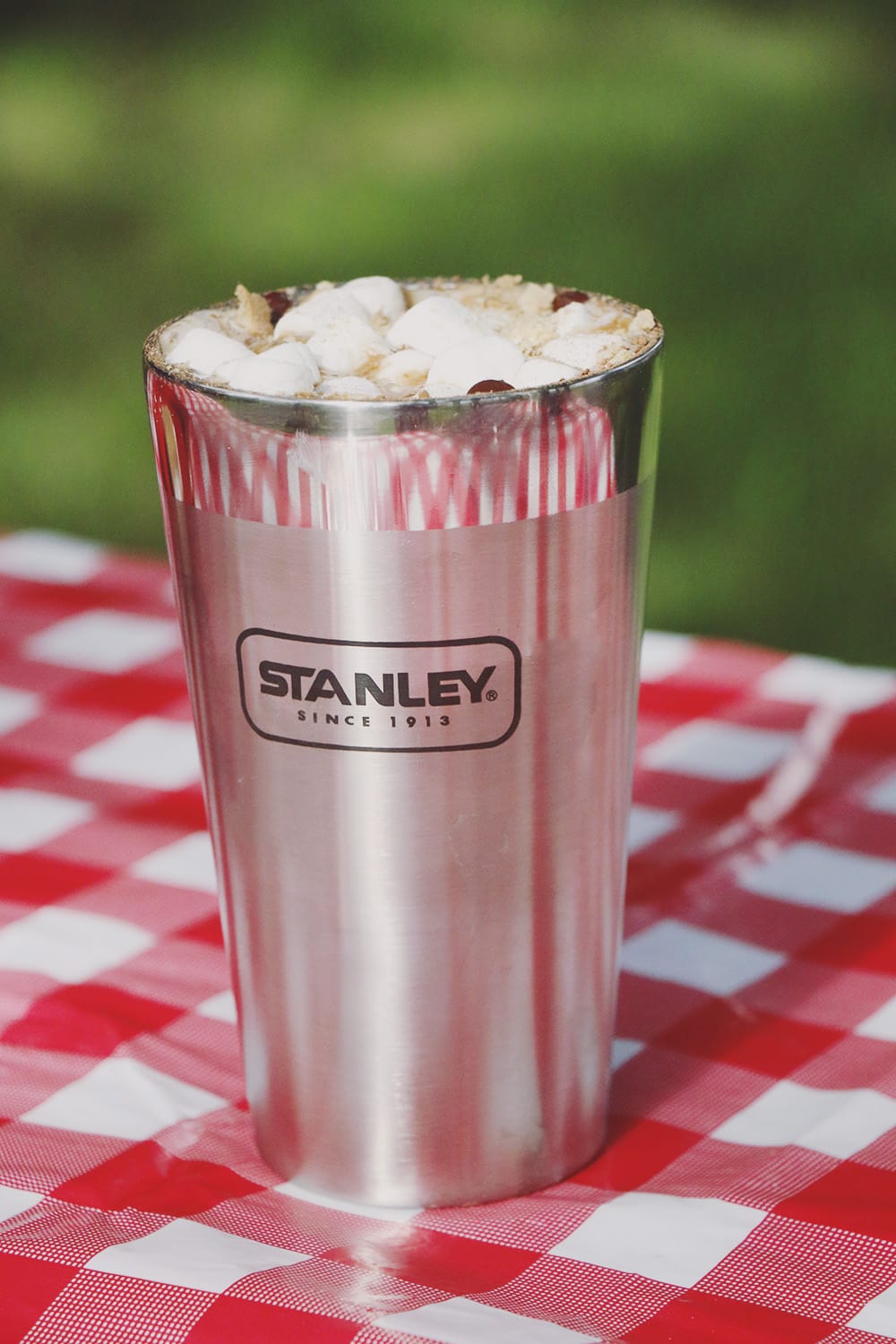 There's a lot of great things about the s'mores latte recipe, but one of coolest things is that you can easily make it while camping. No crazy ingredients and you should already have the ingredients for s'mores so really, how can you not make it?
It's one of the best drinks to start the morning out with, especially when you have one of those cooler camping mornings where you don't quite want to do anything other than sit around a fire for awhile. Those are the BEST mornings. I love the smell and the feel of the crisp air while you're bundled up, enjoying a campfire and your favorite drink. The sounds of the forest waking up and the crackling wood. Sigh. I wish I was out there right now!
But back to the s'mores latte recipe.
Even if you're not going camping any time soon, this drink is perfect to enjoy at home because it pretty much brings back all of the things that there are to love about camping without you even having to change out of your pajamas. It's so easy to put together and so delicious.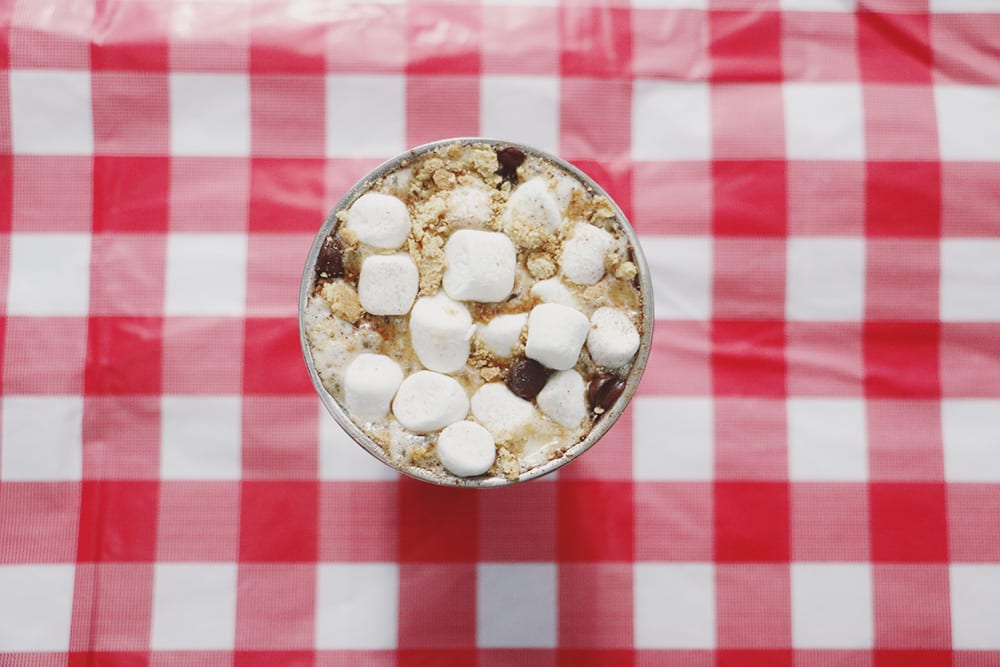 s'mores latte recipe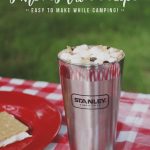 S'mores Latte
Ingredients
For the Coffee
10

oz

Coffee

2

oz

Milk

Frothed

1

Tbsp

Cocoa Powder

2

Tsp

Chocolate Syrup

2

Packets Sugar
Toppings
Mini Marshmallows

Chocolate Chips

Crushed Graham Crackers

Whipped Topping

Optional
Instructions
For the Frothed Milk
Heat 2 oz of steamed milk in the microwave, over the stove, or over the campfire until warm/you see steam rising. Using a whisk or a frother, beat until it nearly doubles in volume.
For the Drink
Make your coffee according to directions (instant, pot, etc.)

Add in the cocoa powder, chocolate syrup and sugar.

Mix in the frothed milk.

Top with whipped topping, mini marshmallows, chocolate chips and crushed graham crackers.
Now if you are going camping, I have some pretty awesome gear you should bring along with you to enjoy this drink. You guys already know my love for Stanley. Seriously, if I had to choose a brand that I 100% support and love every product I've ever used from – Stanley is it. I've shared a couple of drink recipes with their gear (Cranberry Orange Infused Vodka and this Easy Tropical Punch Recipe) along with a delicious Potato and Leek Chowder Recipe in their crock. Every time, I'm like "I'm going to find a fault in one of these products some day." Some day hasn't come and I'm pretty sure it isn't going to now.
Now if you haven't used and fallen in love with Stanley products like I have yet, let me give you a little bit more info on them. Stanley really does provide top quality outdoor gear. All of their products are super sturdy and really seem to be built for life. They're perfect for road trips, outdoor adventures, tailgating season, and so much more. I've got a couple of Stanley's awesome products to share with you today!
64oz and easily pours one-handed
Steel inner lid so no plastic touches your drink
Keeps beverages cold for up to 24 hours
16oz with an extra 4oz for foam
Stacks to save space with packing and storing
Keeps beverages cold for up to 4 hours and 15 hours if iced. 45 minutes if hot
16oz and leak-proof
One-handed use with push button lid
Keeps beverages hot or cold for up to 7 hours. 30 hours if iced
Set of four 2oz glasses
Steel carrying case with screw top lid and lip loop to clip to pack
Stainless steel so they won't rust
The vacuum mug is perfect to take with you if you're headed out for a morning hike and the pint glass is great at the campsite. If you're wanting to make a bigger batch of coffee for the whole family, use the growler! And if you're feeling a bit more adventurous, adding some Kahlua with the shot glass set can shake things up a bit!
And these items make some of the best Father's Day gifts! We've given numerous products as gifts for Father's Day and even a birthday or two to our dads and we still hear how much they love the Stanley gear.
Let's Chat!
What's your favorite drink to enjoy while camping? Have you ever used Stanley gear? If so, what's your favorite?
You might also like: