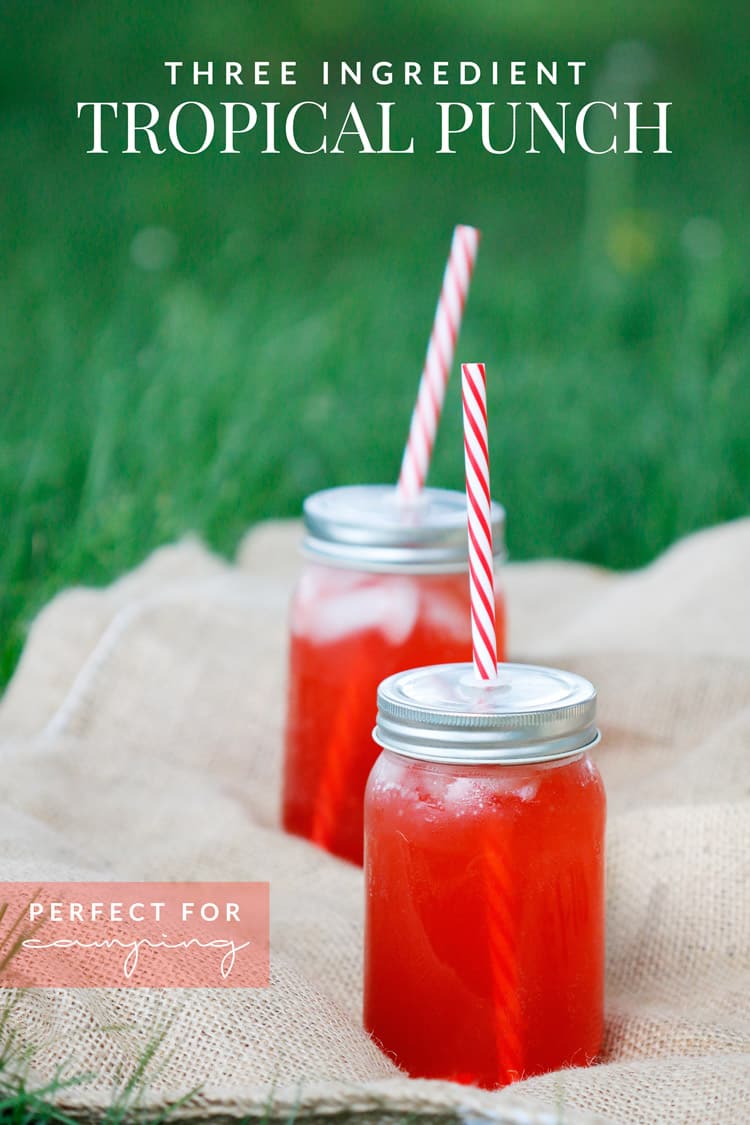 It's getting to be that time of the year where all I want to do is spend my time outside. Especially now that we live right outside of a beautiful forest. That means hiking, hitting the trails on our UTV, kayaking, and maybe even some camping.
Considering how much time I'm guessing we'll spend away from home this Summer, I've put a lot of thought into our food and beverages. I may love the outdoors and spending time under the sun, but I love delicious drinks and scrumptious food just as much – if not more. So today, I have the perfect drink that you can make while you're out enjoying the great outdoors and am sharing the perfect way to carry it with you. And if you're looking for more drinks, be sure to check out these easy recipes!
One of the reasons I love this tropical punch recipe is the fact that it has only three ingredients and it's perfect for the whole family. If you're feeling more adventurous and want a less family friendly drink though, add in a shot of rum. ;) (My choice will always be Malibu, but I'm sure any rum or vodka would work!)
We always have soda and juice with us when we're camping, so adding in a small bottle of grenadine is super simple. It's perfect for those sunny days after a hike or after a day on the water when you need a refreshing drink, too.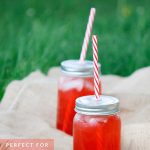 Three Ingredient Tropical Punch
Ingredients
1

cup

Lemon Lime Soda

Sprite, Sierra Mist, etc

1/2

cup

Orange/Pineapple Juice

I use a blend of both

2

Tbsp

Grenadine

Optional: 1 shot of Coconut Rum
Instructions
Combine the ingredients, mix together and pour over ice.
Recipe Notes
My favorite juice to use is orange pineapple juice or an orange pineapple mango juice I've found, but any similar juice works great for this recipe!
Whether or not you make this delicious drink, my beverage holder of choice is always something from the Stanley Brand. Especially for our hikes and trails rides when a cooler isn't nearly as feasible. Stanley products are truly built for life. Whether it's surviving another outdoor adventure or enjoying a camp fire, the Stanley Brand provides top quality outdoor gear that's suitable for wherever your adventurous lifestyle takes you.
And remember when I mentioned going a bit more on the adventurous side with some rum? The Stanley Brand has you covered with the Stanley Flask! Craving coffee instead? Try the Stanley Vacuum Bottle. And if you're just looking for a cold beverage for the day like this tasty drink, you can use the Stanley Vacuum Mug.
I know that Father's Day isn't too far away so if you're looking for a gift or two for you outdoorsy Dad, I'd highly recommend any of the Stanley Brand products! You could even make him this drink to go along with it :)
Speaking of Father's Day and purchasing the fantastic Stanley Brand products I mentioned above, I thought I'd help you out with this PayPal Cash giveaway! Then you can pick our your favorite Stanley Brand product yourself!
Good luck!
You might also like these drink recipes: