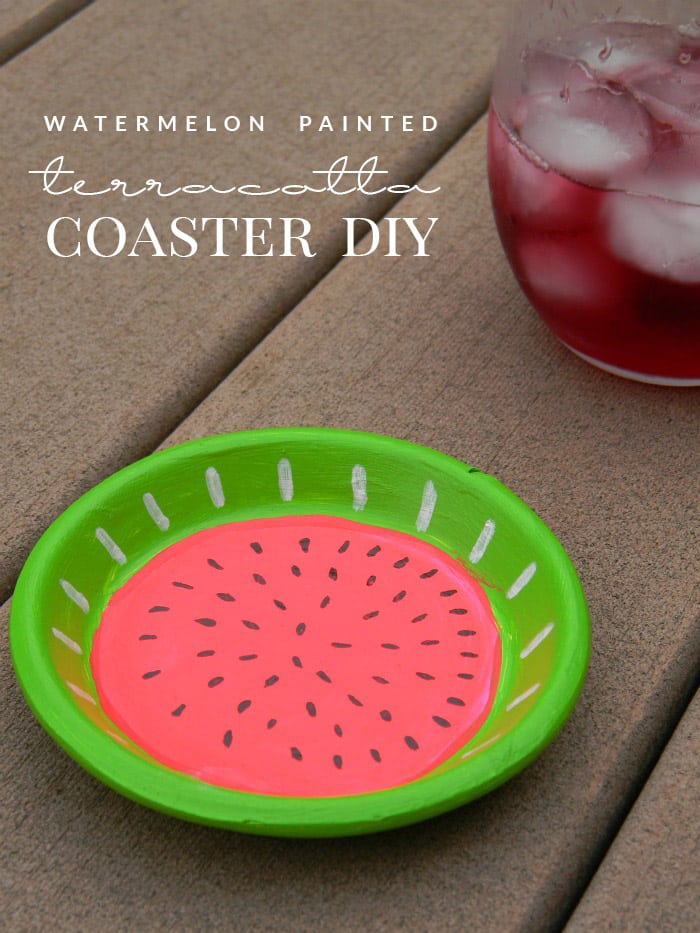 After the harsh Winters we tend to experience, I like to make things bright and cheery again during the Summer. Our backyard is filled with a rainbow of colors from the berry bushes that give us fresh, beautiful fruit to the gorgeous flowers that bloom year after year.  I leave a pop of color almost everywhere in the backyard! It's our happy place during the Summer!
When we're hanging out on the deck, you'll often find my husband lounging in his favorite chair while I'm sitting at our outdoor table reading or writing. A good Summer table is never complete without fresh fruit to snack on and a cold drink to quench your thirst. Today I'm combining both of those things by sharing an easy terracotta coaster DIY project that turns a terracotta saucer into a watermelon painted coaster.
And if you're looking for more watermelon inspiration, try this watermelon lemonade or this watermelon fruit pizza with balsamic glaze.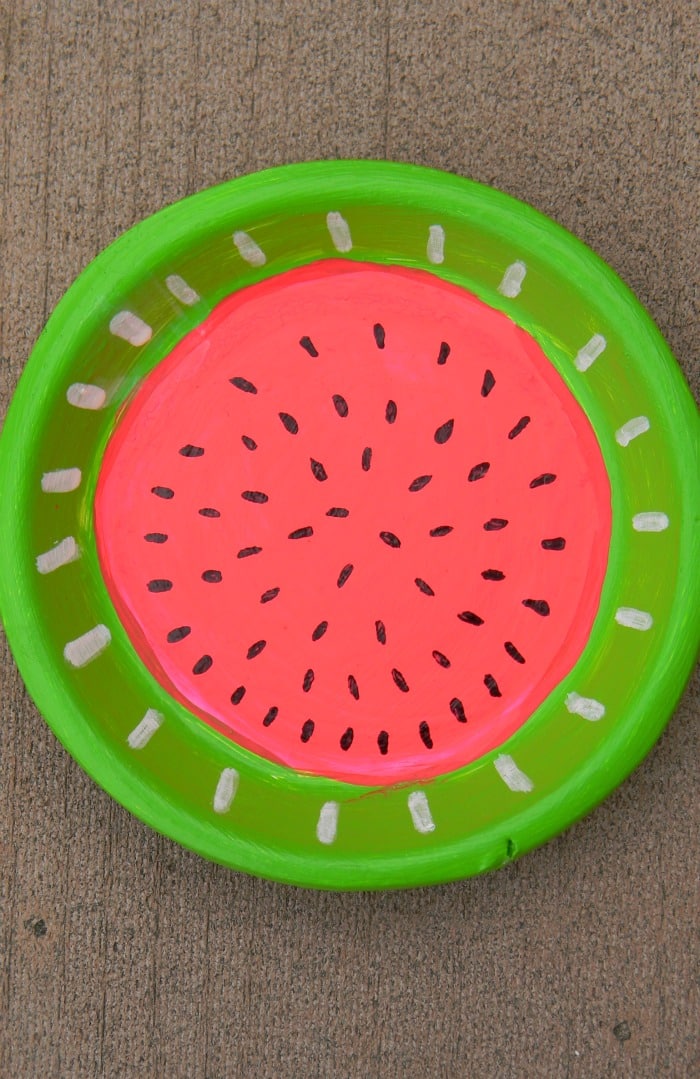 SUPPLIES
4 inch terracotta saucer
white acrylic paint or spray paint
lime green acrylic paint
neon pink acrylic paint
black Sharpie marker
white paint marker
foam brushes, for painting
STEPS
Make sure your terracotta saucer is free of dirt before painting.  Then, paint a coat of white paint on both sides of the saucer.  Allow to dry completely.
Paint the bottom of your saucer lime green.  This may require 2-3 coats to cover completely.  Allow paint to dry.
On the front of your saucer, only paint the top and inner rim lime green.  Allow to dry.
Paint the remaining portion of your terracotta saucer in neon pink.  Allow paint to dry completely before adding watermelon details.
Use your white paint marker to create stripes around the inner rim of the saucer.  Allow to dry.
 Use your black Sharpie marker to create "watermelon seeds" inside of the saucer.  Allow to dry completely before placing a drink onto it.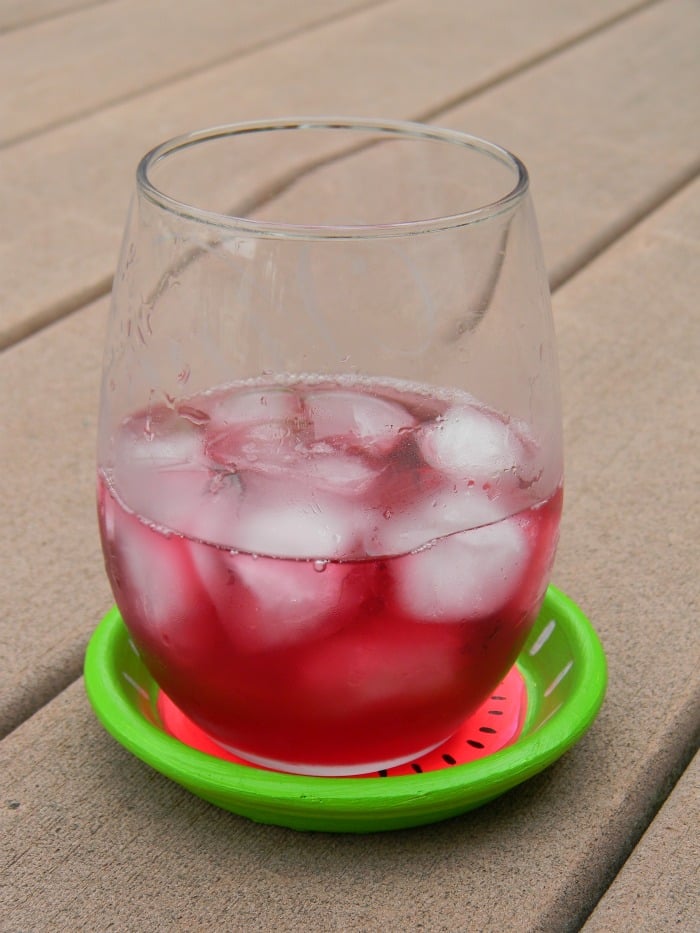 Terracotta saucers are very inexpensive at garden centers and home improvement stores.  Make a few of these coasters for your backyard gatherings or take them to your next barbecue as a gift!  If you plan on leaving these coasters outside, I would suggest adding a clear coat to seal and protect them.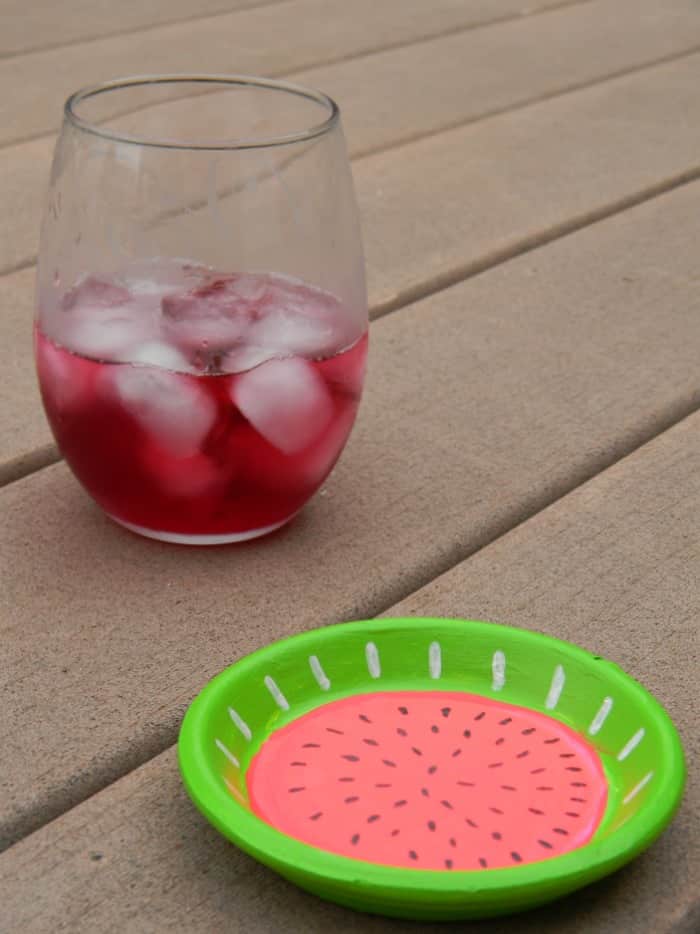 This terracotta coaster DIY isn't just limited to drinks, either. You can use them as a trinket dish as well, or let them serve their original purpose and use them to brighten up a plant!
HOW DO YOU BRIGHTEN UP YOUR BACKYARD DURING THE SUMMER?
If you like this, you might like these DIY projects: