Inside this post: You'll want to check out one of the most fun halloween bath bomb ideas with this tutorial on how to make a candy corn bath bomb. It's a must have for all fans of Halloween!
We're big fans of Halloween crafts in this house. But if you make too many, you end up with more decorations than you have room for! So we've started focusing a bit more on consumable goods. We love making easy Halloween desserts and now we're adding a new project to our must-make list every Halloween:
Candy Corn Bath Bombs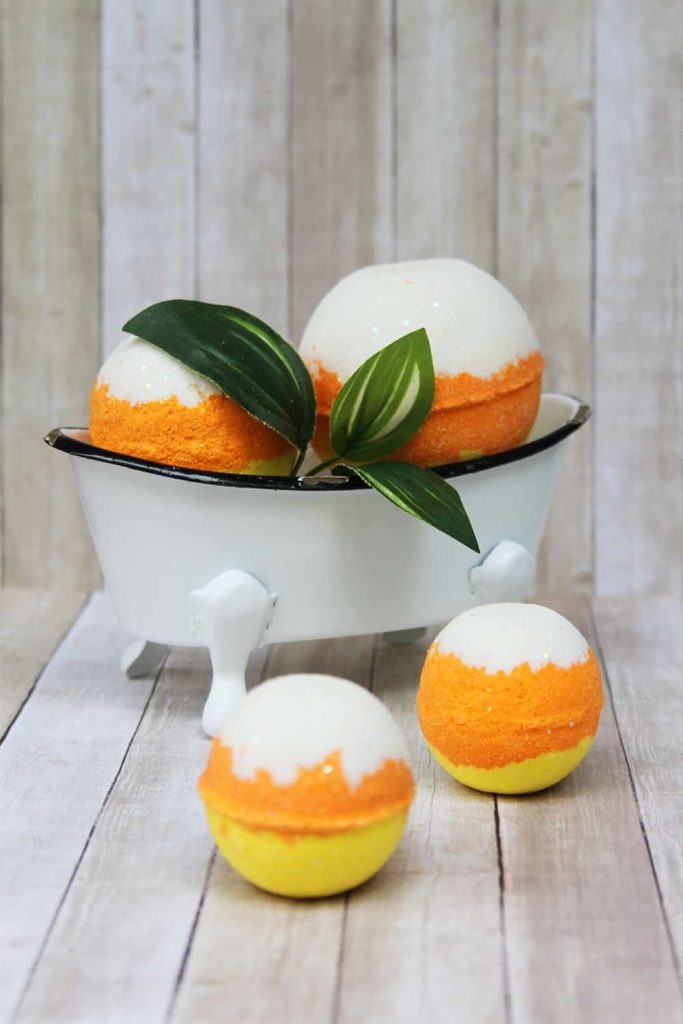 One of the reasons I love this Halloween bath bomb DIY is because of the fragrance oil used with it. I mean, it looks really awesome, but it smells great, too. It also doesn't require any Halloween bath bomb molds so you aren't stuck with something you'd only use once a year.
If you're wondering what to put in Halloween treat bags, these DIY halloween bath bombs it. I know candy is the go-to, but non-candy Halloween favors can be equally as awesome. Especially when they look and smell like this Halloween bath bomb. They're great Halloween party favors for adults and they're a really unique Halloween treat bag idea, in my opinion.
If you are going to use this candy corn craft as a Halloween party favor idea, I would recommend using these shrink bags for the bath bombs. That way, the bath bombs won't fall apart and you can keep them clean.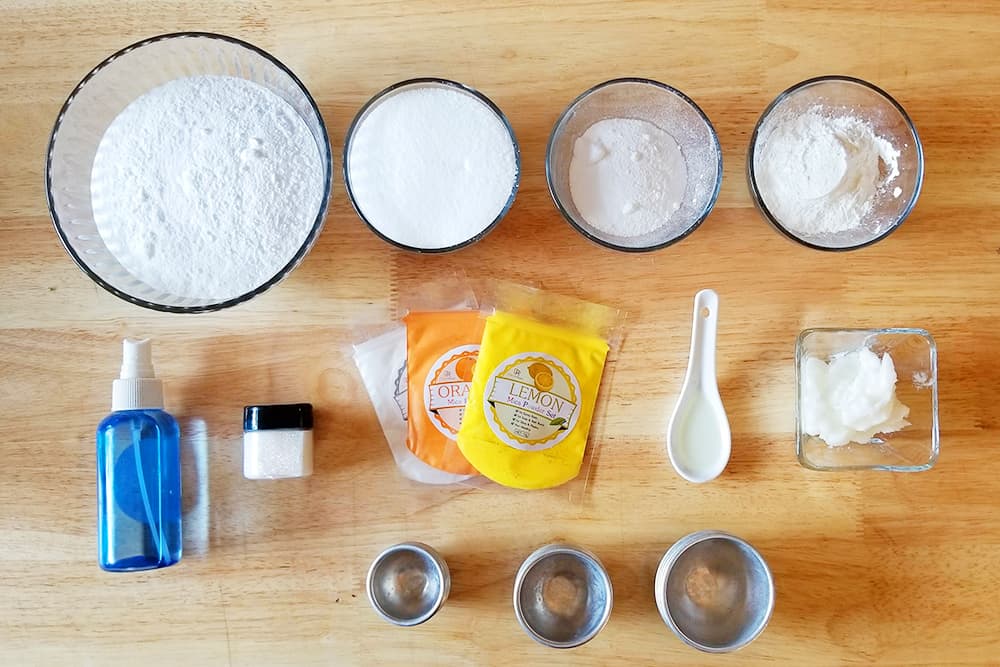 Candy Corn Bath Bomb DIY Supplies
You can grab the printable supply list and step by step instructions for making this bath bomb at the bottom of this post. However, I wanted to talk about where I get a lot of my supplies since most of them aren't as common.
Common Supplies
Baking Soda
Cornstarch
Spray bottle filled with rubbing alcohol
1 large mixing bowl
3 smaller bowls
Supplies I Recommend Buying on Amazon
* Not featured in the above supply photo.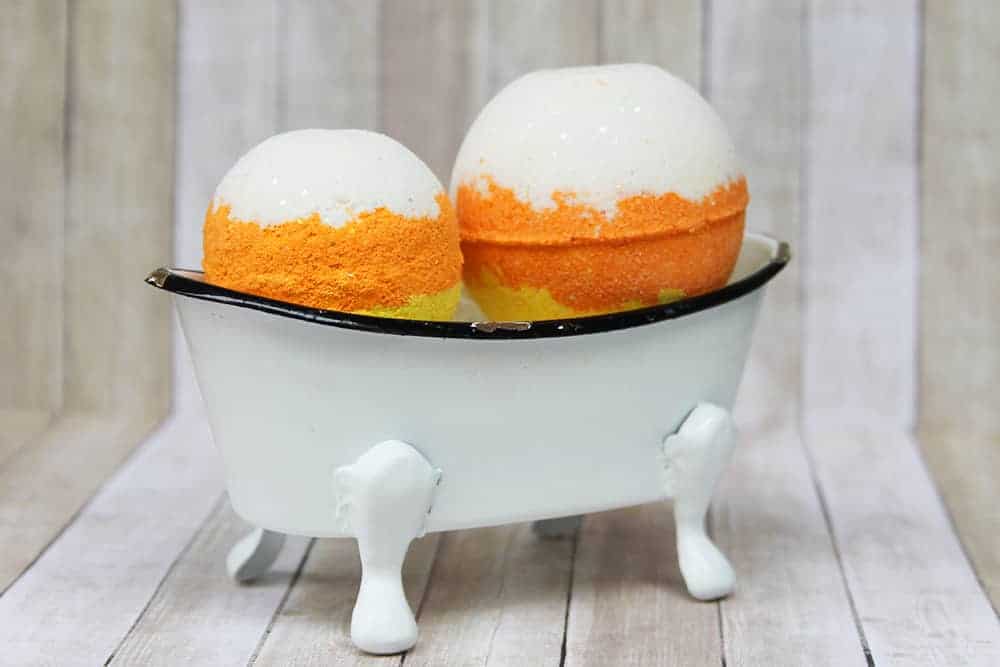 This Candy Corn Bath Bomb DIY made 3 large, 2 medium, and 3 small bath bombs. Depending on the size mold that you use, your results will most likely vary. I've included the measurements and weight of each mold below so you can get a feel for the sizing.
Small: 1.77″ and 2.1 oz
Medium: 2.17″ and 3.8 oz
Large: 2.56″ and 6.2 oz
Candy Corn Bath Bomb DIY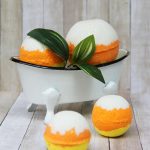 Candy Corn Bath Bomb DIY
A fun Halloween bath bomb DIY
Ingredients
2

Cups

Baking Soda

1

Cup

Citric Acid

1/2

Cup

Cornstarch

1/4

Cup

SLSA

3

Tbsp

Coconut Oil

1

Tbsp

Polysorbate 80

Candy Corn Fragrance Oil

White Pearl, Yellow and Orange Mica Powder

White Holographic Glitter
Instructions
In a large mixing bowl, add baking soda, citric acid, cornstarch, and the SLSA.

Add coconut oil and the polysorbate 80. This will help the coconut oil disperse more evenly in your bath water and will help prevent the mica from sticking to the side of the tub.


Add a few drops of the candy corn fragrance oil and glitter. Mix all the ingredients together until thoroughly combined. See if the scent is strong enough and add more if needed, a few drops at a time until you've achieved the desired strongness.


Separate the mixture evenly between three bowls. Add as much white pearl mica as you'd like to one bowl, as much yellow as you'd like to the next and as much orange as you'd like to the third. Mix the mica thoroughly into each bowl.


Take a bath bomb mold and fill one side about 1/4 full with the white mixture and then pat gently. Fill to the top with the orange mixture.


Add the yellow mixture to the other side of the mold about 2/3 of the way full and pat gently. Fill the remainder of the mold with orange.

Press both sides together, using a twisting/grinding motion to get rid of any of the excess mixtures. Gently tap each side and carefully remove the bath bomb.

Leave the molds to harden 24-48 hours. Store in an airtight container until ready to use. Drop one in the bath when ready to use.

Love this step by step bath bomb DIY? You might enjoy these easy Halloween crafts, too! You can make this Halloween Piñata DIY, this Halloween Cheesecloth Ghost DIY, or even these Cheesecloth Spiderwebs. And when you can't figure out what to do with your Halloween candy, try out these recipes that can be made with leftover candy.
I hope you enjoyed this fun candy corn craft idea! If you think your friends might enjoy it, too, please share it on Pinterest so they can make their own DIY Halloween bath bombs this year!