Halloween is one of those holidays that I can't wait to decorate for! As I continue to venture up into my attic to dig through my big tub of Halloween decor, I find myself wanting to DIY a lot more of my decorations. Last year, I made cheesecloth spiderwebs to drape over the bushes and lampshades. This year, I wanted to use cheesecloth again to create another spooky Halloween DIY project.
I recently added some fabric stiffener to my seemingly ever-growing collection of craft supplies. With Halloween coming up, the first project I wanted to use my fabric stiffener on was cheesecloth ghosts. So I bought some Styrofoam balls from the craft store, pulled out some wire from my craft box, and used an empty bottle to create an easy form to make my ghosts.
SUPPLIES
STEPS
Using wire cutters, cut two 6-inch pieces of wire.
Stick one piece of wire into each side of a Styrofoam ball. Bend to create arms.
Next, position Styrofoam ball on top of a plastic bottle. Press down slightly so the ball stays in place.
In a plastic bowl (or one you don't mind messing with fabric stiffener), pour in a little fabric stiffener, enough to cover a piece of cheesecloth.
Dip cheesecloth into the fabric stiffener and wring out excess.
Drape cheesecloth onto your form, adjusting as necessary.
Allow to dry for a few hours until stiff, or overnight.
Gently remove cheesecloth from form.
Use your Sharpie marker to create ghostly eyes and mouth.
Display or hang your cheesecloth ghost with fishing line.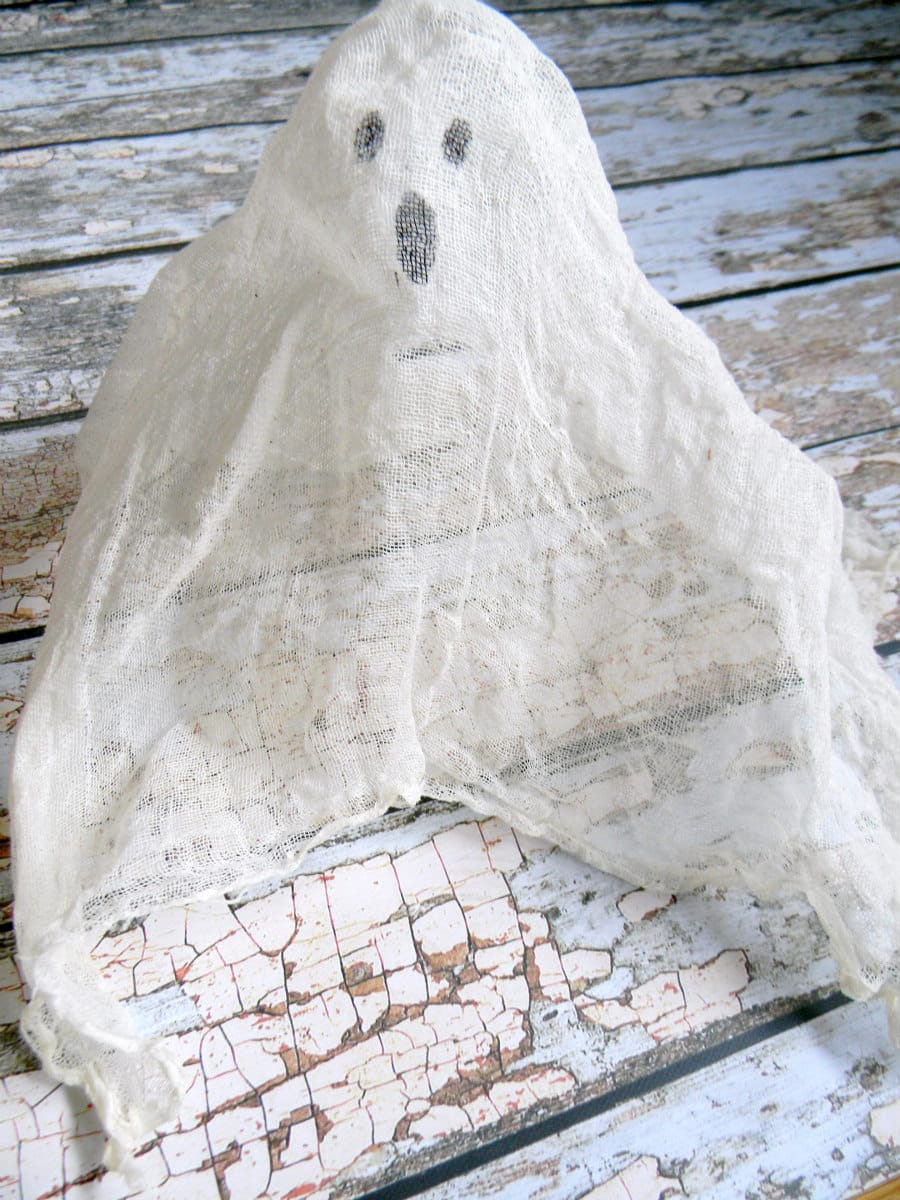 The bottom of the ghosts can easily be molded to sit properly on a shelf or surface. To hang your cheesecloth ghost, thread a piece of fishing line through the top of your ghost. Knot the fishing line and hang. I have a couple of these floating above our dining room table from our light fixture. They look so spooky cute!
I'd love to know: what's your favorite way to decorate for Halloween?