This shop has been compensated by Collective Bias, Inc. and its advertiser. All opinions are mine alone. #DIYOilChange #CollectiveBias.
Sunday marked the end of our longest road trip to date and even though I'm glad to be back home, I'm a little bummed it's over! We drove from nearly the top of Wisconsin alllll the way down to the Southern most point of the United States down in Key West, Florida. It was absolutely amazing and I am so excited to overshare the ridiculous amount of photos that I took in the upcoming weeks. But today, I want to go backwards a little bit and talk about how to prepare your vehicle for a road trip.
Our trip was over 4000 miles and luckily, we didn't have a single problem the entire time. I'd like to think it's because we took so much time preparing our vehicle for the road trip ahead of time. While I know there were a lot of things that could have happened still, it was nice knowing we had done what we could ahead of time. I figured I'd share some easy tips and tricks for you to do to prepare your vehicle for a road trip, including how to change your oil!
HOW TO PREPARE YOUR VEHICLE FOR A ROAD TRIP CHECKLIST
Need a quick list to make sure your vehicle is in decent shape for your next road trip? Here you go!
AIR FILTER(S) | For better fuel mileage, replace your air filter if it's been awhile. The air filter traps particles from entering and overtime will become much less effective. Depending on the year of your vehicle, you may also have a cabin air filter that's worth checking to ensure that the air that's coming into the vehicle is as clean as possible.
BATTERY | Check your battery for corrosion and ensure that your are snugly in place. If you're worried about your battery starting while you're on the road as it may be a bit older, consider bringing a portable jump starter.
BRAKES | You want your brakes to be in tip top shape if you really have to use them to avoid an accident so have them looked at and replaced if necessary.
FLUIDS | Be sure to ensure that your vehicle has enough of all of the following fluids: power steering, brake, windshield washer, radiator coolant, antifreeze, and engine oil. Also, be sure to check the filter for the engine oil.
HOSES/BELTS | Make sure all connections for belts and hoses are tightly secured. This could include your serpentine belt, timing belt, V belt, coolant hoses, windshield washer hoses, and more. Also replace your windshield wipers if necessary.
LIGHTS | Make sure all exterior lights and interior lights are fully functioning. This includes daytime, brights, turn signals, reverse lights, brake lights, dash lights, and interior lighting throughout the vehicle. Replace any bulbs that are burnt out.
TIRES | Be sure to check the tire pressure and tread for tires.The tire pressure is important, especially depending on the time of the year. They should be a little less inflated in the Winter and closer to the maximum limit in Summer. Check to make sure you have enough tread and no unusual wear on any of the tires. Also, ensure that your spare tire is ready for use.
DOWNLOAD THE PRINTABLE CHECKLIST HERE
HOW TO CHANGE YOUR OWN OIL
For a long time, I thought changing your oil has to be crazy hard. I mean, they charge a ridiculous amount of money for it at some places so it has to be difficult, right? Wrong. So wrong. Nathan was happy to show me that even I, a very non-car person, can do it in just a few easy steps.
If you're changing your own oil, please use standard safety procedures when changing your oil. Also, you should always refer to your own vehicle's manual before changing your oil as every vehicle is a little bit different.
Supplies
Oil – Check your owner's manual for the type your vehicle requires
Oil Filter – Check your owner's manual for the type your vehicle requires
Oil Filter Wrench
Oil Drip Pan
Funnel
Socket Set
Rags/Towels for Oil Clean-Up
Jack and Jack Stands or Ramps
Wheel Chocks
Steps
Jack up the vehicle and brace it with jack stands or drive it up the ramps. Be sure to use standard safety procedures for this step to ensure the vehicle will not fall or roll backwards.
Pop the hood on the vehicle and brace (if necessary.)
Loosen the oil drain plug with a socket wrench. Place the oil drip pan under the plug and remove the oil drain plug to let the oil drain into the pan.
Once the oil has drained out, replace the plug and tighten.
Locate the oil filter (this should be able to be found in your owner's manual) and remove. Replace with new one per the owner's manual instructions.
Remove the cap for the engine oil. Using the funnel, pour the amount of oil necessary (also in the owner's manual) into the engine oil opening.
Check the oil to ensure that it's at the appropriate level with the dip stick. Screw the cap back on and tighten.
Clean up any excess oil that may have spilled on the vehicle.
Safely remove the vehicle from ramps or jack and jack stands.
If necessary, reset the oil service light per the manufacturer's instructions.
Properly dispose of the old oil. Check with your city to see if they have disposal facilities.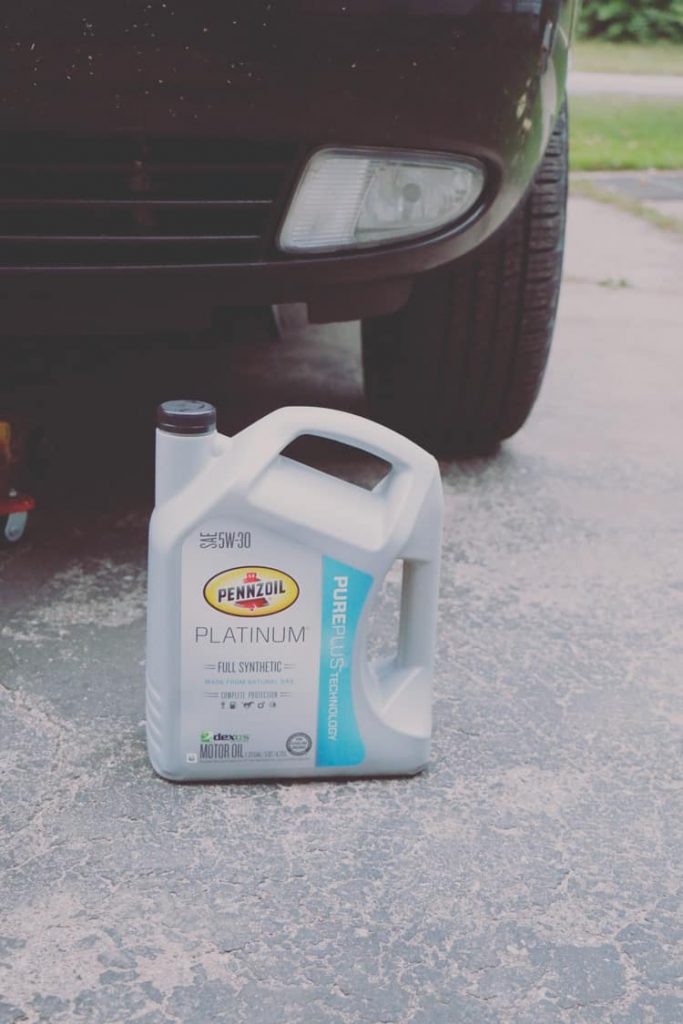 We use our vehicles a lot. Living in the middle of nowhere means that we get to take mini-road trips nearly every week. So it's really important to us to make sure that they're taken care of in any way possible. And for us, part of that means using a high-quality full synthetic motor oil like Pennzoil Platinum that gives the engine total protection. It provides better fuel economy, improved oil flow in low temperatures (a pretty big deal for our extreme Winters!), and extra protection for horsepower and wear. Compared to the price of a full synthetic oil change at quick lubes, Pennzoil Platinum is a STEAL to get this and change it yourself, too!
Want to get Pennzoil Platinum for yourself? Head to Walmart! They've got all the supplies you need to change your own oil.
Taking care of your vehicle really is easy so if you don't change your own oil or do your own preparation before trips already, I'd highly recommend starting now! It's so worth it to prepare your vehicle for a road trip and not have to worry about it while you're enjoying the journey!
I'd love to know: Do you change your own motor oil?
How do you prepare your vehicle for a road trip?