Inside this post: A detailed look at 31 Halloween movies for kids that are perfect for family-friendly viewing during the month of October. The whole family will love this kids Halloween movie list!
Whether you're looking for Halloween movies for toddlers or maybe a little spookier Halloween movies for older kids, this list of 31 family-friendly Halloween movies will keep your children entertained all October! Our list includes plenty of classics along with some character favorites that kids will adore.
31 Halloween Movies for Kids
Hocus Pocus: After Centuries of being dead, the Sanderson sisters are three witches that have come back to life and want to take the souls of young children so that they can live on forever. 
Under Wraps: When a Mummy comes to life, three 12 year olds (Gilbert, Marshall, and Amy) must get him back into his grave by midnight or he will turn into dust and be gone forever.
Hotel Transylvania: Hotel Transylvania is all about Dracula running a hotel, but gets upset when a boy comes to the hotel and falls in love with Dracula's daughter.
It's The Great Pumpkin, Charlie Brown: This movie is a Halloween Classic! It was released in 1966 and has been loved by children ever since then.
Casper: When a paranormal expert and his daughter discover a house filled with ghosts, they come across some three there to cause trouble, and one that is friendly.
The Addam's Family: This movie is all about a couple of con artists who are trying to steal from the Addam's Family, and it is their mission to prevent that from happening.
Beetlejuice: A dead ghostly couple lives in a home where a human couple are trying to move in, so they call upon Beetlejuice to help evict the human family from their home.
Ghostbusters: Three scientists lose their jobs and so they start their own ghost hunting business.
Mickey's House of Villains: This is a great Halloween movie for the little ones. All the popular Disney villains gather at Mickey's house to plot and plan for the revenge.
The Nightmare Before Christmas: This movie is all about Jack Skellington, who is the king of Halloween Town. He discovers a different town called Christmas Town and he wants to put introduce Christmas to Halloweentown.
Monsters Inc.: Join Mike and Sully as they try survive when a little girl, Boo, gets through into the Monster world.
The Corpse Bride: Things go awry when a man is practicing his vows in front of a grave and the woman rises from the dead because she thinks that he was marrying her.
The Haunted Mansion: See what happens when this couple wants to purchase a new home, and then they discover that it is haunted.
Halloweentown: Once Marnie discovers that she is a witch, it is all up to her to save Halloweentown.
Halloweentown 2: Kalabar's Revenge: Kalabar comes into the real world and wants to turn everyone into evil monsters, it is up to the Cromwell family to stop Kalabar.
Halloweentown High: Marnie brings her friends from Halloweentown into the Mortal world to attend High School. They are faced with trials and tribulations and if something goes bad, they will lose their powers forever.
Return to Halloweentown: This is the last movie in the series of Halloweentown and it is all about Marnie attending Witch U in Halloweentown after she graduates High School.
Twitches: These Twin Witches were adopted and separated at birth. Once they meet, they have to go to the other world and save it as well as their birth mother from the Darkness.
Twitches Too: The Twitches are back to use their powers to save their birth father, who they thought was dead but it turns out he isn't.
Tower of Terror: This movie is all about a family of five that died within an elevator at a hotel 60 years earlier. Now a man and his niece want to research and figure out the mystery within the hotel.
Monster House: A group of three teens figure out that a house in their neighborhood is actually a monster.
ParaNorman: This is all about a boy that must fight some evil things in order to save his town.
E.T The Extra-Terrestrial: A child befriends an Alien and goes on a mission to help the alien return to his home planet.
FrankenWeenie: Find out what happens when a child puts on a science experiment to bring his dog back to life.
Toy Story of Terror: The whole Toy Story gang are hanging out at a motel and randomly start to go missing, so Woody is out to figure out what's going on.
Scooby Doo The Movie: The gang is all together to figure out some mysteries.
Coraline: A little girl goes on an adventure and discoveres a different world filled with secrets.
Sleepy Hollow: Watch this movie to learn all about the legendary story of the Sleepy Hollow and the Headless Horseman.
Halloween is Grinch Night: If you love How the Grinch Stole Christmas, you'll love this movie as well. It's a prequel to the Christmas movie.
Curious George: A Halloween Boo Fest: Follow curious George on his bewitching journey.
Phantom of the Megaplex: Pete works at a movie theater and he has to try to get the theater prepared for a big premiere and he faces a bunch of trials and tribulations.
Your turn! I'd love to know what your favorite kid-friendly Halloween movies are in the comments. If I've covered all of your must-sees, consider sharing this list with your friends by pinning it below!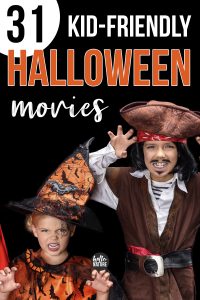 If you're worried about too much screen time this month, check out these Halloween board books. And if you're looking for a little scarier movies, check out these Halloween movies for adults.
If you're looking for more Halloween activities, consider these recipes to make with leftover Halloween candy or these Halloween crafts for kids. You might also like these DIY Halloween costumes or these Nutter Butter Mummies.