Pink lemonade just got waaaay better with this Watermelon Lemonade recipe! Learn how to make this refreshing summer drink in less than ten minutes and save this new favorite non alcoholic summer drink for those hot pool days!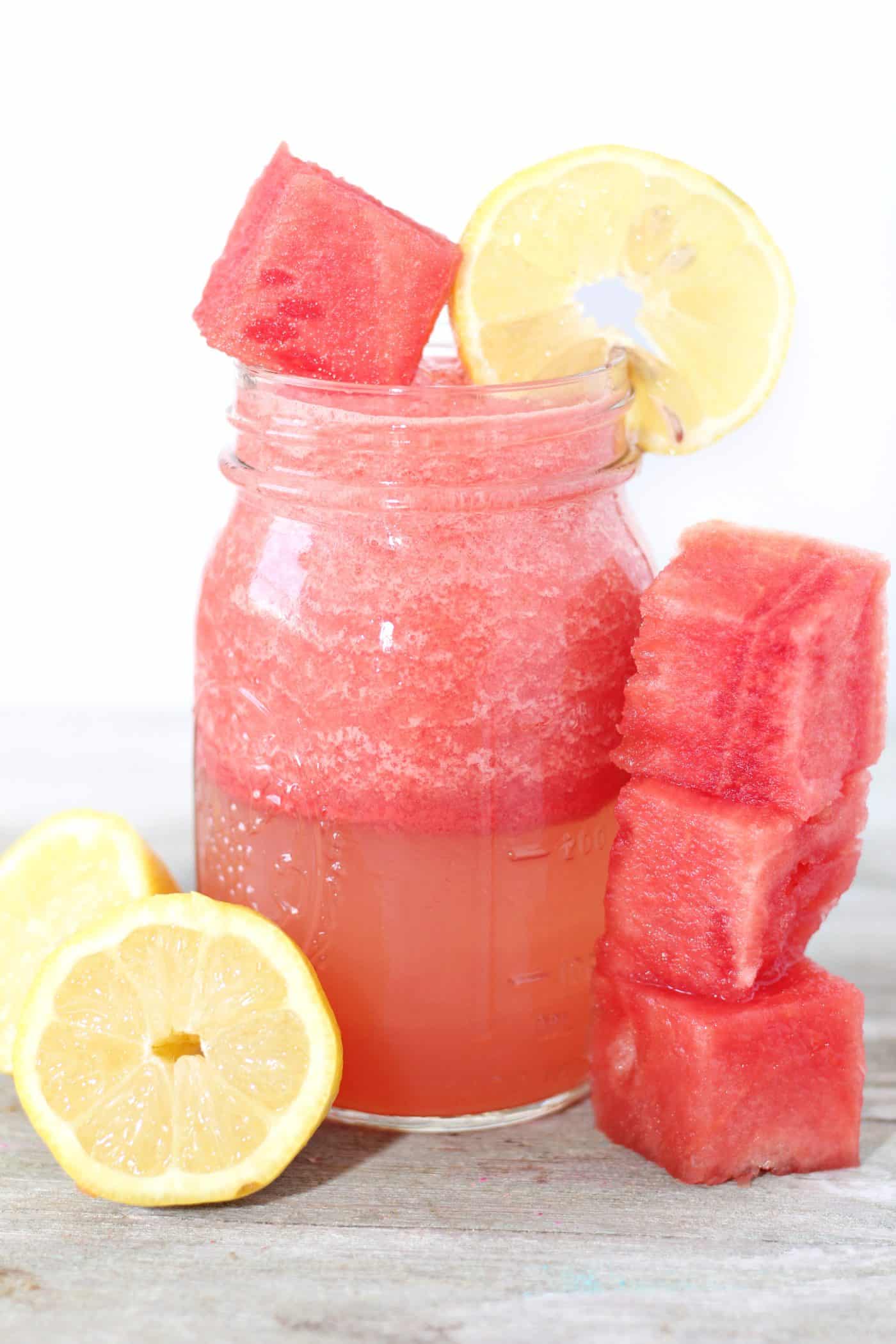 Some of my favorite summer days this year have been spent outside on my favorite chaise lounge, reading a book while Lily plays in the yard. There's nothing that beats that kind of relaxation for me.
Well, expect for adding the perfect summer drink to the mix.
I have a couple of favorite summer drinks like this Lemon Herb Spritzer, this raspberry lemon sun tea and this sparkling raspberry lemon mocktail – but this watermelon lemonade drink has quickly become a new favorite non-alcoholic summer drink for me. It's one of the best watermelon drinks I've had, but it's also super kid and adult friendly.
Not only does this easy watermelon lemonade recipe use one of my favorite fruits, but it's refreshing and a little bit tart which is perfect for how hot this summer has been. The combination of watermelon and lemon in this summer drink is light, juicy and bright. And using the pink lemonade mix makes it even easier to put together
How to Make Watermelon Lemonade
Watermelon Lemonade Recipe
Ingredients
2

Cups

Water

2

Tbsp

Pink Lemonade Mix

1/2

Cup

Sugar

1

Cup

Seedless Watermelon

Diced

Ice

Lemon Wedges

Optional
Instructions
Place the water, lemonade mix, sugar and watermelon into a blender.

Fill the blender the rest of the way with ice.

Blend the mixture on high for two minutes or until slushy consistency

Pour in glasses and top with any remaining watermelon and lemon wedges. Enjoy!
Recipe Notes
If the watermelon lemonade separates, stir to combine again.
If you're looking for a blender recommendation to make this watermelon lemonade, take a look at the
Nutri Ninja Blender
. Smoothies aren't chunky with it, even with the addition of nuts and seeds, and frozen drinks like this one are creamy as it pulverizes the ice down to nothing!
If you're looking for other watermelon recipes to go with this fresh watermelon drink, I'd highly suggest this watermelon fruit pizza with balsamic glaze. It's yet another example of why watermelon is perfect for hot summer days!
In need of some more summer inspiration? Check out this watermelon painted terra-cotta coaster DIY. And if you're enjoying this delicious drink on your patio, keep the bugs away with these easy to care for plants that repel mosquitoes and jazz up your yard with these simple backyard DIYs.
amzn_assoc_placement = "adunit0"; amzn_assoc_search_bar = "true"; amzn_assoc_tracking_id = "hellnatu-20"; amzn_assoc_ad_mode = "manual"; amzn_assoc_ad_type = "smart"; amzn_assoc_marketplace = "amazon"; amzn_assoc_region = "US"; amzn_assoc_title = "Watermelon Kitchen Items"; amzn_assoc_linkid = "bd4666b0a1a21608a65da37efad894c9"; amzn_assoc_asins = "B07PXB1WM5,B07MFN5MFM,B01NAEVTWJ,1477061983";
If you think that your friends and family would love this refreshing non-alcoholic summer drink, please pin this watermelon lemonade recipe below!