This shop has been compensated by Collective Bias, Inc. and its advertiser. All opinions are mine alone. #MomsSipSmart #CollectiveBias You should consult your physician before consuming Fre if you are pregnant or have any health concerns regarding alcohol. The following content is intended for readers who are 21 or older.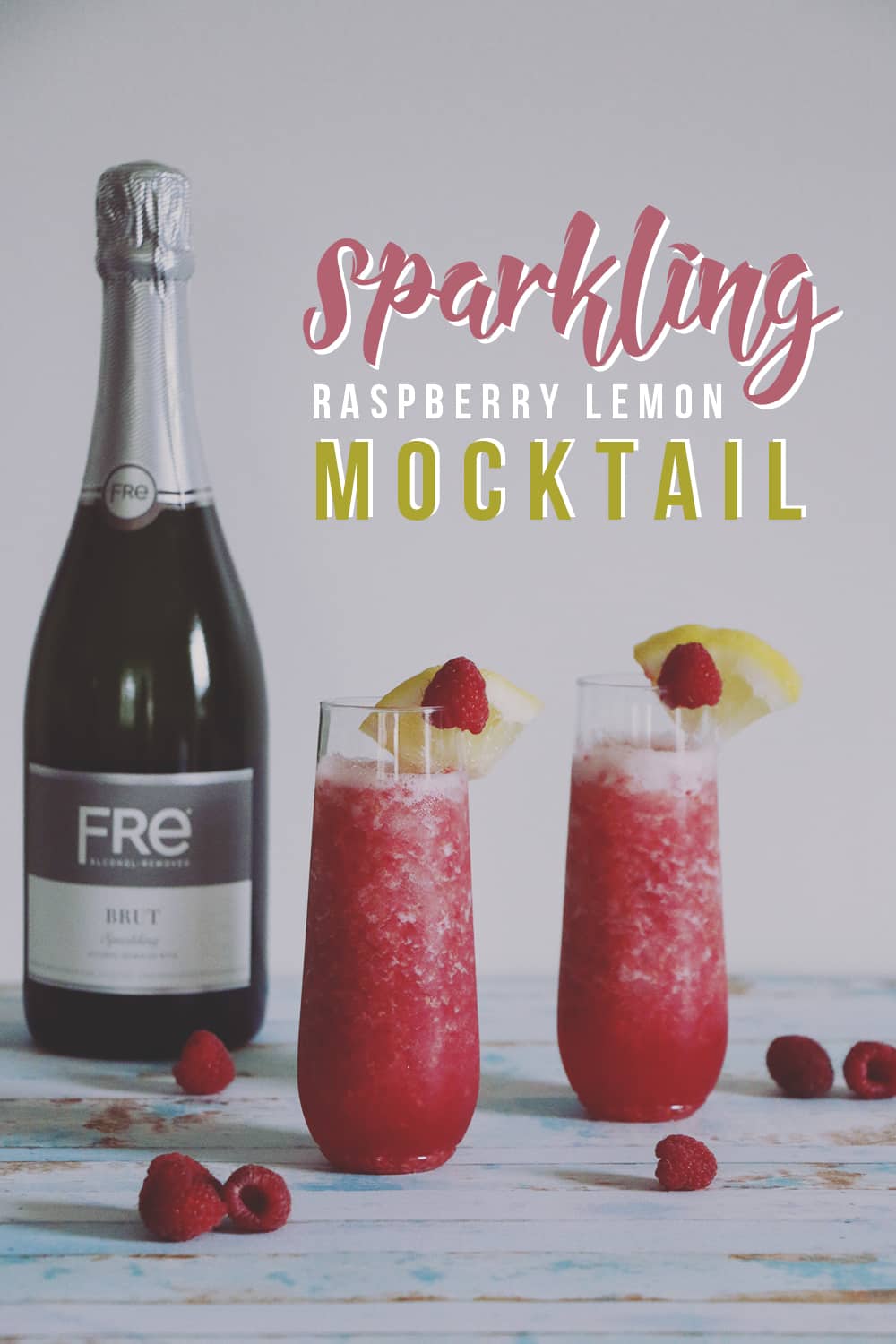 Even though I didn't drink much prior to pregnancy, the cravings were strong for everything I wasn't supposed to have (or at least limit.) Seafood? Didn't care for it much before, wanted it desperately after that positive came back. Caffeine? Barely consumed it prior to being pregnant, felt like I needed it daily. Alcohol? I'd enjoy a drink every week at the most, but after I was pregnant for awhile – it was something I thought about regularly. Maybe it's like the whole thing where you tell a kid they can't have something and that's the only thing they want then.
Luckily, my husband is a hero and got me some of the FRE wine (the Brut and Moscato – YUM!) as a treat one day when I was feeling a little low from all the stress and exhaustion. It was exactly the thing I needed to feel a bit normal for a night. If you aren't familiar with FRE wines, they provide alternative beverages for people who cannot or choose not to consume alcohol. Like me! FRE uses a revolutionary spinning cone column to remove the alcohol. The finished product is a delicious drink with all of the characteristic aromas and flavors of premium wine, but with less than 0.5% alcohol and half the calories of traditional wine. On it's own or as a base for a mocktail recipe (like the delicious one I'm about to share with you!) – it's fantastic!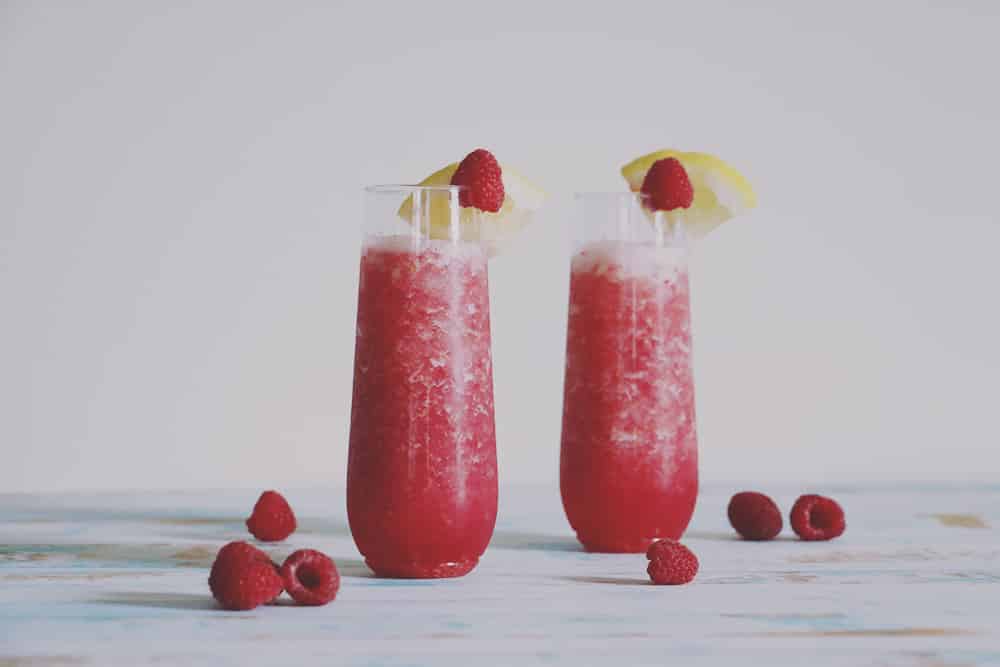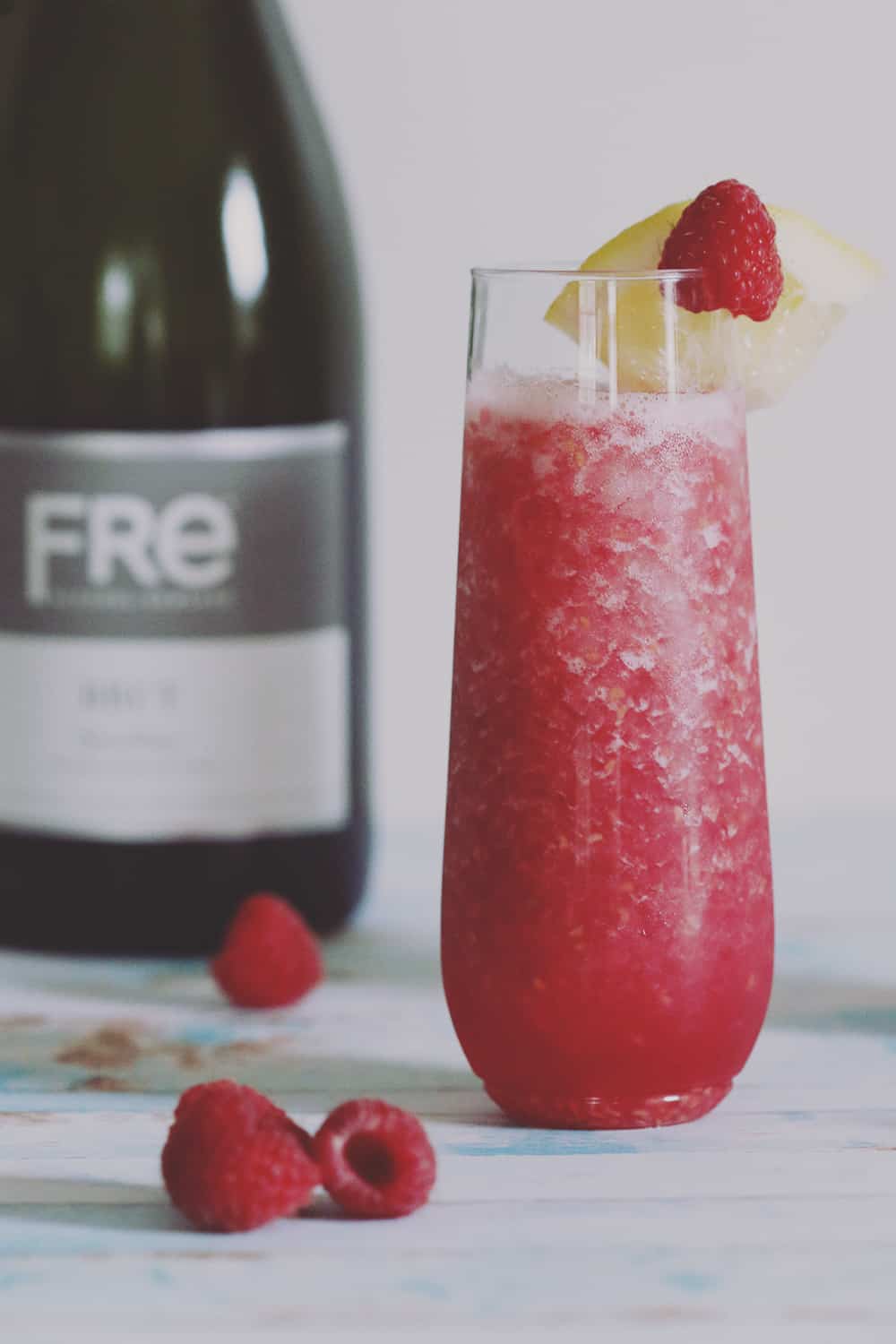 The idea for this Sparkling Raspberry Lemon Mocktail actually goes back to our wedding. We got married in Jamaica, but we had our reception at home where we picked out a delicious multi-tiered cake with two flavors: rum carrot cake and lemon raspberry. These flavors are not compatible in any way, but they were both SO good when we tried them and we couldn't decide so we did the logical thing: just get both.
Eventually, we gave a slight edge to the lemon raspberry. It was so light and Summery, making it the perfect inspiration for a fun Summer drink. Pair that with the fact that I felt like the champagne really never stopped flowing at our wedding at the resort and you've got this amazing Sparkling Raspberry Lemon Mocktail!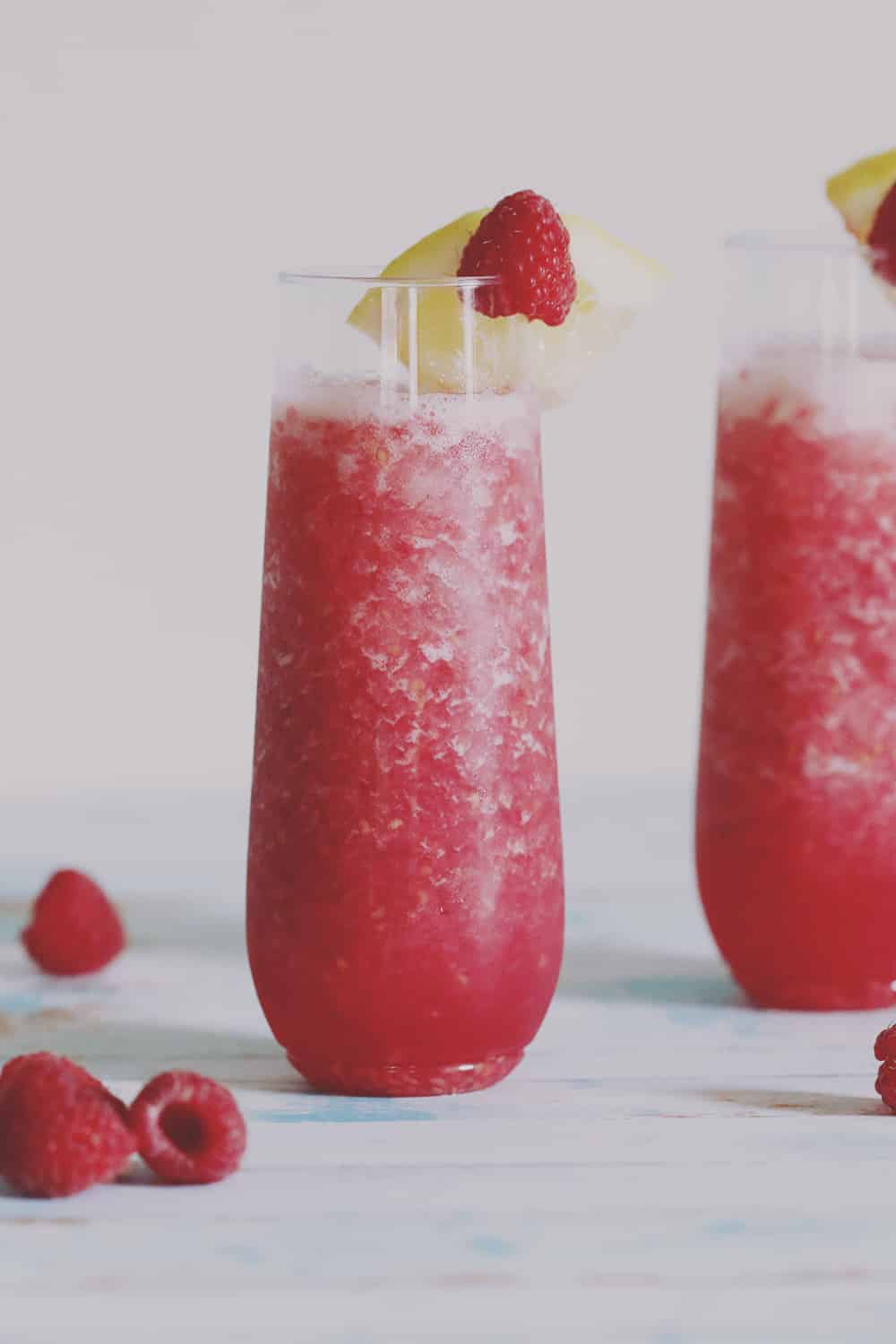 This drink is perfect for sipping in the backyard with your feet up, which is exactly what I'll be doing as we're waiting for the little one to come in July. And the taste of fresh raspberries and freshly squeezed lemon juice is perfect for hot Summer days! If you're looking for the perfect glass to use with it, I'd highly recommend these shatterproof recycled champagne glasses pictured. They are SO handy outside and in. Paired with these beverage napkins, they're a match made in heaven for Summer drinks!
Sparkling Raspberry Lemon Mocktail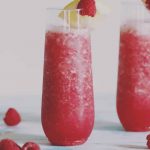 Sparkling Raspberry Lemon Mocktail
Ingredients
6

oz

Raspberries

1

Cup

FRE Brut

1/2

Cup

Lemon Juice

1 1/2

Tbsp

of Sugar

2

Cups

Crushed Ice
Instructions
Blend all ingredients together.

Serve with raspberries and lemon wedges on the edges of the glass.

Enjoy!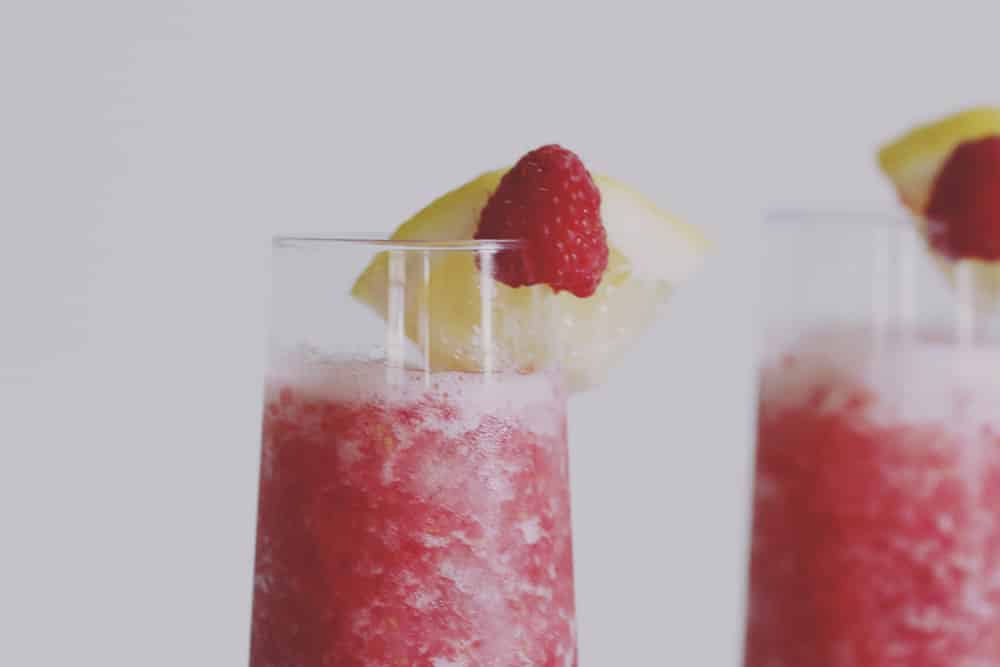 If you're looking to grab a bottle of FRE wine to make this delicious drink, you can snag a coupon at One Stop Wine Shop for 30% off of FRE at checkout. Just enter promo code FRE and you're set! Note: Cannot ship (from site) to Alabama, Kansas or Tennessee
Let's Chat!
What's your favorite mocktail recipe? Have you tried FRE Alcohol-Removed Wine? What are your favorite drinks to enjoy during the Summer?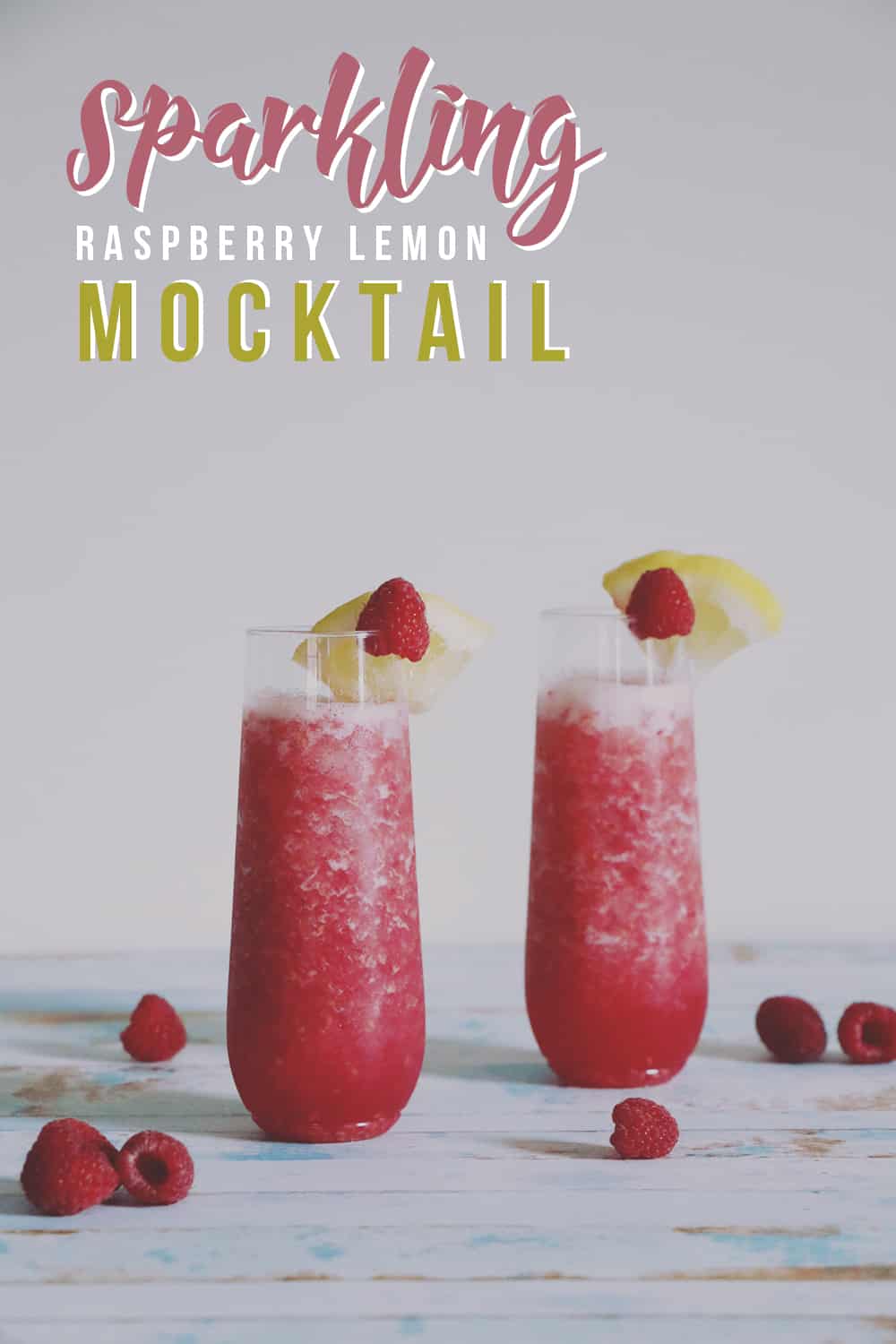 You might also like: