This refreshing watermelon fruit pizza is perfect for a lighter meal on a hot day. With watermelon as the base, you'll skip the extra calories, too!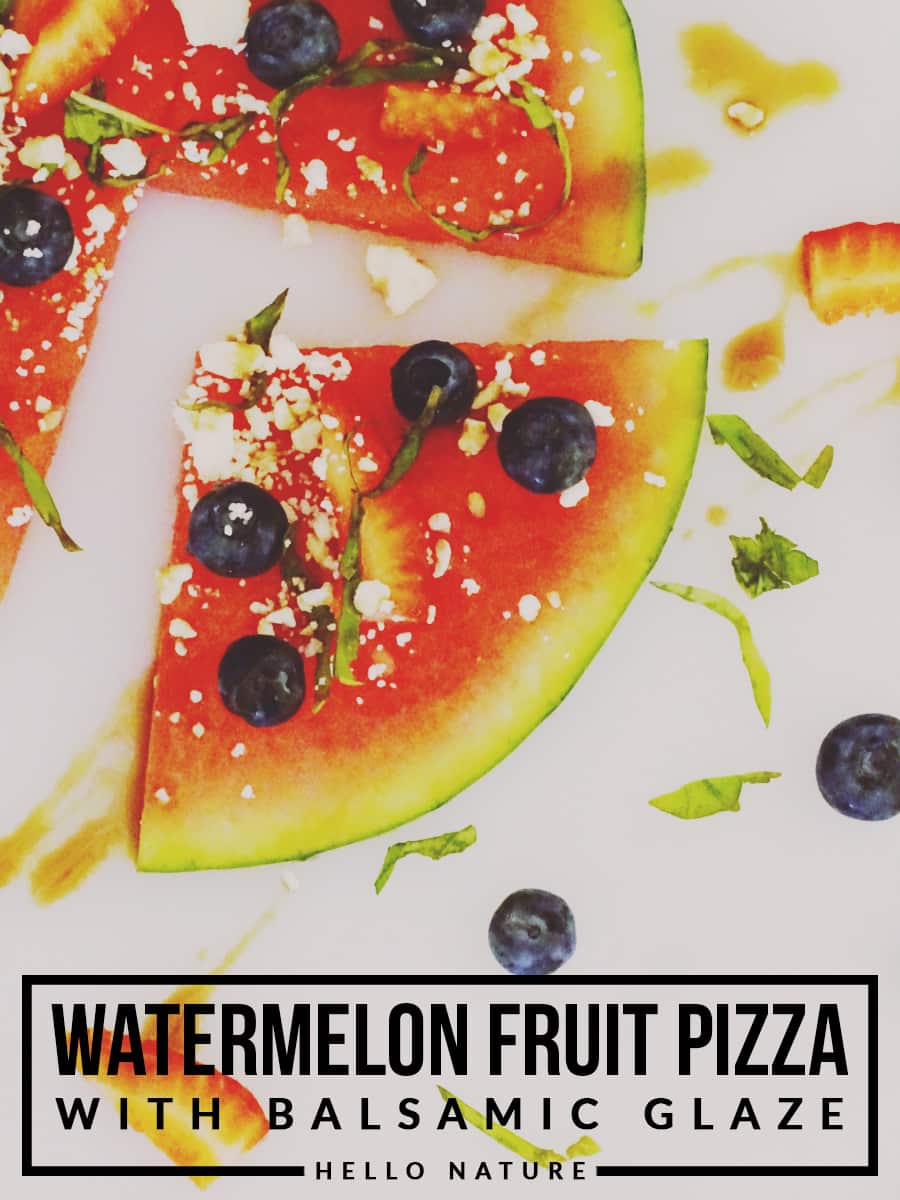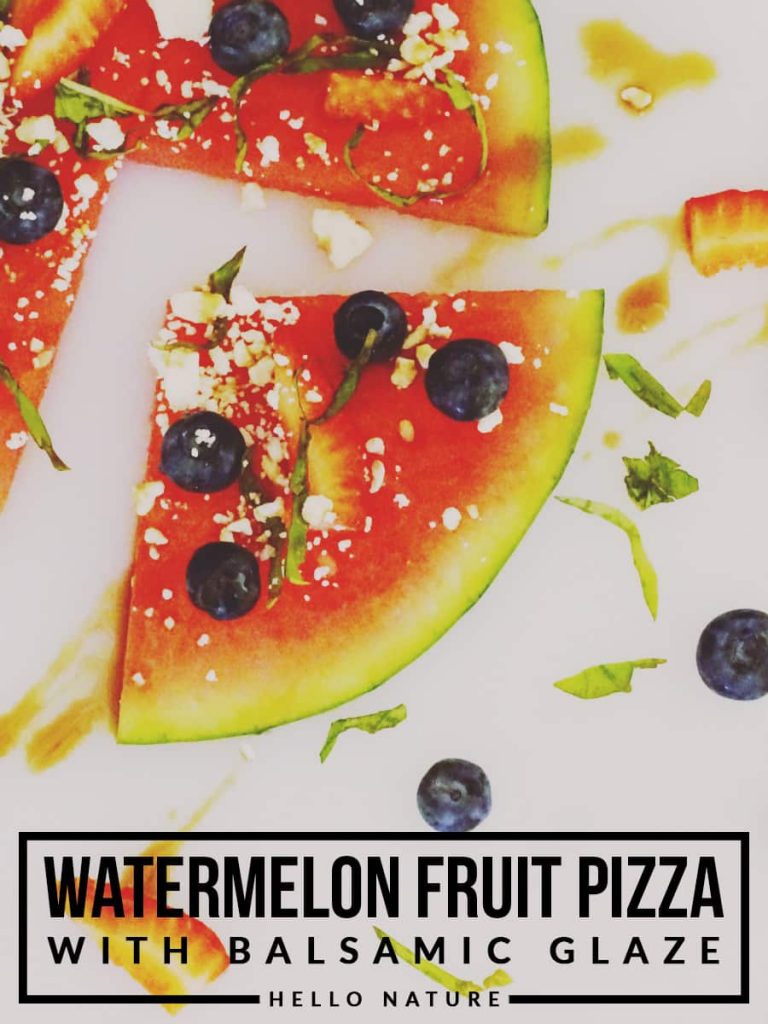 I can definitely say that I've been keeping myself hydrated this summer. Not just by drinking a ton of cool, refreshing liquids, but by eating my weight in watermelon!  Watermelon has become my go-to summer fruit this year.  I've bought it in abundance, realized that you can make a slushie out of it, and recently discovered that it makes an awesome pizza!
Yes, pizza.  I'm not talking about one of those sugar-loaded, cookie crusted, dessert fruit pizzas (although, those are pretty good, too!)  I'm talking about using big, juicy slices of watermelon as a base and topping it with berries, crumbled feta cheese, basil, and drizzling it with balsamic glaze. De-licious!
And if you're looking for more watermelon inspiration, try this watermelon lemonade or try making these watermelon terracotta coasters!
The afternoon I made this watermelon pizza, I was at my parents' house helping my mom out with my two, small nieces.  One of my nieces is going on three and the other just turned one. They're definitely a handful, but so much fun!
If you're around littles all day, you probably know how many times they ask for a snack.  When I know I'm going to be around my favorite littles for the day, I like to bring over healthy snacks.  Usually it's containers of berries, if not fresh berries from our garden. This time, I brought over a small watermelon, too.
After seeing so many different versions of watermelon pizza, I decided to create my own.  I was lucky to have any watermelon left after sharing it with my nieces, mom, and sister!  It was really good, but even better with an array of fresh toppings!
watermelon fruit pizza
Watermelon Fruit Pizza with Balsamic Glaze
Ingredients
1

small seedless watermelon slice

about 1-inch thick

12

blueberries

2

strawberries

quartered

Crumbled feta cheese

Balsamic glaze

see notes

About 1 tsp. fresh basil leaves

chopped
Instructions
Cut watermelon round into 4 slices.

Top watermelon with blueberries, strawberries, and crumbled feta cheese. Drizzle with balsamic glaze and top with chopped basil leaves.
Recipe Notes
To make balsamic glaze: Add 1/2 cup of balsamic vinegar and 2 tbsp. sugar to a saucepan. Stir to combine. Heat over medium and bring mixture to a boil. Stir again. When balsamic glaze has reduced by half and becomes thick, remove from heat. Allow to cool and drizzle over watermelon.
This recipe's for one round slice of watermelon, but it's so easy to double (or triple), if necessary.  You'll definitely have enough toppings to go around!
After I tried this, I immediately called in my mom.  We sat in the kitchen eating this watermelon pizza right over the cutting board.  It was so good! We both agreed that this watermelon pizza made an amazing snack, but it would even work well as a light lunch when it's just too hot to eat anything else.
Let's Chat!
What's your favorite way to eat watermelon?  What's your favorite snack to help you cool down on a hot day?
You might also like:
Save