Freshen up your Summer meals with this fresh fruit peach mango salsa. It's sweet with just a hint of spice – perfect for your backyard parties!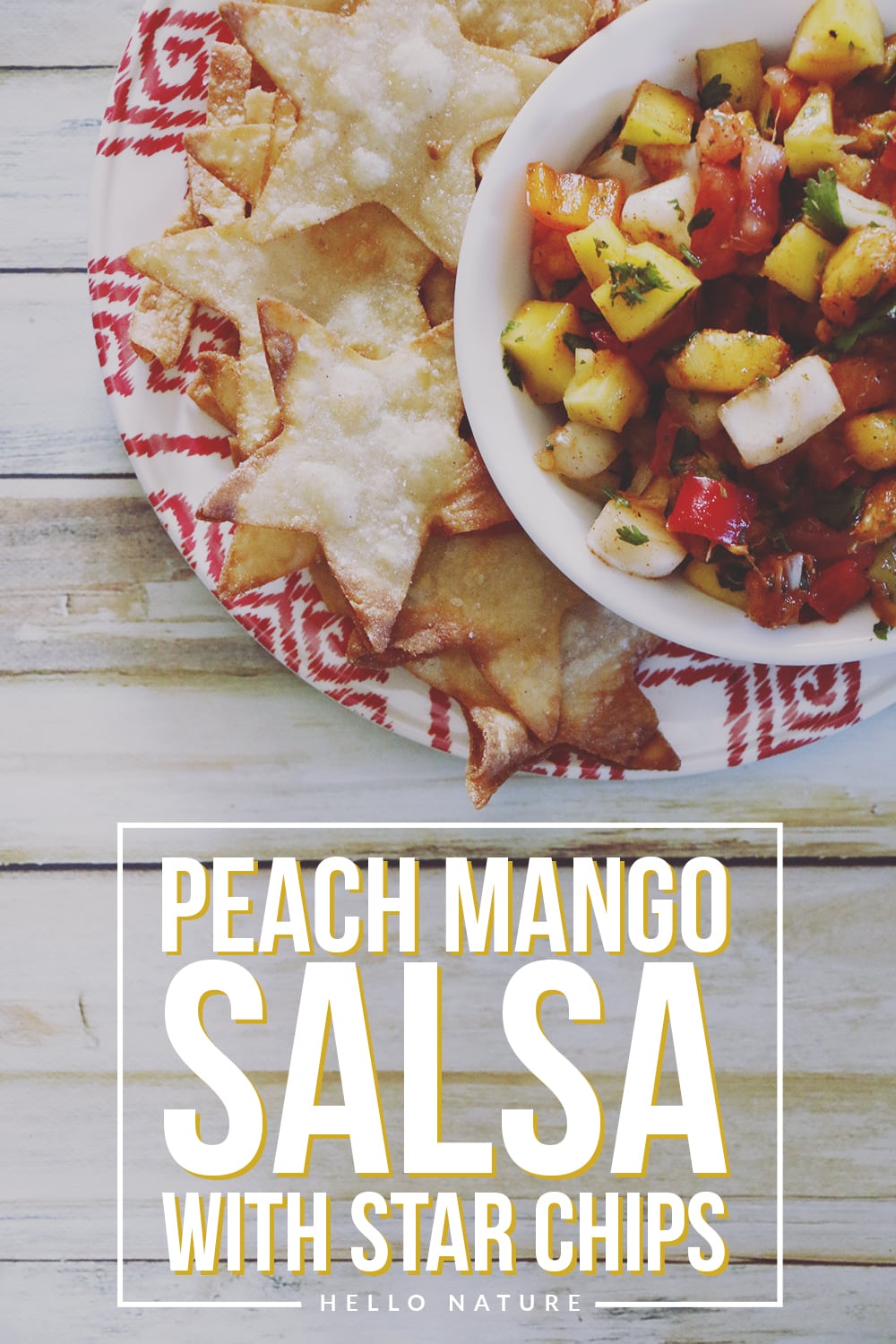 We just did our annual peach run. Our house is stocked full of peaches now! A few years ago, we found out about a company called Tree Ripe. If you live in WI, MN, IA, IL or MI – you absolutely have to check them out. Especially if you're a peach, blueberry, pecan, orange, or grapefruit fan.
Essentially, they work with farmers from Georgia and Florida and bring those that live in the cold, Midwest states (me!) fresh fruit. Like, really fresh fruit. As in, just a few days after it's picked fresh fruit. While I love that we can grow corn and all kinds of fun things here in WI, you cannot beat fresh Georgia peaches (or pecans. Or Florida oranges.) I learned that the hard way after our road trip last year and we did not buy nearly enough to keep me satisfied. By the time we were on our way back home, I had very little of our Florida and Georgia grown yummies. I was SO bummed.
But thanks to their trucks, we are now stocked with peaches and pecans for the year! Time to get canning and freezing now.
Before we do that, one of the things I really love making with our fresh peaches is fresh salsa. Truth is, I'm a bit of a salsa snob. Every time we go out for Mexican and they offer chips and salsa, I pick it apart. Too watery, too spicy, too chunky, too little flavor – the list is endless. I'm sure I'm a peach to be around every time we go out to eat. (Pun totally intended.)
So I actually love making my own. And this peach mango salsa is pretty much the stuff my snobby salsa dreams are made of. Tons of flavor, good consistency and just a hint of spice that ensures it doesn't just taste like a fruit salad. Oh. My. YUM!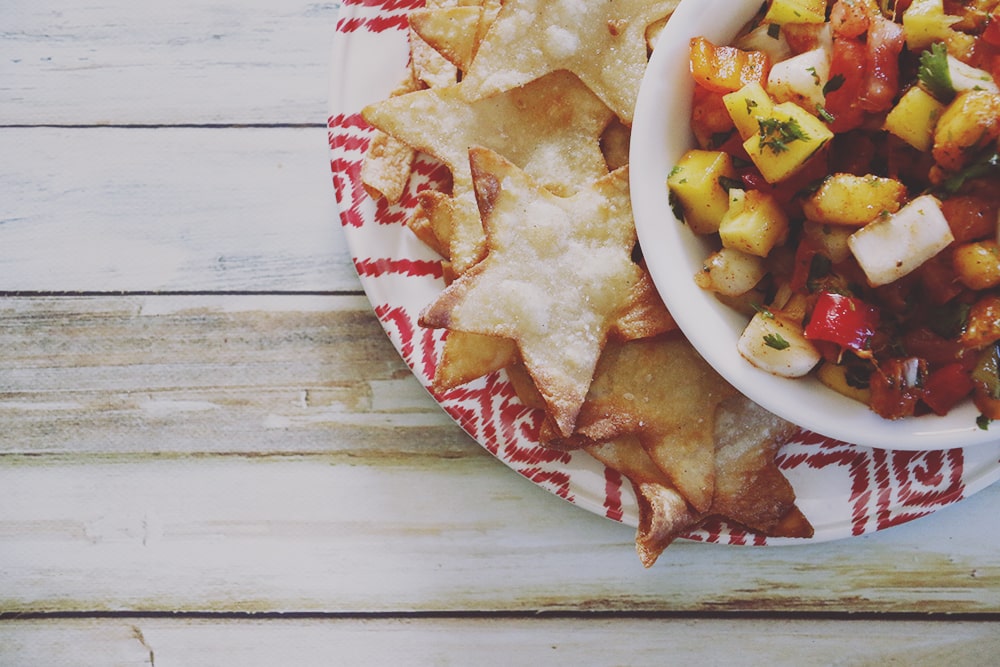 Plus, this peach mango salsa just kinda screams Summer. It's perfect for a bit of a twist on your traditional salsa and in tacos (especially seafood ones.) Add in the star chips and you've got this awesome patriotic dish that is perfect for the 4th of July!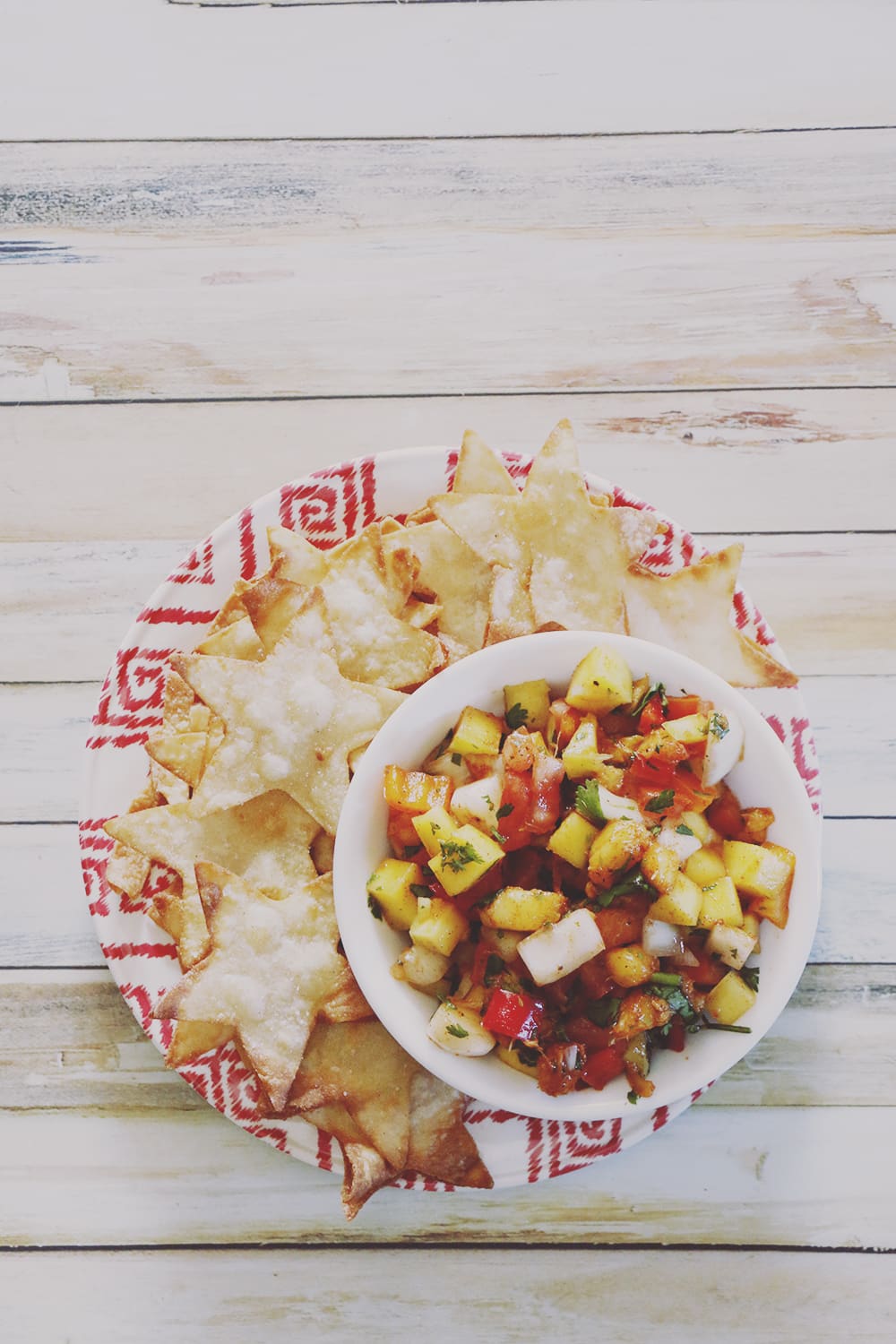 peach mango salsa
Peach Mango Salsa and Star Chips
Ingredients
For The Salsa
1

Mango

Diced

3

Peaches

Peeled and Diced

1

Large Tomato

Diced

6

Mini Sweet Peppers

Seeded and Diced

1

Medium Onion

Diced

1/2

Cup

Cilantro

Chopped

1 1/2

Tbsp

Lime Juice

1

Tbsp

Chili Powder

Pinch of Salt

Pinch of Pepper
For The Star Chips
Corn Tortillas

Star Cookie Cutter

Salt
Instructions
For The Salsa
Dice peaches, and tomato, removing as much juice as possible from both. Dice the mango, peppers, and onions. Combine and mix.

Mix in the cilantro and lime juice. Mix thoroughly.

Add in the chili powder, salt and pepper. Stir until thoroughly mixed.
For The Chips
Preheat your fryer or oil in a pan to 375F.

Use a star cookie cutter to cut out the stars out of corn tortillas. Cut the remaining corn tortilla into strips or chips so you don't have to waste them.

Place the star tortillas in the fryer in small batches, leaving enough room to easily flip them over. Fry for 1-2 minutes, flipping halfway through.

Remove chips from fryer and place on paper towel. Sprinkle with salt.

If desired, fry tortilla strips the same way.
Recipe Notes
Add some jalapeños for a spicier version!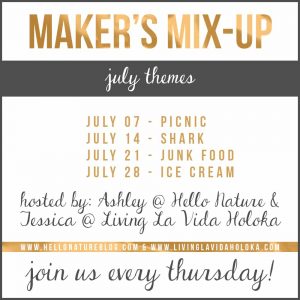 This week's Maker's Mix-Up theme is Stars! We want to see your star related recipes and projects!
Let's chat!
What are your favorite peach dishes to enjoy? Are you a fruit salsa fan? What dishes are you making to celebrate the 4th of July?
You might also like: