These grilled Chili Lime Veggie Fajitas make Summer cooking a breeze! Throw together your favorite farmer's market veggies on the grill + enjoy!
With the Summer heat quickly approaching, that means one thing: it's grill time! We love cooking with our grill during the Summer so we don't heat up our already toasty home (central AC, some day you will be mine!) Especially fresh vegetables and corn and the like from our local farm stands. It's so nice to grill out, hang out in the backyard and then enjoy a delicious meal as the sun is setting.
One of my favorite meals to make during the Summer is veggie fajitas though. Specifically, these chili lime veggie fajitas. I love getting the peppers, potatoes, zucchini and onions at the local farmer's market or farm stands to cook for it because they taste SO much better. Add in a little bit of chili lime seasoning and it's kind of like going back to Mexico. Just not on a beach. Or on a tropical island. Or enjoying some fruity drinks. Okay, so it's nothing like going back to Mexico. It's just really good food!
These chili lime veggie fajitas are one of my absolute favorite meals to make after a long day because of how filling they are without being heavy. I loathe eating way too much on hot, muggy days so this is my kind of dish. Especially when you add some fresh salsa and guacamole!
One thing I will say about this recipe: the sweet potatoes are a must. It sounds kinda weird and like they don't belong, but they are SO good. A few years ago, I tried them in a fajita dish at one of our favorite Mexican restaurants and now fajitas are never made without them at home. There is something about the taste of them that just kicks the fajita flavor up like 10 notches!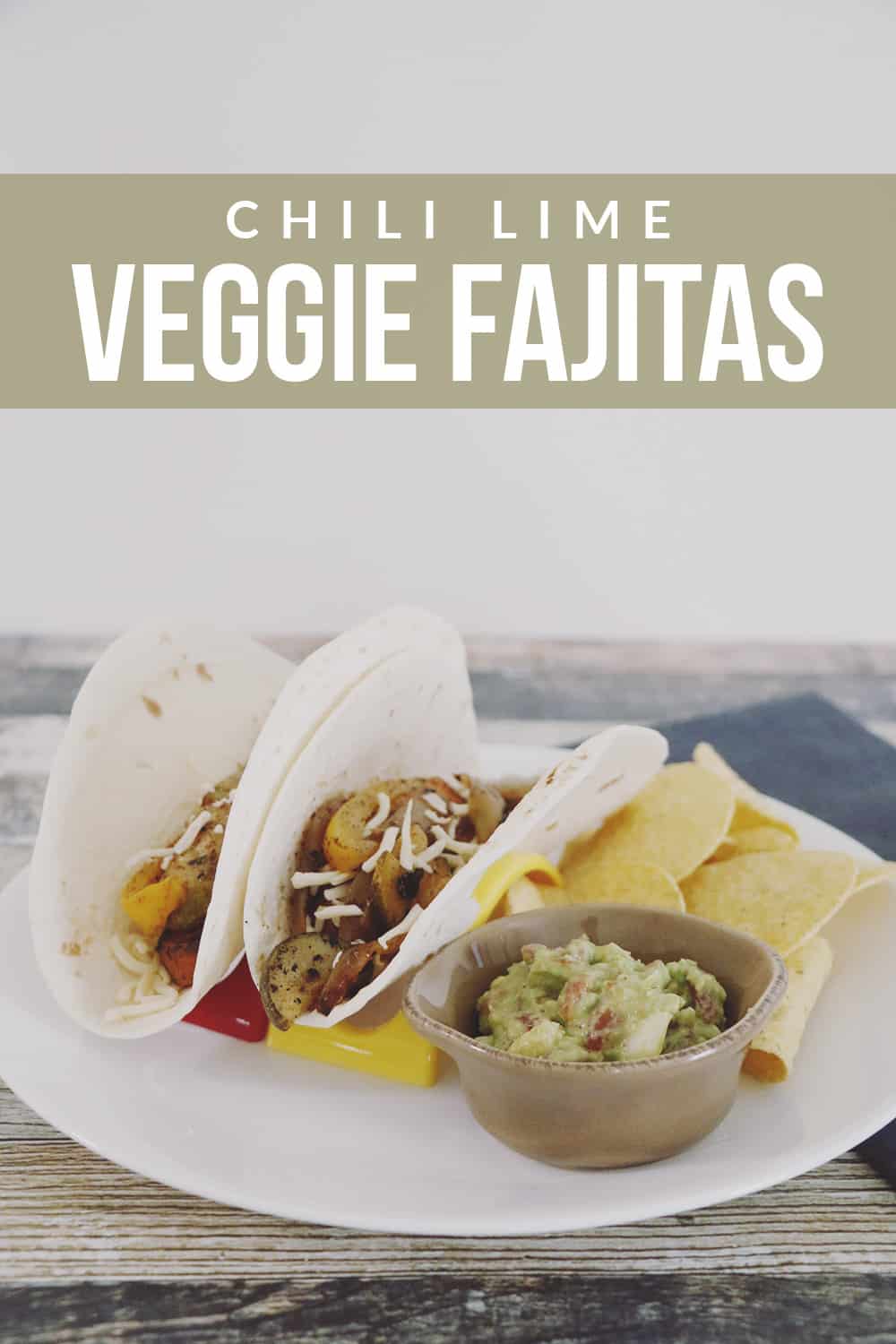 chili lime veggie fajitas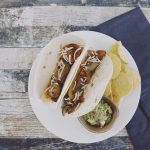 Chili Lime Veggie Fajitas
Ingredients
1

Large Yellow Pepper

Sliced

1

Large Orange Pepper

Sliced

1

Large Sweet Onion

Sliced

1

Medium Sweet Potato

Sliced

1

Medium Zucchini

Sliced

12

Tortillas
For The Marinade
3/4

Cup

Lime Juice

1

Tbsp

Cumin

1

Tbsp

Chili Powder

1

Tbsp

Oregano

1

Tsp

Salt

1

Tsp

Garlic Powder

1

Tsp

Paprika
Optional Toppings
Guacamole

Salsa

Sour Cream

Cotija Cheese
Instructions
Slice the vegetables and place into a gallon sized ziplock bag.

Combine the ingredients for the marinade in a mixing bowl. Whisk to mix thoroughly.

Pour the marinade over the vegetables, seal the bag and shake to coat vegetables evenly.

Let the vegetables marinate in the refrigerator for at least 1 hour.

Once the vegetables have marinated, preheat the grill to high with a cast iron pan on the grill.

Coat the cast iron pan in olive oil once it has preheated.

Place the vegetables in the cast iron pan and stir frequently to prevent burning.

Cook the vegetables for 10-15 minutes, or until they've reached desired doneness.

Place in tortillas and top with optional toppings.
Recipe Notes
If you don't have a grill or prefer to cook indoors, you can easily make the recipe the same way on the stove.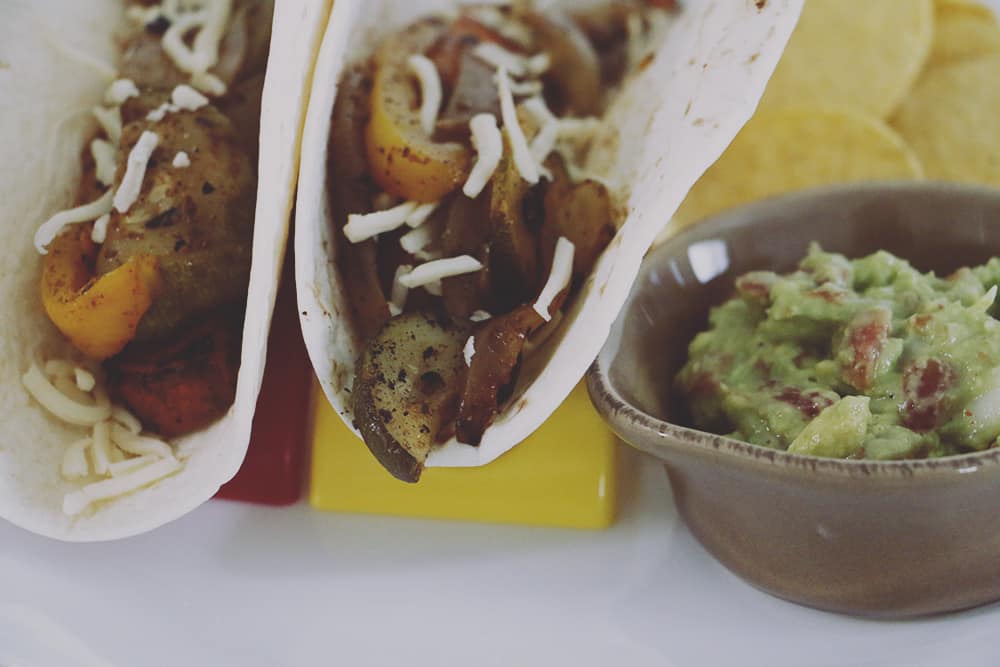 And this week's Maker's Mix-Up theme is vegetable! We want to see all of your vegetable recipes + projects. Whether you've created a delicious veggie heavy dish or an awesome DIY for your garden, share it with us in the link-up below!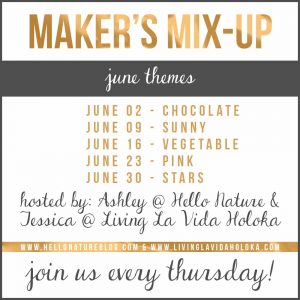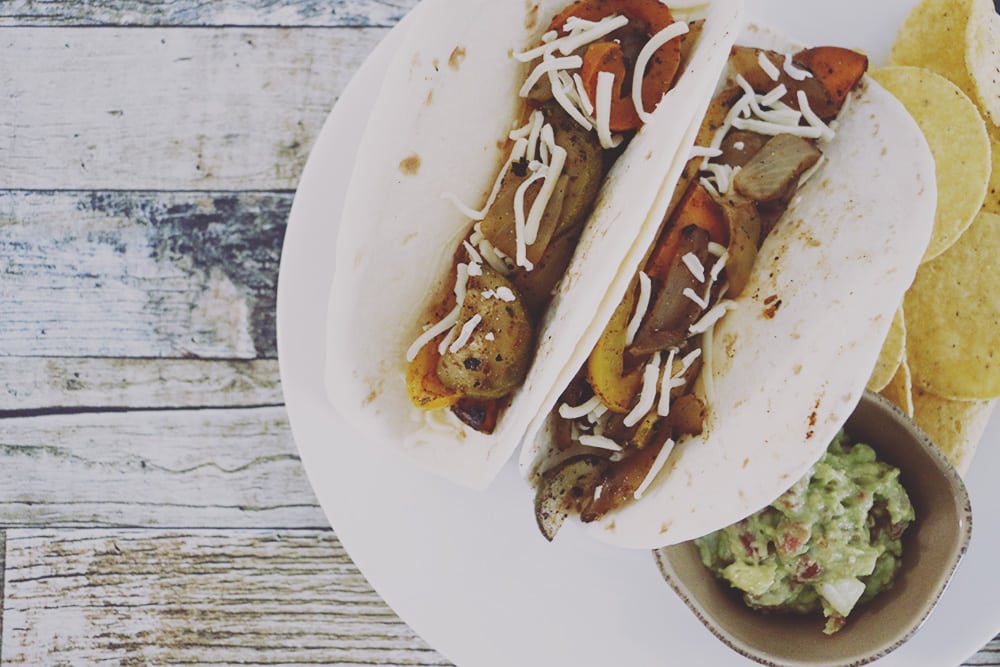 Let's Chat!
What are your favorite fajita ingredients? What are your favorite dishes to create on the grill during the Summer? Do you go to the farmer's market to get your fruits and vegetables during the Summer?
You might also like: