This easy s'mores dessert recipe is a fun twist and combination on the classic rice cereal treat dessert and s'mores. It's a great s'mores flavored dessert that can be made with kids for everyone to enjoy together.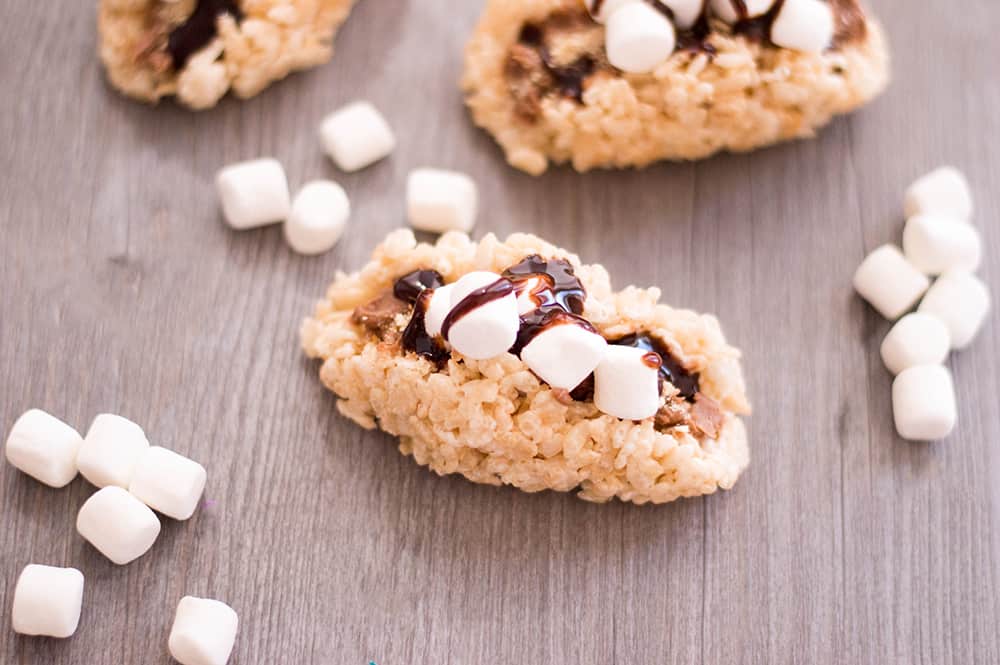 One of my favorite desserts to eat and make when I was kid were Rice Crispy/Rice Krispies treats. I mean, how could you go wrong with marshmallows and butter?
I wanted to bring that tradition to Lily's childhood, but we also wanted to change things up a bit. So we combined two of our favorite desserts to make a delicious s'mores and rice cereal mashup:
S'mores Rice Cereal Tacos.
These dessert tacos are SO good. And if you're wondering what desserts to pair with tacos, they are the perfect dessert for taco night.
One of the best things about these s'mores rice crispy treats tacos is that they are super kid-friendly to make while still being delicious for kids and adults. Keep reading below to see how to get the kids involved when making these or you can jump to the recipe right away:
Jump to Recipe
S'mores Rice Cereal Taco Steps
First, you'll want to gather all of your ingredients. It's essentially everything you'd need to make your favorite rice krispie treats cereal recipes and s'mores, plus a bit more:
Butter
Mini Marshmallows
Rice Cereal
Graham Crackers
Chocolate Buttercream or Frosting
Chocolate Syrup
Plus you'll need a wooden spoon for shaping the tacos if you don't want to use your hands. (The one you use for mixing works fine!)
In a medium-sized pot, melt the butter over medium heat. Add 4.5 cups of your mini marshmallows (so not all of them) and stir until they're completely melted. Remove the pot from the heat.
Add in the rice cereal to the melted marshmallows and butter. Fold in until everything is completely combined.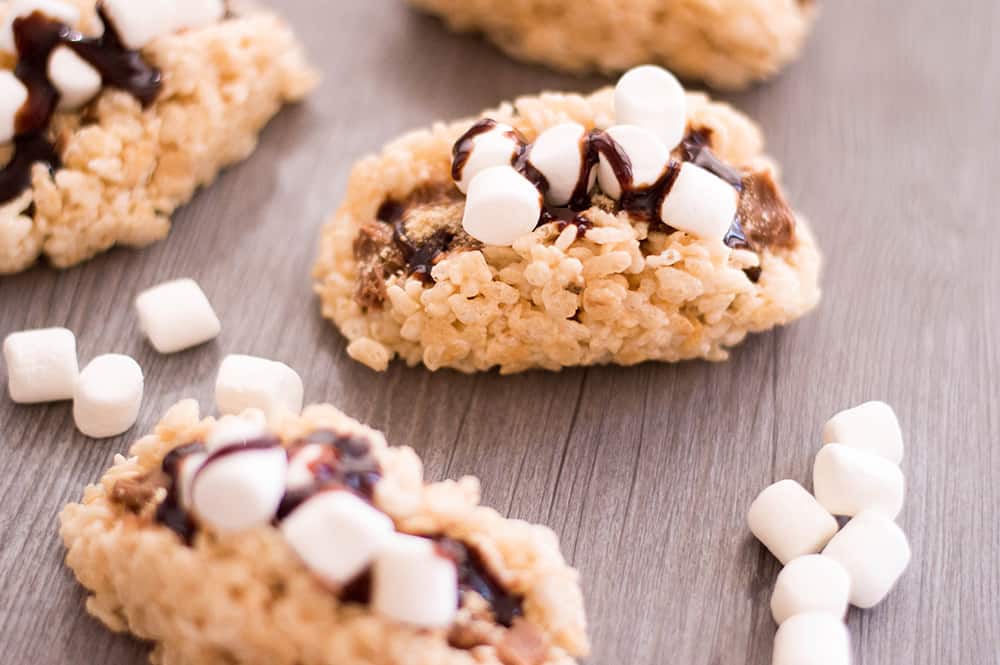 Get The Kids Involved
The next steps are great for those baking with kids! Nearly all of these steps can be completed by little hands with the help of an adult.
Before you begin, make sure the rice cereal/marshmallow combination has cooled enough before you try to shape it to avoid anyone getting hurt. But don't let it cool so much that they start to set before you get to shape the dessert tacos!
Now you need to shape the cereal treats into flat circles, about ½" in thickness and 3″ in diameter. They don't need to be perfectly shaped or sized so this is a perfect opportunity for getting kids, even young ones, involved.
Next each circle needs to be curled around the wooden spoon, wooden dowel, or just with your hands. Little hands can easily help mold them as well.
When finished, place the tacos on a lined baking sheet/wax paper and allow them to set.
Once the taco-shaped rice cereal treats have set, use a butter knife or an offset spatula to add a layer of chocolate buttercream or frosting to the bottom layer. Then add, or have your kids add, the next layers. First add a layer of graham cracker crumbs and then a layer of mini marshmallows.
If using, top with a drizzle of chocolate syrup and serve!
This s'mores dessert recipe will yield 5-6 tacos, depending on the size that you make them.
S'mores Rice Cereal Tacos
Ingredients
3

Tbsp

Butter

5

Cups

Mini Marshmallows

4 1/2

Cups

Rice Cereal

Chocolate Buttercream or Frosting

5

Tbsp

Graham Cracker

Crushed

Chocolate Syrup

Optional
Instructions
In a medium-sized pot, melt butter over medium heat. Add 4.5 cups of your mini marshmallows and stir with a wooden spoon until they have completely melted. Remove from heat. (You can also use a double boiler if you prefer.)

Add the rice cereal to the butter and melted marshmallows. Fold in until all ingredients are completely combined.

Shape the cereal treats into flat circles. They should be approximately ½" thick and 3" diameter.

Curl each one around a wooden spoon to form the taco shape. Place on lined baking sheet and allow to set.

Once set, add a layer of chocolate buttercream or chocolate frosting in it. Next add a layer of graham cracker crumbs and mini marshmallows. Top with the chocolate syrup (if using) and serve.
Want to save this delicious s'mores dessert recipe for later? Pin it to your favorite Pinterest board!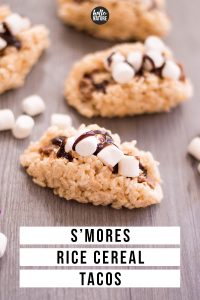 You might also like: