If you're wondering how to make frozen dog treats for your furry friend this summer, you'll love these homemade frozen dog treats recipes!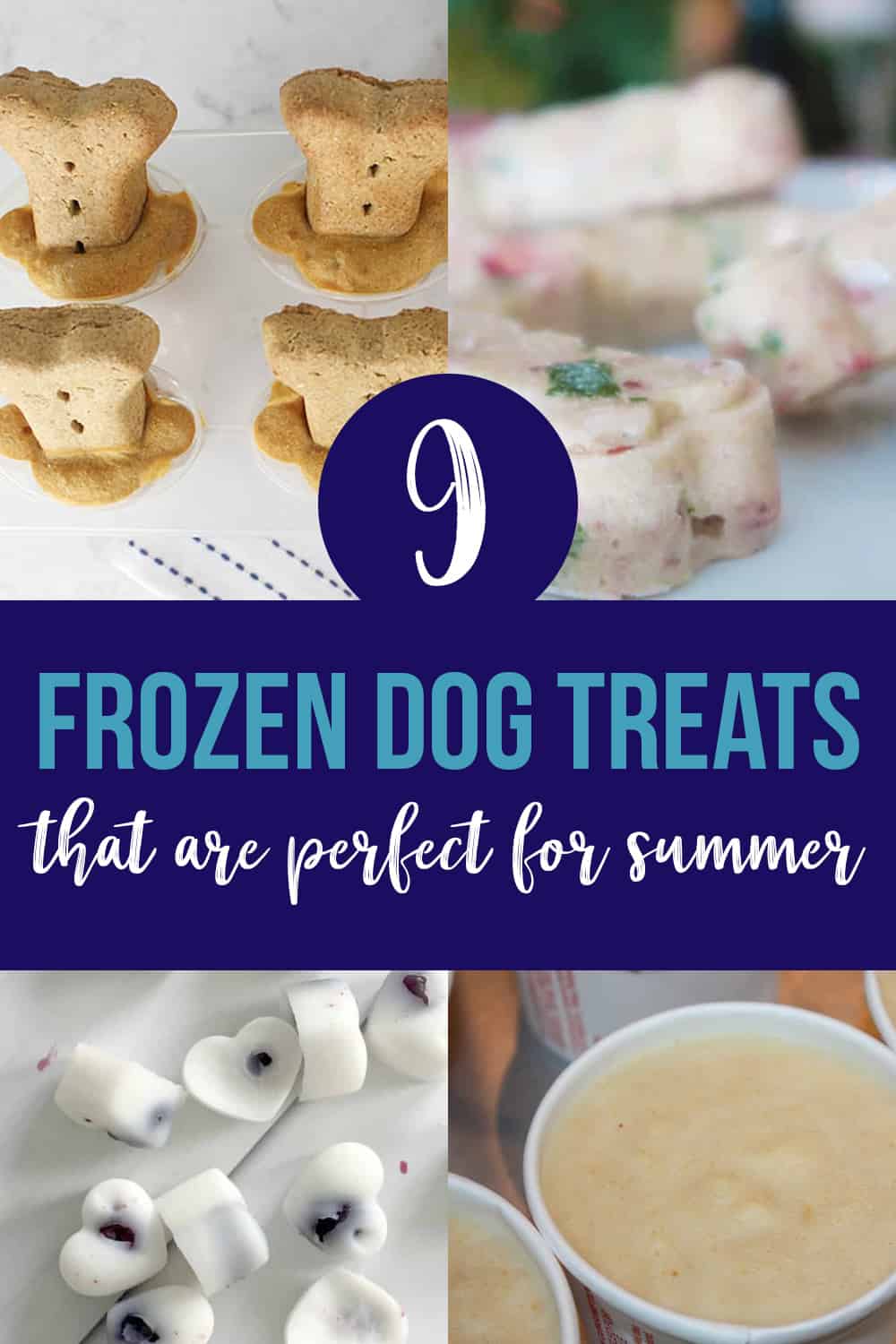 We spoil our pups a lot, especially with homemade dog treats. But during the summer, we love making frozen dog treats. We try to find a couple new healthy frozen dog treat recipes each year to change up their snacks.
So I've compiled a list of some of our favorite homemade frozen dog treat recipes. Most of these frozen dog treat recipes are healthy treats for your dog and have a handful (or less) ingredients so they're easy to put together
We hope you love these frozen dog treat ideas!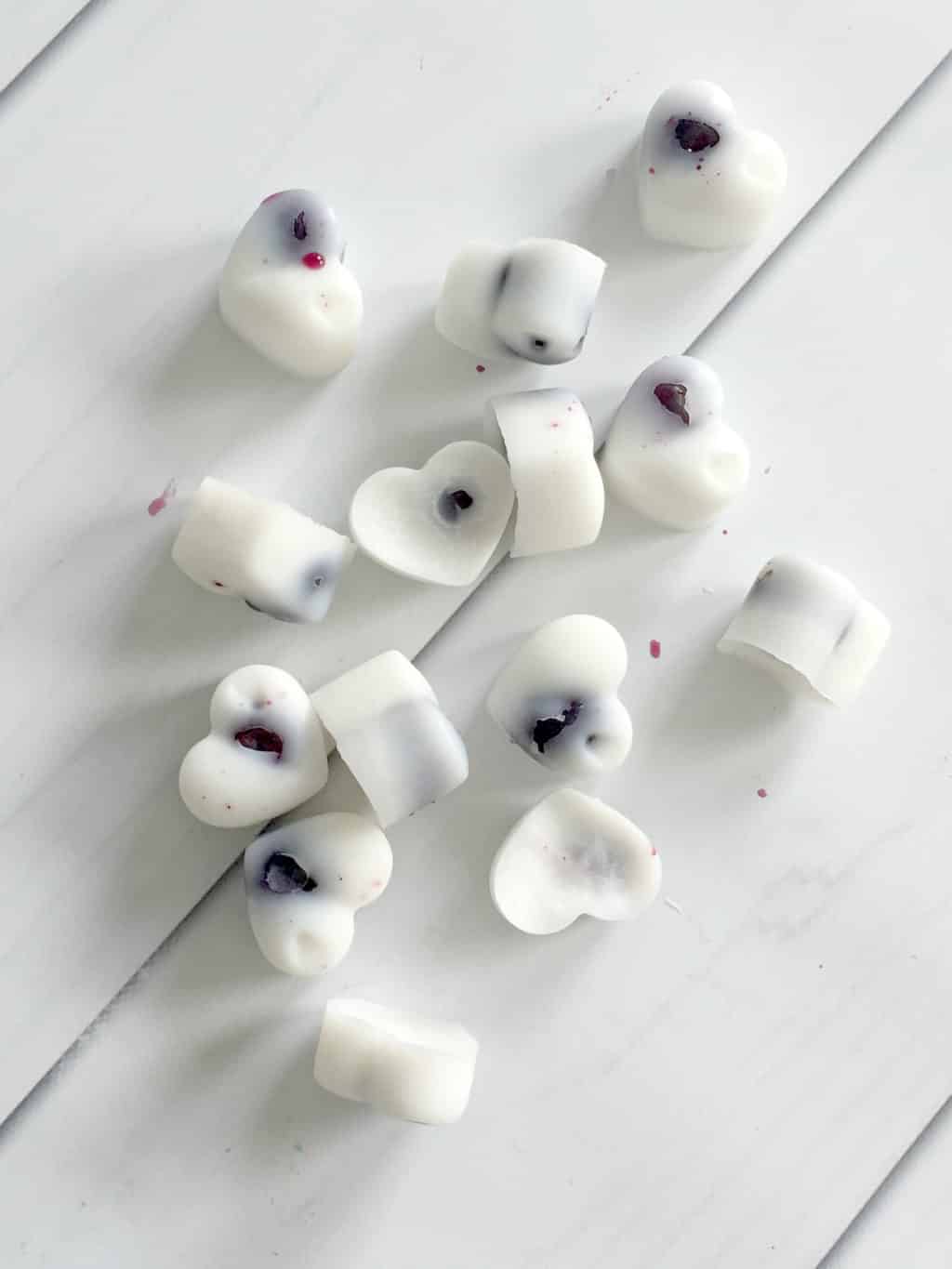 Blueberry and Coconut Oil Frozen Dog Treats
In need of a two ingredient dog treat? You'll want to make these Coconut Oil Frozen Dog Treats with Blueberries. These easy frozen dog treats make summer snacking easy for you and delicious for your pup.
Copycat Frosty Paws Recipe
Have you ever tried Frosty Paws for your pup? If so, you'll love this Copycat Frosty Paws recipe from Sweet Pea. And if not, you and your pup are missing out! It's basically doggy ice cream and our pups LOVE it.
These healthy homemade frozen dog treats only need three ingredients and are sure to be a hit with your pup. This is the perfect frozen dog treat with bananas and peanut butter.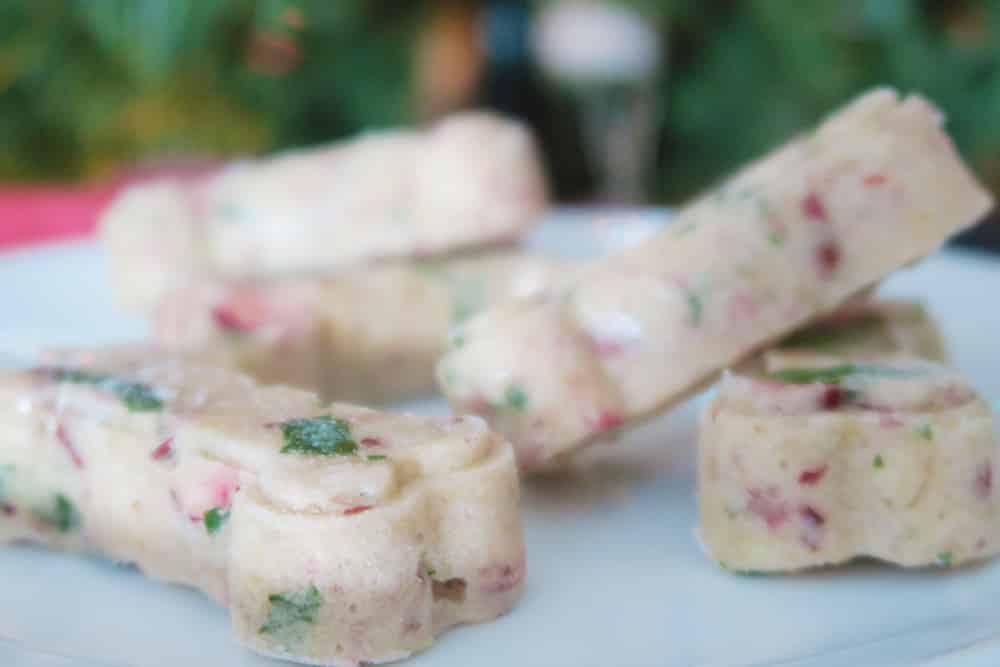 Banana Apple Cranberry Frozen Dog Treats
When it comes to homemade dog treats, we're big on fruit. And that's one of the reasons we love this Banana Apple Cranberry Bone Shaped Dog Treats. The combination of flavors makes them the perfect frozen dog treat without yogurt. We've also made them in little paw prints!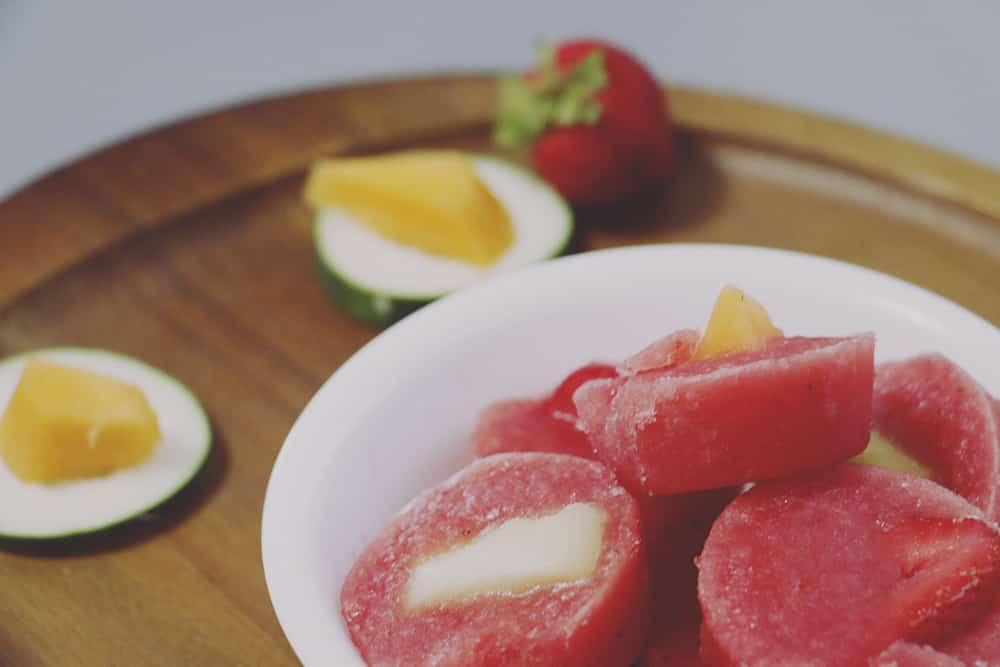 Strawberry Cucumber Melon Homemade Frozen Dog Treats
These frozen Strawberry Cucumber Melon Dog Treats are a delicious summer treat for dogs. They're a healthy frozen dog treat and combine some delicious flavors that make them a fun treat for humans, too!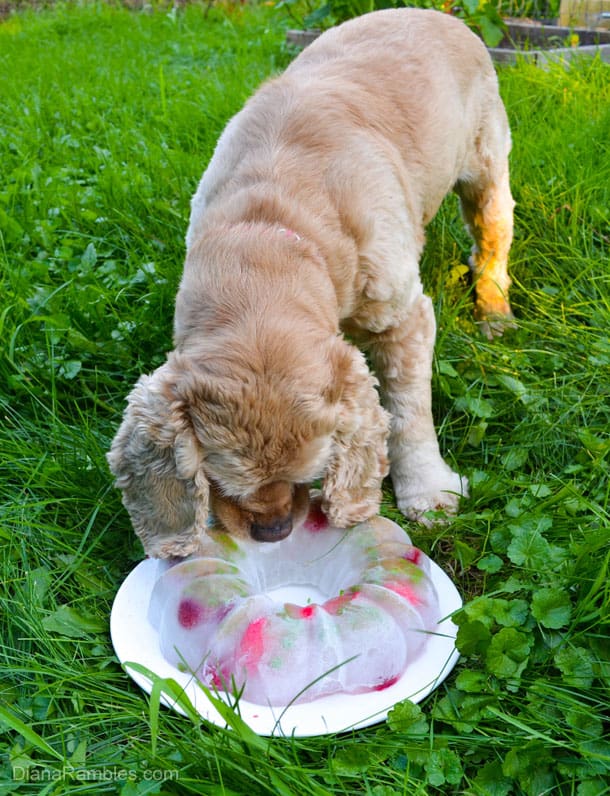 Ice Block Frozen Dog Treat Idea
This Ice Block Dog Treat on Diana Rambles is one of the best frozen dog treats for summer. Not only can you keep your dog preoccupied during your backyard fun, they'll also get a healthy homemade frozen dog treat. One of my favorite DIY frozen dog treats because you can put so many things in it!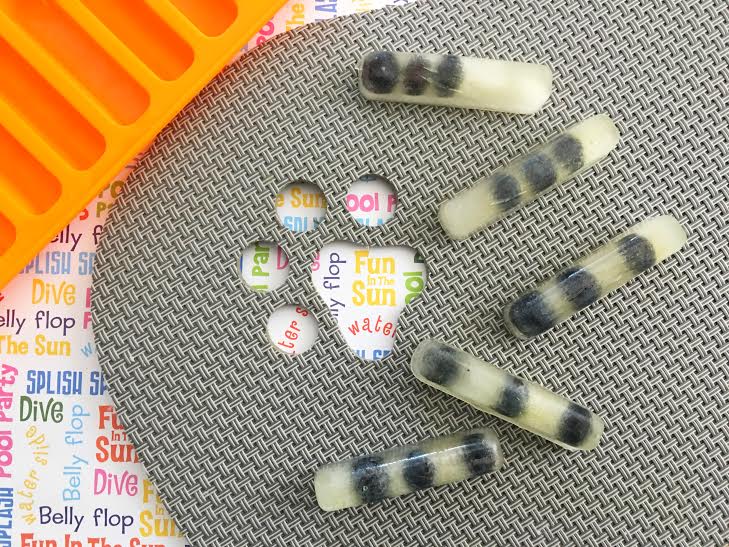 Chicken Broth and Blueberry Frozen Dog Treat Recipe
An easy ice cube tray dog treat recipe is this Frozen Chicken and Blueberry Dog Treat recipe on Masshole Mommy. With just three ingredients, it could quickly become one of your favorite homemade frozen dog treat recipes. One of your puppy dog's favorite, too!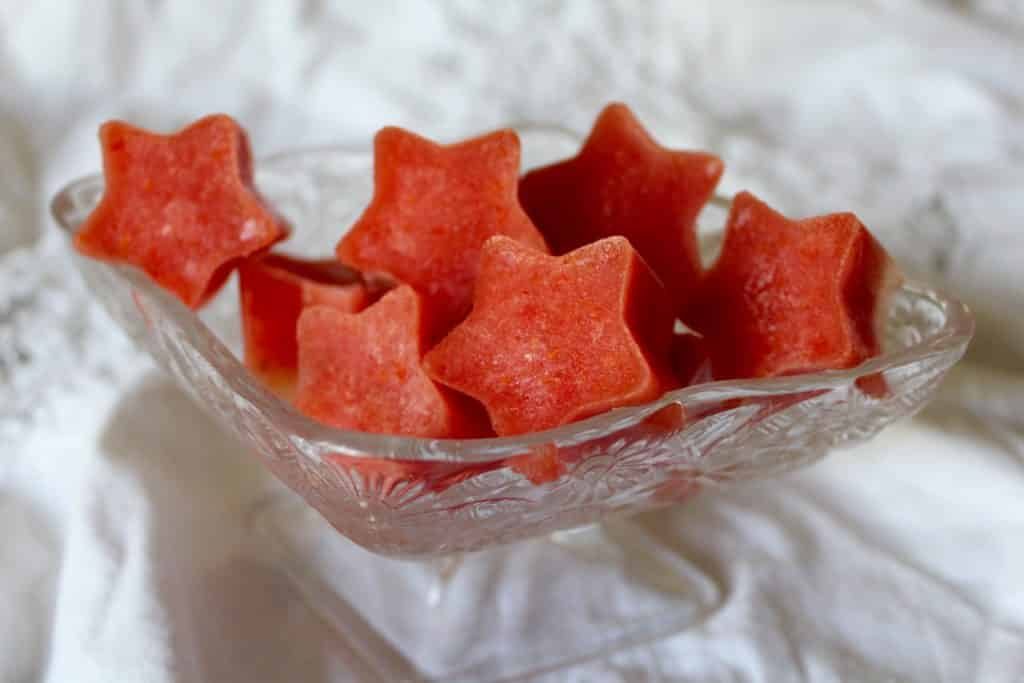 Tomato Ice Cube Dog Treat
This Tomato Ice Cube Treat is a a fun, unique frozen dog snack for summer. If you have an abundance of tomatoes this summer, you can easily make simple dog treats like this for the upcoming months! We love the silicone mold for these, too!
Dog Popsicle Treat
We are loving these Homemade Frozen Dog Popsicles on The Creek Line House! These peanut butter banana frozen treats are a fun way to add your pooch to the popsicle fun that summer brings. Love the dog bone sticks for these frozen peanut butter dog treats.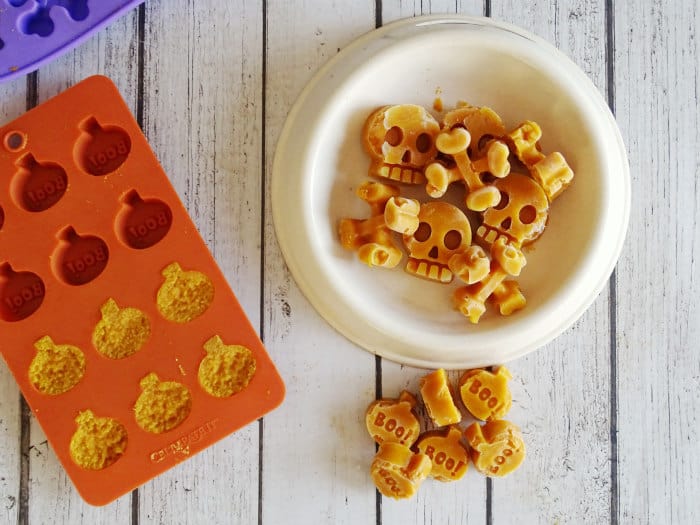 Frozen Pumpkin Dog Treats
Want to keep that Halloween feeling year round? Check out these Apple Pumpkin Frozen Dog Treats on Living La Vida Holoka. These apple, pumpkin, and coconut oil frozen dog treats are favorites of our pups and can easily be made with different frozen dog treat molds.
Hopefully you're no longer wondering "what frozen treats can I give my dog in the hot summer months?"! With the variety of flavors that these summer dog treats offer, your dog will enjoy this summer even more. We hope your dog loves these homemade dog treats as much as both of ours do!
Other Dog Treat Recipes You Might Enjoy:
Don't forget these homemade frozen summer treats for dogs! Pin them to your favorite Pinterest board for later.