Need a new treat for your pup? Try these four-ingredient peanut butter banana grain free dog treats!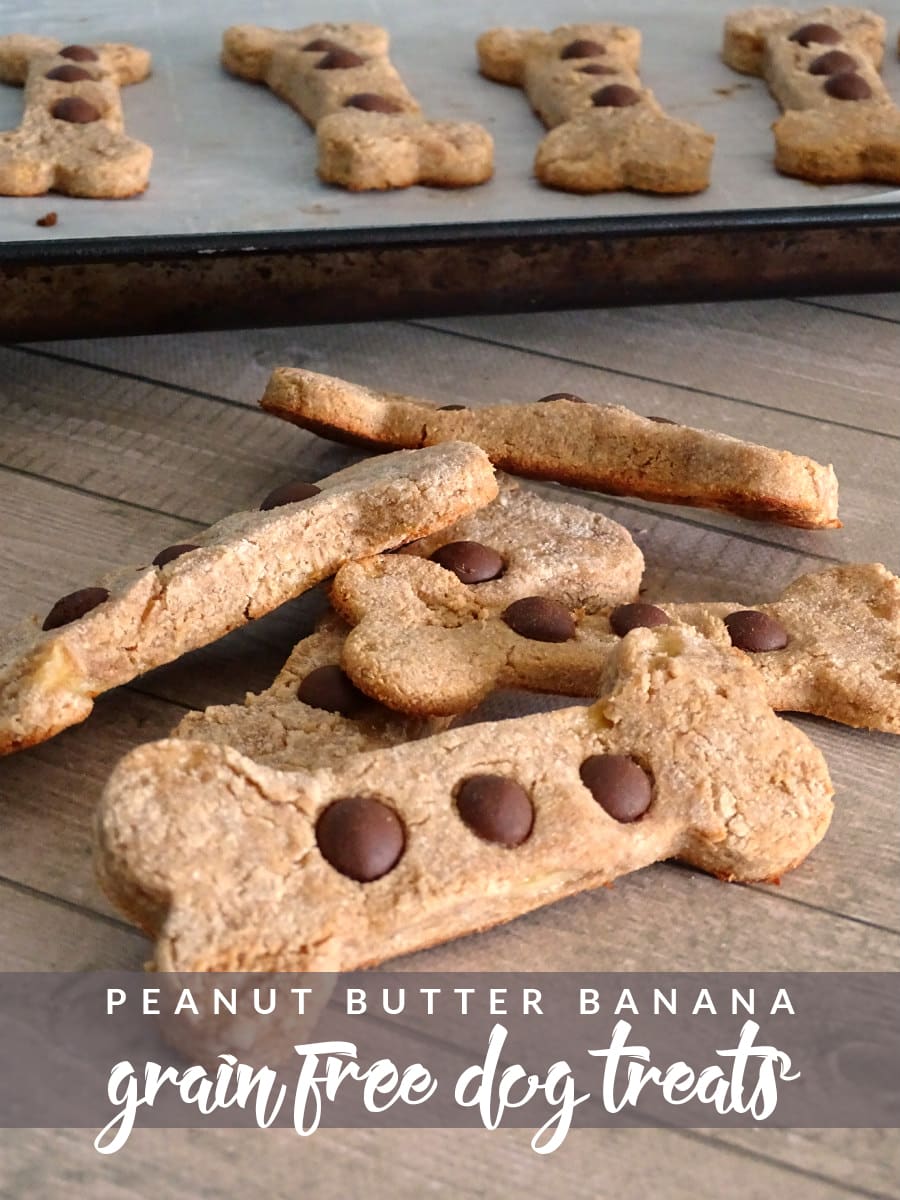 I've recently become very interested in reading up about the types of foods dogs can and cannot have, and also some of the benefits of these foods we choose to share with our pup. Hunter isn't much of a picky eater – not even when it comes to vitamins and medicine – so there really hasn't been a treat he hasn't liked.
With Valentine's Day coming up, and also after having Hunter neutered this past weekend, I wanted to treat him to something special and possibly beneficial to aid in his healing process. I had a couple bananas on the counter that were just getting to the point of being over-ripened, so I decided to make him some Peanut Butter Banana Grain Free Dog Treats.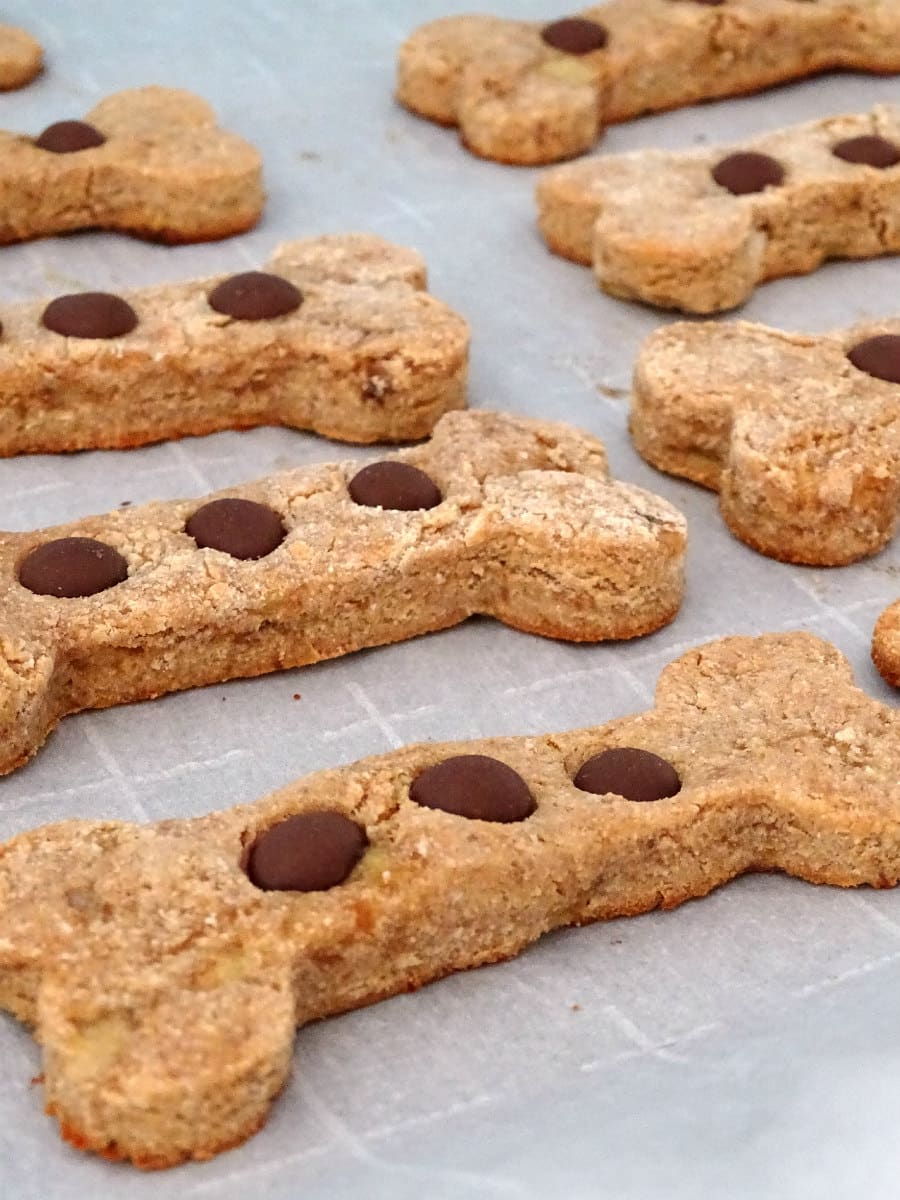 These treats were so easy to make since they contain only four ingredients! Bananas have lots of benefits for dogs, just as they do for us, including potassium, vitamin C, and aiding in digestive health. I have read recent debates about giving your dog peanut butter, so check the ingredient list to make sure its low in sugar and doesn't contain any ingredients you're unsure about. In small amounts, it's still a great source of protein and healthy fats.
Related Reading: DIY Grain-Free Dog Treat Ornaments
The last ingredient is coconut flour, which is a great alternative to all-purpose flour if you have a dog with allergies. I dressed these treats up with carob chips. Carob is a safe chocolate alternative for dogs. It also packs a ton of health benefits like protein, calcium, and lots of vitamins.
Peanut Butter Banana Grain Free Dog Treats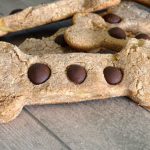 Peanut Butter Banana Grain Free Dog Treats
Ingredients
1

Banana

1/4

cup

Creamy Peanut Butter

1/2

cup

Coconut Flour

Carob Chips

optional
Instructions
Preheat oven to 350º and line a baking sheet with parchment paper.

Mash your banana in a large bowl.

Mix in peanut butter until incorporated.

Add coconut flour and mix just until dough forms.

Turn dough out onto a lightly floured surface.

Knead into a ball, then roll out until dough is 1/2 thick.

Use cookie cutters to cut out treats and space evenly on prepared cooking sheet.

Decorate treats with carob chips, then bake for 10 minutes.

Allow treats to cool before giving them to your dog.

Store treats in a container in the fridge.
Recipe Notes
Yield will depend on the size cookie cutter you use. I used a 3-inch dog bone cookie cutter
and made 12 treats.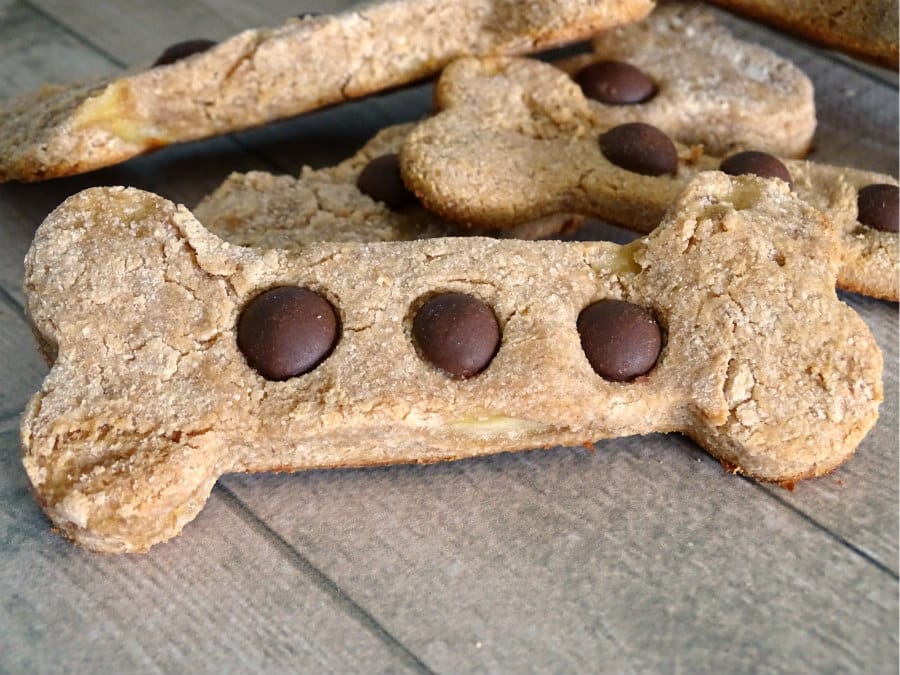 It's funny how Hunter knows that if that bone-shaped cookie cutter comes out, I must be making something for him! I gave him a taste of the banana I was mashing and he watched me throughout the entire baking process and waited patiently for his treat. They definitely get a four paw stamp of approval from him! I hope your dog enjoys these just as much!
Related Reading: Frozen Coconut Oil and Blueberry Dog Treats
What is your go-to grain free dog treat recipe?
You might also like: