Want to spoil your furry friend without spending a fortune? Make your own homemade dog treats! You can easily make these six ingredient peanut butter banana dog treats with ingredients you probably already have in the house.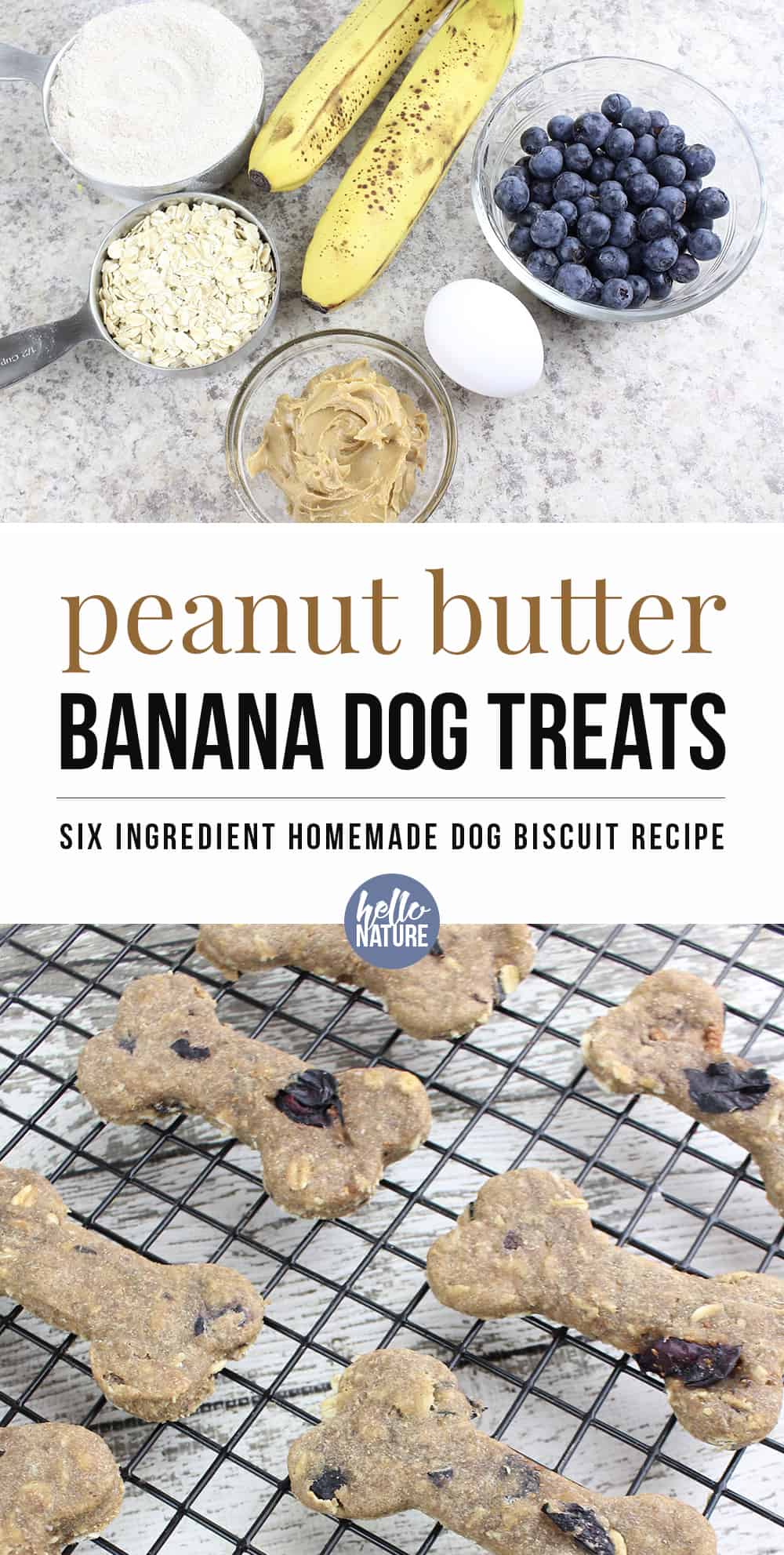 If you're anything like me, spoiling your dog is just a part of life. Unfortunately, store-bought treats are expensive. And even more expensive are the homemade treats you can find at your local farmer's market.
As much as I do love spoiling our two pups, I don't love handing over half a paycheck just to get them some gourmet dog treats. Especially when they are SO darn easy to make.
The printable recipe card for this easy dog biscuit recipe can be found at the bottom of this post. Don't miss the tips in-between though!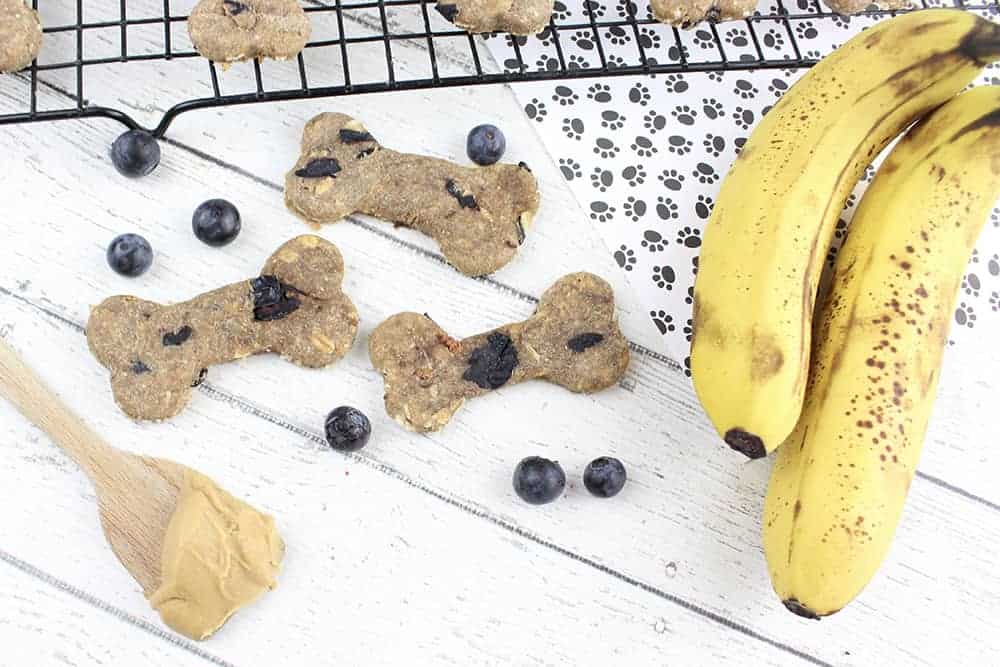 I've shared quite a few different dog treat recipes on the blog, like these two ingredient frozen blueberry dog treats and this four-ingredient carob peanut butter dog treat recipe. Both of which are super easy to make with fairly common ingredients.
Luckily, these peanut butter banana dog treats with blueberries are no different!
With just six ingredients (that you probably already have on hand) – you'll be able to make these easy homemade dog treats in less than 30 minutes.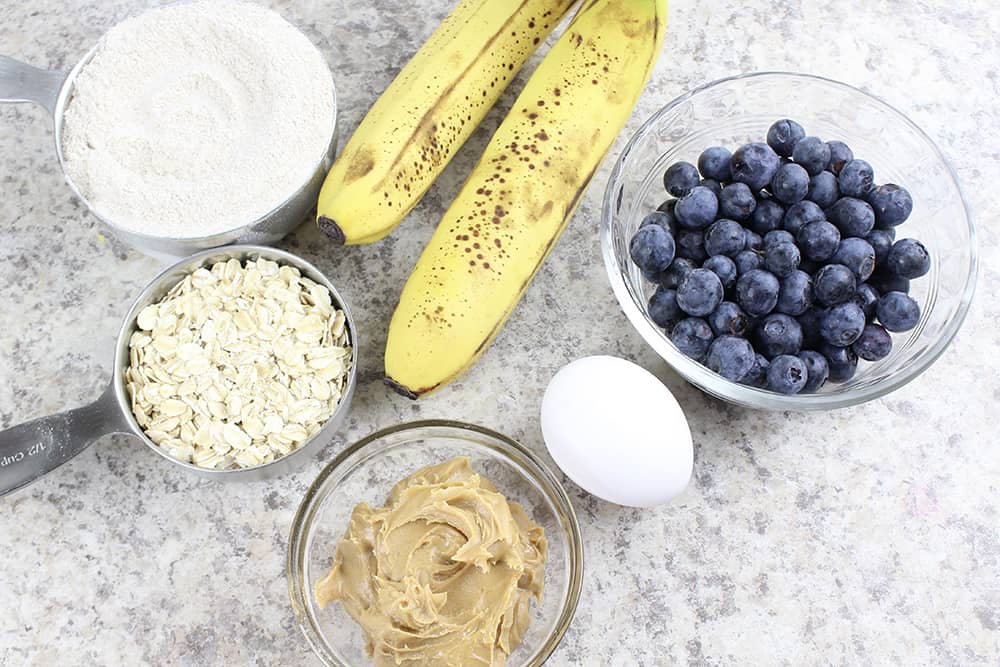 Peanut Butter Banana Dog Treats Ingredients
For these super easy homemade dog treats, you'll need:
1 Banana
Whole Wheat Flour
Rolled Oats
Blueberries
1 Egg
Peanut Butter, preferably natural
That's it! Six ingredients for a dog biscuit recipe that your pup is sure to love.
How do you make peanut butter dog treats?
Remember how I said this was a simple dog treat recipe? That's because it's really easy!
Preheat the oven to 325F. Line a baking sheet with parchment paper and set aside.
Combine all of the ingredients, slightly mashing the blueberries, and stir until dough is formed. Place onto a well-floured surface and knead for 4-7 minutes or until the dough is somewhat elastic.
Roll the dough out until it's about 1/2″ thick. Using a dog bone cookie cutter, cut out your dog treats and placed onto the lined baking sheet. Bake for 10-15 minutes or until they are brown. Cool on a wire rack.
How long do homemade peanut butter dog treats last?
I recommend storing these in an airtight container in the refrigerator for up to 10 days. If you want to make a bigger batch or have them last longer, I would suggest storing them in the freezer. If stored properly, they can last at least six months.
Going to give them as a gift? Make this dog treat jar DIY to go with these banana oatmeal dog treats.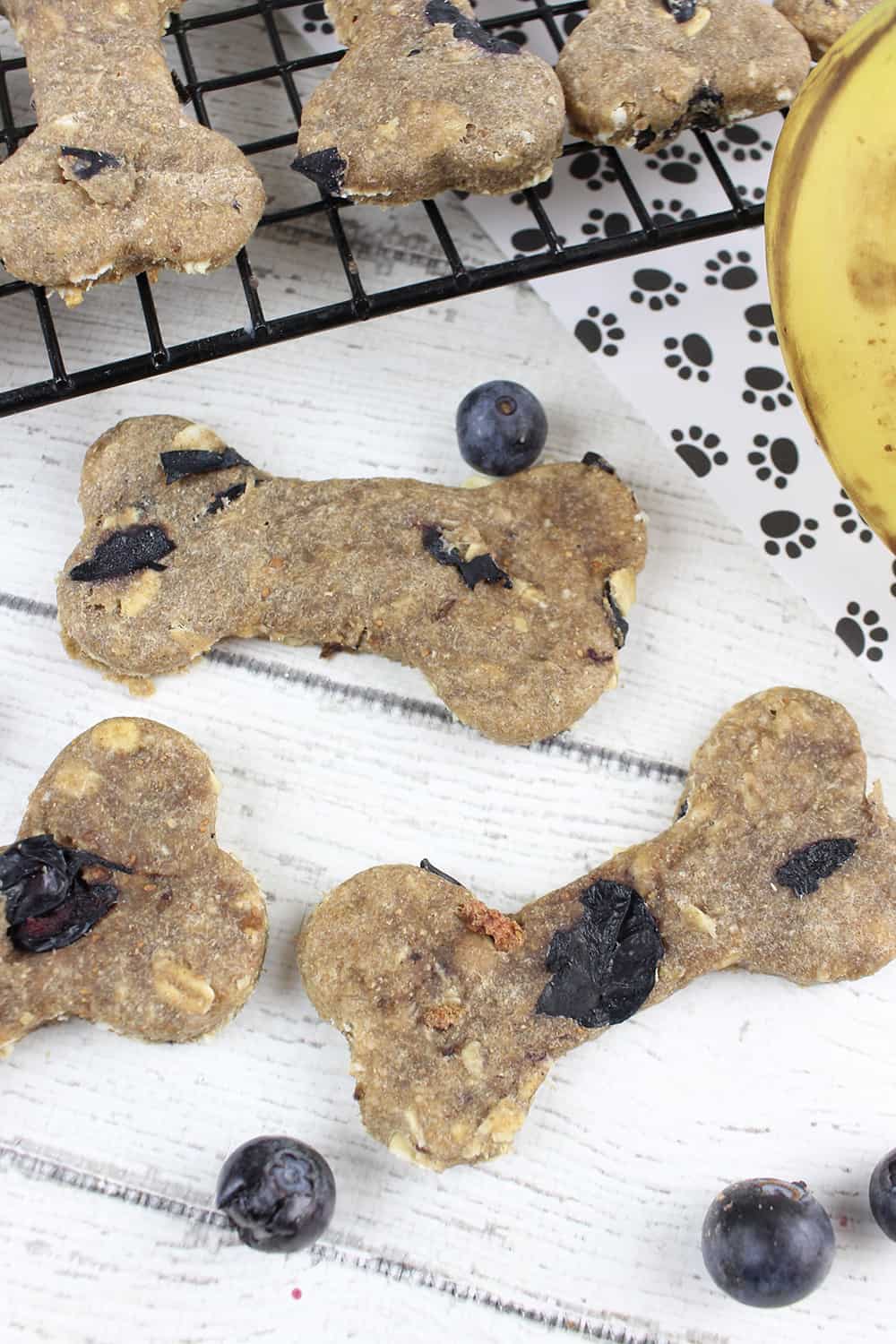 Can my dog eat _____?
You might be wondering "can a dog eat bananas?" or "can dogs eat blueberries?" or "can dogs eat oats?" or even "is peanut better safe for dogs?" And the answer is probably. If your dog is allergic to any of these ingredients, I wouldn't suggest offering it to them. And if they have food sensitivities, it may be best to consult with your vet first.
But if your dog is healthy and handles human food well, these ingredients are safe for dogs to eat. For more information, check out Can I Give My Dog.
Fruit
Bananas and blueberries are both safe for dogs in moderation.
Peanut Butter
When it comes to peanut butter for dogs, natural peanut butter is better. But if you can't find natural peanut butter, opt for ones WITHOUT xylitol. This is extremely bad for dogs. Lower sugar and lower sodium peanut butter is also preferred for dogs.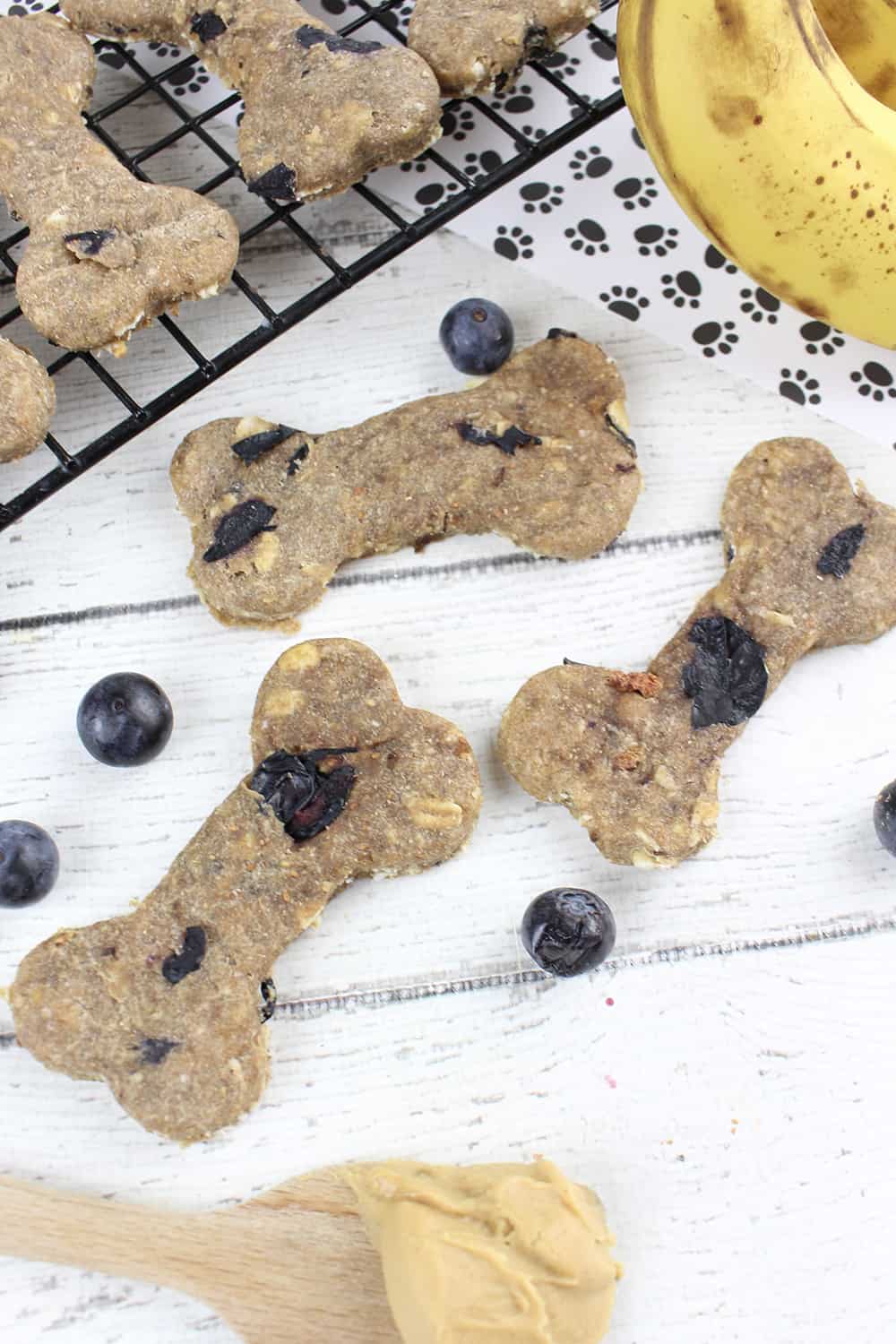 Oats and Flour
Oats are a great source of fiber and other vitamins and minerals. In moderation, oats can be great for tummy troubles with your furry friend.
A lot of people question what kind of flour is safe for dogs with how much a grain-free diet gets pushed. As long as dogs don't have wheat sensitivities, flour is safe for dogs to consume. Whole wheat flour is a good choice for a simple dog treat recipe, especially. If you would prefer a grain-free dog treat that's similar to this one, I'd suggest these peanut butter banana grain-free dog treats.
Egg
Eggs can be very beneficial for dogs as they are a great source of protein.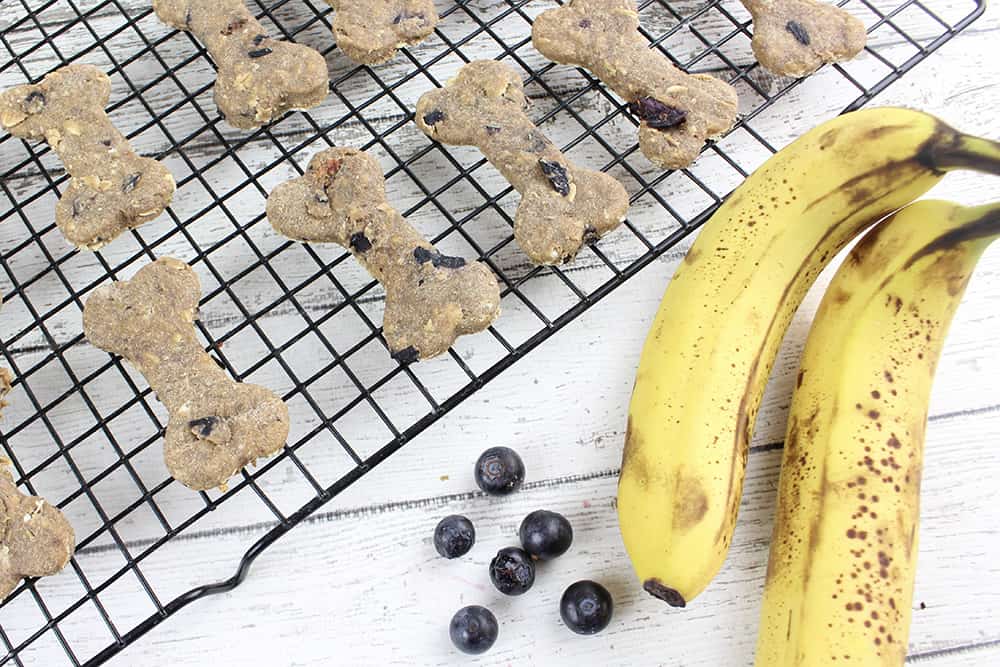 Other Homemade Dog Treat Recipes
Looking for other easy dog treats to make? Here's a few!
Peanut Butter Dog Biscuits:
Other Easy Dog Treat Recipes:

Peanut Butter Banana Dog Treats Recipe
Peanut Butter Banana Dog Treats With Blueberries
Ingredients
1

Banana

Mashed

1

Cup

Whole Wheat Flour

1/3

Cup

Natural Peanut Butter

1/2

Cup

Blueberries

1/2

Cup

Rolled Oats

1

Egg
Instructions
Preheat the oven to 325°F. Line a large baking sheet with parchment paper and set aside.

Add all of the ingredients in a large mixing bowl and stir until a dough forms.

Place the dough on a lightly floured work surface and knead until it feels somewhat elastic, approximately 5 minutes.

Roll the dough out with a rolling pin until it is about 1/2" thick. Cut out dog bone biscuits with a cookie cutter and place the biscuits on the lined baking sheet.

Bake for 10-15 minutes or until the biscuits begin to turn brown. Cool on a wire rack.
Be sure to grab your cookie cutter and make these Peanut Butter Banana Dog Treats with Blueberries for your furry friend soon! Your pup and bank account will thank you! ;)
Need more dog inspiration? You got it! Check out these winter skin care tips for dogs, learn how to calm anxious dog, figure out what you need to bring to your dog sitter, and get a list of camping essentials for dogs.
amzn_assoc_placement = "adunit0";
amzn_assoc_search_bar = "true";
amzn_assoc_tracking_id = "hellnatu-20";
amzn_assoc_ad_mode = "manual";
amzn_assoc_ad_type = "smart";
amzn_assoc_marketplace = "amazon";
amzn_assoc_region = "US";
amzn_assoc_title = "Products You Might Like";
amzn_assoc_linkid = "021792fb9525214f8262a1ebbcb96990";
amzn_assoc_asins = "B01FW4ZFBC,B0000VLP5S,B000H0ZJIG,B0793FB73B";