Winter skin care for dogs isn't hard. With just a few extra steps you, can help your furry friend be more comfortable during the colder months.
I'm currently a Brand Ambassador for Isle of Dogs and have been compensated for this post. All opinions are mine alone.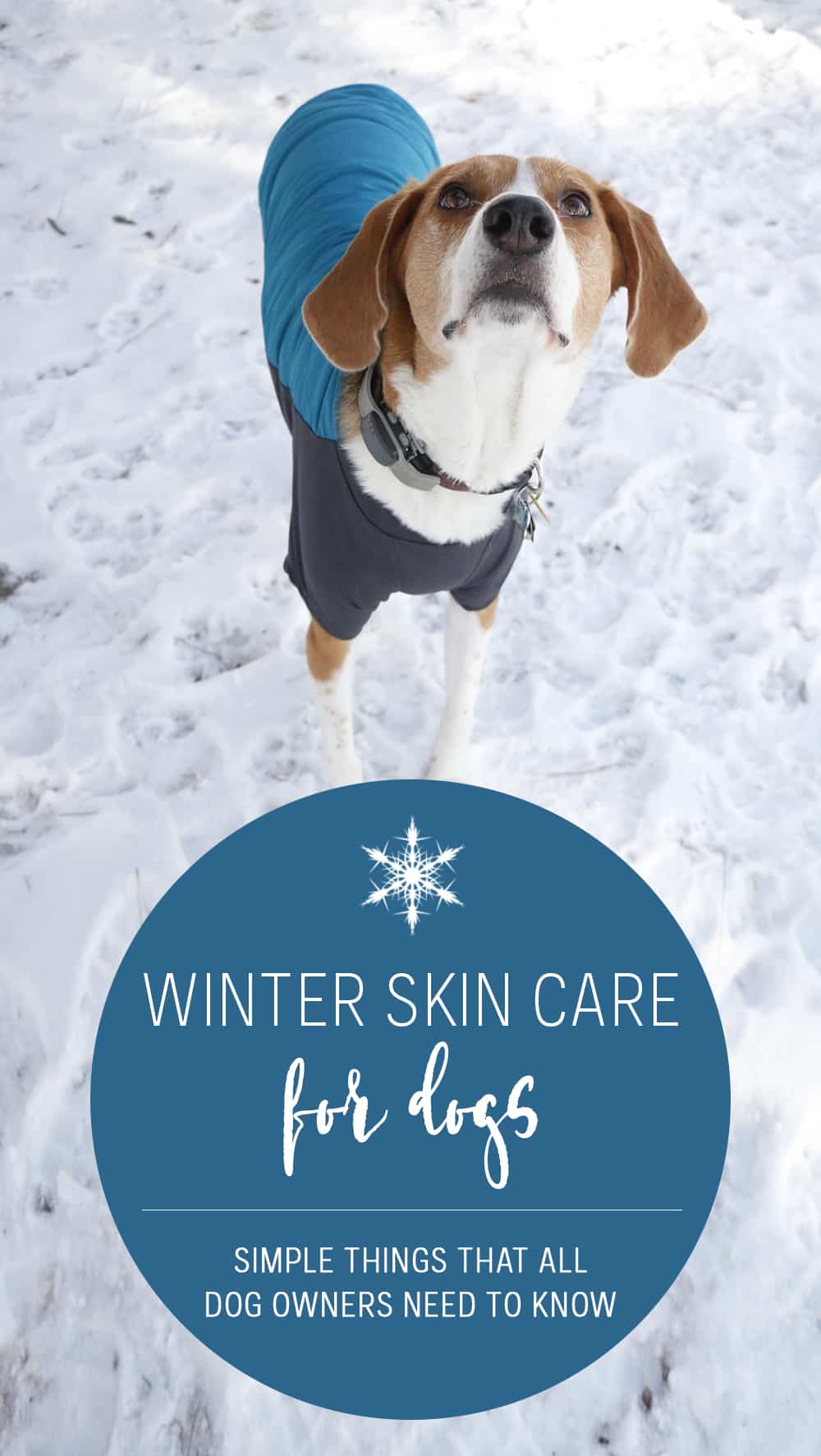 Fido spent all summer long, lounging in the backyard and basking in the sun. Now it's time for your furry friend to trade those warm, sunny days for nights are spent by the fireplace instead. With this shift, we need to alter how we care for our pups – especially their coat.
Just like our skin dries out in the winter, a dog's skin can end up dry and itchy without the proper care. This can lead to many uncomfortable problems for your pup. Luckily, an itch-free, pain-free winter for Fido isn't hard to come by with these helpful tips on winter skin care for dogs.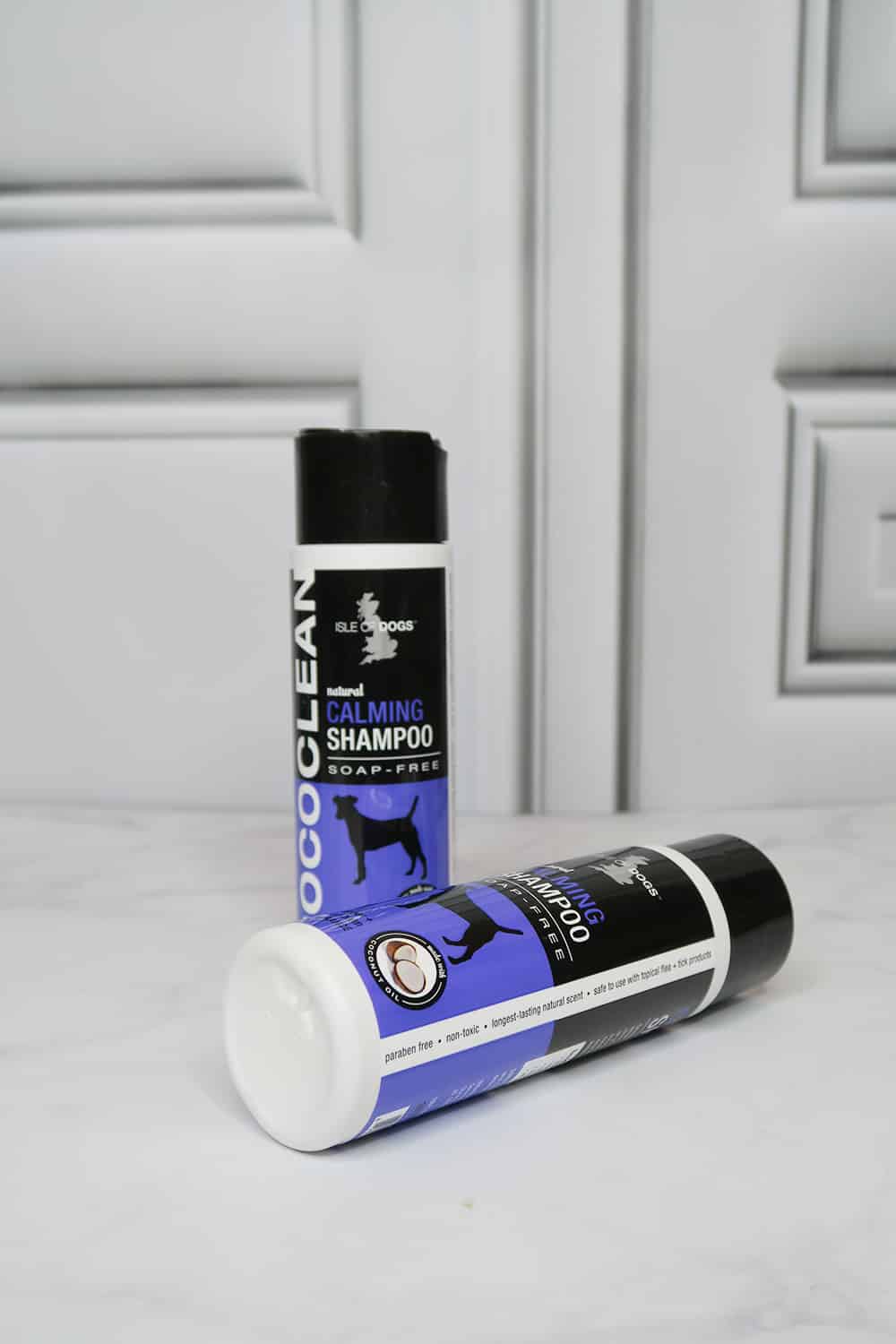 Shampoo/Bathe Less
Winter skin care for dogs starts with fewer baths. Soaps and shampoo can easily dry out skin as they can remove the natural oils from it. This leads to itching, flaking, dry skin, and dandruff. Not good!
So, shampooing less often is ideal during wintertime. When you are bathing your furry friend, choose high-quality dog shampoo like this Two-In-One Shampoo and Conditioner that's gentle and moisturizing for your dog's skin. It's part of the Isle of Dog's CocoClean line which is fueled by the benefits of coconut oil. Not only does the coconut oil promote a healthy coat, it also:
Helps relieve dry, itchy, flaky, and irritated skin
Naturally deodorizes
Helps create a stronger, healthier protective skin barrier,
Strengthens hair
Isle of Dogs has a whole section of products dedicated to healthy skin that I would absolutely recommend. If your furry friend has dry, itchy skin already – they've got you covered there, too.
Feed them a proper diet
Consulting with your veterinarian is the best option when it comes to diagnosing skin issues, but a change of dog food and/or dog treats can remedy some issues. Supplements of omega-3s and coconut oil may be good options for your pup, too.
Healthy treats like these Healthy Skin and Shiny Coat Daily Essentials that feature carrots, cranberry and rosemary are a great addition to your treat bin. The flavor combination for these whole food based dog treats is meant to be tasty for pups, but also beneficial by helping promote healthy skin and a thicker, shinier coat. Perfect for winter!
These Skin Soft and Chew Dog Treats that feature flaxseed and kiwi fruit are also made to help moisturize and improve skin health for dogs.
Use a humidifier
We already use one (or five) for our family because of my eczema. Humidifiers work wonders for combating the dry air for my itchy, red hands. And they can do the same for dogs.
Be sure to watch the use of the fireplace or space heaters as well. Anything that can dry out your home for you will do the same thing for your dog. Especially as your pup may be more likely to situate themselves closer to the source of heat, making it even more damaging.
Limit outdoor time
I like to think we have a smart dog. I'm pretty sure we do, honestly. But when it comes to frigid temperatures, I think her smarts freeze up a bit.
For instance, she likes to wander off into the depths of our backyard where it couldn't be any further from the door. And then realize it's cold, only to (almost literally) freeze in place and refuse coming in. So what do we do?
We call her to come in, and it doesn't work.
We try to bribe her with treats, and it doesn't work.
We put on our boots in a hurry, forget about our jacket, and nearly run outside to carry our 60+ pound dog 100 feet so she doesn't have to make the trek across our backyard again. This does work, by the way, but I wouldn't recommend it.
Save your pup and yourself from this by using a leash when the temperatures drop and don't leave them outside for long periods. Pay special attention to wind-chill, too.
Keep your pup's fur groomed
Remember how we talked about the shampoo stripping the coat of it's natural oils? Luckily, you can also increase the amount of natural oils in the coat by grooming your dog's fur properly. This is an easy way to enhance your winter skin care for dogs, too!
Brushes and brush sprays are great ways to remove the dead skin cells that accumulate in the coat and encourage the hair follicles to release the natural oils. Brush sprays help reduce static and shedding while aiding in maintaining a silky, healthy coat that stays clean longer. We LOVE the Isle of Dogs Brush Sprays because they are blended with coconut oil and they smell fantastic.
Long haired dogs have an even trickier time with this as ice can collect on long fur. Keep it trimmed and cleaned to prevent this as much as possible. Also, be sure to dry them off after they're outside to keep them warm and remove an excess ice/snow.
Wipe off paws after walks
Paws can collect salt and deicing products. These can be incredibly irritating to skin (for dogs and humans.) You don't want a little one playing with these small chemicals after they're discarded when your dog walks through your home or for your dog to lick them off their paws.
Be sure to wipe off paws to remove any trace of the salt or deicers when they come inside from your driveway, walks, or any other place they may encounter them. Baby wipes are great option for quick cleans, but a waterless shampoo will work even better.
Winter skin care for dogs doesn't have to be hard. With just a few quality products and a couple of precautionary steps, Fido will enjoy a healthy coat and less scratching all winter long.
Learn more about Isle of Dogs and see how to calm an anxious dog. We LOVE their products for a healthier coat, but the Isle of Dogs calming products are lifesavers for us during stressful times.
Do you have any tips on winter skin care for dogs? I would love to hear them in the comments!
You might also like: