These banana apple cranberry dog treats are super easy to make and your pup will love the delicious addition of mint. They're festive and fun so your dog will safely be able to enjoy the holidays with you.
The holidays are a time for family, inspiration, and creativity. If you're anything like the Dog People at Rover.com, involving the family pet in festivities is a given. We've worked with 12 DIY bloggers to bring you a different daily craft for 12 days, for you to try at home. So deck the paws and countdown to a furry Christmas with us!
On the third day of DIY, your fur love did receive DIY Catnip Teabags. On the fourth day of DIY, your fur love will receive banana apple cranberry dog treats from me!
I always love to find ways for Sookie to get treats similar to what we'll be enjoying. (Like that one time we made a pot pie. YUM!) I also try to make sure she gets as spoiled as everyone else during the holidays.
Making treats is a great way to do both. I know what's going into them and I don't feel bad when she indulges a little bit either.
This Christmas, I wanted to do something very festive. She already snacks on bananas and apples with Lily which is a great treat base.I wanted to find a way to incorporate some more red and green into it for the holidays.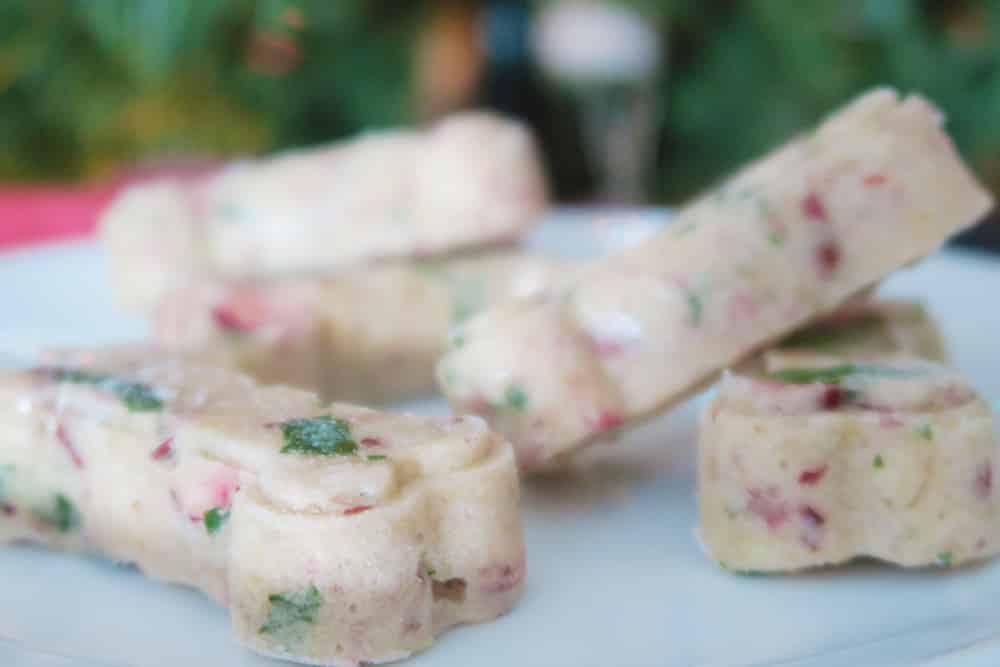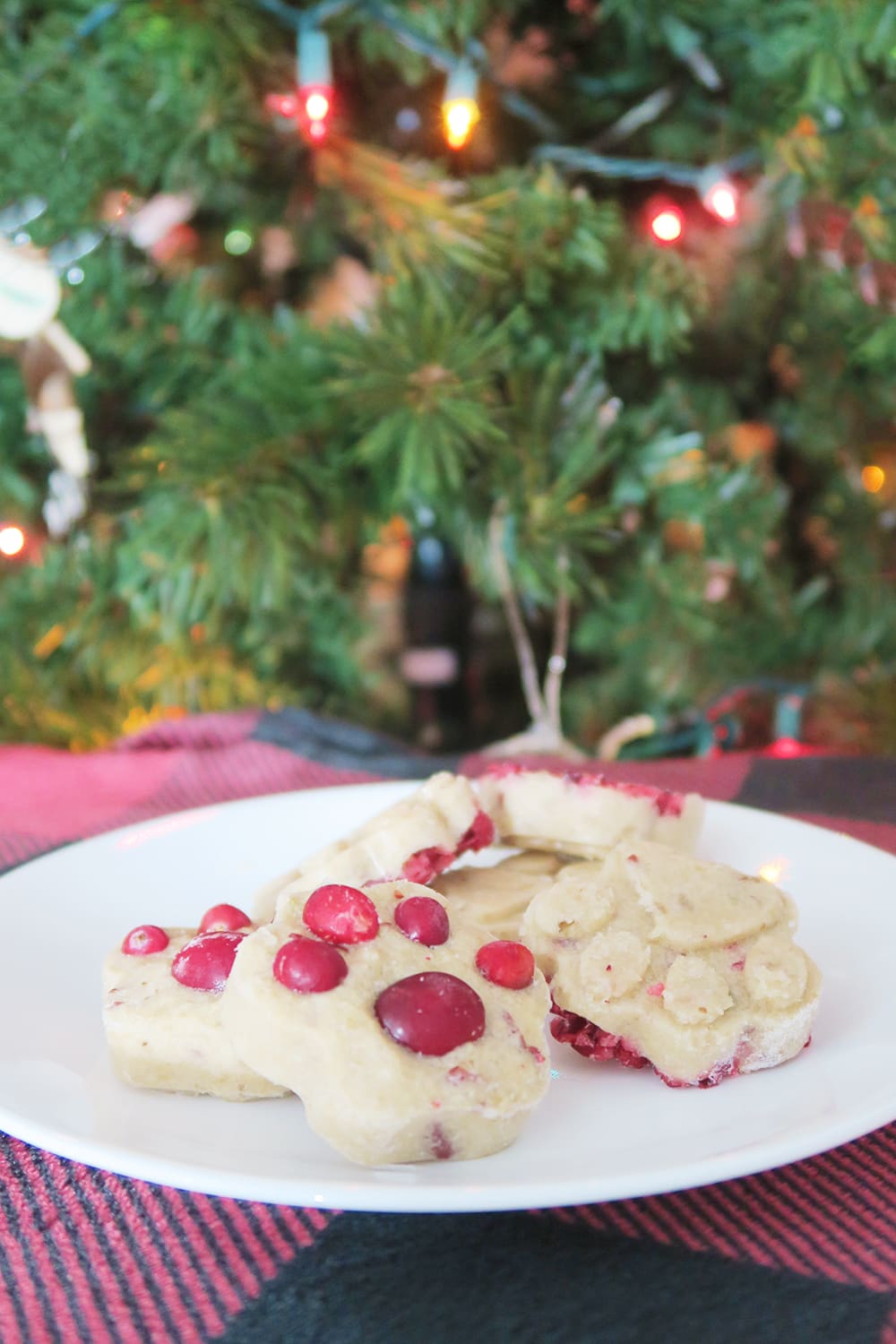 The first thing that came to mind: cranberries! Lucky for me and Sookie, cranberries have some great benefits for dogs when given in moderation.
Add in a little mint and BAM!
These banana apple cranberry dog treats are perfect for the holidays and ready to be enjoyed all season long.
Plus, they're human-friendly, too! Lily and I shared one of them with Sookie after we made them. They're that good. And they're also a great way to use up any leftover bananas or apples before they go bad with how simple they are.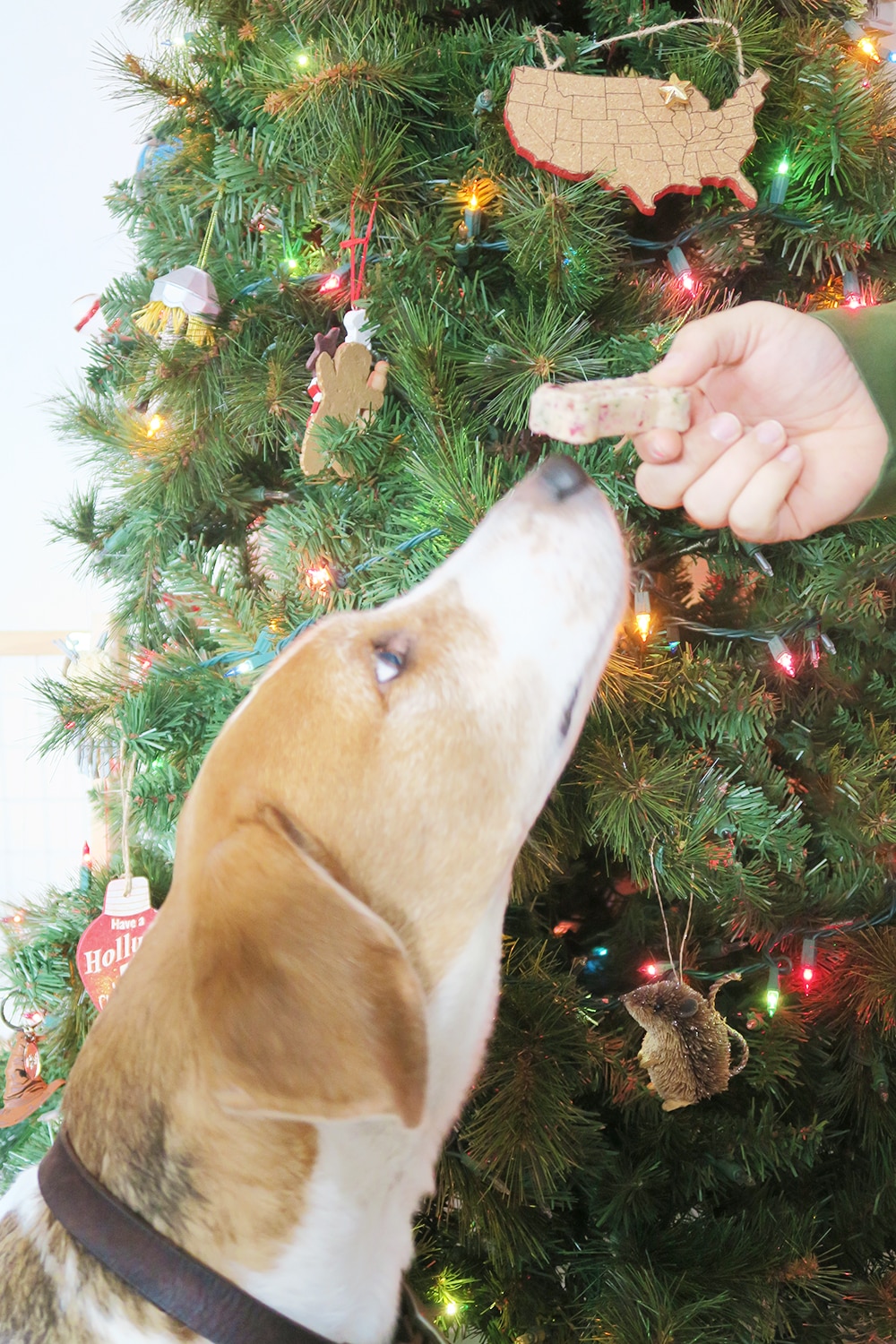 We used these dog bone and paw print molds, but you can use any mold. I'm sure your pup wouldn't mind if their treats were in the shape of snowflakes or other fun Christmasy shapes.
Also, we did two different kind of treats. The paw prints don't have any mint, but have a cranberry layer in the back. (A few just have some extra cranberries in the paw for fun!) The bones have the mint incorporated.
The recipe below covers them both since they're pretty similar!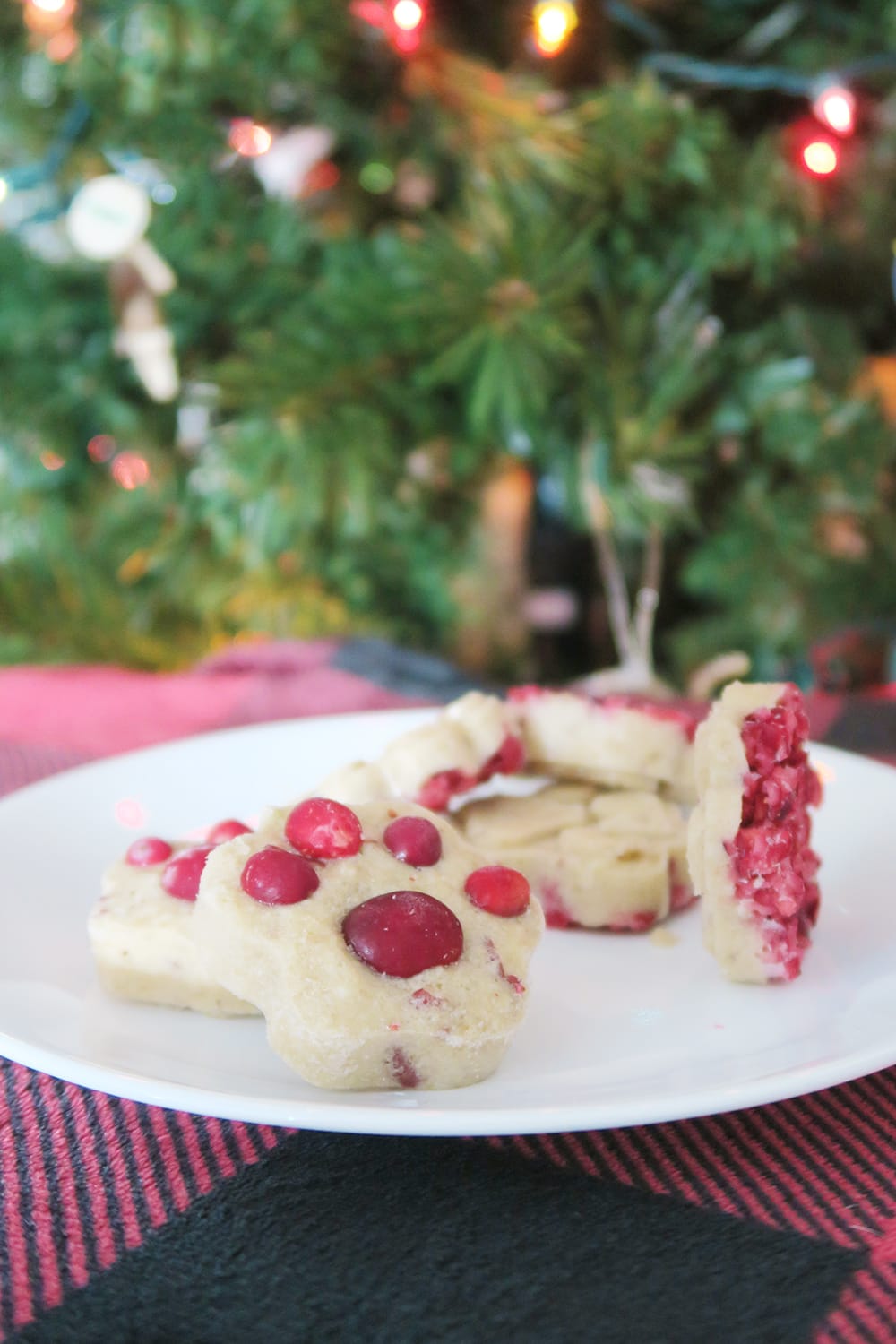 banana apple cranberry dog treats
Banana Apple Cranberry Dog Treats
Ingredients
1

Banana

1

Apple

1/4

Cup

Cranberries
Optional Ingredients
3

Tbsp

Fresh Mint

Chopped

1

Cup

Cranberries

(For the back layer)
Instructions
Put the cranberries in the food processor and process until diced.

Slice and core the apple and add to the food processor. Add in the banana and puree.

If using, add in the mint and pulse a few times to incorporate.

Fill the molds all the way with your mixture and smooth out. If using the extra cup of cranberries, only fill 3/4 of the way full.

If using the extra cup of cranberries, pulse in the food processor until diced. Spread out evenly in the mold on top of the banana apple mixture and smooth until you have full layer of cranberry on top of the banana apple mixture.

Place the molds in the freezer for 2-3 hours or until frozen.

Pop out, store in a container in the freezer and treat your pup!

What do you get your furry friend for the holidays?
If you're looking for more frozen dog treat recipes, check out these Easy Tomato Ice Cube Treats, Frozen Strawberry Cucumber Melon Dog Treats, and Frozen Blueberry Coconut Oil Dog Treats.
You might also like: