Just like I like to know what's in the food I'm eating, I also like to know what's in the food and treats we're giving our pets. We've already struggled with some digestive issues for one of our pups, so it's even more important now. Knowing that they're getting higher quality treats that aren't made from unnecessary ingredients means they get to indulge a little more, too.
For me, one of my favorite indulgences during the holiday season is sweet potato casserole. I could eat it for every meal, I think. As much as I love sharing my fruits and veggies with our pups, I know this dish isn't good for them. So I decided to take the sweet potato and make some yummy treats that they could enjoy instead!
They're super easy and, if you're making them to hand out this holiday season, can be cut into tons of different festive shapes.
Sweet Potato Dog Treat
Ingredients
1

Sweet Potato

2

Cups

Whole Wheat Flour

1/4

Cup

Brown Rice Flour

1/2

Cup

Applesauce

2

Eggs
Instructions
Preheat the oven to 350F.

Poke some holes in the sweet potato, rinse it off and wrap a paper towel around the sweet potato. Cook it in the microwave for 10 min or until soft.

Remove the sweet potato from the microwave (caution - it's hot!) and spoon out the filling into a bowl.

Mix in the rest of the ingredients until thoroughly combined.

Roll out to be approximately 1/4" thick.

Using a cookie cutter, cut out your shapes. Reroll and repeat as necessary.

Place your cut-outs on a lightly greased cookie sheet.

Bake for 40-50 minutes, flipping halfway through, or until they are crisp.
One thing I will say about these treats is that since they're hard, they make a bit of a mess when they're handed out! Since we opted for a mostly non-carpeted house when we redid our floors, it's a little bit easier to clean up. But every day messes, tracked-in dirt, and pet treats are quick to stay nestled in our rugs. Even our vacuum doesn't always get out all the mess so I love having the BISSELL ProHeat 2X Revolution Pet. It's great for a deeper clean, has a detachable hose and dual powerbrushes, provides adjustable cleaning modes, and an express clean mode that offers fantastic cleaning that dries in around an hour. This is a must with pets who are anxious to get back to their favorite rugs or furniture!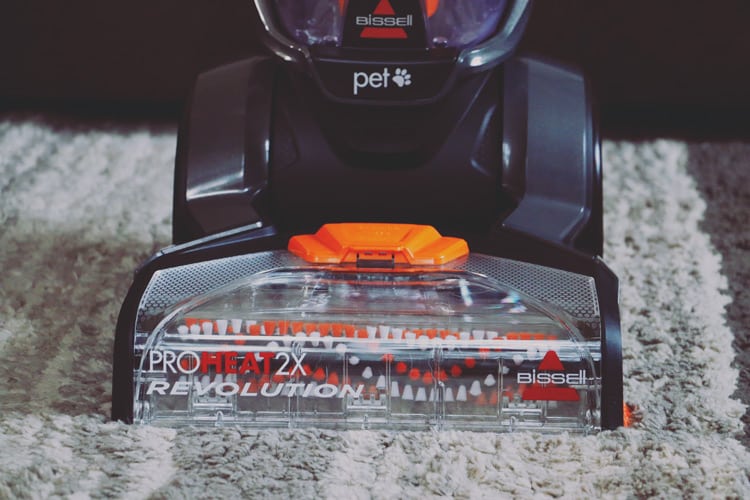 The BISSELL ProHeat 2X Revolution Pet also helps control odor-causing bacteria in the carpet which helps our house stay cleaner longer. Plus, for every purchase of the BISSELL ProHeat 2X Revolution Pet, BISSELL will donate $10 to the BISSELL Pet Foundation to help America's homeless pets. How cool is that?!
And now I have not one, but TWO giveaways to share with you! You'll have the chance to enter to win one of these awesome carpet cleaners and get your hands on some of your favorite BISSELL goodies on Amazon!
Giveaway #1
BISSELL is offering two product bundles (including a BISSELL ProHeat 2X Revolution Pet and BISSELL Deep Clean + Antibacterial formula) as a giveaway. 2 winners will be chosen at random across all communities. All you need to do is:
Comment on this post with your favorite cleaning tips!
Then BISSELL will review all the comments and pick two winners across all the communities to receive product bundles! Make sure to leave your email address with your comment in case you're one of the lucky winners!
Giveaway #2
Enter below for a chance to win a $50 gift card from Amazon where you can buy your favorite BISSELL products or even the cleaner formula for the BISSELL ProHeat 2X Revolution Pet!