Share your love for nature with your cat. These outdoor safety tips for cats will ensure that you both have fun while staying safe!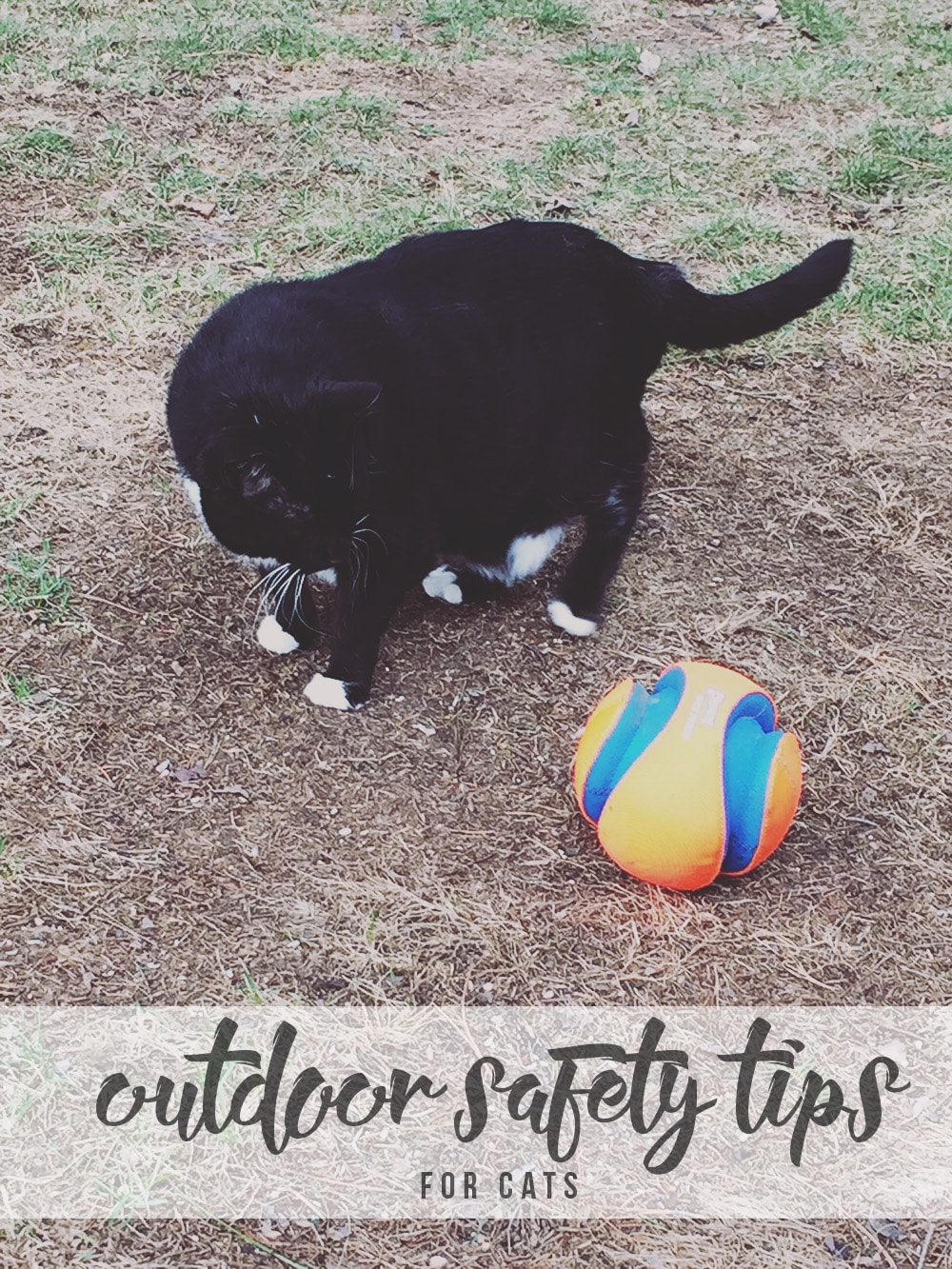 When I was a really little girl, we had a tabby cat that I loved dearly. Being the uninformed child I was, I didn't think much of it when we'd let him roam the neighborhood and come back home as he pleased. Until he was diagnosed with feline leukemia and the likelihood that he had gotten it from a stray cat was pretty good. I was devastated. It broke my heart to know that it could have been prevented, but I swore that I'd never let a cat of ours be in that position again.
It's been many, many years since that happened and I've kept that promise very close to my heart. Any cats I've had since then have never been allowed to go outside unless they were supervised, fenced in and/or on a collar and leash. Or even a combination of these things since I'm overly protective now.
One of the first things we did when we moved into our current house was build a fence for our pups. Turns out, Cosmo liked the yard nearly as much as they did. So at least once a week, we head out and enjoy our backyard with him. He's a pretty big fan of rolling around in the grass, sniffing the trees, watching the birds and chasing the leaves. I'm pretty sure I could watch him for hours because I wish I was that easily entertained!
Depending on whether you're just headed out to your backyard with your feline or if you're headed out for a more adventurous outing, there's tons of things you can do to help ensure the safety of your cat. These outdoor safety tips for cats would come in handy for June 15 which is Take Your Cat on an Adventure Day, too!
OUTDOOR SAFETY TIPS FOR CATS
---
Make sure they have a collar with a tag
One of the best things you can do to help make sure your cat is safe outdoors is to have a collar for them and on them at all times. It may not seem like you need to have it on when they're indoors, but if your cat is quick and can easily slip out the door when someone is opening it (especially a tiny human) – this helps a lost pet find it's way home sooner. Make sure tags have relevant and pertinent information as well.
Always supervise them
We love letting Cosmo outside, but one of us is always outside with him. We have the collar, and the fence, and we're pretty confident he's just going to roll around in the grass every time. But it can take just a couple of seconds for your feline to get hurt or escape so supervision is a must. They could get their collar caught, get stuck trying to escape the fence, get into something they should't or even run across a stray animal.
Have a durable fence
If you have a fence for your dog, it may be enough with supervision depending on what your cat does when he's outside. If he's prone to climbing, a chain or wood fence may not be enough to keep them inside the fence. A small pen or cage may be a better option (especially if you don't have a fence) for your cat to enjoy the great outdoors.
Keep your feline vaccinated
If your cat is spending a fair amount of time outdoors, consider what vaccinations they may need. Depending on the area you live, the places you'll be visiting with your feline and the types of things you'll do with them (boarding, hiking, climbing, etc) – you may need different vaccinations.
Use a leash or harness
If you're headed outside the boundaries of your yard, a leash or harness is a must. (Keep in mind that if you're trying to train your cat to be walked on a leash, it may take a little while for them to feel comfortable. Most cats aren't used to being restrained.) Harnesses will give you better control as well as decreasing the potential of the cat slipping out of the collar if they make a run for it. If your cat isn't up for walking with you, consider a pet stroller or carrier so they can still join you outside!
Manage the environment
Depending on if you plan to spend time in the backyard or beyond the fence, there are different things you can do to manage their environment to keep them safe. Pay attention to debris that can injure them, know what plants are toxic to cats, monitor the area for strays or wildlife, know what type of bugs are in the area, and ensure the area they'll be roaming is free of holes. If you're unable to manage the environment as easily (like when you're outside of your backyard and just enjoying nature), consider the cat carrier so they can stay closer to you and still reap the benefits of the outdoors.
Provide water and sun relief
Cats need shade and water just like dogs do if they'll be outside for awhile. Make sure they have plenty of access to shaded areas and have the opportunity to drink plenty of water wherever they may be. This is crucial for preventing dehydration and ensuring they don't suffer the effects of too much sun exposure
Want to make sure your cat adventures go as easy as possible? Start with their diet!
Purina Pro Plan creates food for your feline that serves a purpose. Every ingredient in their formulas are carefully selected to help play a role in the nutrition that you cat needs to thrive. Purina's goal is to create food that tastes good and helps your cat thrive. All formulas are high in protein, featuring real meat, poultry, or fish. Plus, their nutrition is backed by a team of over 400 scientists ranging from nutritionists, behaviorists, and veterinarians while being manufactured at Purina-owned U.S. facilities.
We decided to give Purina Pro Plan a try and I am so grateful that Purina has a simple to take quiz that helps you find the right food for your pet. I always take forever trying to decide between all of the brands and flavors and features. It was so nice to be able to just take a quiz and get a recommendation based on his unique needs. Speaking of our recommendation, this is what we got:
Even for a picky eater, he was a big fan of it. And for this momma, that's a huge win. I loathe trying new food with him because he is so picky! The cool thing about taking the Purina Pro Plan quiz is that you get access to a $5 coupon, too. So not only do you get to find the best food for your furry friends, but you get to save money, too! Bonus!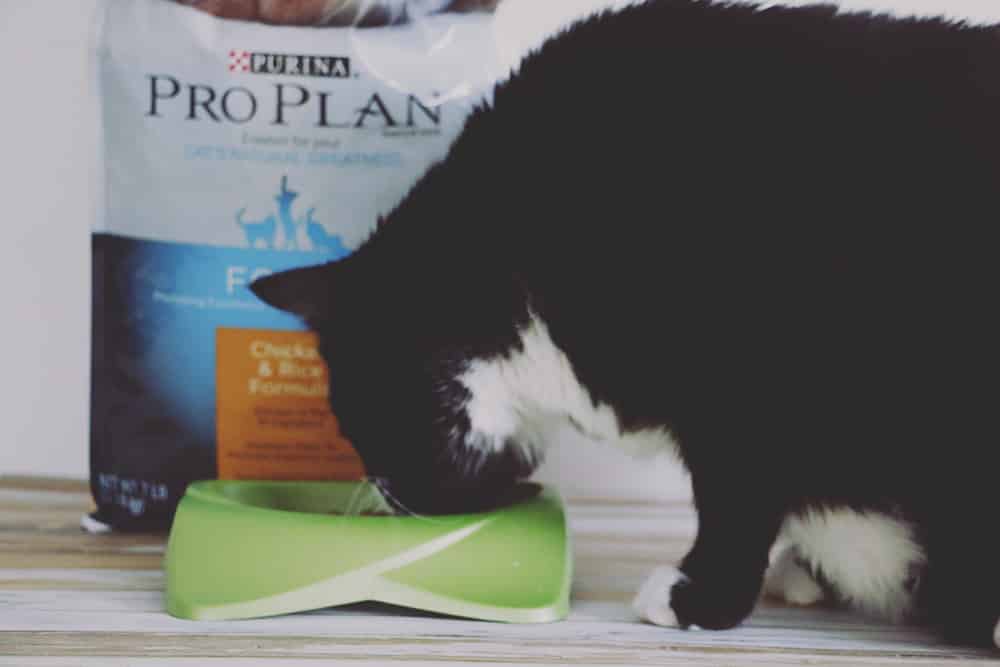 Let's chat!
Do you take your cat outdoors? Do you have any tried and true outdoor safety tips for cats? Have you tried Purina Pro Plan for your cat? If you took the Purina Pro Plan quiz, what was your result?
You might also like: