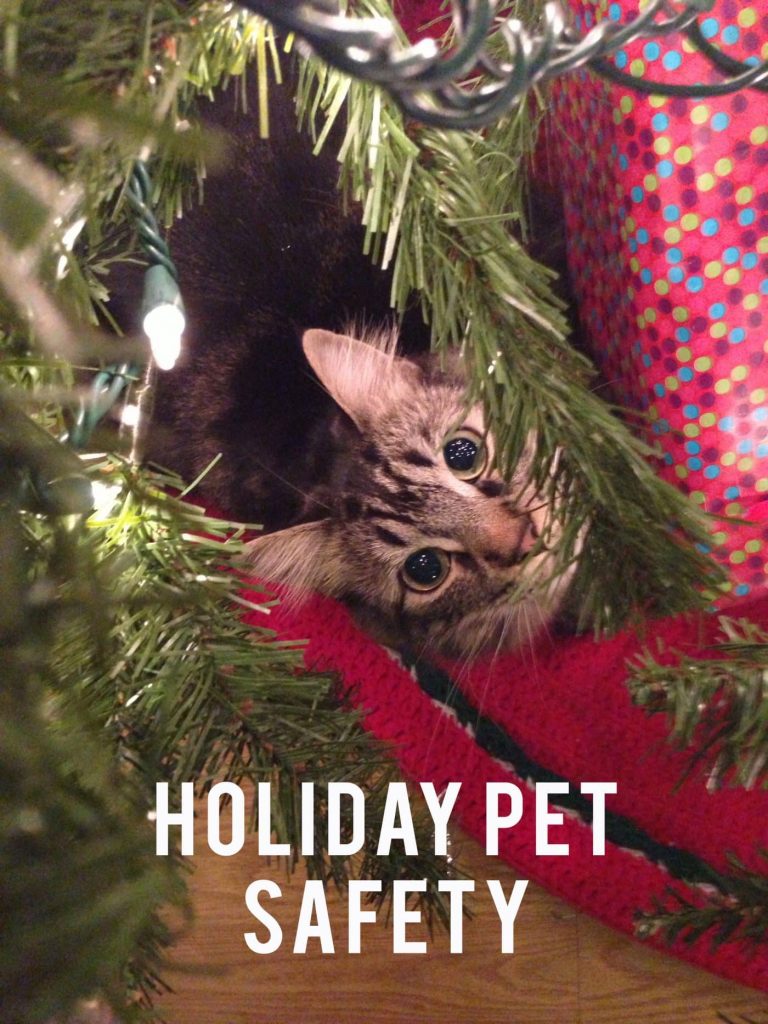 Tis the Holiday Season! Bring on the holiday parties, decorations and yummy food! But did you know a few of your favorite things about this holiday season can be stressful, even frightening for your pet? Did you know your favorite holiday foods may not be good for Fido, and that poinsettia is poisonous to Fluffy? No worries, here is some info on how to have a happy holiday season for you and your pets!
Pet Retreat
First, have a retreat for your pet to go to when the festivities get to be too much. Perhaps your dog is easily frightened or doesn't like strangers. Giving him a safe place to go, either a kennel or separate room, will keep his stress level down and make your entertaining more fun for guests. Make sure your pet has their bed, and favorite toys. Don't forget to take him out occasionally for potty breaks and maybe he will warm up to the party atmosphere. My sister just hosted all of our family this year for Thanksgiving, and part of that family includes a Pomeranian dog who thinks she belongs everywhere and loves to chase kitties. My sister's kitty, Milo, wasn't so sure about all this attention from something other than his regular humans. So, she used a baby gate and towel to the master bedroom and give Milo a safe place. Milo was able to see under the gate, or if he was feeling brave enough could hop over to socialize.
Holiday Decorations
During the holidays, we all tend to light candles be sure to blow these out before leaving the room. Kitties are notorious for sticking their heads where they don't belong and burned whiskers are no fun. There is also the risk of candles being knocked off. Not sure about your cats, but their stretching out is far more important than my glass of water, picture frames, and even plants. Candles are no exception.
Secure your extension cords with tape. My kitties love to chew wires, so I tape them to the floor with electrical tape and hide the christmas light cord far into the tree.
Speaking of christmas trees, either anchor your tree to the floor or tie to the ceiling to prevent it from falling over. Kitties love to see how high they can go. If you get a real tree, sweep up the needles frequently – they can be poisonous if ingested. Avoid using toxic tree preservative at all cost. If you do use tree preservative, use your tree skirt to cover the bowl area and keep your pets out of that water. When using glass ornaments, make sure you use string in addition to the little metal hanger to make sure they don't fall off so easily. If you have secured your tree to the floor or ceiling, then put your glass ornaments up high. If you don't secure your tree, I recommend placing your glass ornaments toward the bottom of your tree. In the event of the tree falling over the glass ornaments aren't too far off the ground. Tinsel, string and ribbon may be too tempting for your pets, especially kitties – these are hazardous to your pets health in the even that they ingest them.
Holiday Plants
Kitties and even some dogs like to chew on plants. Be sure this holiday season to keep these plants out of your pets reach:
Poinsettia
Mistletoe
Holly
Amaryllis
It's a good idea to have Animal Poison Control's Number on your fridge in case of an emergency. This is the ASPCA number, but know that it may cost you $65 to speak with someone – (888) 426-4435
Holiday Foods
This is one of my favorite parts of the holiday season. I love the seasonal treats and autumn favorites, but do you know what your dog should and shouldn't eat? Let's start with the No Foods. Food that are either toxic or can cause internal damage if ingested:
Onion
Garlic
Grapes/Raisins
Chocolates/Candies/Sugar/Sugar Free (xylitol) – sugar and sugar free candies, usually sweetened with xylitol are very dangerous and are toxic to your pets
Butter
Alcohol
Gravy
Turkey and Chicken Skin/Bones – cooked or uncooked bird bones easily break and can cause digestive problems
Now for the Yes Foods, these foods are safe and nutritious for your pet. Remember cats are carnivores and won't eat the veggies listed here, but your dog may really enjoy these foods!
Pumpkin – make sure this is plain cooked, raw or pure canned pumpkin not pumpkin pie filling which includes sweeteners and are harmful to your pet
Turkey – keep it to treat sized bites! Too much could upset Fido or Fluffy's tummy
Yams – High in fiber and antioxidants, no sugar or sweeteners though
Plain Mashed Potatoes
I highly recommend buying or making your own holiday themed treats and limit Fido and Fluffy's intake to just these pet appropriate treats. Make sure your guests know what to or not to give your pets this holiday season.
How do you prepare for a safe holiday season for your pets?
[Tweet "Holiday Pet Safety"]