Herbs are aromatic, soothing, and can be used for healing and in cooking. But when you're handed a handful of herbs, what should you do and where do you start? The first place to start is finding the culinary uses of herbs and also their medicinal uses. There are many good books that will be a guide. I have a certification in herbal medicine so in this article I will share medicinal and well as culinary uses of herbs.
PARSLEY | The first herb shown in the picture above is parsley. It is the world's most popular herbs known for its use in Italian cooking. It can be added to pesto sauce, vegetable sautes, fish, on various meats, and salads. Italian flat leaf parsley is the preferred variety for cooking, but the curled variety is valued for being an attractive garnish. An interesting fact about parsley is that the Black Swallowtail butterfly is attracted to the parsley where it will lay eggs and its metamorphosis will be completed.
NASTURTIUM | If you want an herb that adds an extra kick to your food, Nasturtium is the herb you've been looking for. It has a peppery taste that adds an extra zesty flavor to the dish you are preparing. The colorful flowers, leaves, and seed pods are the plant parts you can use. The leaves and flowers can be used fresh on salads and sandwiches. Medicinally, they can help get rid of a cold or oncoming fever. To receive these benefits it is recommended to eat 1 – 2 leaves, 3 times a day. It also helps fight bacterial infections and respiratory infections. In the garden, you can use it to fight off insects including white flies, squash bugs, and striped pumpkin beetles. It also will trap aphids if you have an infestation in your yard.
ECHINACEA | Echinecea is another herb that is used to fight off colds and fevers. It is commonly sold in stores to boost immunity. You can make your own tea by steeping 1 to 2 teaspoons of echinecea leaf/flower in 1 cup of water, or you can boil 1 teaspoon of the root in 1 to 2 cups of water for 10 minutes. This tea will help to soothe sore throats and coughs. I've used this herb medicinally during a cold and it cut down the amount of days I had symptoms. Other times, I took it right when I starting feeling sick and it relieved the symptoms and has prevented me from getting sick many times. In the garden, it is a beautiful flower which attracts a host of butterflies. I have Painted Lady butterflies frequently visit my garden to dine on the nectar rich echinecea flowers.
ROSEMARY | Rosemary is a popular herb to use in cooking. If asked to describe the aroma, I would say it reminds me of Christmas trees. It brings back memories of Christmas whenever I smell this woody herb. Simply smelling the herb has benefits. People believe that it improves memory and moods. No wonder it reminds me of Christmas memories! It has many other medicinal properties including relief for bronchitis, antibacterial properties, circulation, topical antioxidant, and even hair loss! In the garden, you can plant several as a hedge and as a border. It is useful to repel carrot flies, Mexican bean beetles, snails, slugs, and cabbage loopers.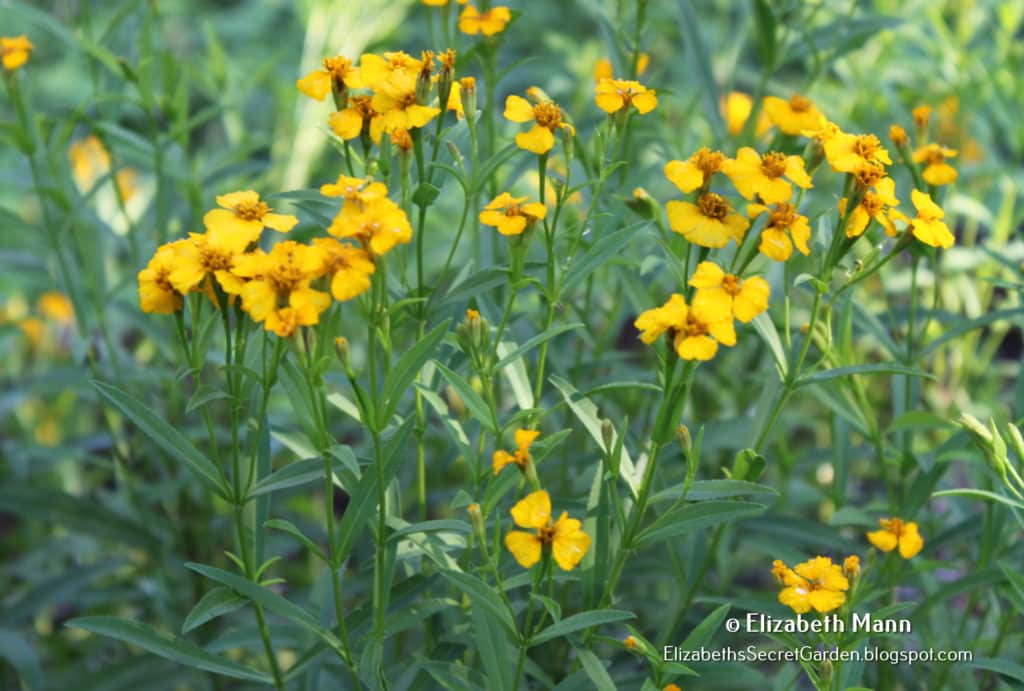 TARRAGON | When I use tarragon in cooking, it reminds me of licorice. It has a strong taste and smell so it doesn't take much to make a culinary dish burst with flavor. With herbs you can have too much of a good thing. It is a delicate herb and should be used towards the end of cooking to preserve its quality. It is popular in french cooking and can be added to chicken dishes, fish, chicken salad, and soups. You can make tarragon butter by softening the butter, adding the tarragon, reshaping it, and then putting it in the freezer. In the garden, it makes an attractive addition with its bright green leaves and yellow flowers. It is a great companion to eggplant helping it stay healthy. It helps repel a multitude of pests with it's strong smell.
CILANTRO | The last herb I will place in the spotlight is cilantro. Just smelling it makes me think of guacamole and Mexican dishes. I've noticed that cilantro attracts beneficial insects like ladybugs, hover flies, and parasitoid flies. Herbs have a special place in the garden as they bring in the good bugs and fend off the bad ones. They are delicate yet strong in their healing powers and strong in their contribution to culinary dishes. They help restore the fragile balance of good and bad insects when we rely on them as companions for vegetables instead of spraying harmful chemicals.
what are your favorite healing herbs to cook with?
You might also like: