You want a moist, crumbly muffin that smothers your tastebuds with mouthwatering blueberry and almond flavors. But you don't want to go out for it. Or spend $3 for one. This blueberry muffin recipe is your simple yet delicious solution.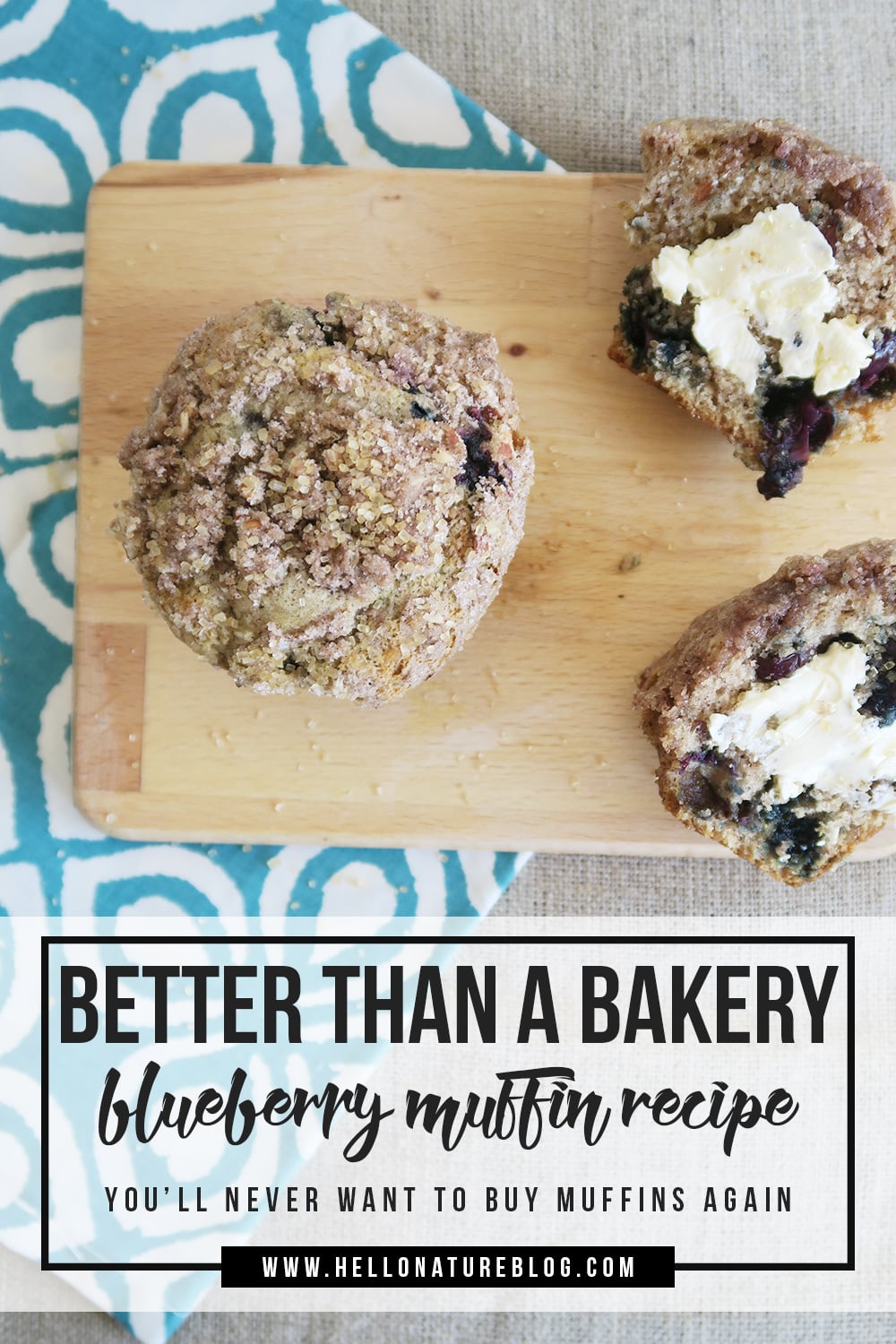 One of my favorite things to get at a nicer grocery store, a bakery or a coffee shop is a muffin. I'm usually not too picky… as long as it's not a bran muffin. Bran muffins are not real muffins. They're dry, tasteless bread pretending to be something delicious. And failing miserably. You don't fool me, bran.
But if I'm staring in that illuminated case, pastries and baked goods galore, and I have a variety of muffins to choose from – the blueberry muffins call my name in a way more seductive tone. They are the sirens to my healthy eating goals and I stand no chance when they are mixed with lemon or nuts.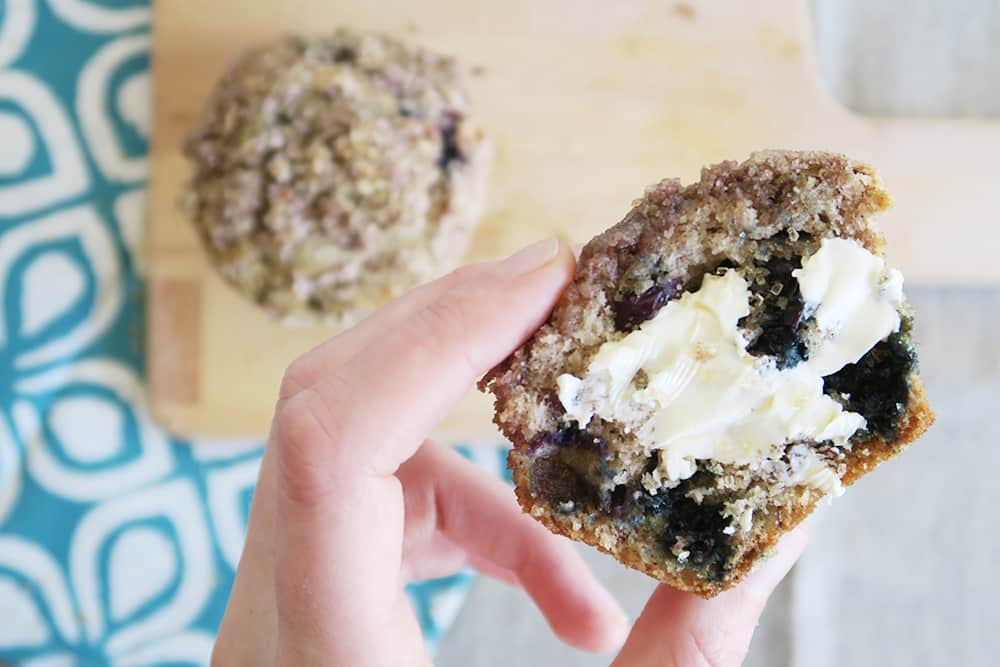 My inner dialogue reads something like this when I'm oogling them though:
I need to pay for diapers and food for my kid, muffin. We need a roof over our heads, muffin. You're going to be inhaled in three bites and just add inches to my waistline, muffin.
Bet you wish you could go shopping with me, huh?
OH. And getting ready to go buy said muffin? HA!
Did you know it takes an average of 8.45x longer to get out of the house with a toddler? Between the inability to find the shoes you saw literally 2 minutes ago, put said shoes on AND on the correct feet, the screaming over wearing a coat, the screaming over the wrong color coat, the finagling of the car seat and OH MY GOD, the horror of leaving their favorite toy in  the house – you are screwed.
Some days, you are better off just succumbing to the homebody life.
The muffin is just not worth it.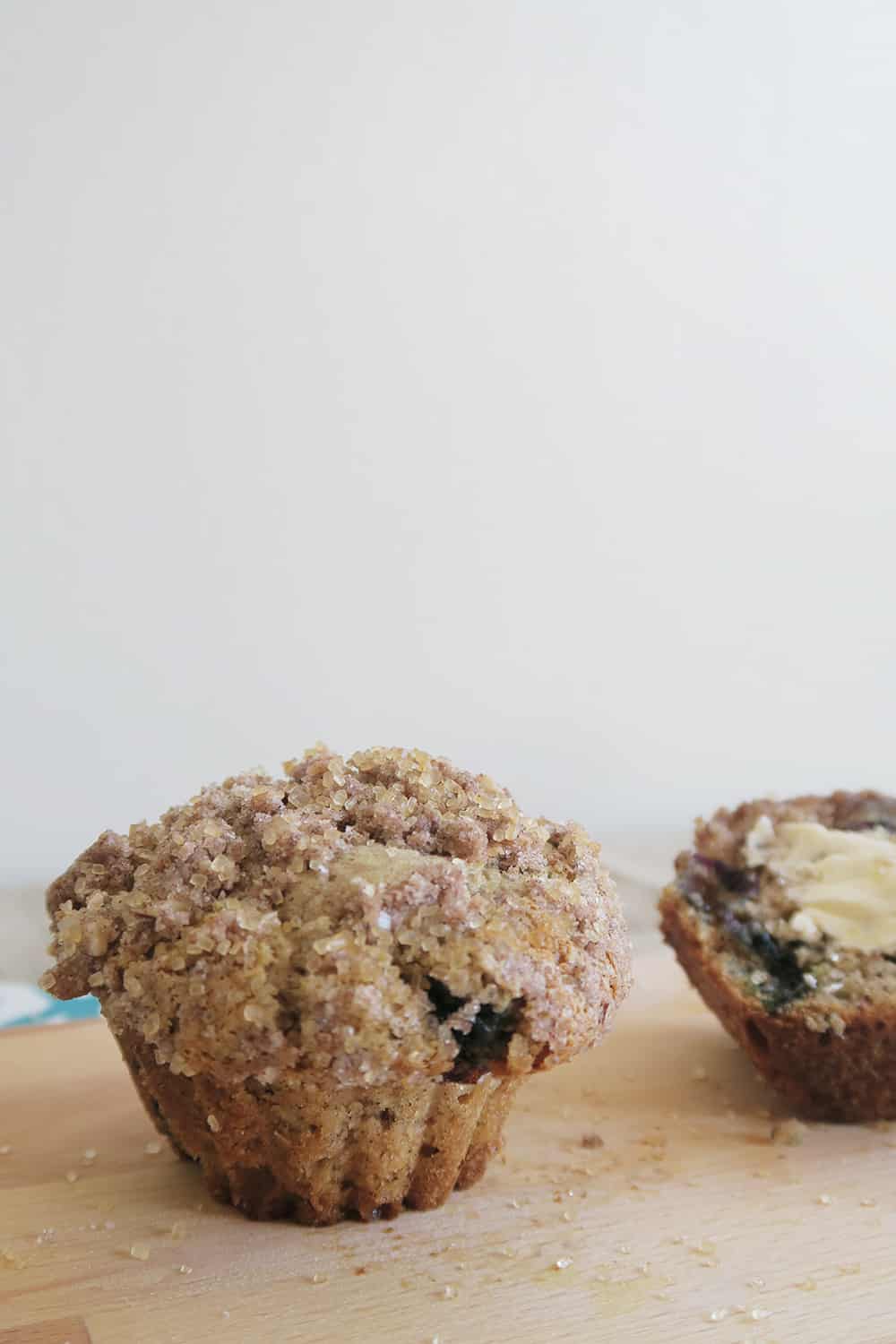 Except… when you can make them. Then the blueberry muffin is absolutely worth it. Because you aren't going to spend $3 just to add some inches to your waistline. And your beautiful, saintlike child that turns on beast mode when you leave the house doesn't have to worry about the shoes or the coat.
You just get to make muffins. Drool-worthy, crumb-coated, crumbly blueberry muffins that make you forget that your child is spilling their juice alllll over your freshly cleaned floor. You like sticky floors anyway, right?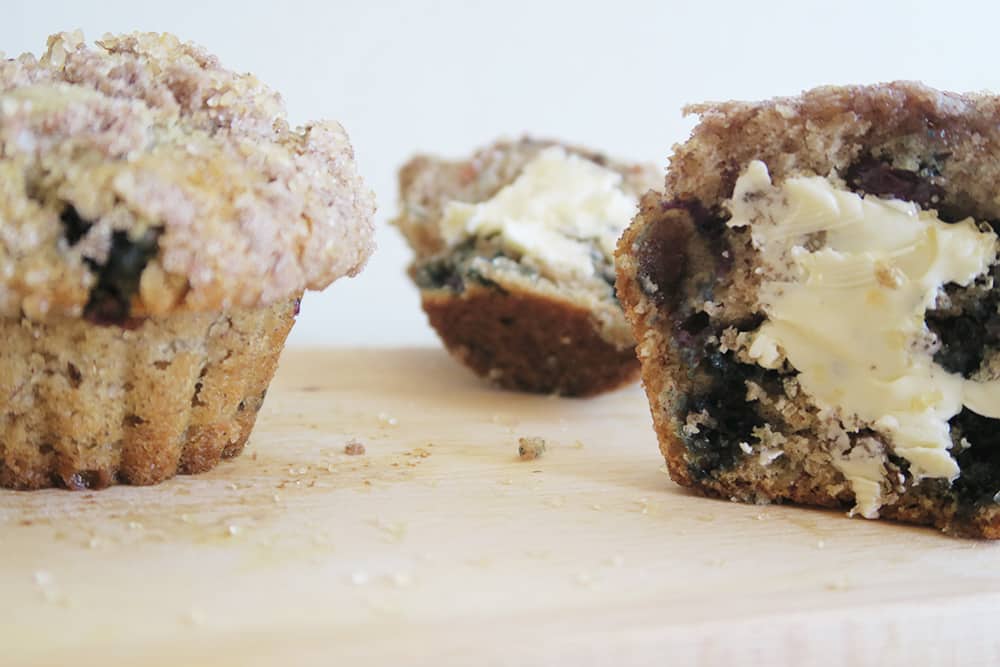 Seriously though?
This blueberry muffin recipe is to die for. The muffin part is good. But the muffin top? Swoooon. It's all kinds of nutty and cinnamony and sugary and so, so, so good. It's the kind of muffin I would pay $3 for and just confidently grab it and go. No inner turmoil required.
Topping Hint
Turbinado sugar is a must have for the topping on top. I promise that makes sense when you look at the recipe instructions!
I wasn't really familiar with this type of sugar until Nathan started getting into barbecue. Turbinado sugar is pure cane sugar extract and looks similar to brown sugar, but a bit paler. The sugar is spun in a cylinder or turbine, which is how it got it's name.
Turbinado sugar has much larger crystals, making it the ideal sugar for sprinkling on sweet breads or desserts. Our grocery store doesn't carry it (one of the downfalls of living in a small city!) so we just bought it on Amazon.
And a note about the almond flavor.
I used a really small amount of almond extract in this blueberry muffin recipe, but to me – it's enough. Almond extract can be extra potent and will add a fake, alcohol-like flavor (but not in a good way!) to a recipe if you overdo it.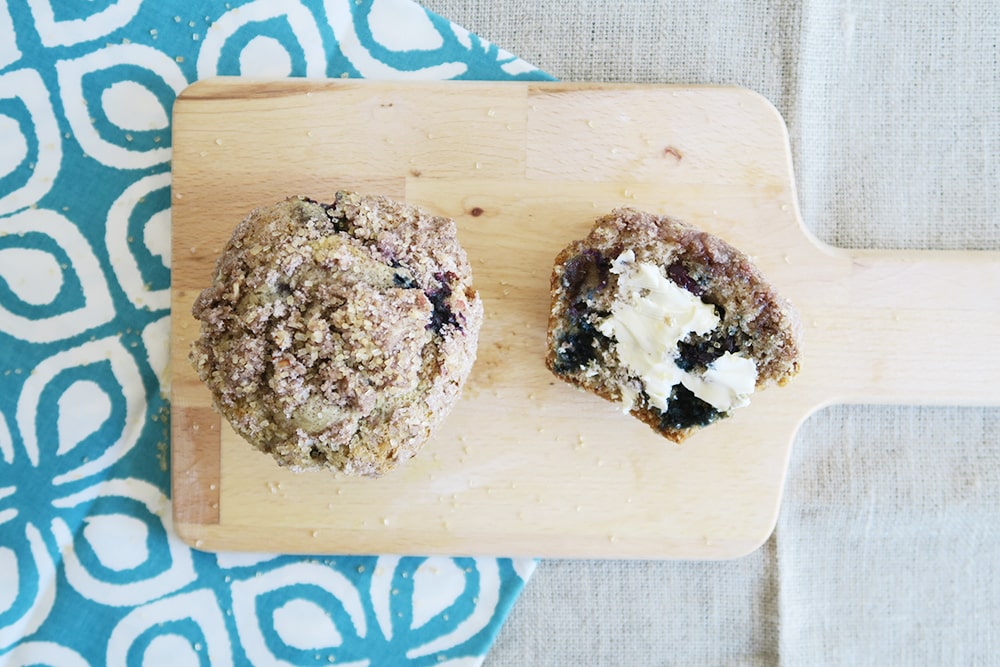 Blueberry Muffin Recipe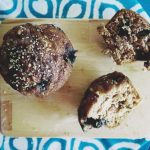 Better Than a Bakery Blueberry Muffin Recipe
Keyword:
Blueberry, Muffin
Ingredients
For The Muffin
1 3/4

Cup

Flour

3/4

Cup

Sugar

1/3

Cup

Almonds

Chopped

2

Tsp

Baking Powder

1

Tsp

Cinnamon

1/2

Tsp

Salt

3/4

Cup

Milk

1/3

Cup

Olive Oil

1

Egg

1

Tsp

Vanilla

1/2

Tsp

Almond Extract

1

Cup

Blueberries
For The Topping
1/4

Cup

Sugar

2

Tbsp

Flour

2

Tbsp

Almonds

Chopped

2

Tbsp

Butter

Cut in or grated in

1

Tsp

Cinnamon

1

Tbsp

Turbinado Sugar

Optional
Instructions
Preheat the oven to 400F. Line muffin pan with muffin/cupcake liners.

Combine the dry ingredients for the muffin in a large mixing bowl: flour, sugar, almonds, baking powder, cinnamon and salt. Mix until combined.

In a smaller mixing bowl, combine the wet ingredients (excluding the blueberries). Mix the milk, vegetable oil, egg, almond and vanilla extract until thoroughly blended.

Add in the wet ingredients into the dry ones and mix thoroughly. Fold in the blueberries.

Add this mixture to the muffin cups and fill nearly to the top.

Combine all of the topping ingredients (excluding the turbinado sugar) together in a mixing bowl. Sprinkle over the muffins before baking. Sprinkle the turbinado sugar on top.

Bake 20-25 minutes or until a toothpick poked into the middle comes out clean.
Recipe Notes
Make sure you do not over-mix this batter! They will be much denser and not nearly as good if you do.
Grating the butter in helps disperse it more.
Recipe Tips
Do not overmix!
I have this in the recipe notes, but this is so, so, so important. Overmixing will ruin the fluffiness of the muffin and you'll be sad. Baking while watching toddler requires a kind of focus I haven't mastered yet so let's just say I learned this from experience one of the times I made these.
Cutting in the butter
You can cut in butter like normal, or my preferred method is a microplane. It disperses the butter more evenly and the coating on top is even more delicious. It also led to fewer slantly muffin tops.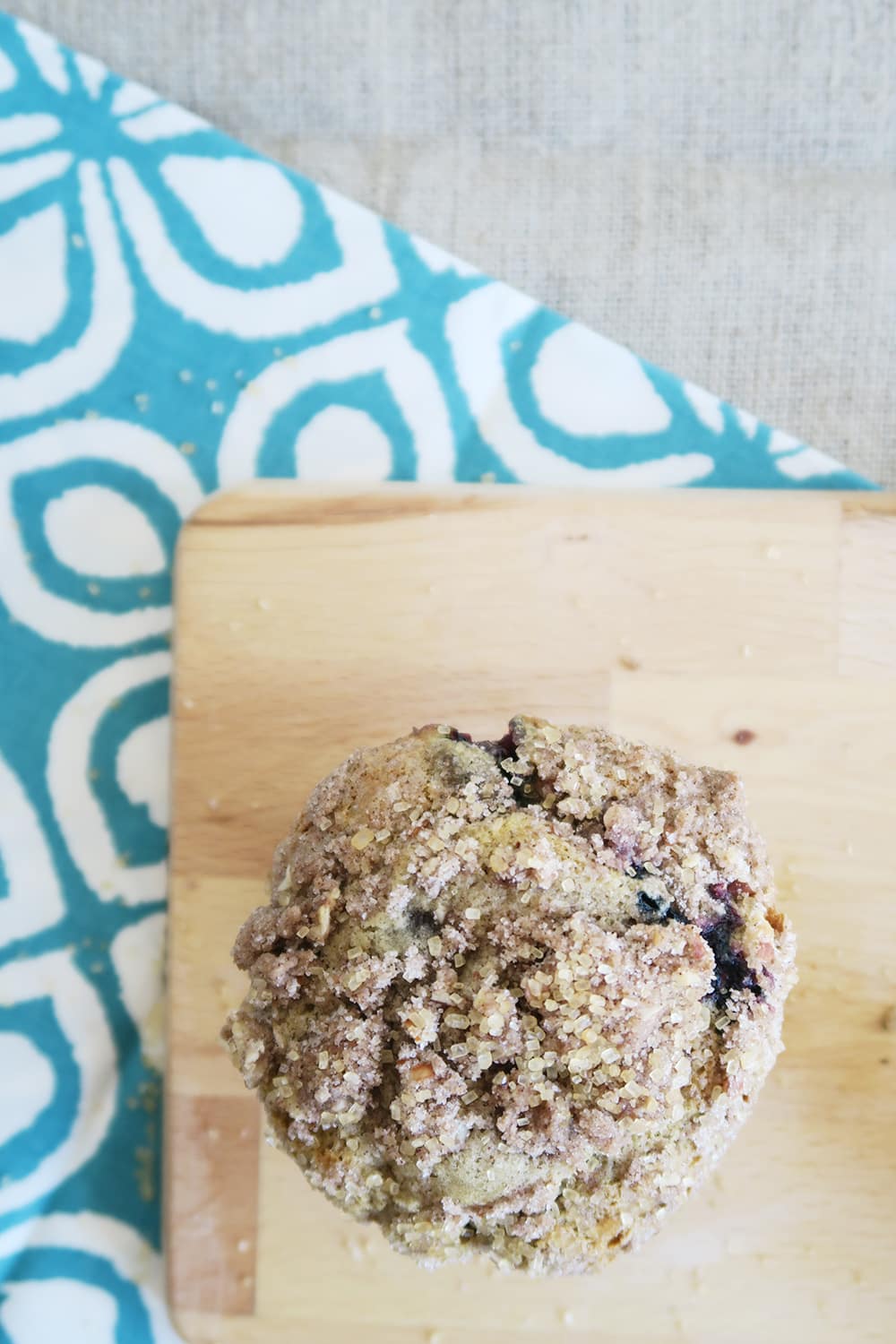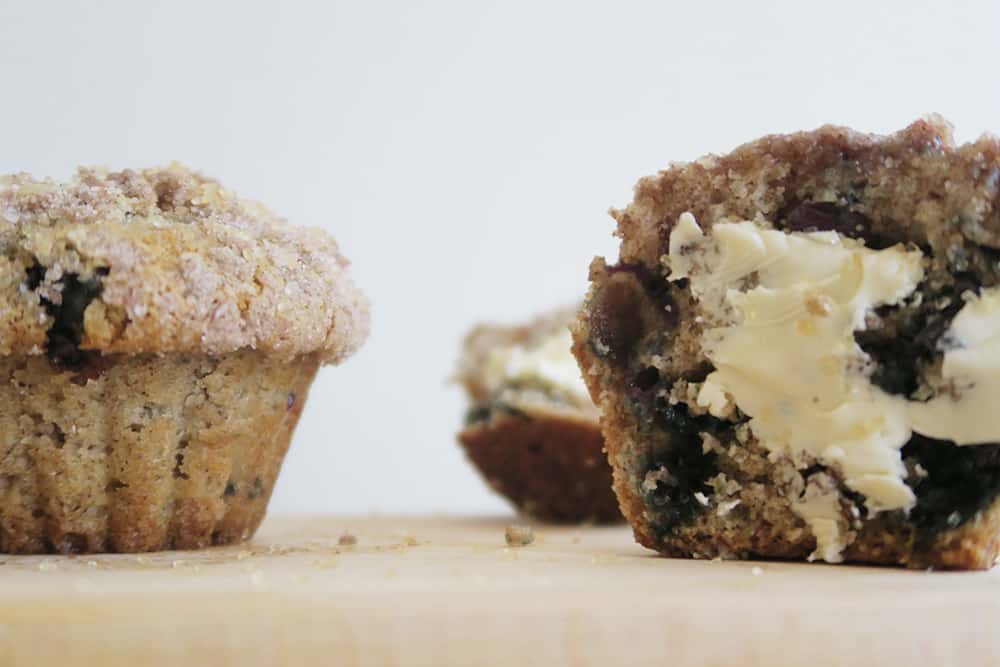 Also, in case you're wondering: this blueberry muffin recipe freezes well!
I just pull them out when I want one and pop it in the microwave for about 30-45 seconds at half power. You're all set to enjoy it with a cup of tea or coffee or whatever other beverage you like to reheat 5x a day.
What flavors are your muffin dreams made of?
You might also like:
PIN ME ↓