This three berry smoothie with almond milk is a delicious creamy combination of strawberries, blueberries, and raspberries mixed with yogurt. A treat to your tastebuds!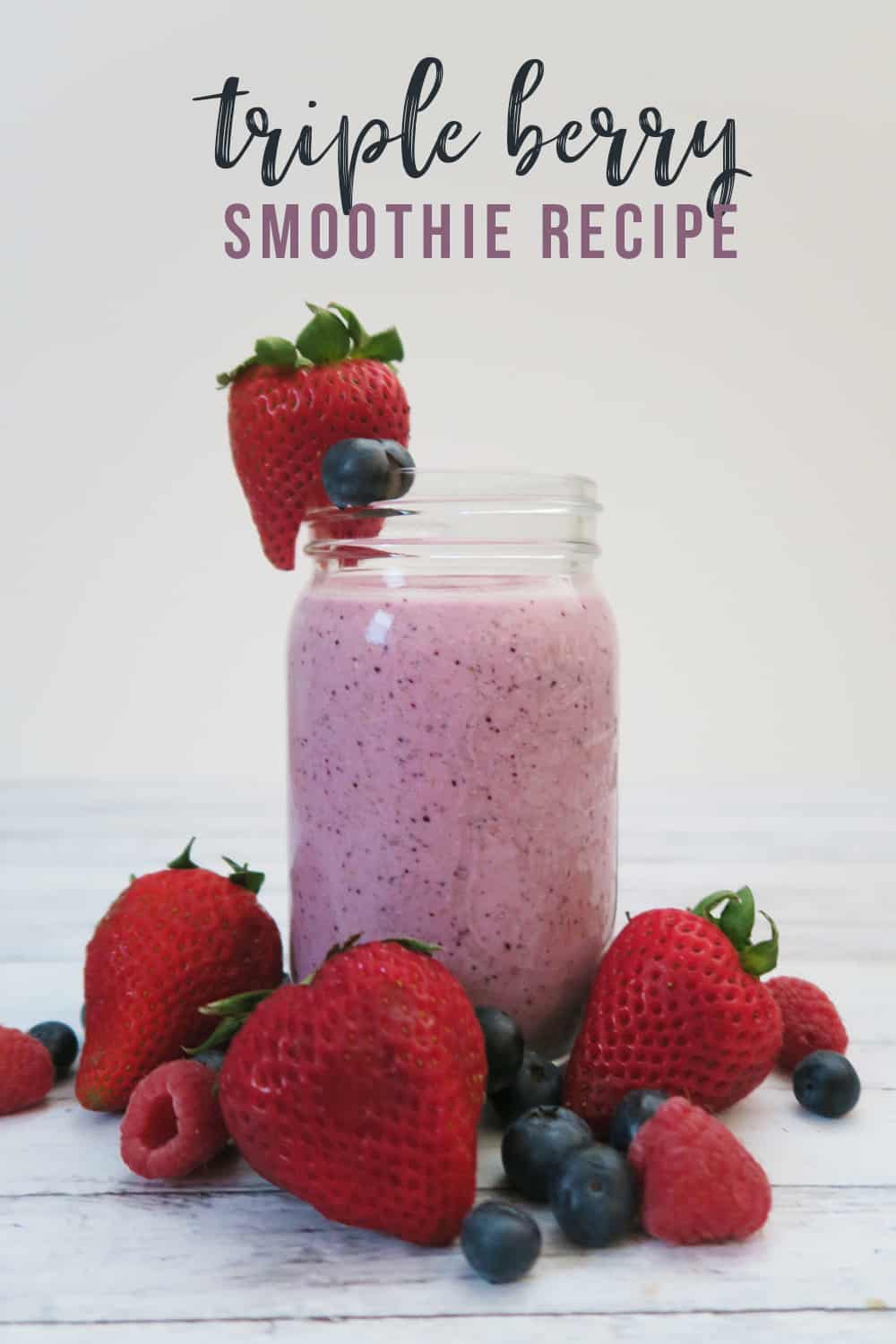 Smoothies are one of my favorite breakfasts, especially when I'm in a hurry. They're quick and delicious, easy to bring with me, and a fantastic way to pack in the protein, fruits, and veggies first thing in the morning.
We started on a smoothie kick a few years ago. While we had obviously had smoothies prior, it wasn't really a thing.
But we went to Florida and came back ready to go smoothie crazy. After a handful of nights waking up to the infomercials about superfoods and crazy blenders, we came back excited to really get into smoothies.
And equally excited to finally put our Ninja to use.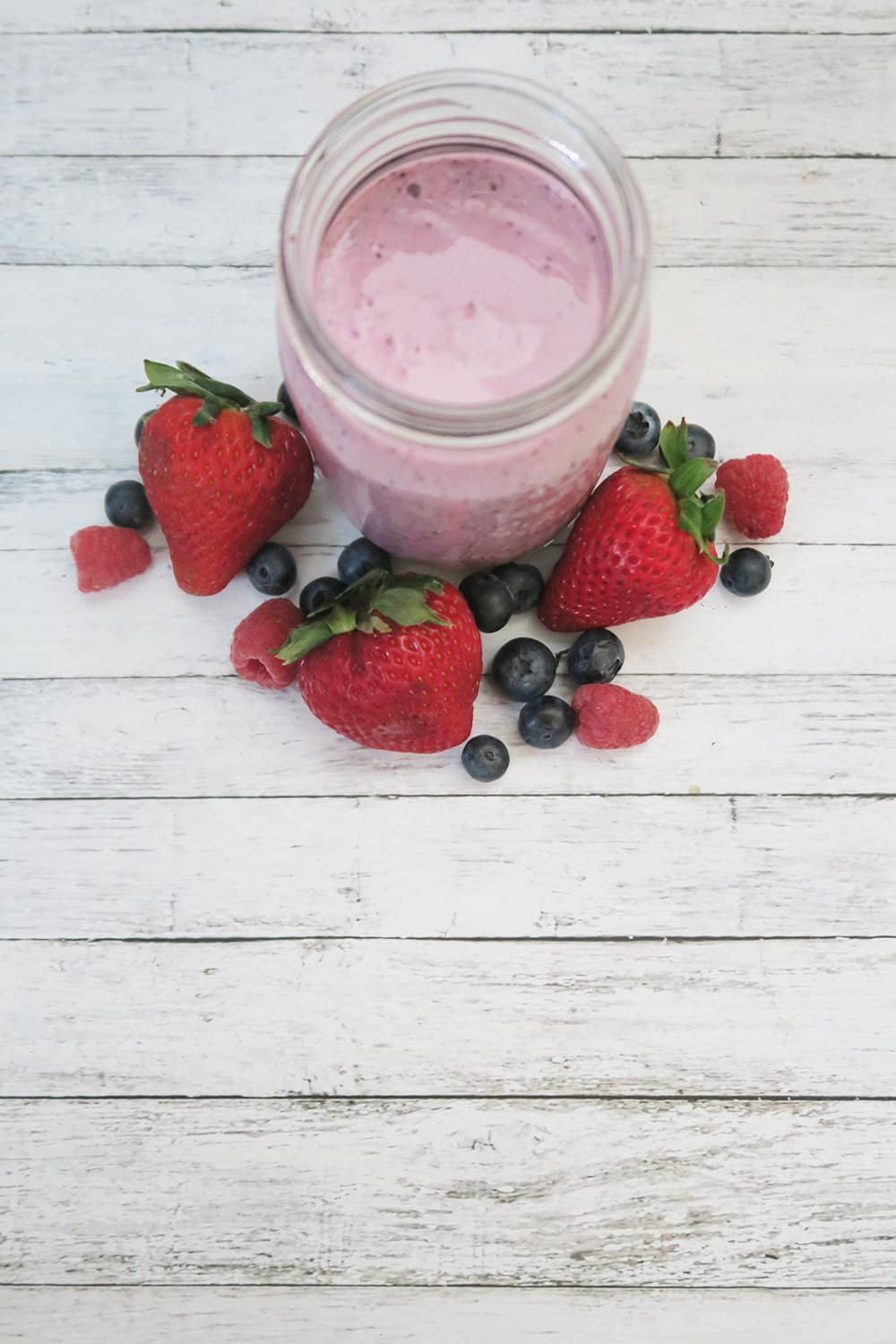 One of our favorite smoothies to make is this three berry smoothie. It's a huge hit amongst the three of us. It is by far my favorite mixed berry smoothie recipe with yogurt and we've tried quite a few!)
But the funny thing is, this berry smoothie with milk was first created from what we had left in the house. We didn't want things to go bad and our options were pretty limited as we had flown through all of our regular smoothie ingredients.
So while this three berry smoothie came out of a little bit of desperation, it's now in our regular rotation of quick smoothies because it was that good.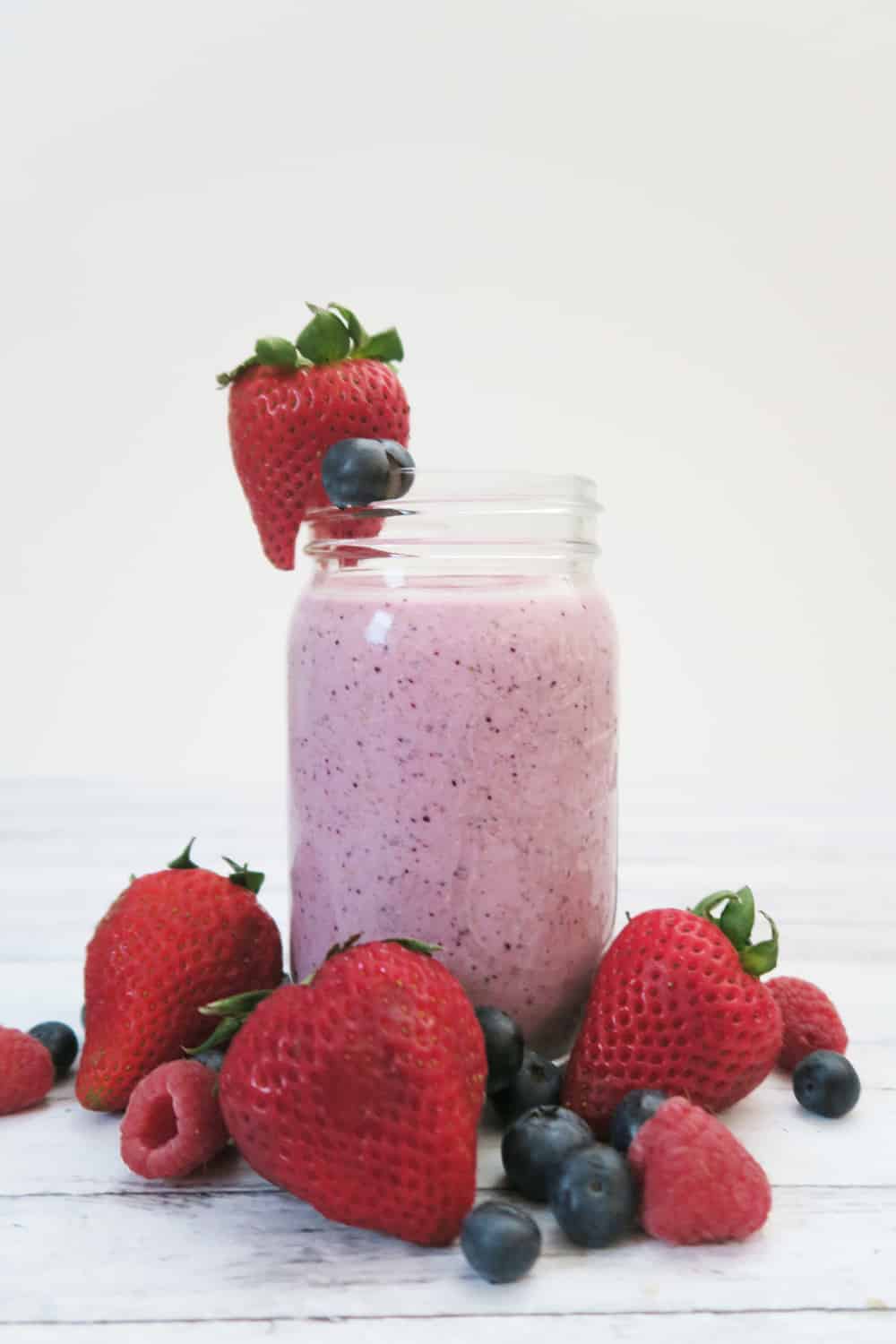 Before I get to the delicious three berry smoothie recipe itself, I wanted to talk about our blender real quick.
We used to have a pretty standard blender. Nothing special. It just… blended stuff. Then we decided on it was time to upgrade because we found a great deal on the Nutri Ninja Blender.
SMOOTHIE GAME CHANGER.
Seriously. I had no idea that our old blender sucked that badly. You may think that the blender doesn't matter, but if you start adding in delicious things like chia seeds or nuts or oats, it matters. A lot.
And that blender makes this creamy ninja berry smoothie even better. The flavor combination is delicious with the variety of berries. And paired with the creaminess of the yogurt and almond milk, it's kind of like refreshing comfort food for me every time I have it.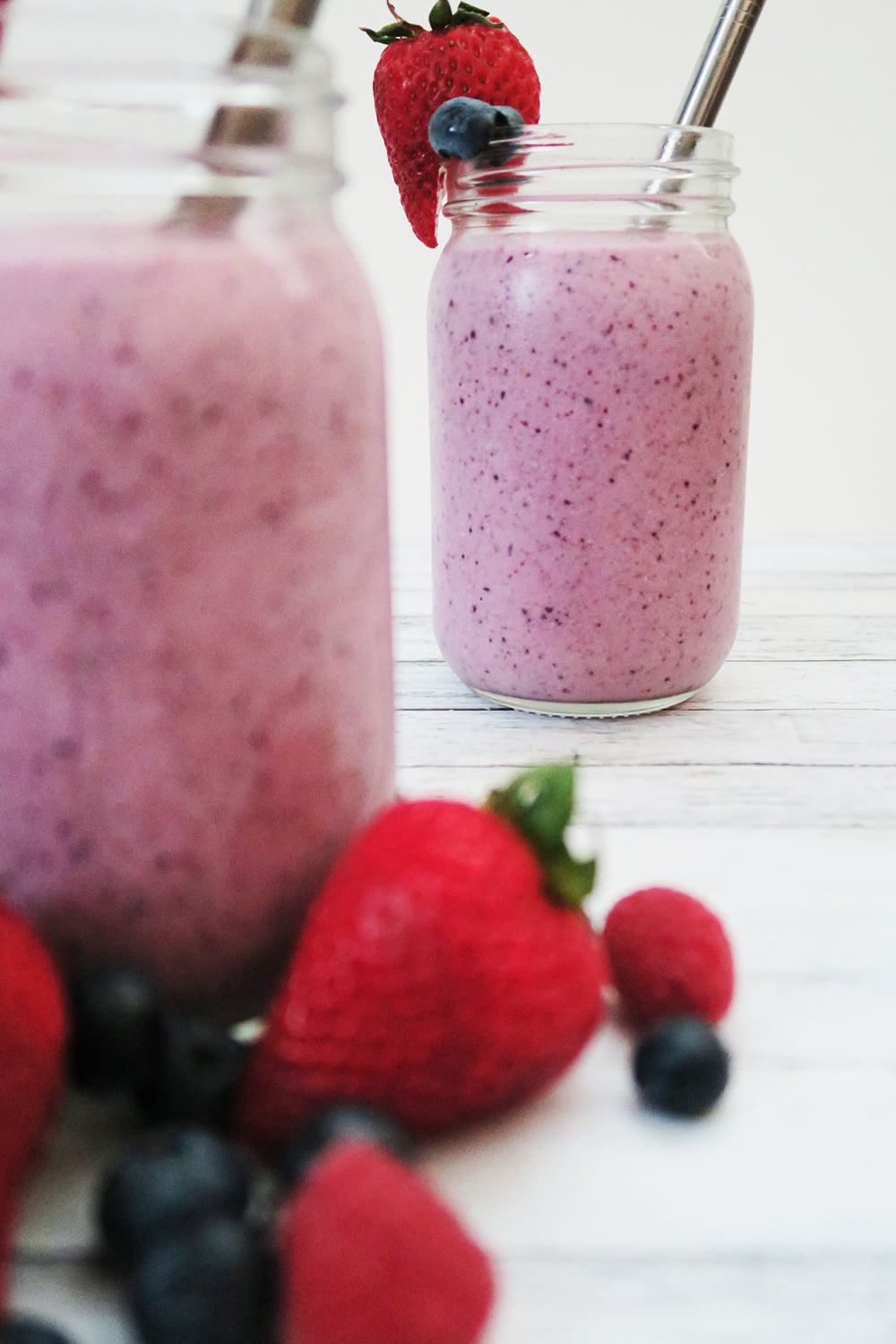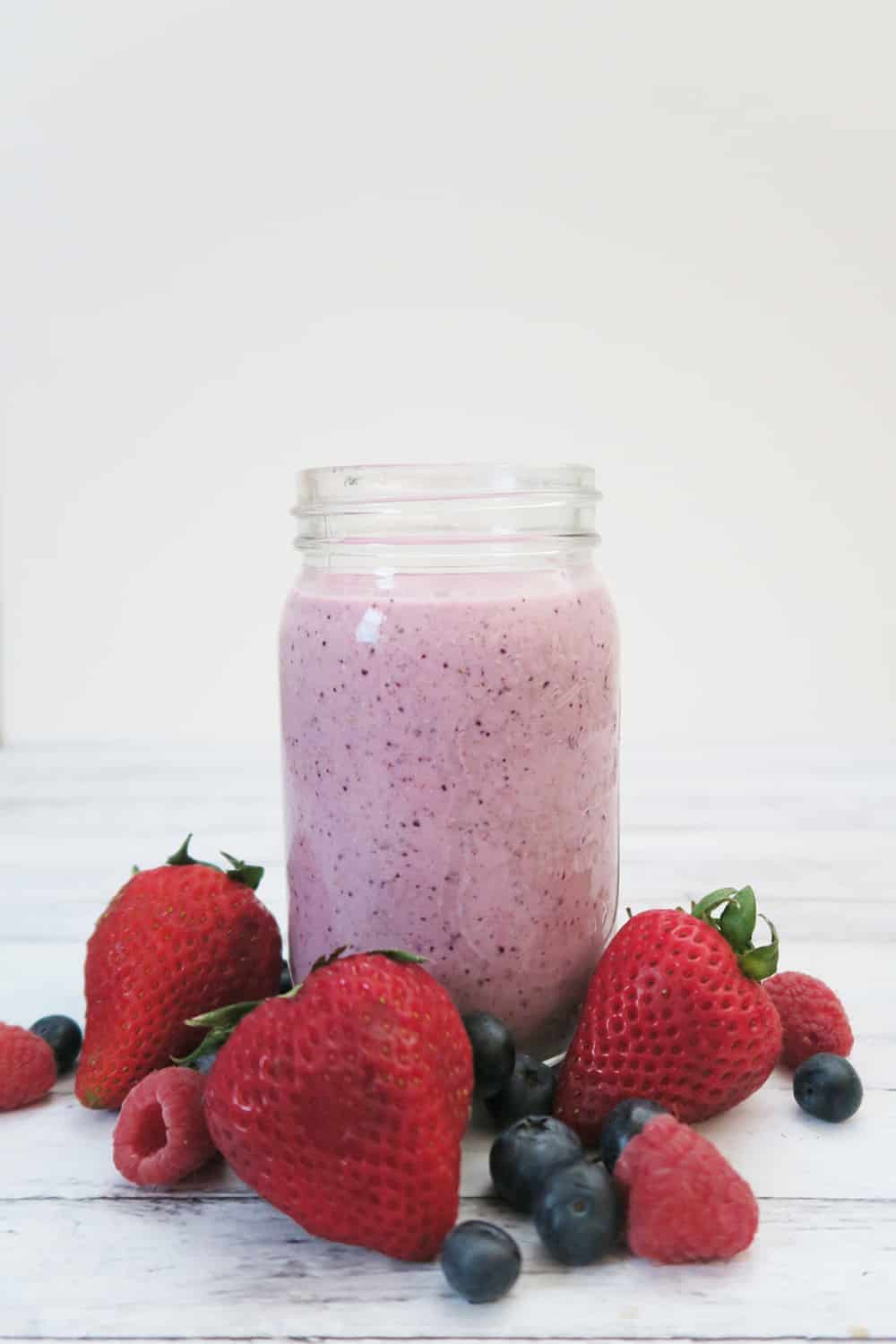 When it comes to these berry and yogurt smoothie ingredients, fresh and frozen berries work! We prefer the fresh berry smoothie, but we've also made it as a frozen berry smoothie. And no matter what, this triple berry smoothie is still delicious.
And if you're trying to kick this berry smoothie with yogurt up a notch, check out the optional ingredients in the recipe card. Things like chia seeds, sunflower seeds, and flaxseed.
These ingredients make this super antioxidant smoothie even better! You don't taste them, but they can add protein and omega 3s and fiber with little effort.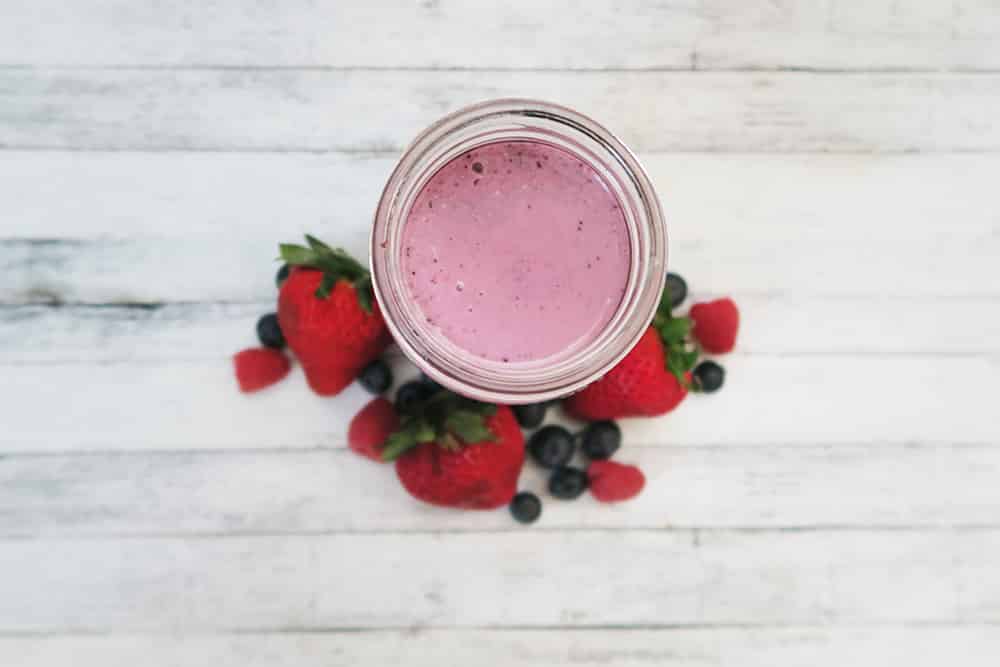 Three Berry Smoothie with Almond Milk Recipe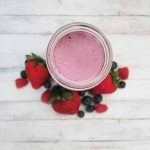 Triple Berry Smoothie
Ingredients
4

Strawberries

Hulled

1/2

Cup

Raspberries

1/2

Cup

Blueberries

1/2

Cup

Greek Vanilla Yogurt

1/2

Cup

Unsweetened Vanilla Almond Milk

1/2

Cup

Ice

1

Tbsp

Chia Seeds

Optional

1

Tbsp

Sunflower Seeds

Optional

1

Tbsp

Flaxseed

Optional
Instructions
Add the strawberries, raspberries, blueberries, yogurt and milk together. Blend.

Add in the chia seeds, sunflower seeds, and flaxseed. Blend.

Add in the ice and blend until thoroughly mixed.
Recipe Notes
Add more or less ice to alter the consistency if you like a thinner or thicker smoothie.
If using the Nutri Ninja, use the Ultra Blend at the end for a truly blended smoothie.
You might also like:
Want to remember this delicious Three Berry Smoothie? Post this delicious drink to your favorite Pinterest board!