This easy face mask DIY is perfect for soothing and moisturizing your skin. With just three ingredients, it's an easy face mask to prepare when you're looking for a simple spa night DIY. Keep reading to learn more of the oatmeal face mask benefits in this DIY face mask.
I love using fruit in my beauty routine, which is one of the reasons I love this banana avocado hair mask.
Strawberries are one of my go-to fruits because of the scent, especially when I'm looking for an easy face mask to make. And paired with the yogurt, this strawberry face mask smells so, so, SO good. Think strawberries and cream, but better.
This easy face mask recipe is super simple and has so many great properties for your skin! Plus the ingredients are cheap and easy to grab at the grocery store if you don't already have them on hand.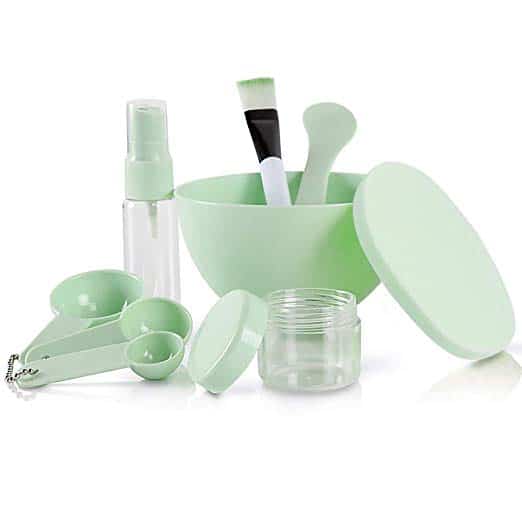 One thing I would recommend to make this DIY face mask even easier is a Face Mask Mixing Tool Kit. It has everything you need to apply the mask, clean the face mask off, and more.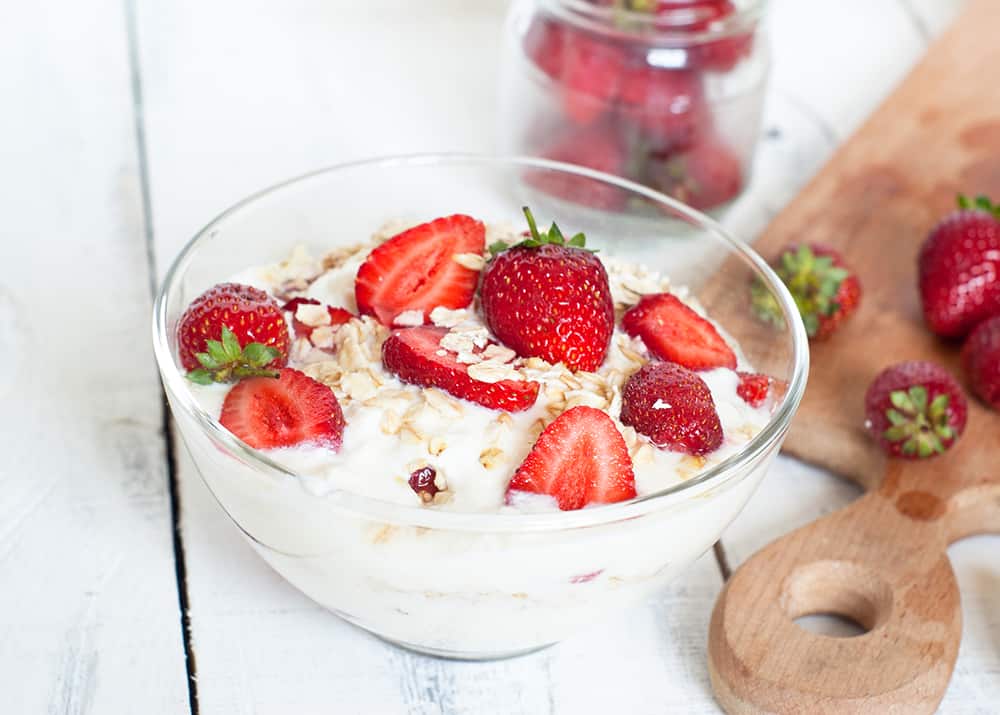 Strawberry and Yogurt Face Mask DIY Benefits
Strawberry Face Mask Benefits
Wondering if strawberries are good for your skin? Or maybe if strawberries are good for a face mask? The answer is yes and yes!
Strawberries contain salicylic acid which makes them great exfoliators. By adding them to your facial mask, you can: aid in removing impurities from the skin, improve the appearance of your complexion, make pores appear smaller, and give your skin a healthy glow.
Yogurt Face Mask Benefits
If you're unsure if plain yogurt is good for your face, keep reading.
Yogurt is packed full of nutrients that are great for your skin. Zinc has anti-flammatory properties while lactic acid aids in moisturizing your skin. Along with that, calcium aids in healing dry skin making this a perfect mask for Winter.
If you have a choice for the type of yogurt you use in this easy face mask DIY, try to get the unsweetened variety when possible.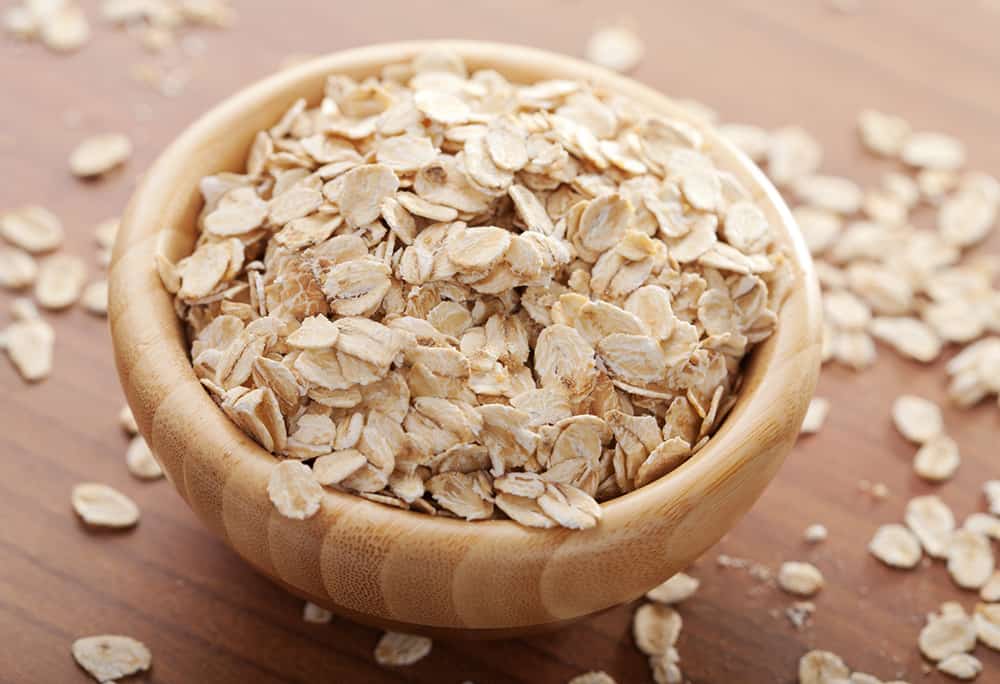 Oatmeal Face Mask Benefits
What does oatmeal do for your skin? Tons!
Oatmeal is filled with loads of vitamins and minerals that make oats a great addition to this mask, especially if you're suffering from dry skin. You'll reap the rewards of moisturizing properties and pore cleansing attributes with this simple addition.
How do you make an oatmeal face mask?
Oatmeal face masks can be made to be rather chunky or thin depending on the consistency that you prefer your face mask. You can grind the oatmeal into a fine powder (separate from the ingredients) for a smoother mask or blend it with everything else and have a slightly thicker, chunkier face mask. It's all up to you!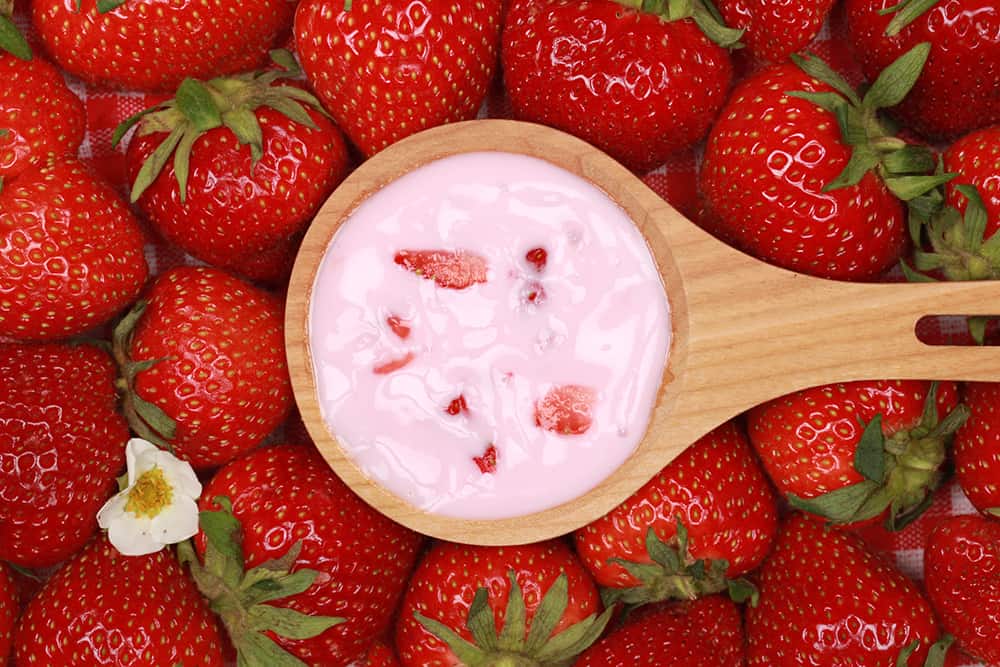 Strawberry Yogurt and Oatmeal Face Mask DIY Recipe
[mv_create key="181″ type="diy" title="Strawberry, Yogurt, and Oatmeal Winter Facial Mask" thumbnail="https://birdseyemeeple.com/wp-content/uploads/2015/02/Strawberries-and-Cream-Winter-Face-Mask-DIY.jpg"]
One thing to note: this is an oatmeal face mask without honey. Many people love combining these two ingredients in face masks due to the replenishing properties of honey. You can easily add honey to this recipe, but it will change the consistency if you add a significant amount.
You Might Also Like:
PIN ME ↓