Inside this post: Learn how to make elderberry syrup with just two ingredients and then how to use that syrup to make homemade elderberry gummies.
No one likes cold and flu season. It's a season I'd happily skip over if we could. While it flu season generally begins in October, the peak is generally in February, but it can last all the way to May. Eight months is a LONG time to try to avoid getting a cold or the flu.
So I try to take a little extra time to boost my immune system, especially in the fall and winter months. A little extra sleep and extra helpings of vegetables are my favorite ways to give myself a boost. Over the past years, I've also added elderberry syrup and yummy elderberry gummies into the mix during the colder months.
I love the taste and so does Lily. Nathan's so-so on it. If I had to compare it to anything, I'd say it's similar to blackberry – but not quite the same. Definitely berry, but very unique to itself. And there are so many elderberry benefits that it's a winter must-have for our family.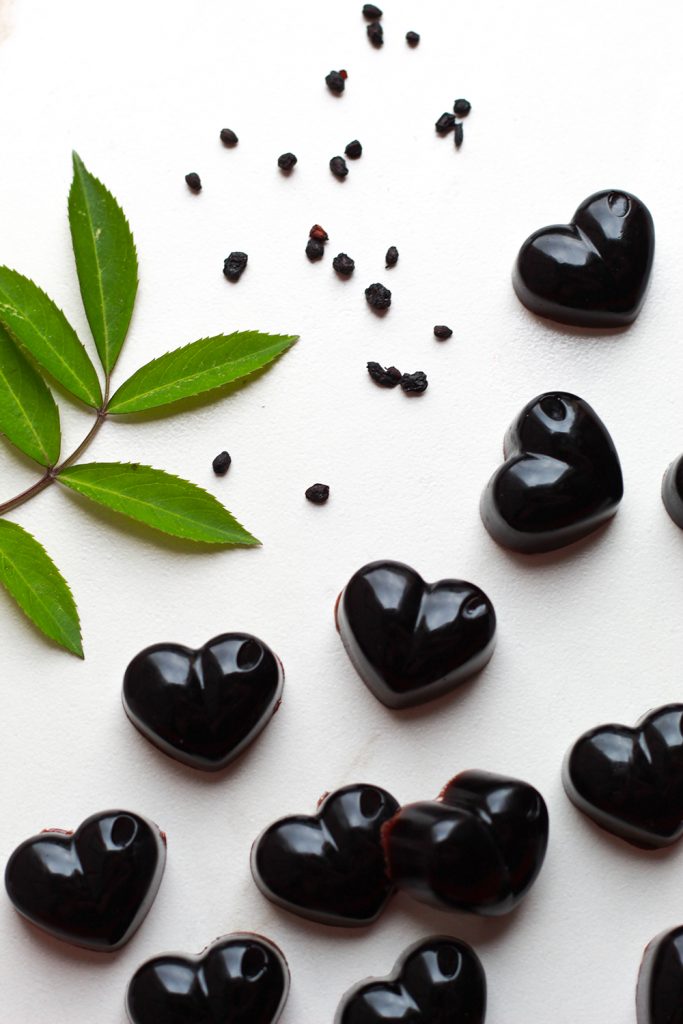 Where can you get elderberries?
If you're looking for where to buy elderberry syrup instead of making your own, you can also purchase elderberry syrup on Amazon. (This is the one I started out with and would absolutely recommend to have on hand if you're not up for regularly making your own syrup.)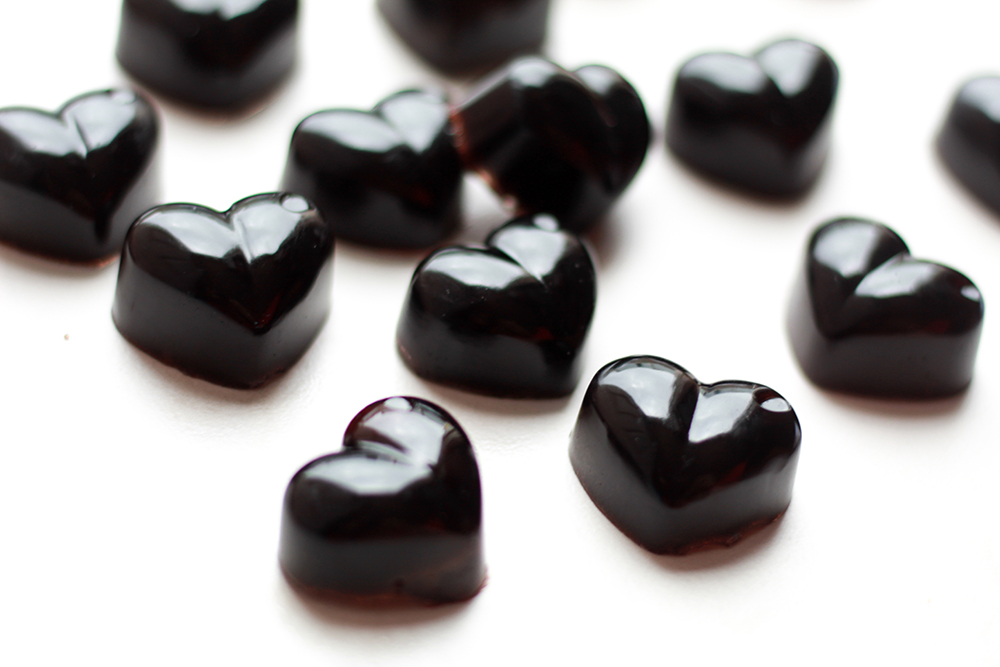 What is elderberry syrup?
Elderberry syrup is a syrup that is made by bringing elderberries and water to a boil then simmering. You can use elderberry syrup for colds as an immune system boost or even as a syrup for pancakes, waffles, ice cream, etc.
You can purchase elderberries online at Amazon and in your local health food store.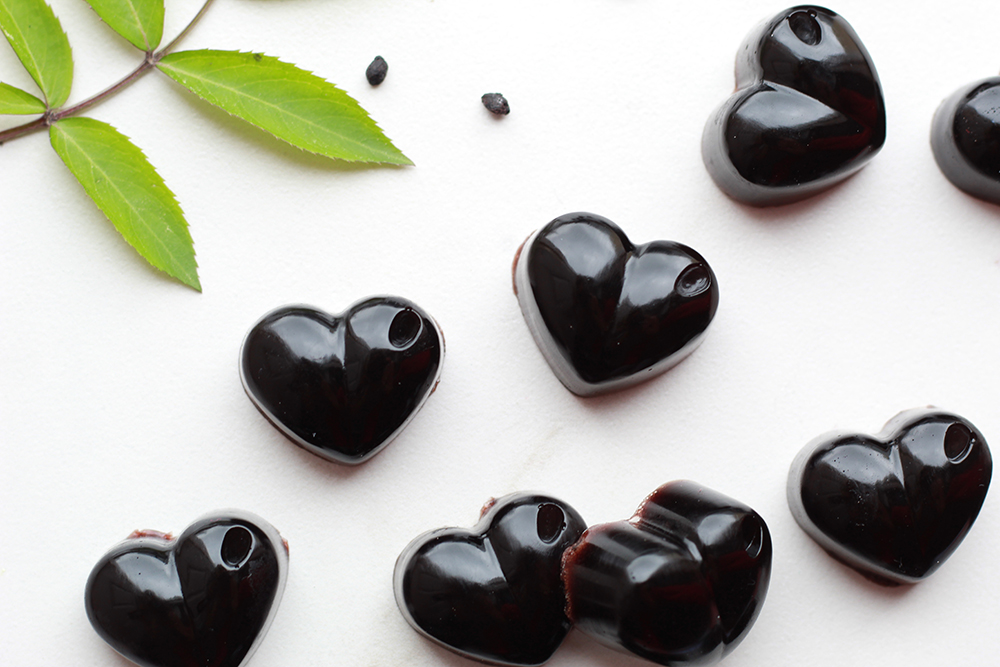 How do I make elderberry syrup?
Making elderberry syrup is super easy! Just follow these few steps to make your own elderberry syrup:
Pour 1/2 cup of dried elderberries into a small sauce pan and add 2 cups of water.
Bring the water and elderberries to a boil. Simmer for 30 minutes or until your liquid has reduced by half. (This should leave you with approximately 1 cup of elderberry juice.)
Remove from the heat and let cool slightly. Add in one cup of honey.
Let cool and store in the fridge for up to 2 months.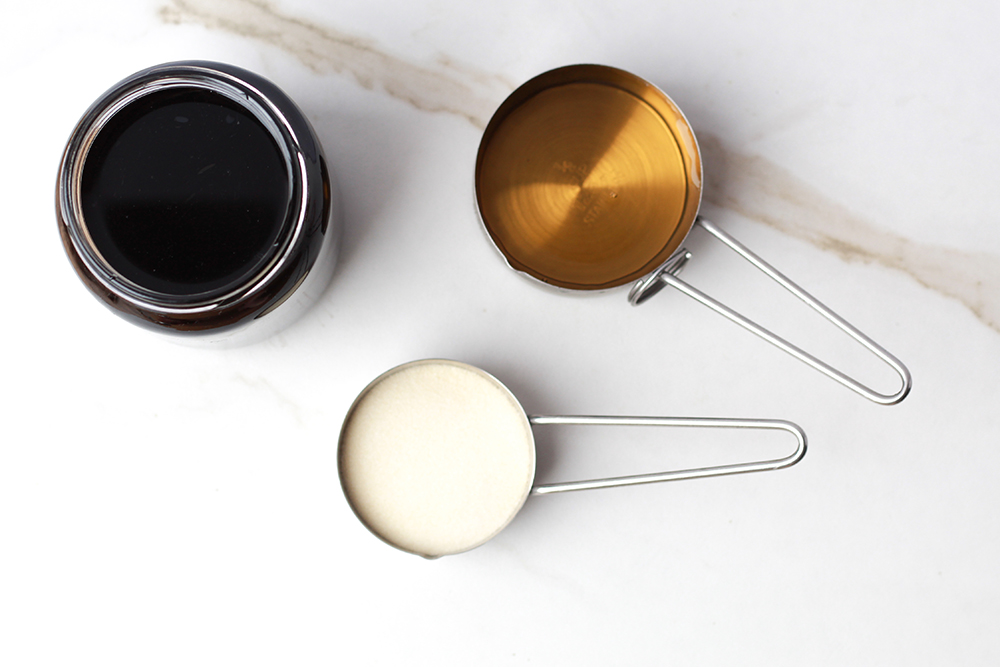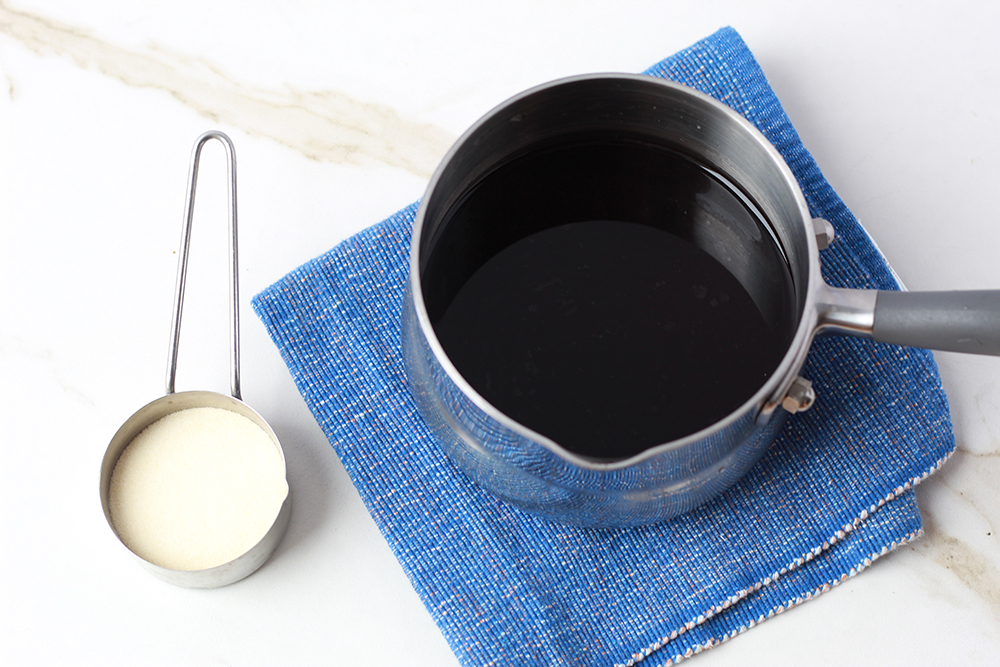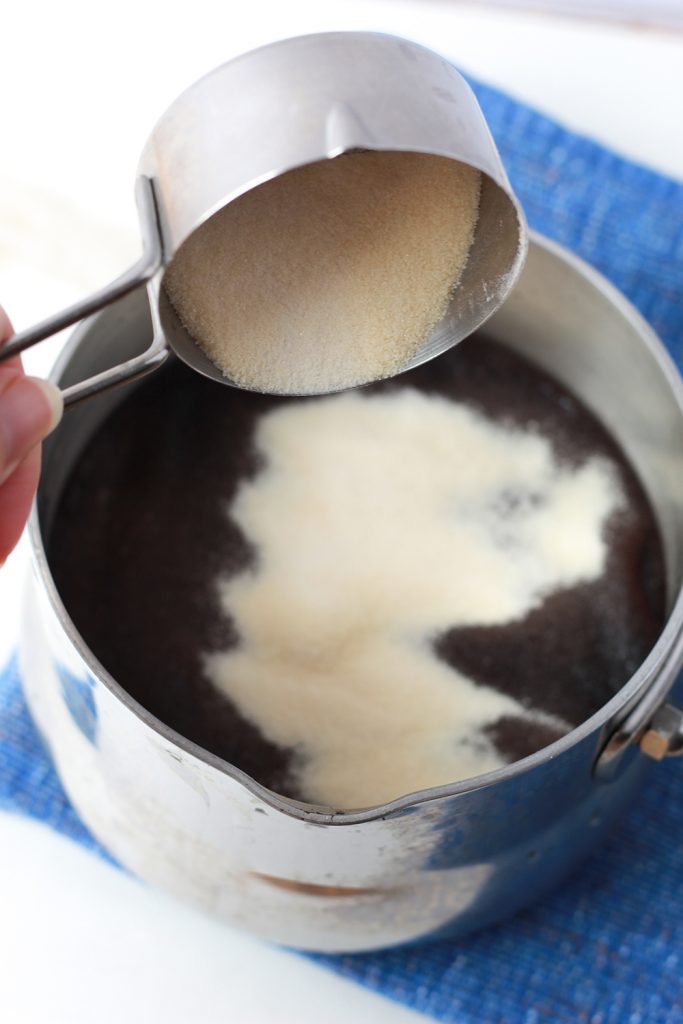 How do I make homemade elderberry gummies?
Before starting to make your elderberry gummies at home, I'd recommend getting your molds ready and stabilized on a baking sheet. This will help avoid spillage and make the whole process a little easier.
All you need to do is grease each pocket with a small amount of coconut oil or vegetable oil. (This helps the elderberry gummies pop out of the mold a bit easier.)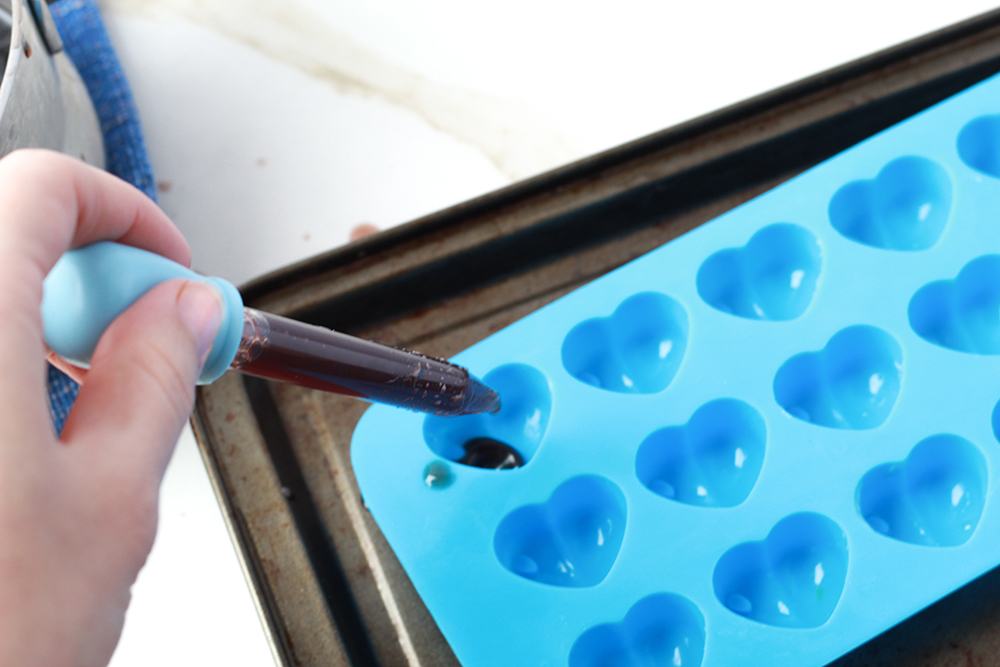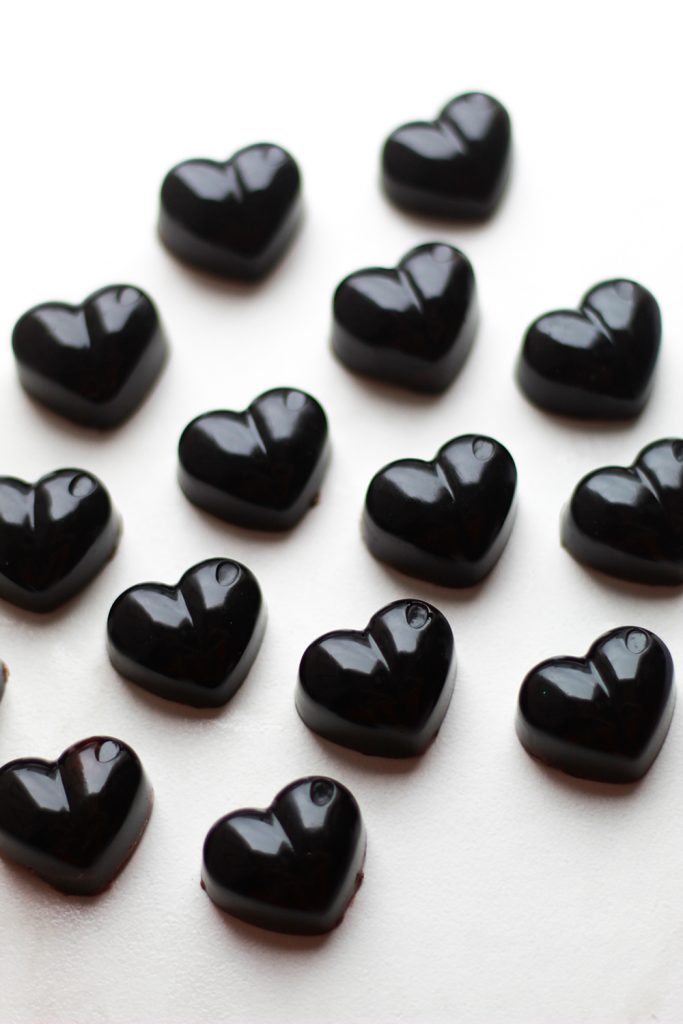 Homemade Elderberry Gummies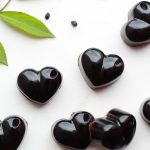 Homemade Elderberry Gummies
Quick and easy homemade elderberry gummies for an immune system boost
Ingredients
3/4

Cup

Elderberry Syrup

3/4

Cup

Water or Fruit Juice

4

Tbsp

Gelatin

Silicon Molds
Instructions
Add your elderberry syrup and cold fruit juice to a small sauce pan. Shake your gelatin powder over the top of the cold liquid, allowing it to bloom.

Once the gelatin powder has absorbed some of the liquid, turn your burner on to medium low.

Stir your mixture until warmed well and the mixture is no longer grainy. Be careful not to bring to a boil. You want the mixture warm, but not hot.

Work quickly and fill up each of your molds with your mixture using a spoon or dropper.

Refrigerate for two hours or until firm.
Tips for Making Homemade Elderberry Gummies
Want to change up the flavor? Keep your liquid to gelatin ratio the same, but feel free to experiment with different juices, waters, etc for different flavor combinations.
For this recipe, we used candy molds that held approximately 2 teaspoons of liquid. This is twice the dose of elderberry syrup we use for our kiddo so we just chop them in half. Depending on the ages of your family members, you may want to make these elderberry gummies smaller or larger.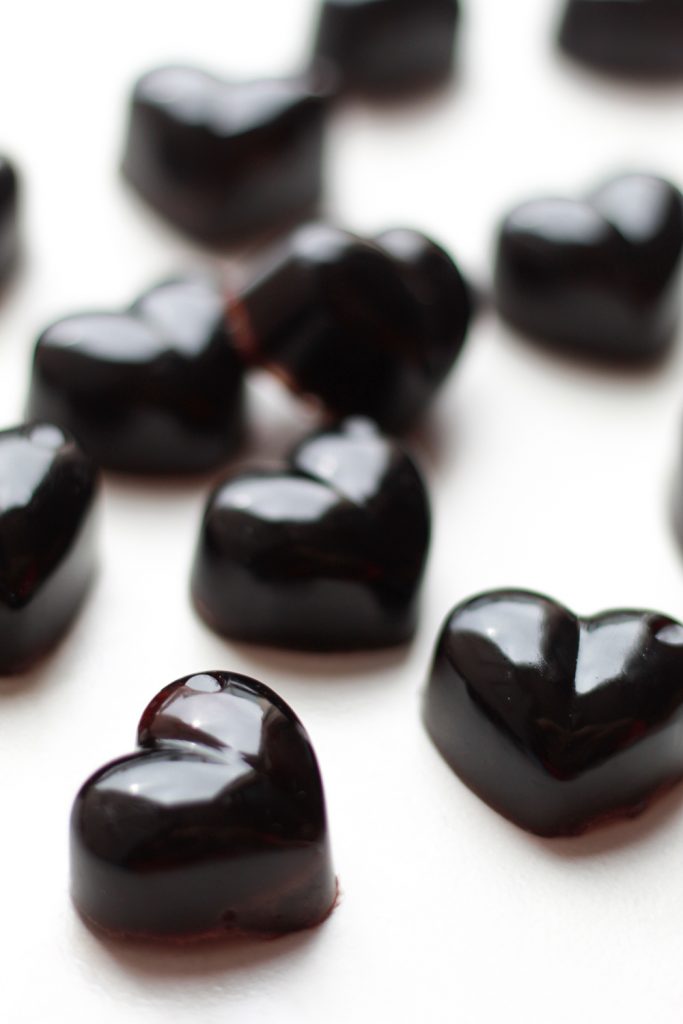 Be sure to pin this homemade elderberry gummy recipe to your favorite Pinterest board for future reference!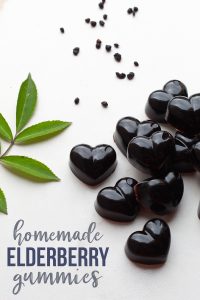 You might also like:
Medical Disclaimer: This information is for educational purposes only and has not been evaluated by the FDA. I'm not a doctor and am only sharing what I have learned over the years. It is not intended to treat, cure, prevent or, diagnose any disease or condition nor is it intended to prescribe in any way. This information may not be complete, nor may its data be entirely accurate.