Looking for a homemade hair mask? This coconut oil avocado and banana hair mask can't be beat! With just three ingredients, your hair will look less damaged and feel healthier in no time.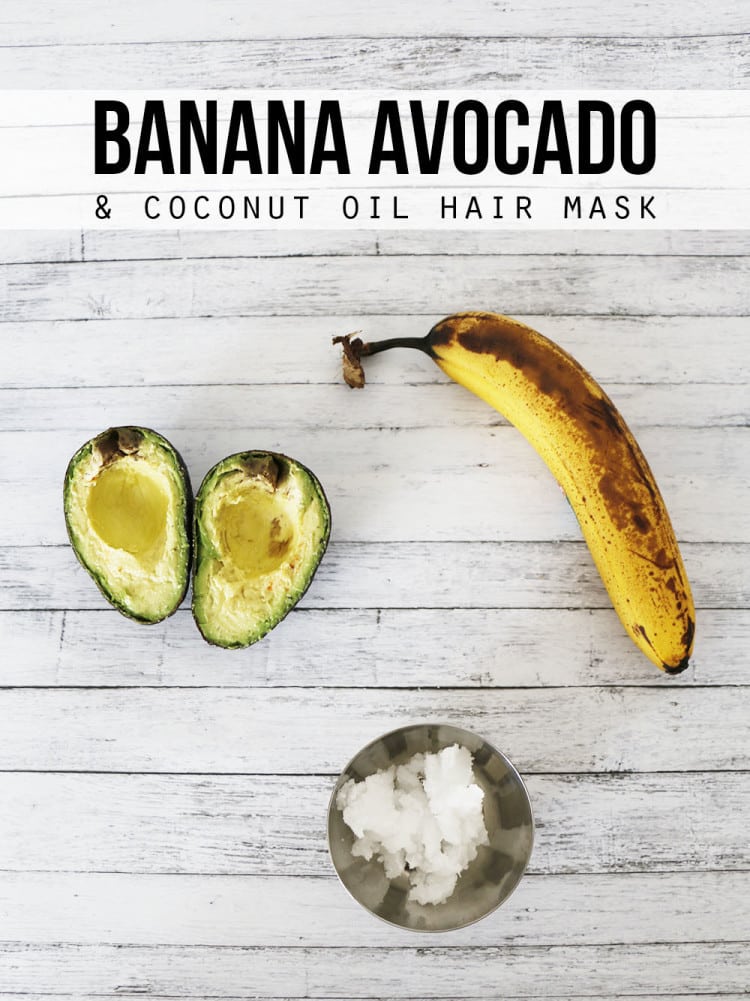 One of the reasons I love homemade beauty treatments, specifically homemade hair masks, is because I almost always have everything on hand to make them. Not only that, but they are an awesome way to use up fruit and veggies that aren't pretty enough to be served on your plate any longer.
Last week, I shared a Strawberry Cream Winter Facial Mask that used up some strawberries that were on their way out along with some yogurt that wasn't getting eaten quick enough.
But this week? I'm giving you something else to make with those brown bananas instead of banana bread:
Coconut Oil Avocado and Banana Hair Mask
I wasn't sure what the combination of banana and avocados would smell like, but it was actually really pleasant. Plus, the consistency is thick enough to stay on your hair without dripping and hold it in place while you're letting it set.
Already have your produce at home for this avocado hair mask DIY? Here are a couple of supplies that might make this easier:
And if you're in the mood for a spa night, try out this face mask or this foot mask!
Why This Banana, Avocado and Coconut Oil Hair Mask Works
Wondering what it is about this homemade coconut oil hair mask that makes it so great for your hair? Or what exactly the coconut oil hair mask benefits are? Check it out:
What's so special about coconut oil in this coconut hair mask DIY?
Coconut Oil is loaded with Vitamin E and healthy fatty acids that give it high moisture retention properties. The chemical structure of coconut oil also allows it to penetrate the hair instead of just coating it, making it the perfect ingredient to add some moisture back into dry and damaged hair.
Why use an avocado hair treatment?
Because avocados are packed full of vitamins that allow them to aid in hair growth as well as repairing damaged hair. Avocado hair mask benefits also include helping improve the the strength of hair strands. This makes me love avocados for hair repair as much as I love them on toast!
What does banana do for your hair?
A lot! Bananas are high in natural oils and vitamins that soften the hair and help prevent breakage. Which is one of the reasons I love using a banana for hair growth in masks. Bananas also aid in improving the appearance of your hair, can add a healthy glow to your strands and aid in controlling dandruff. This is why a DIY banana hair mask is one of my favorites to make!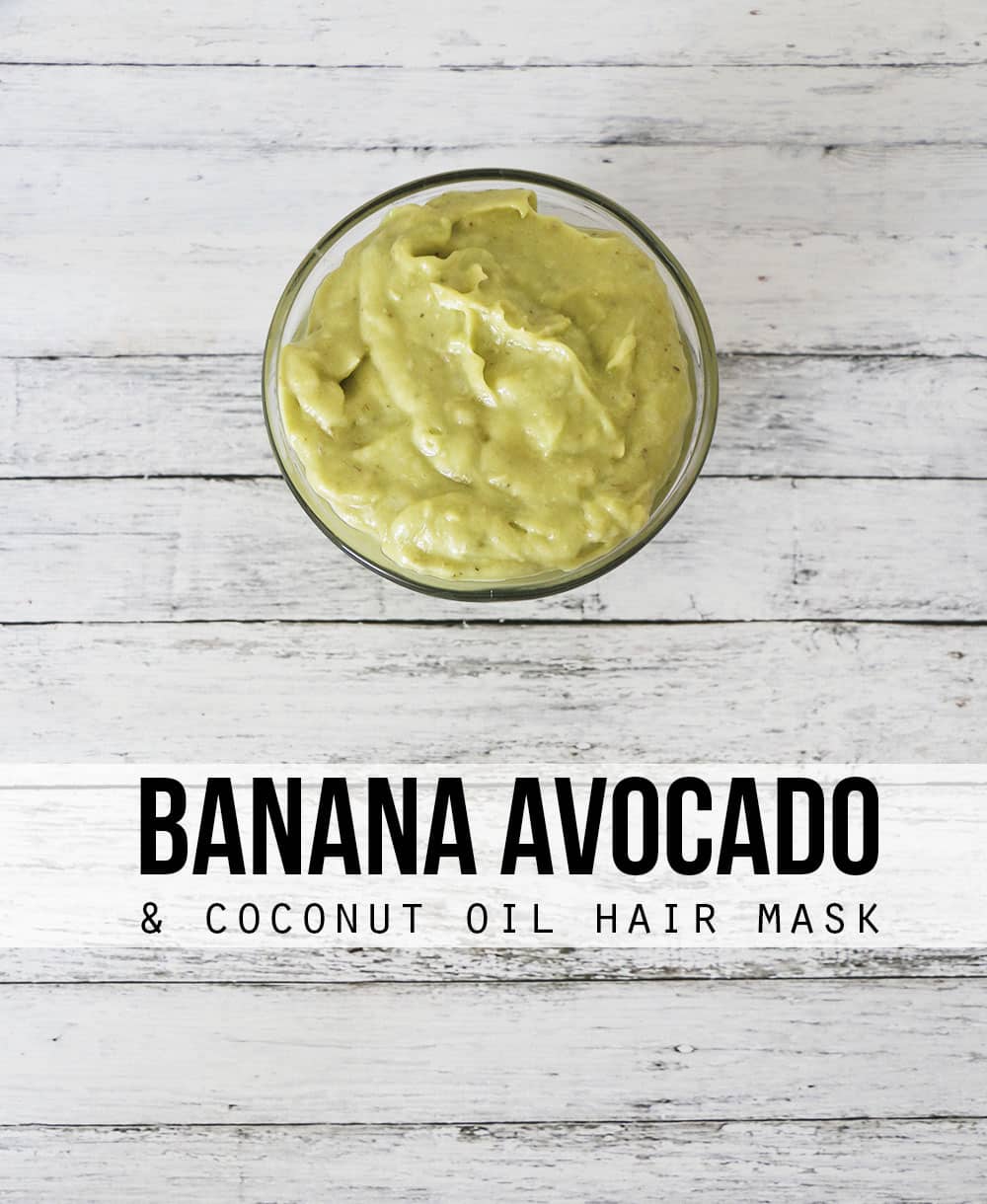 Coconut Oil Banana Avocado Hair Mask
Banana Avocado Coconut Oil Hair Mask
Ingredients
1

Ripe Avocado

1

Ripe Banana

2

Tbsp

Coconut Oil
Instructions
Combine ingredients and blend together until thoroughly mixed.

Spread the mixture over your hair and let it set for 20-30 minutes.

Thoroughly rinse out with your regular shampoo and conditioner
Recipe Notes
Use 1 Tbsp of Coconut Oil instead of 2 if you have thin hair. I have thick, wavy hair and used extra coconut oil to reduce frizz.
If you want to make the rinsing process easier, press the mixture through a sifter or cheesecloth before applying it to remove any chunks. Otherwise, just shampoo a little more vigorously.
Makes two masks for thick, shoulder length hair.
After it's all rinsed out, I just comb through my hair and let it air dry. Then it's super soft, shiny and a breeze to style!
What is your favorite type of homemade hair mask? Do you use any other coconut oil hair masks or banana hair masks?
[recent_posts style="11″ rows="four" title = "You Might Also Like" text_excerpt="" mode="selectable_posts" posts_num="" selectable_posts="25341, 23106, 15754, 14958″ text_color="undefined" hide_author="" ][/recent_posts]