A simple introduction to using a Bullet Journal for Intentional Living. Find supplies, ideas, and more in this easy to follow guide.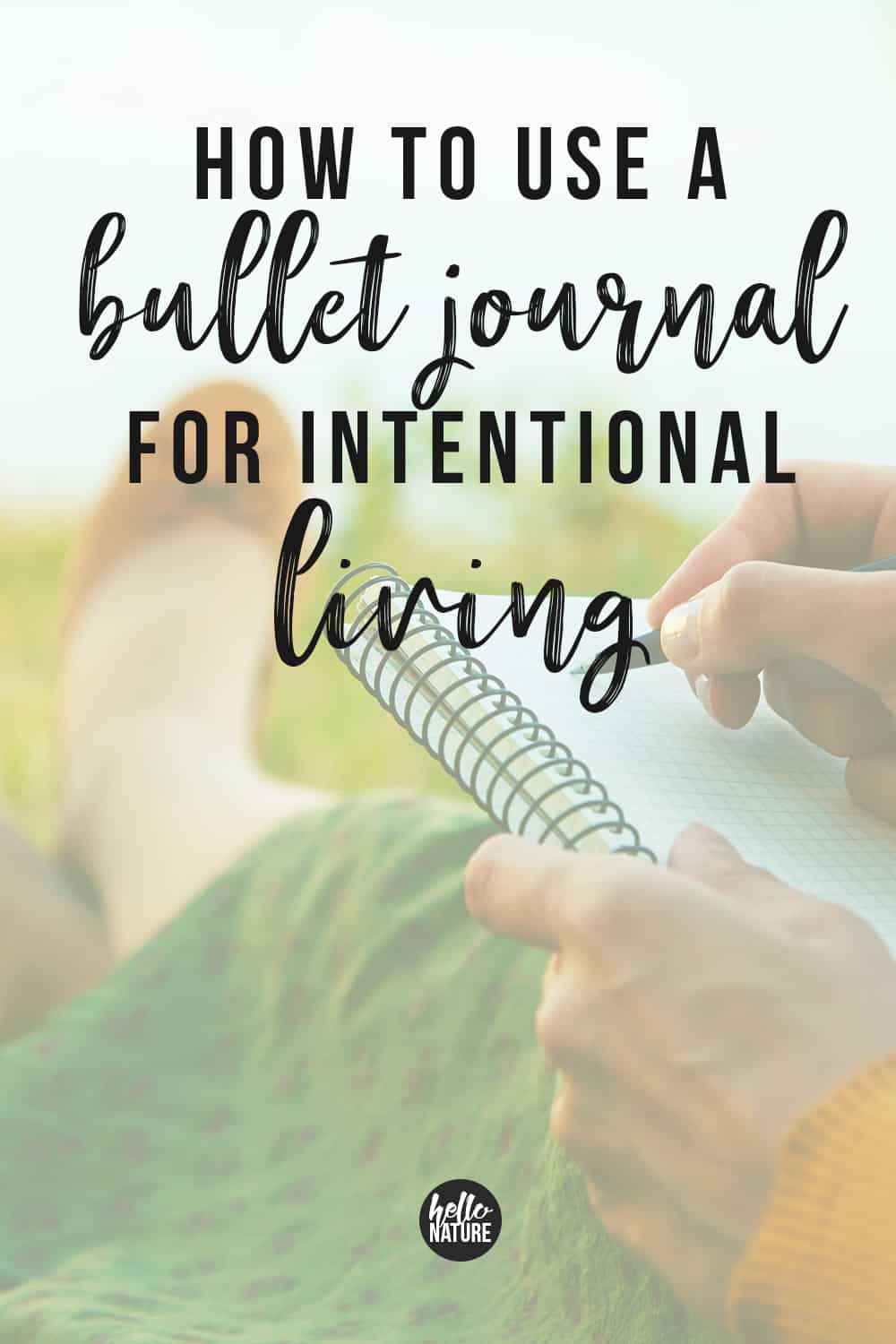 What is Bullet Journaling?
By definition, the bullet journal aka bujo is a customizable and forgiving organization system. It can be your to-do list, sketchbook, notebook, and diary, but most likely, it will be all of the above.
The purpose of the bullet journal is to teach you to unplug (which is critical in this digital age we live in) and do more with less. The original bullet journal is pretty basic and very analog. You can check out the Bullet Journal Store for more information, but basically what I've done is taken the bujo and made it pretty! I'm not the first person to do this, obviously, but the beauty of bullet journaling is that you get it make it your own.
How Do I Get Started with Bullet Journaling?
Getting started with bullet journaling is simple! You don't need expensive supplies, and you can start with just a notebook and pen. It's more fun if you have colorful pens, stickers, etc so I would suggest trying to add those in as you go.
There are many options for supplies for a bujo journal, starting at the Dollar Tree for stickers for a buck! You can also use regular pens, but I recommend fine tip pens for best results. As far as the journal goes, the regular bullet journals are usually about $20 (a common one is the Leuchtturm1917 Notebook). However, there are plenty of cheaper options, including something as simple as a $2.00 notebook!
The reason I mention the prices of everything is because I love bullet journaling and I don't want budget restrictions to stop anyone from getting started. So just remember you can use a $1 notebook and a free pen if you want!
Favorite Supplies: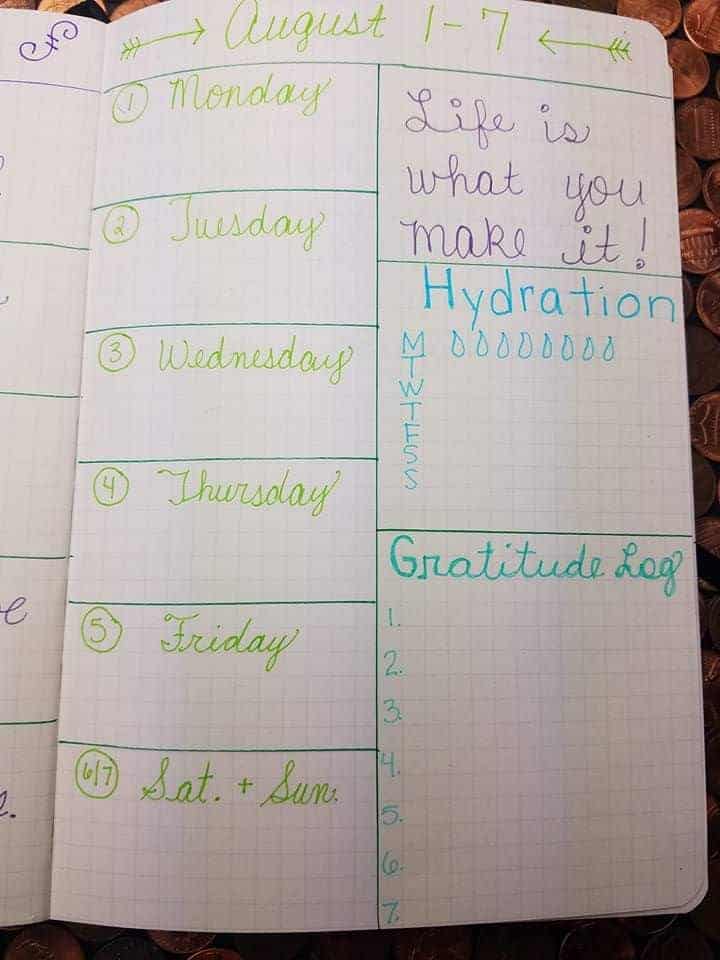 Weekly + Monthly Spreads
The common denominator in most bullet journals is a weekly and monthly spreads, or sometimes they're called layouts. Being able to know my weekly schedule at a glance keeps me on track with appointments, coffee dates, and even blog stuff!
There are so many ways to do your weekly and monthly bullet journal layouts, but this is the one I'm trying right now. I don't need a lot of space for my to do list each day, so it only takes up half a page for the entire week. I also have a Gratitude Log down in the right-hand corner, a Hydration Tracker above it (I'm wanting to switch to these hydration stickers though!), and a quote up top.
Gratitude Log: SO important if you have a goal of living intentionally like I do. It's a lifestyle and having these things right in front of my face helps me realize how easy it is to get off track. If you need a constant reminder to live a positive life, a bullet journal can help.
Future Log: Something else I'm going to add to my bujo. This expands on the weekly and monthly spreads and looks into the future. A Future Log is great for birthdays, appointments that are months in the future, or even days that school/work are closed so you can plan better.
Quotes make me happy! Don't they have that effect on you, too? I have a quote or "theme" for each week and put it on the first spread of the month. Then as the month goes on, I'll write that quote in the weekly spread to keep it in mind as well.
Quotes ideas for this month:
Stay patient and trust your journey.

Dreams don't work unless you do!

Knowledge speaks; wisdom listens.

Positive mind. Positive vibes. Positive life.

Work hard; stay humble.
If stickers are more your thing, I love these quote stickers for Happy Planners!
Meal Plan Ideas
This layout is kind of a rough draft, because it's not an exact menu plan – though I want to make one of those in the near future. I just listed some of our favorite recipes; most include veggies that we can use from the our garden in the Spring.
If you're planning to garden this year, you can use these Easy Fruits and Vegetables for the Beginner Gardener to jumpstart your plant list.
If you're working on losing weight, or even just eating less meat (or whatever else), create a menu plan layout and one for a shopping list, too. Bonus: You'll save money by planning ahead.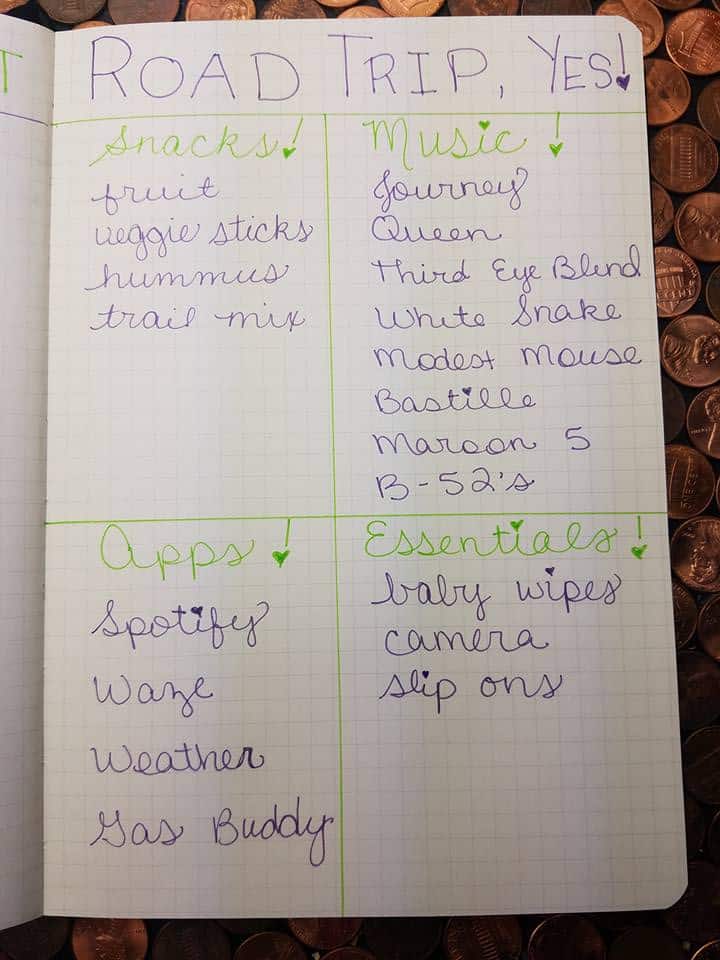 Road Trip Essentials + Bucket List
We love to take road trips! When we plan our next trip, I'll use my bullet journal to write out a packing list. My bujo is small enough that it can travel with me in my purse, no matter where our travels take us.
There are many travel layouts you can use. Some of the ideas I've seen are:
And, be sure to check out my travel posts that I used to create the layouts above.
Collections + List Ideas for Your Bullet Journal
If you browse Pinterest, you'll find thousands (yes, thousands!) of ideas for bullet journaling. What I would suggest is that you make a list of lists. I know that sounds a bit funny, but if you make a list of different collections or lists you want to add to your bujo, it will help keep your creativity flowing! Sometimes you'll wake up and have zero ideas, so you can turn to your "lists" page and start brainstorming.
Food:
Meal Planning
Freezer + Pantry Inventory
Recipes to Try
Healthy Food List
What I Ate Today
Money:
Monthly Budget
No Spend Challenge
Savings Goals
Bills to Cut Back On
Habit Trackers:
Meditation
Hydration
Moods
Fitness / Working Out
No Soda
No Sugar
No Meat
Everything Else:
Affirmations
Quotes
Brain Dump
I Want to…
Looking Forward
As I move forward in my life, and as I fill my bullet journal with my day-to-day life experiences, I'm sure I will think of more things to add! When I do, I'll be sure to share them with you guys. I would love to know how you use your bullet journal, and what your favorite spreads are! And if you use a bullet journal for intentional living, please share how it has helped you!
You might also like:
PIN ME↓