Thank you to Mezzetta for sponsoring today's post and inspiring me to get creative and create a unique recipe for the Holidays. View my disclosure policy here.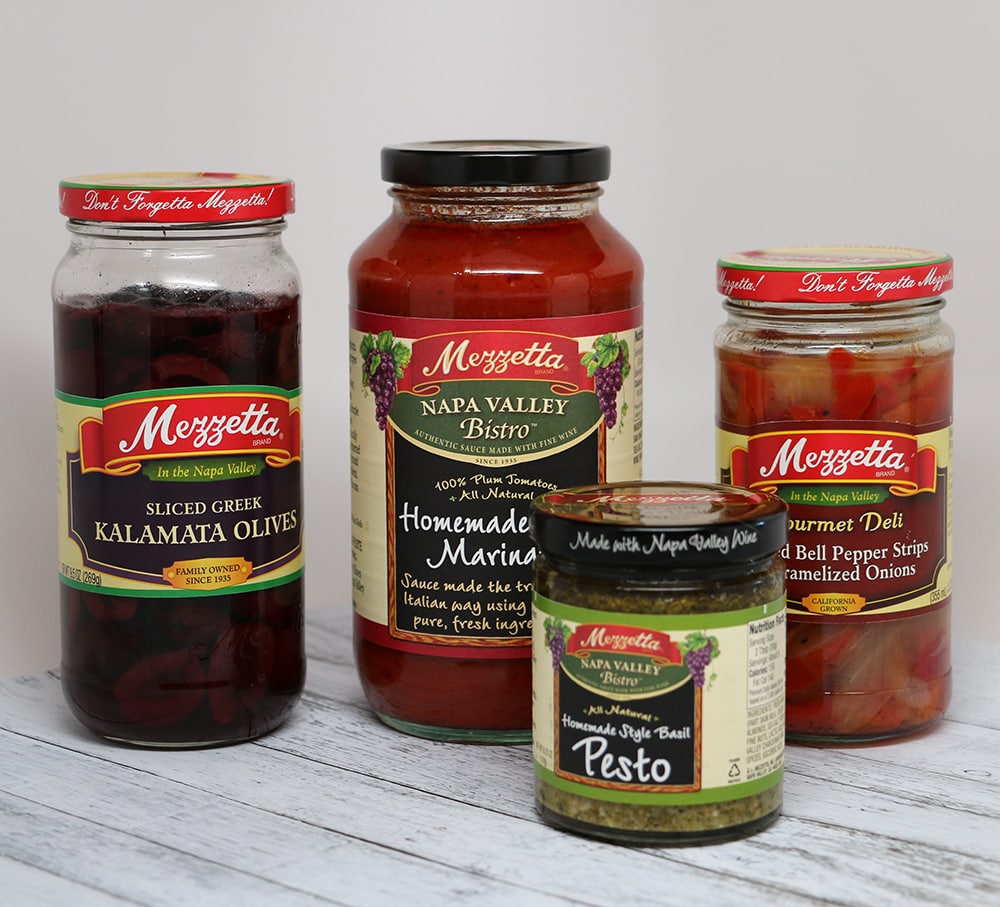 Nathan and I have always loved to cook together and the holiday season always gives us more reason to be in the kitchen with each other. Nearly every day, we're making something that fills our house with sweet and savory smells all day long.
Pasta is one of our favorite things to make during the cooler months because it's such a comfort meal for us. And when you can make something as good as what I'm about to share with you, you don't even have to leave the house into the blustery winter weather for feel good, restaurant quality food.
If you're looking for a quick, delicious meal for you and your loved ones this holiday season: this is it. The Roasted Vegetable Pasta and Olive + Pesto Crostini look fancy yet only take a a little bit of time to pull together. You'll look like pros with this easy, scrumptious meal. There's hardly any prep thanks to the delicious foods from Mezzetta.
These recipes were SO easy thanks to the delicious flavors from Mezzetta. We used the following products to make both recipes:
Even before we made these recipes, we were constantly opening the jars of the olives and the red peppers/onions to snack on – they are just that good! We saved enough to make these recipes luckily, but after trying these Mezzetta products, I cannot wait to see what else they have. Everything had the perfect flavor for the recipes we made, too, which made it so easy to whip up a quick meal.
Enjoy!
Roasted Vegetable Pasta
Ingredients
8

oz

Mushrooms

Washed and Chopped in Half

1

Jar of Mezzetta Roasted Red Peppers and Onions

1/3

Cup

of Mezzetta Kalamata Olives

2

Servings of Pasta

1

Cup

of Mezzetta Marinara Sauce

1

Tbsp

Olive Oil
Instructions
Boil water to make the pasta. In another pan, cook the mushrooms in the olive oil over medium heat for about five minutes.

Add in the olives, red peppers, and onions to the mushrooms and cook for another five minutes

Add in the sauce to the vegetable mixture and cook for another five minutes.

Once the water has come to a boil, add in the pasta and cook to desired consistency.

Combine the noodles and the vegetable/sauce mixture and serve.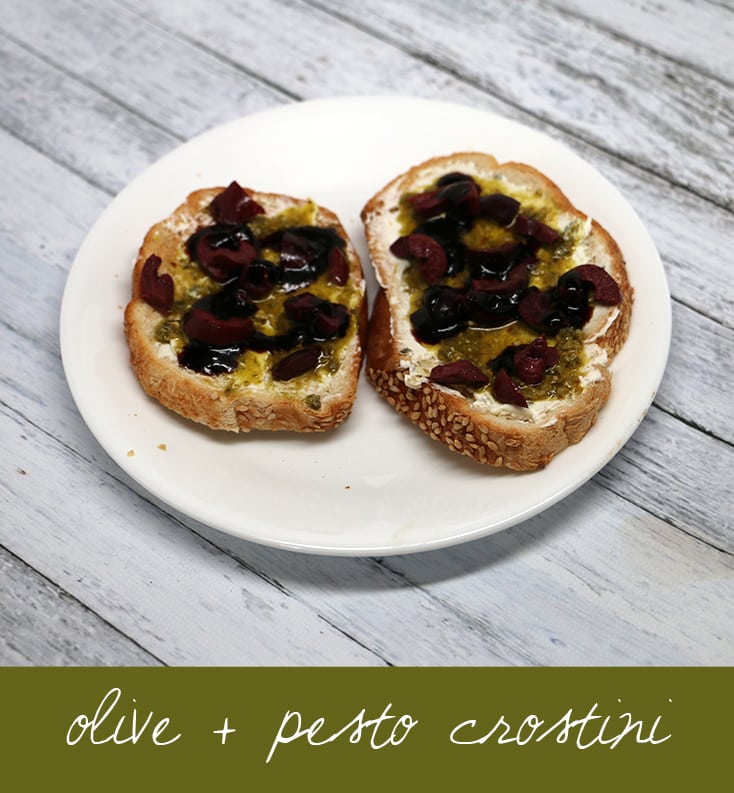 Olive and Pesto Crostini
Ingredients
4

Slices

of French Bread

2

Tbsp

Cream Cheese

4

Tsp

Mezzetta Pesto

3

Tbsp

Mezzetta Kalamata Olives

Chopped

Balsamic Glaze
Instructions
Toast the bread.

Top with cream cheese.

Spread pesto over the cream cheese.

Sprinkle the olives over the top.

Drizzle with balsamic glaze.
Recipe Notes
Use a flavored cream cheese for a different taste. We used chive and onion in this recipe.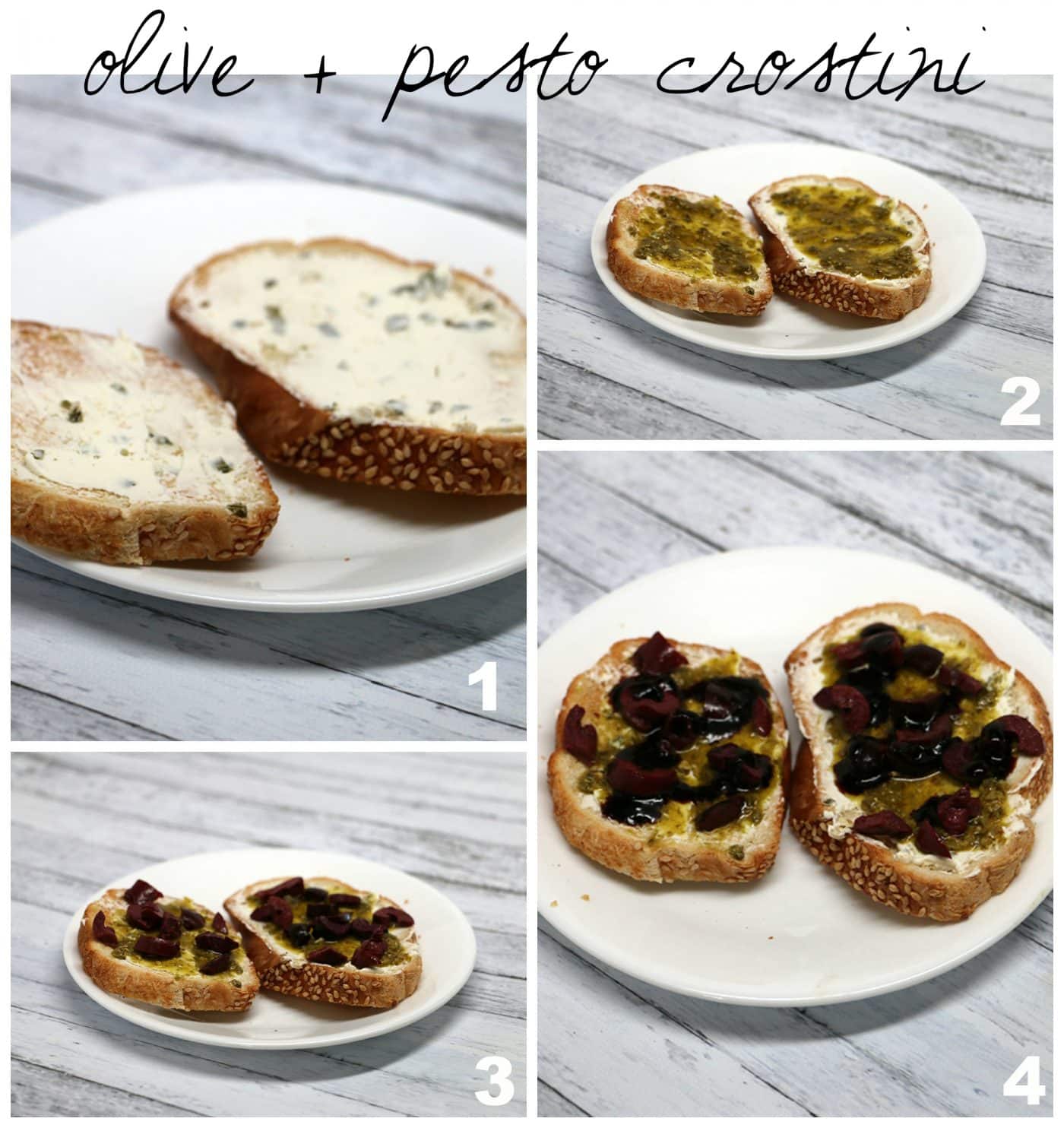 Daily Giveaway
Mezzetta is offering an awesome giveaway every day in December!

To enter, visit Mezzetta and enter your name, email, address and favorite holiday memory. Each day a winner will be selected at random. Prizes will be shipped within 2 weeks.
Mezzetta Favorites Holiday Gift Basket (31 Winners – Daily) includes:
• 100% Italian Estate Grown Extra Virgin Olive Oil
• Golden Greek Peperoncini
• Garlic Stuffed Olives
• Castelvetrano Olives
• Pitted Greek Kalamata Olives
• Roasted Marinated Red & Yellow Sweet Bell Peppers
• Cocktail Onions
• 1 Apron (from House Party contents)
• 1 Metal Olive Spoon (from House Party contents)
• 1 Tote Bag (from House Party contents)
• 1 Ceramic Bowl
Coupon
Mezzetta is also offering a downloadable $.50 off coupon on any Mezzetta products. The coupon is available from December 1st through December 31st – just in time for the holidays!