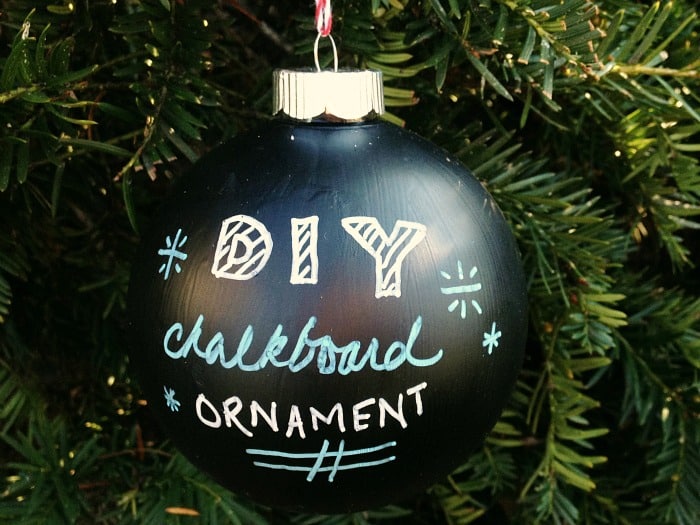 It's no surprise that I love chalkboard paint. It's so much fun to turn average surfaces into a chalkboard! With Christmas just around the corner, I am now using chalkboard paint to trim my tree.
Personalized ornaments are a big hit during the holidays. They make great gifts as well as personal statements for your Christmas tree. Using a clear, plastic ornament, chalkboard paint and a little creativity, you can customize your ornament any way you choose! Make one with your family name, write out a quote from a favorite holiday movie, pen a Christmas greeting to a friend, or draw a festive picture. The great thing about using chalkboard paint is you can change the ornament from year to year. It's like getting a new ornament each Christmas!
SUPPLIES
Clear, plastic ornament
Chalkboard paint
Foam brush
Chalk or bistro chalk markers, for decorating
Twine, for hanging
STEPS
Carefully remove the metal top off of your ornament. Set aside.
With a stick or end of a brush, hold the ornament in place by its opening for easy painting.
Use a foam brush to evenly apply two coats of chalkboard paint. Let dry between coats (keep the stick in the ornament to hold upright and set in a glass or other sturdy surface to dry).
When paint is completely dry, rub a piece of chalk all over ornament to activate the paint.
Wipe chalk residue away with a dry paper towel and attach metal top onto ornament.
Decorate your ornament with chalk or bistro markers.
Cut a piece of twine and tie a loop onto top of ornament, then hang your chalkboard masterpiece!
I used bistro chalk markers to decorate my ornament. They're not as messy as a stick of chalk. Although some bistro markers won't wipe away completely with water, you can erase your design with glass cleaner.
This project is so easy that you can make a few of these at a time. Give them out as gifts and instead of personalizing them, include a couple bistro markers or a pack of chalk. These would make great presents for kids and adults!
Have fun – the decorating possibilities are endless with this project!
[Tweet "DIY Chalkboard Ornament"]