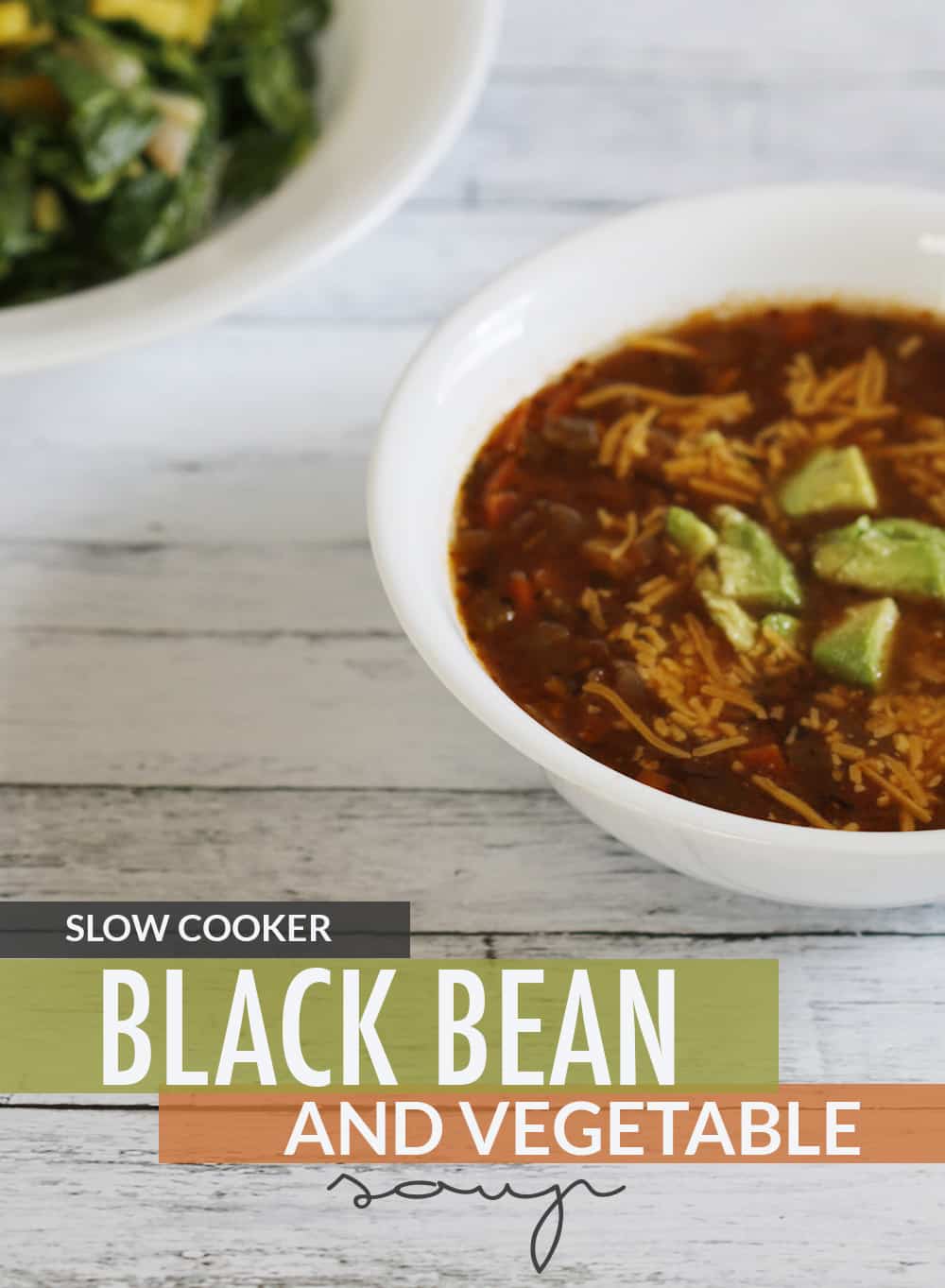 Happy Cinco De Mayo!
Even though I'm sure we'll be enjoying Mexican food for dinner this evening, it's pretty much a weekly (sometimes daily) staple in our household. Enchiladas, tacos, tamales, chimichangas, burritos – you name it, we've most likely made it. One of my favorite things we made was conchas after we returned from a trip to Mexico and I'm fairly certain I lived off these delicacies. They were surprisingly easy to make and SO good! But that's a different recipes for another day.
Today I have a Slow Cooker Black Bean and Vegetable Soup recipe to share with you! To be honest, when we made this – we had no intention of it turning out the way it did. We kind of threw a bunch of things together and hoped for the best with pretty low expectations. To our surprise, it's probably one of the best soups we've ever made. It's actually super healthy, but it doesn't taste like it is. Especially once you top it off with cheese like I always do.
Slow Cooker Black Bean and Vegetable Soup
Ingredients
2

Onions

chopped

3

Carrots

chopped

2

Celery Stalks

chopped

6

Mini Sweet Peppers

chopped

1

Tbsp

Olive Oil

2

Cans of Black Beans

rinsed and drained

1

Can of Corn

drained

6

Cups

Vegetable or Chicken Broth

3

Tbsp

Minced Garlic

3

Tbsp

Tomato Paste

1

Tbsp

Oregano

1

Tbsp

Cumin

1

Tbsp

Dried Cilantro

1

Tsp

Onion Powder

Salt and Pepper to taste

Optional: Cheese

avocado and sour cream as toppings
Instructions
Once the vegetables are chopped, add them to a skillet with the olive oil and cook over medium until the vegetables are softened (approximately 5-7 minutes.)

While the vegetables are cooking, puree the black beans and add into the slow cooker. Add in the broth and corn.

Mix the garlic, tomato paste, oregano, cumin, cilantro, and onion powder into the vegetable mixture. Mix thoroughly. Cook for another 2-3 minutes.

Combine the vegetable mixture with the black beans, corn, and broth in the slow cooker.

Cook on low for 6 hours.

Serve with optional toppings.
The prep time does take a bit to chop everything unless you opt for a food processor, but it's totally worth it! Plus it's set it and forget it after the prep so it's not too bad. Plus, there are a ton of options to change it up, too. Green chiles, cayenne pepper, lime juice, bell peppers, jalapeños, etc.
We pureed the black beans in full for this recipe, but you don't have to. Depending on the texture and consistency that you prefer for the black beans/soup, you can skip this entirely or just partially puree the black beans.
We paired it with a salad with avocados and mango (also delicious) and cornbread works as well!

You might also like: