Need a new weeknight meal this fall? You'll want to make this simple Loaded Low Carb Cauliflower Soup! This Instant Pot Soup is a delicious and easy fall soup recipe that cannot be missed.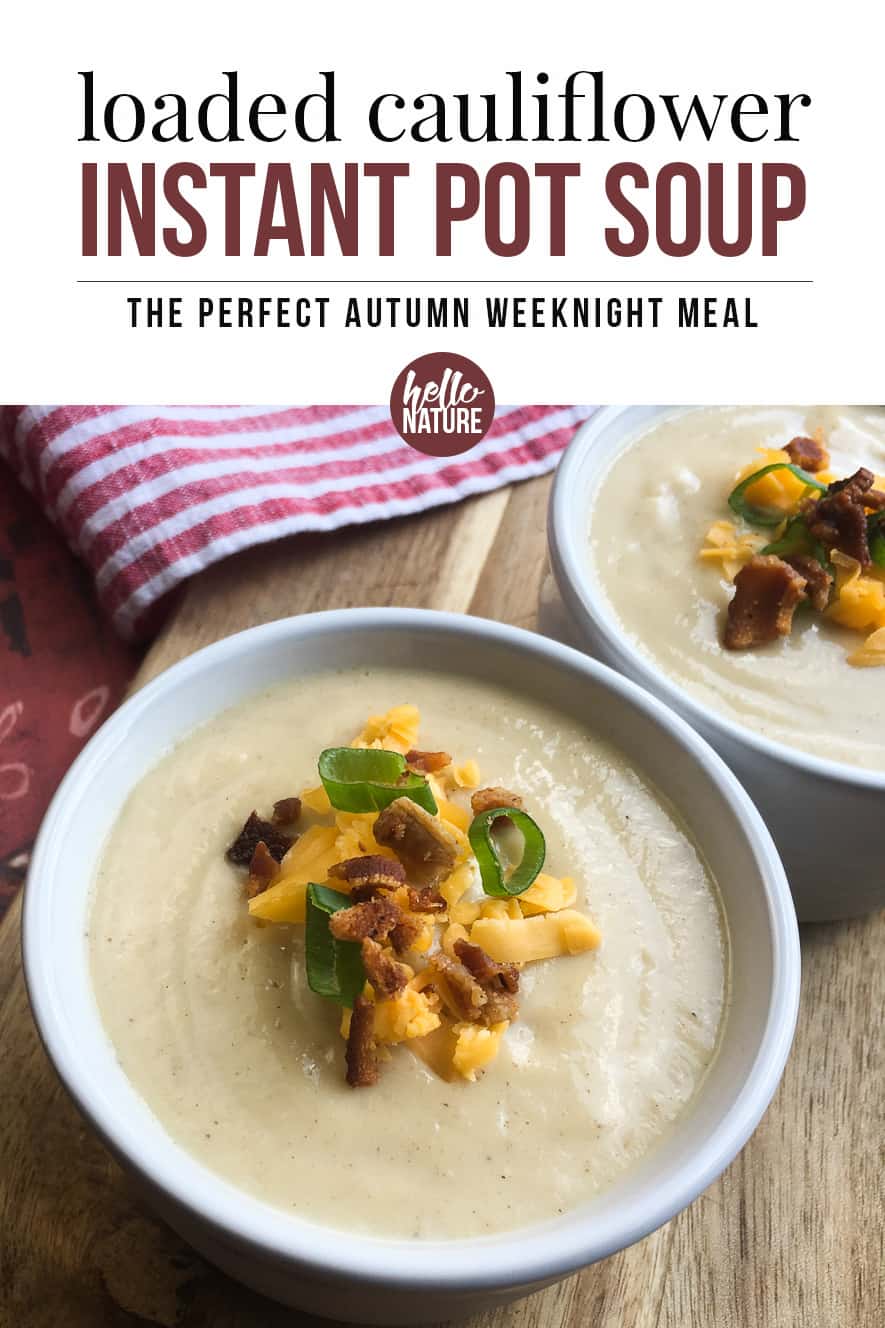 If I could pick one food for fall, it would be soup. It's the perfect comfort food for cooler evenings. Easy Instant Pot soup recipes are my go-to. They make for quick weeknight meals that allow us to squeeze a little bit more time out of the remaining daylight. Plus, they're simple to serve and the whole family can customize it however they'd like.
The convenience, versatility, and comforting taste of today's recipe is exactly why I know I'll be enjoying it all autumn long. Today I'm sharing a delicious Loaded Cauliflower Soup Recipe.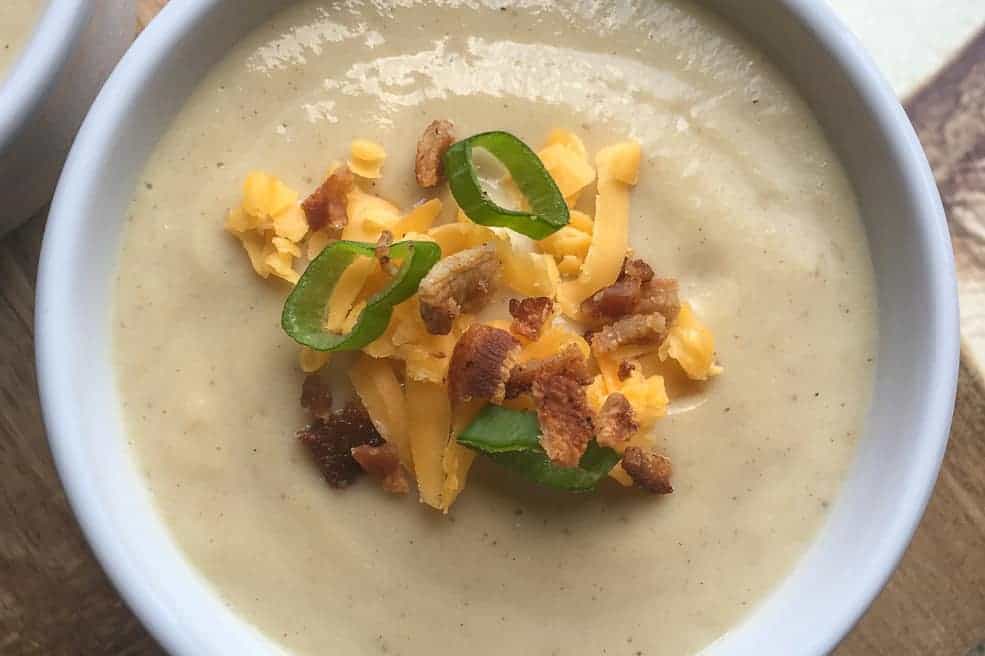 This low carb cauliflower soup recipe is SO good. It's a super easy cauliflower soup that can be made healthy or indulgent depending on the toppings you choose. It's also one of my favorite healthy leek soups so I guess you could call it a loaded cauliflower leek soup, too.
I definitely prefer this Instant Pot cauliflower soup recipe to be warm, but if it's a warmer fall day and you aren't feeling the comfort of a warm bowl of soup, you can even serve it chilled.
If you're unfamiliar with how to use the Instant Pot soup setting, scroll to the bottom of the post where I've shared a few FAQs.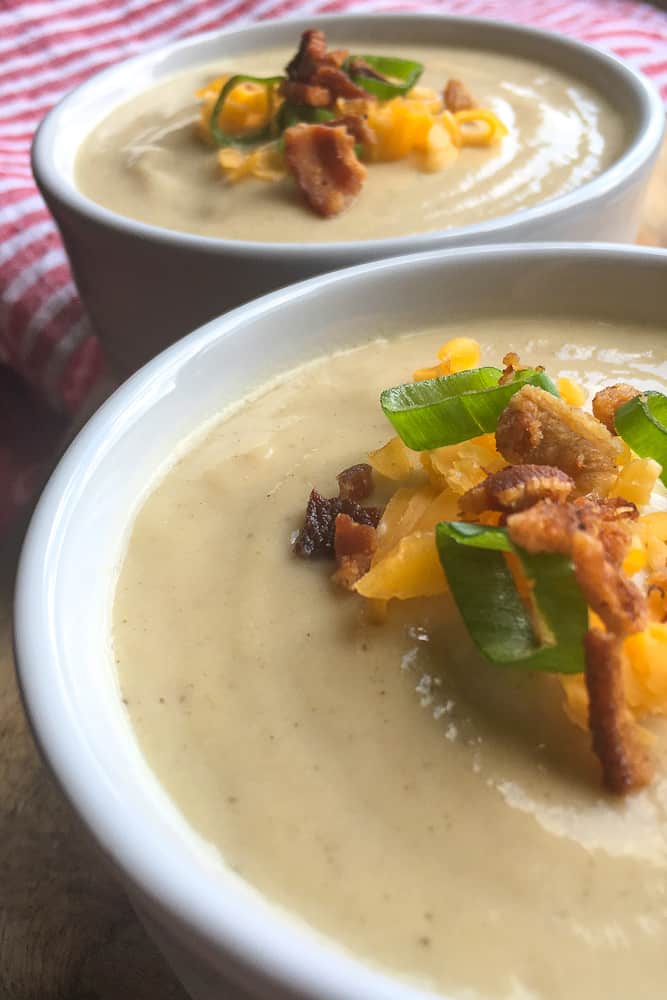 Cauliflower Leek Soup Ingredients
This cauliflower instant pot soup is great because it doesn't require any crazy ingredients. In fact, there's a chance you may have most, if not all, of what you need at home to make this cauliflower leek soup.
Produce you'll need:
Large Leeks (the white parts only)
Cauliflower
Dairy products you'll need:
Ricotta Cheese
Cream Cheese
Sharp Cheddar Cheese
We always use ricotta, cream cheese and cheddar for the cauliflower leek soup, but you don't have to! You can swap the ricotta or the cream cheese for goat cheese or mascarpone if you'd like. And if you really dig cream cheese, you can just substitute more of that instead.
Everything else you'll need for this Low Carb Cauliflower Soup recipe:
Garlic Cloves
Chicken Broth
Cinnamon
Salt
Black Pepper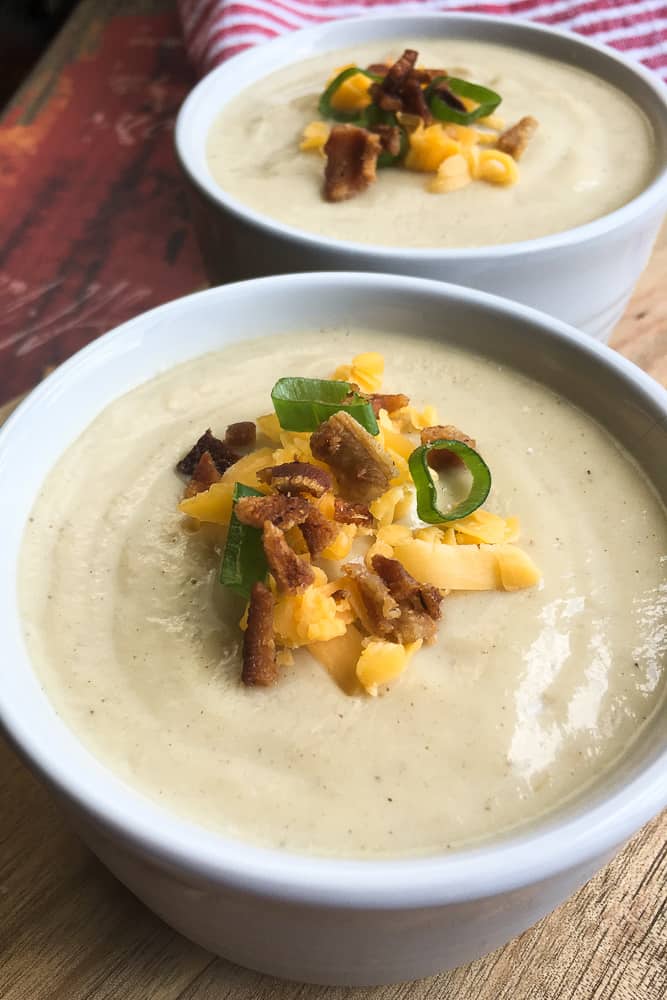 Low Carb Cauliflower Soup Recipe (Instant Pot Soup)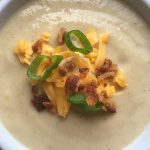 Loaded Low Carb Cauliflower Soup Recipe (Instant Pot Soup)
A low-carb cauliflower leek soup that can be as healthy or unhealthy as you'd like depending on your toppings!
Keyword:
Cauliflower, Instant Pot, Leek, Soup
Ingredients
3

Large

Leeks

White parts only, sliced

1

Medium

Cauliflower

Cut into small chunks

4

Garlic Cloves

Peeled

3

Cups

Chicken Broth

Divided

1

Tsp

Ground Cinnamon

4

Oz

Ricotta Cheese

4

Oz

Cream Cheese

4

Oz

Sharp Cheddar Cheese

Shredded or grated

Bacon Crumbles

Optional

Diced Green Onions

Optional

Sharp Cheddar Cheese for Sprinkling

Optional

Salt and Pepper

To Taste
Instructions
Add the leeks, cauliflower, garlic, chicken broth, and cinnamon to the Instant Pot. Season with salt and black pepper to taste.


Add the Instant Pot lid and lock into place. Switch the vent to "Sealing" position and set the "Manual" setting on high before adjusting the cook time to 9 minutes. After a brief pause, the Instant Pot will automatically start to build pressure.


When that is finished cooking, do a quick release (QR) to allow the pressure to escape. Unlock and carefully remove lid. Add the 12 ounces of cheese (sharp cheddar, ricotta, and cream cheese) and mix until the cheese has fully melted.


Blend with an immersion blender until the cauliflower leek soup is smooth.


Serve hot or chilled with optional toppings.

Instant Pot Soup Questions
First time using your Instant Pot to make soup? No problem! Here's a few common FAQs to help you get started on the right foot when using your Instant Pot.
When do you use the Instant Pot soup button?
You should use the Instant Pot soup button whenever you're looking to make broth, stock, or soup.
How long is the Instant Pot soup setting?
Luckily, Instant Pot soup doesn't take long at all! The soup setting will take anywhere from 20 to 40 minutes, depending on your selection. It starts at 30 minutes and can be adjusted down to 20, or up to 40.
How does the Instant Pot soup setting work?
One of the reasons the Instant Pot is so great is because the buttons do different things. When it comes to soup, the Instant Pot heats up slowly and gradually. If you were to select Steam, it would heat up faster as there should be no food in contact with the bottom of the Instant Pot. So, once you use the Soup function, your soup, broth, or stock will heat up gradually. This is especially useful for soups that tend to boil and spill over.
Want to use your Instant Pot to make some other delicious recipes? Try making this Ginger Peach Iced Tea Recipe (Instant Pot Iced Tea), this 30 Minute Instant Pot Baby Back Ribs Recipe, some Instant Pot Rice Pudding, or these Thai Instant Pot Chicken Thighs.