Trying to figure out how to organize a child's small bedroom? Looking for toy storage ideas for small space? Or maybe you're just trying to find DIY toy storage ideas that kids will love? We've got you covered! You'll find tons of inspiration for toy storage ideas that kids will love below.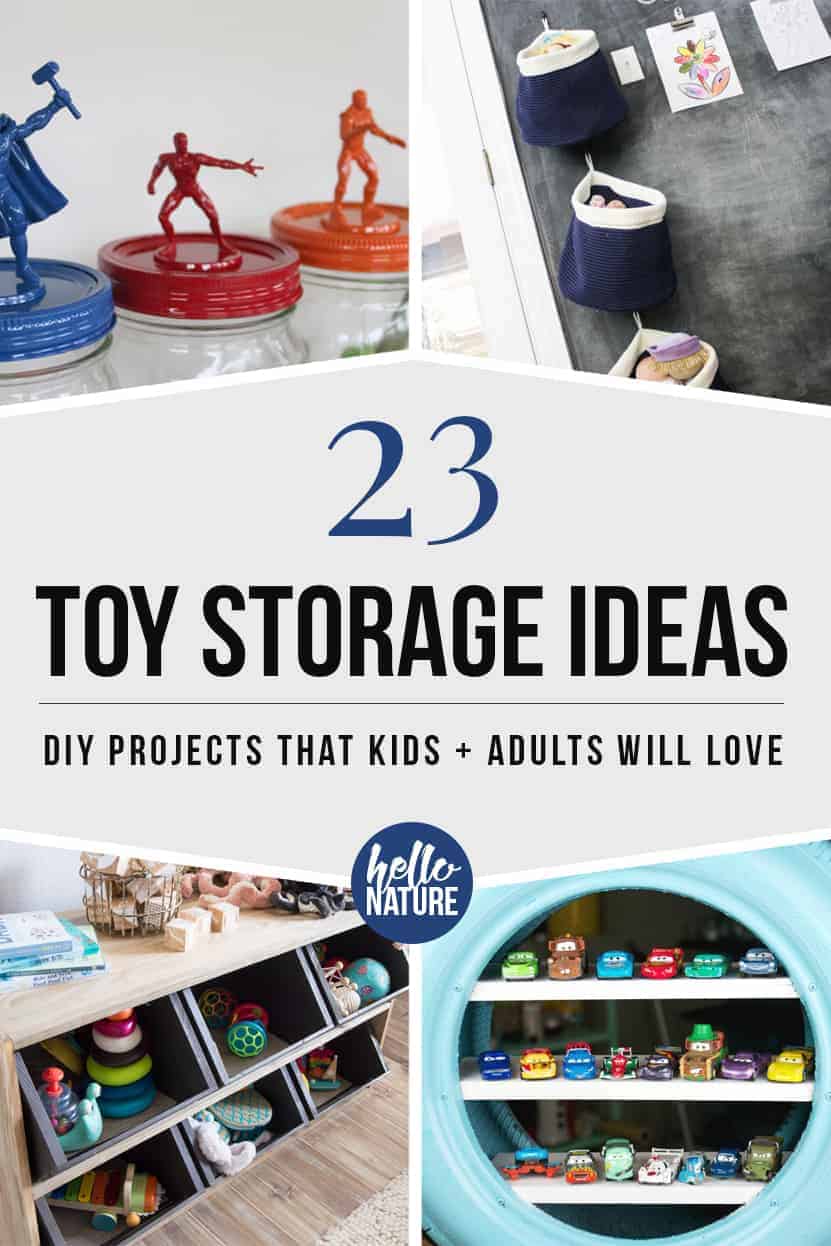 I don't know how it happened. We went from a house with so few toys that it hardly looked like a baby lived here to a house that looks like ten kids reside here.
Where does it all come from?
When did it all get here?
I'm convinced someone just dropped off a truckload of toys in our house when we were sleeping. But instead of being concerned about the possible break-in, I'm just desperately searching for clever ways to store toys.
If you're the victim of the mysterious overnight toy drop-off as well, I'm hoping these DIY toy storage ideas will come in handy for you, too!
23 Clever Toy Storage Ideas
Versatile Living Room Toy Storage Idea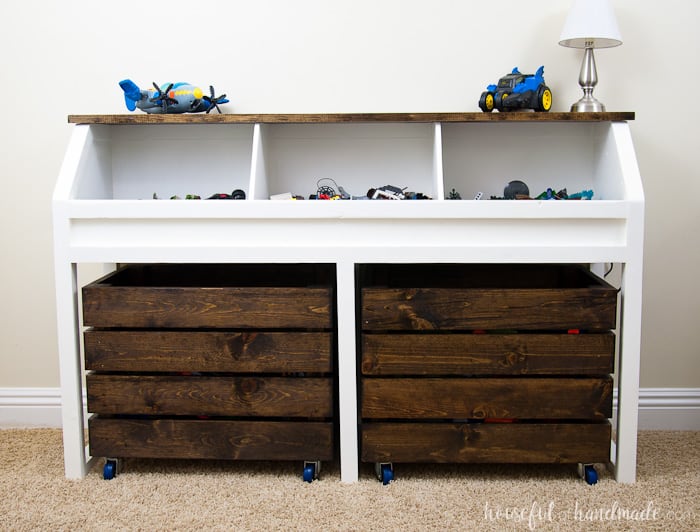 This is such a great way to store toys without making it look like your house has been overrun by your children! This toy storage idea is a great way to store small and large toys.
Bathroom Toy Storage Idea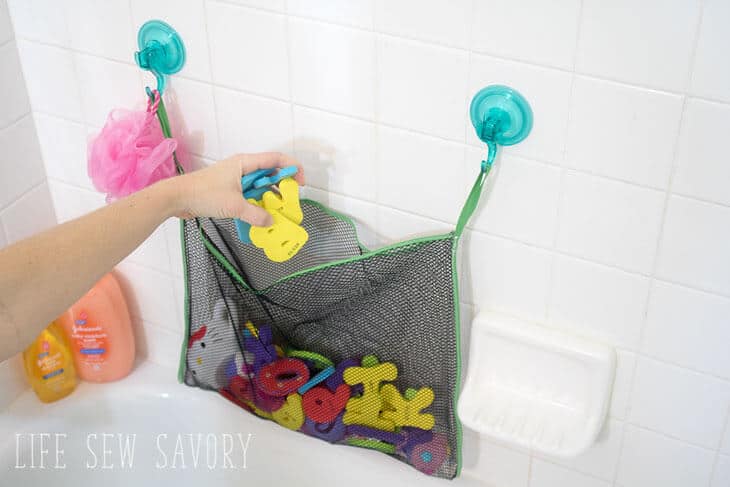 I hate when I want to go take a nice relaxing shower (which rarely happens, by the way) and I'm greeted with a mess of bath toys in the tub that I need to clean out first. This is a great solution!
Toy Storage Idea For Every Room In Your House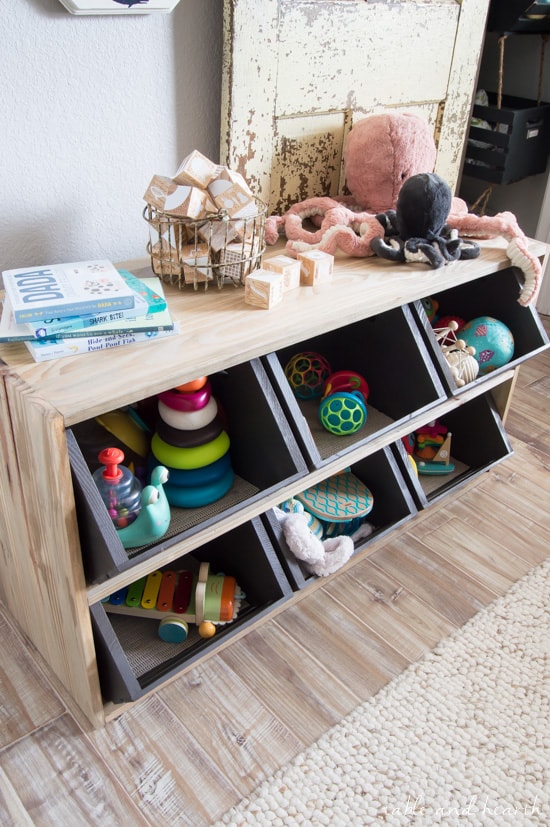 I looove how this crate toy storage shelf came together and I so badly want one of these in our living room and mud room. It would work for SO many things beyond toys.
Organize A Child's Bedroom with Chalkboard Labels
This is a great hack for the bins and storage solutions where you can't easily see everything that is inside of them. With just a little bit of effort, you'll have everything labeled and organized in no time.
Custom Children's Bedroom Storage Idea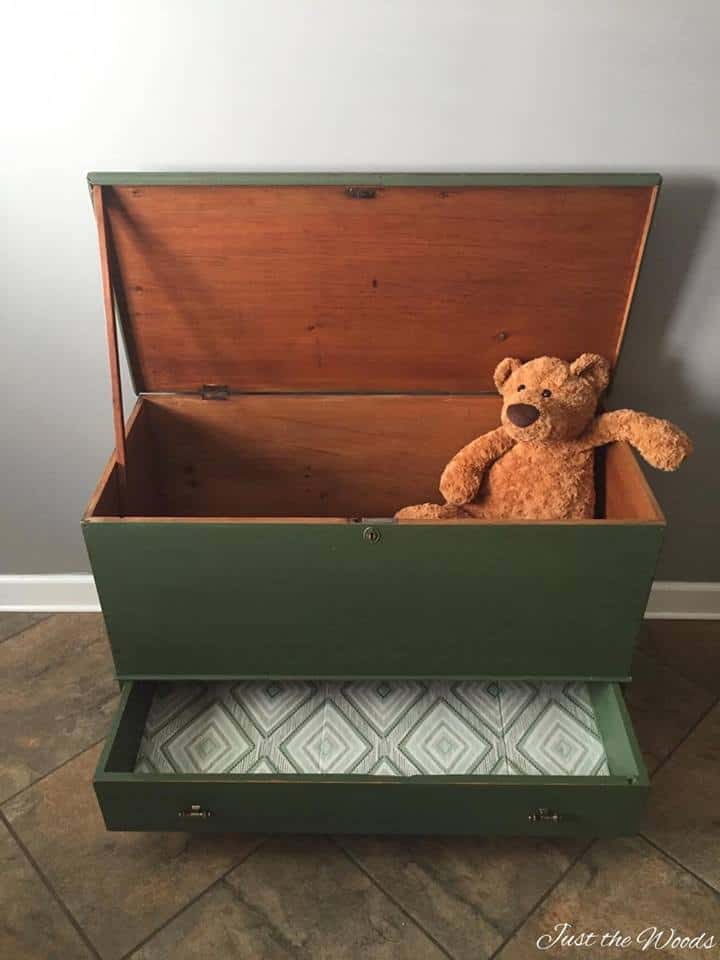 We have a few old storage chests that would be awesome to convert into toy boxes! You can possibly find these pretty cheap at certain types of thrift stores, making this fun and cheap way to organize a child's room!
Organize A Child's Bedroom with Rubbermaid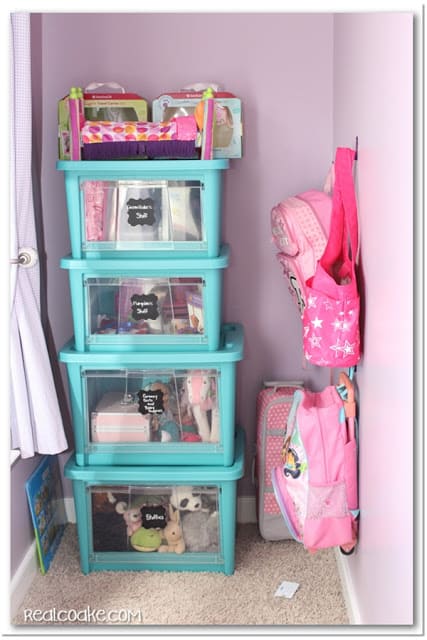 Prefer to see everything that's in the bins in your child's room? Use these Rubbermaid organizers! Such an easy way to make sure you know where everything is.
Jar Storage Ideas with Figurines
I shared a similar hack for a DIY dog treat container, but I think this idea is SO clever for smaller kids toys. Especially because you can use different figurines on top (animals, superheroes, buildings, etc) that match the toys that are in the jar.
Playroom Toy Storage Idea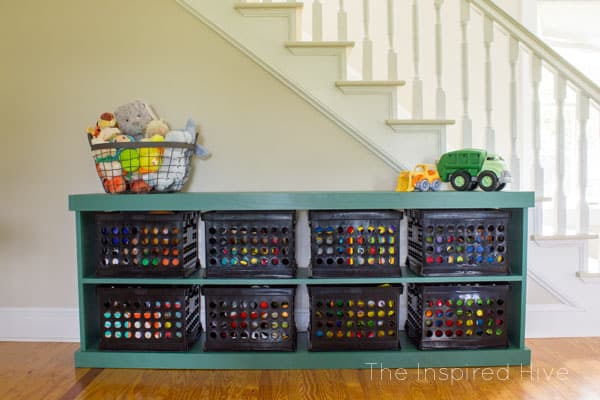 This is a great way to store kids in a playroom or even in a walkway. I love how much surface space is on top for miscellaneous items.
Modern Toy Storage Idea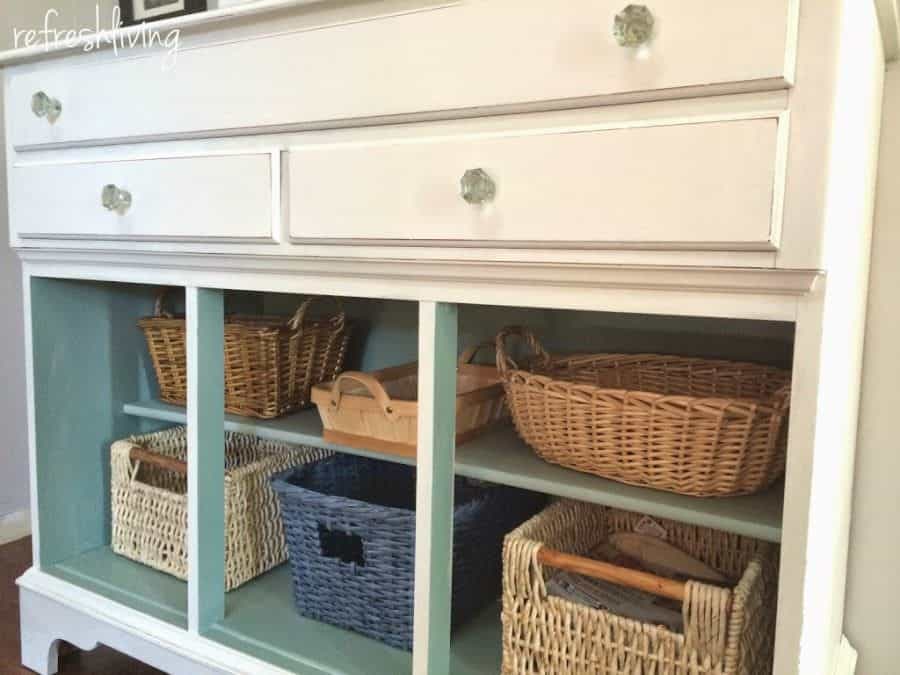 If you're looking to store toys without drastically changing the look of your home, this is the toy storage idea to pursue! It's modern and fresh with plenty of storage space for toys. Plus, it can easily still be a functional buffet on top.
Easy Lego Storage Center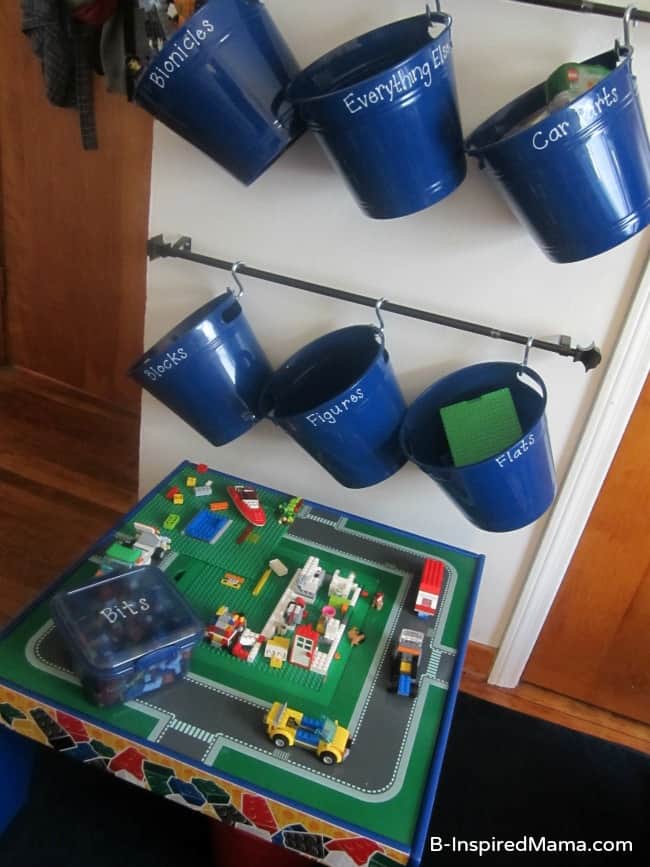 This is a great way to store Legos while you're playing and when you're all done. It keeps everything organized and off the floor so you're less likely to step on them.
Easy DIY Toy Storage Idea for Kids and Pets
If you're looking to organize toys, I love this popcorn tin hack. I never know what to do with ours. This clever toy storage idea works great for kids and dogs!
Inexpensive Toy Storage Ideas
Currently, most of our magnetic toys are just shoved in bins or drawers. But this is such a simple (and fun!) way to store them so they don't get lost.
Paint Can DIY Toy Storage Idea
Need something fun to do with your paint cans? Use them for toy storage! This easy toy storage idea is a great way to customize your storage containers to match your space.
Hanging Playroom Organization
If you're looking to use vertical space for toy storage, this is a great idea! It's an easy toy storage idea that can work in a variety of spaces!
Toy Storage Idea for Small Spaces
While this is for Matchbox cars, I think this is a great tutorial for any room – especially small spaces. It can fill up a wall behind a door or even higher up above a piece of furniture. It could be used for small toys or even accessories or smaller articles of clothing.
Playroom Idea for Toddlers
If your toddler is too big for the pack and play now, this is a great way to repurpose it! We have a few balls like on the top and I have no idea how to store them so they end up scattered. This is perfect for all of her stuffed animals, too!
Upcycled Toy Storage Idea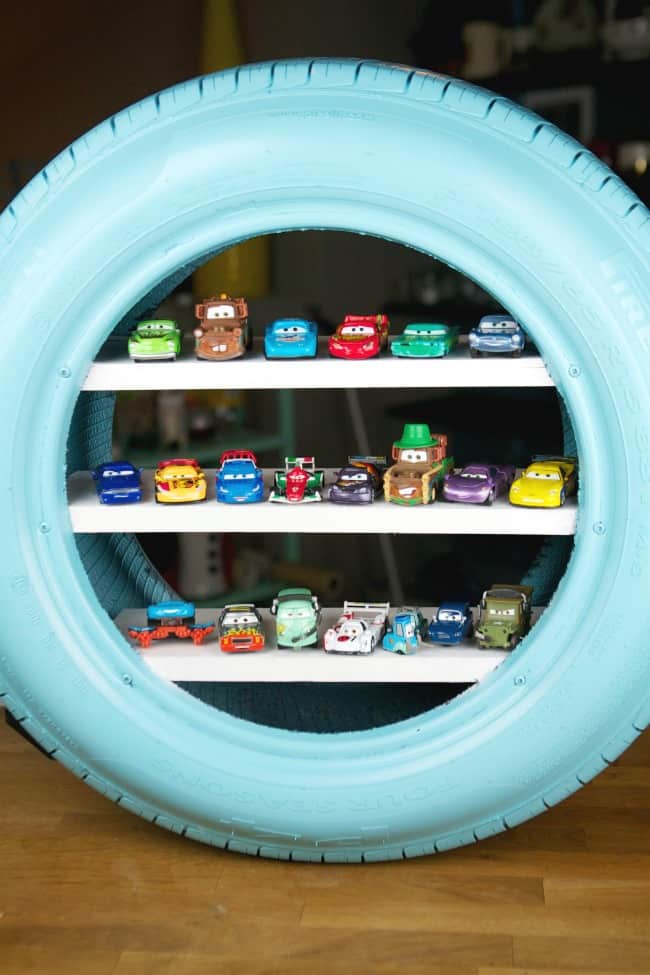 I love finding ways to use old tires. I've seen all kinds of fun planters this summer, but this toy shelf is my favorite use of an old tire so far! I love the color of it and the use is genius. I just want to decorate our house with used tire shelves now.
A Cheap Way to Organize a Child's Room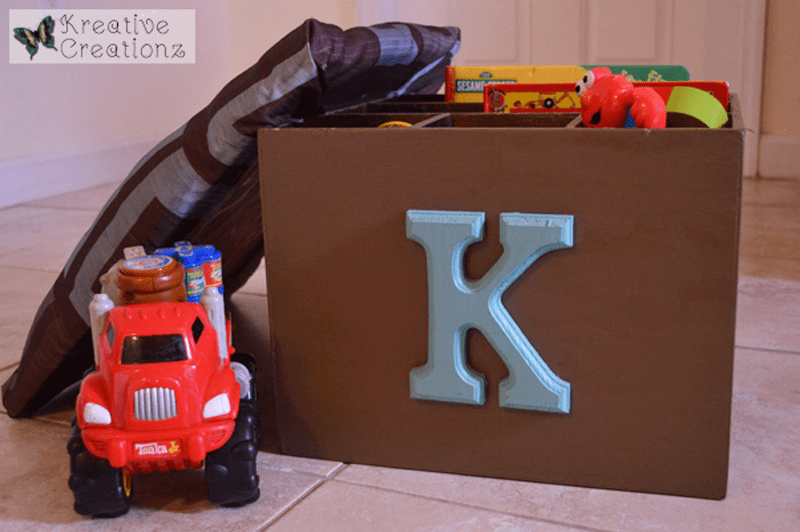 This shoe storage piece turned toy box is another great example of upcycling! I would never have thought to use something like this for toy storage and now I just want to find something like it so we can make one for our house!
A Clever Way to Store Toys Like Legos
We currently just have some large bins that have all of our Legos, but I'll be getting some of these for when Lily is older to sort them better! Such a clever toy storage idea for small toys!
Wheeled Crates for Toy Storage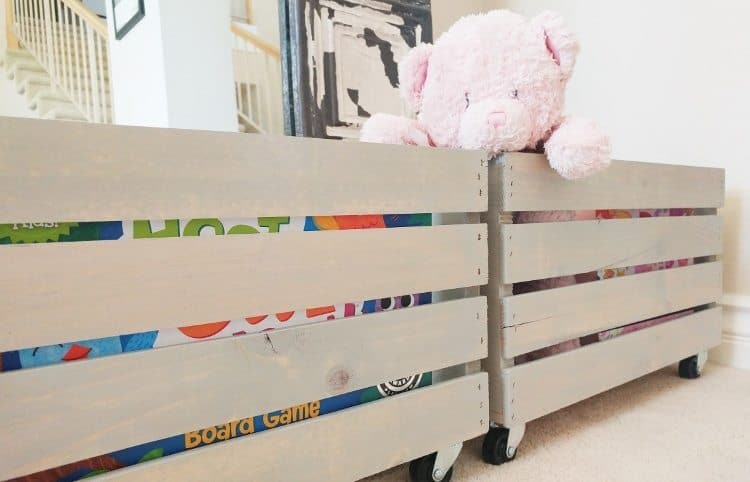 I'm digging all of the wheeled toy storage options because of how often we rearrange. Plus, we love to move toys outside during the summer and sometimes they go from Lily's room to the living room so this makes it so much easier. These crates are a great way to store some larger items you might want to move, too!
DIY Toy Storage Bins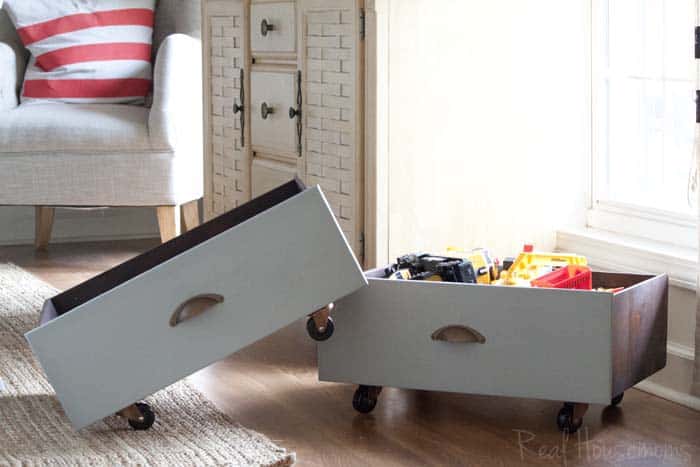 This is such a clever way to store toys! We've gotten a few drawers for other projects at ReStore and now I'll be looking for more the next time we go. I'd love to do this with some smaller drawers that can just be wheeled in and out of Lily's room.
Organize a Kid's Room with Clear Bags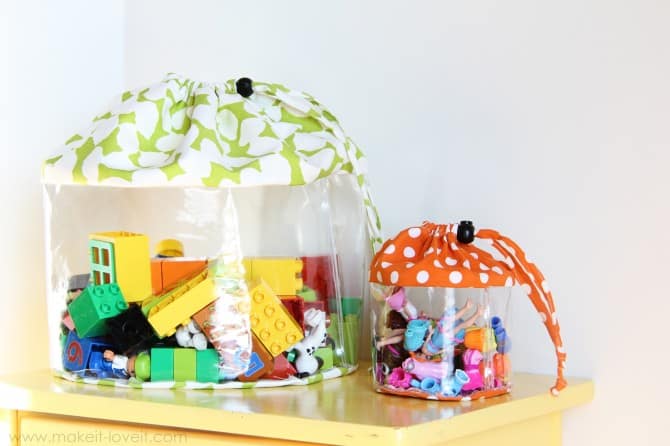 One thing I dislike about a lot of bins/storage solutions for kids toys is that you can't actually see what's inside of it. That makes finding the ONE precious toy that they need this minute impossible. These clear bags are a simple solution to this!
Toy Storage Idea for Small Rooms
This toy storage idea for small spaces is so easy and clever! It's a great way to store books and smaller toys that are generally left out for me to step on.
Looking for even more storage solutions? Check out these 20 Awesome IKEA Hacks You Have to Try, this Rustic Wood Storage Crate DIY, or this Simple Storage Hack for the Kitchen.