This super simple storage hack for our pantry has saved us space and time. With just a few supplies, you can easily and quickly store all of your favorite wraps and foils in the kitchen.
This post is sponsored by Reynolds KITCHENS™ but the content and opinions expressed here are my own.
Storage hacks are a BIG deal for us. Our home is definitely not small, but it's lacking in storage. Closet space is limited. Shelving/drawers were built deep and things get lost all the time.
Luckily, we've learned a few storage hacks over the years. These hacks save space in our cupboards and time spent looking for lost items.
My latest hack?
A storage hack with magazine holders for our pantry:
We've had a few of these holders for a few years and they just collected papers. They did their job, but they weren't really helping us stay organized like I hoped.
Until recently when we repurposed them.
I would have loved to do this with a cabinet door, but all of our cabinets have shelves that prevented it. So we used an empty wall in our pantry that was just waiting for some organizational tools.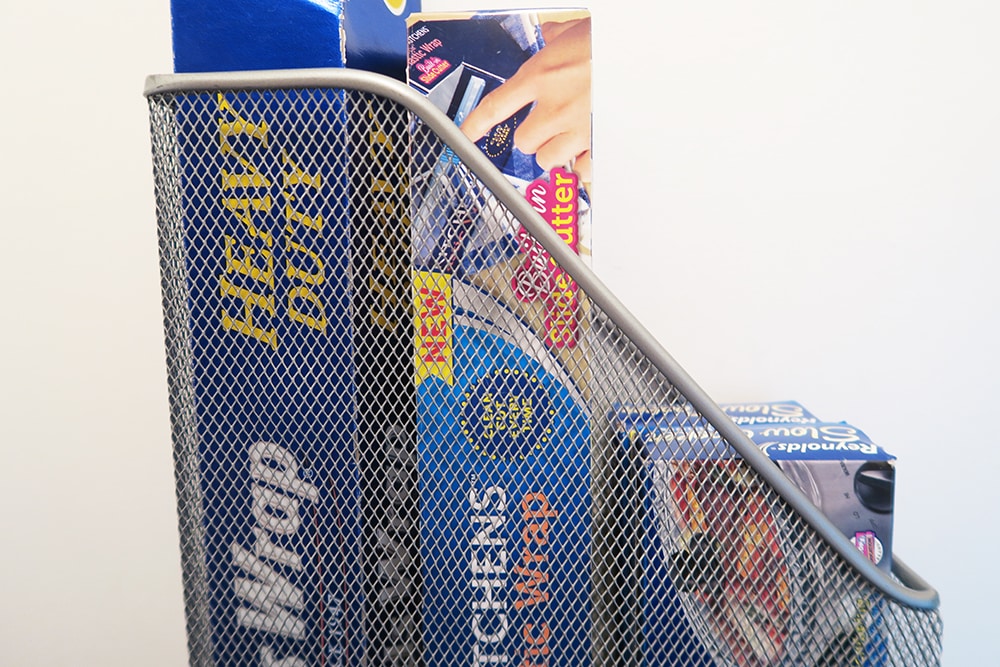 The DIY part of this is super simple.
We used three nails – one at the tallest part of the slope, one at the bottom and one roughly in the middle. We marked where we wanted the nails, pounded them in, pulled them out and then lined up the magazine holder to repeat for the other nails. At the end, we put all the nails through the little holes on the magazine holder and pushed them in. This was so we didn't have to try to hammer between the two sides of the holder.
This simple hack holds some of my favorite kitchen wraps, foils and papers and makes baking, cooking, food storage and more so much easier. It also includes my new favorite plastic wrap: Reynolds KITCHENS® Quick Cut® Plastic Wrap.
Now if you're like me, you're probably thinking "Plastic wrap is plastic wrap. No big deal!" I totally thought that before we opened the box. And it's so not true.
The Reynolds KITCHENS® Quick Cut® Plastic Wrap is actually super user friendly, which can't be said about most plastic wraps.
It's built-in slide cutter ensures a clean cut, every time while the starter edge™ makes it easy to find the start of the roll. Not only that, but each roll is automatically held in place to keep it in the container while dispensing it.
Who else has ended up with plastic wrap rolling on the floor, collecting crunched cereal from their toddler, instead of easily being placed on their dish?! It can't just be me.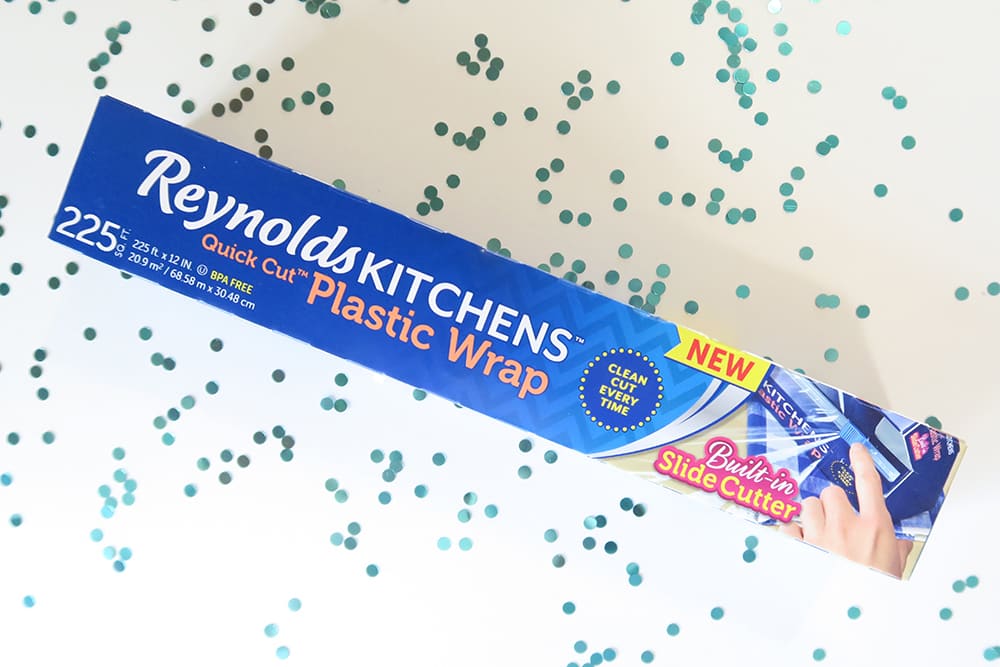 Both of these things are small victories for me – a way to store things that don't get buried and a plastic wrap that does what it's supposed to do – but they feel huge when I'm in the kitchen. It's hard enough to cook with a little one following you around, constantly asking to be held. I'll take all the help I can get.
And since we're on the subject of small victories, I learned something very important the other day. Like mind-blowing, life-altering important:
You can prevent freezer burn on your ice cream with a simple sheet of plastic wrap.
Okay, so it's not curing cancer or anything, but if you're an ice creamaholic like I am, this is kind of a big deal. While most cartons in our house don't last long enough to get freezer burnt, sometimes I go a little crazy when I'm shopping.
And we end up with multiple cartons.
And then I switch off from which one I want and freezer burn happens and I'm super sad that our frozen delicacy is no longer as delicious.
But no more!
Now I can just grab the Reynolds KITCHENS® Quick Cut™ Plastic Wrap from our pantry, cut a piece off, and put it on top so the ice cream is safe and sound.
Now go and make your life easier and get the new Reynolds KITCHENS® Quick Cut™ Plastic Wrap. Find the closest location to purchase it using the Reynolds Kitchens store locator.
Looking for even more storage solutions? Check out these 20 Awesome IKEA Hacks You Have to Try, this Rustic Wood Storage Crate DIY, or these 23 Clever Toy Storage Ideas That Kids Will Love.