This is a sponsored conversation written by me on behalf of Pampers Pure at Walmart. The opinions and text are all mine.
Everyone has advice to give you when you're pregnant. Here's the one piece of advice that I wish I would have received as a new mom. Also see why we're loving the new Pampers Pure Diapers and Pampers Aqua Pure wipes.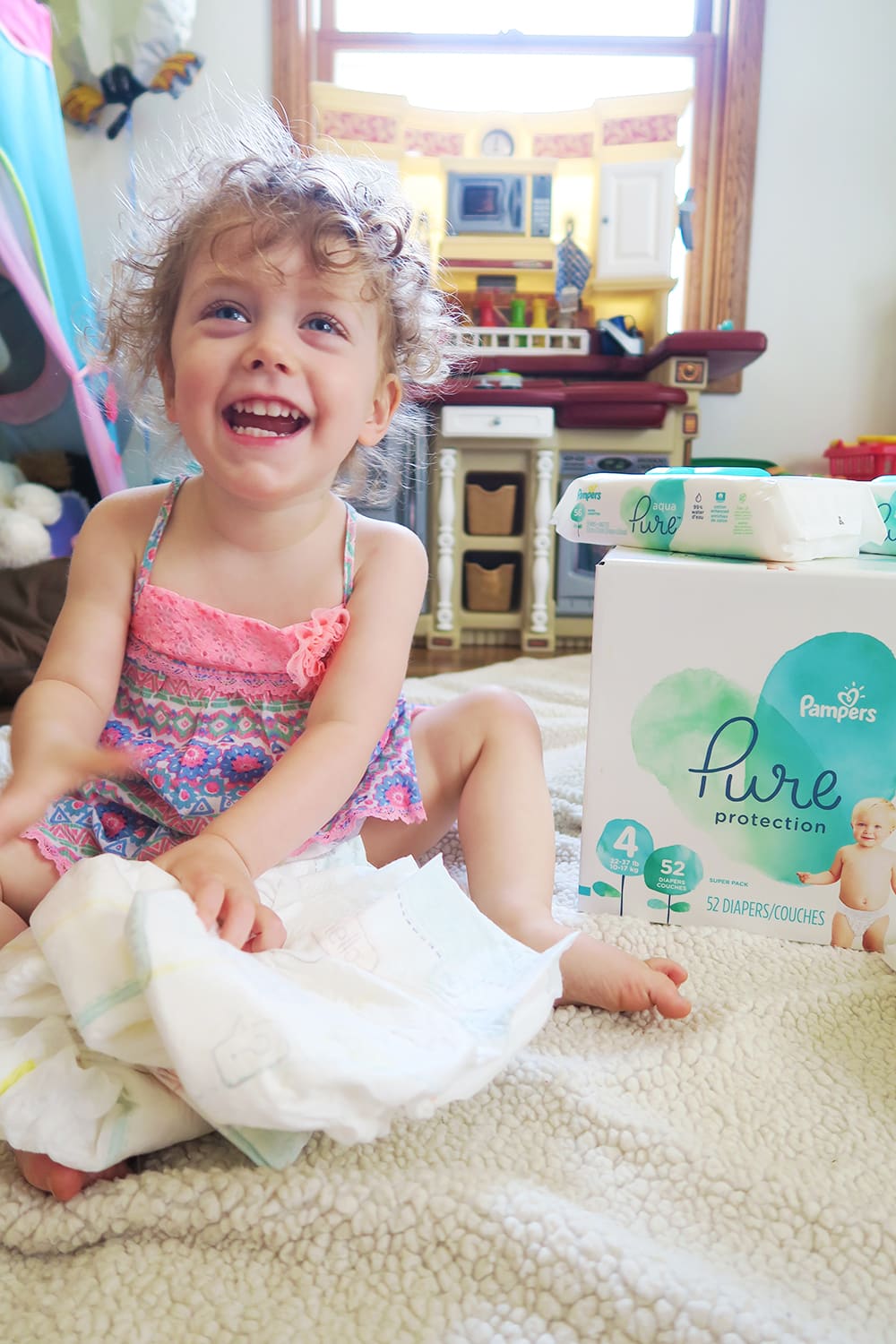 The advice I received while I was pregnant was endless. It seemed like every corner I turned, there waited a family member or friend or even a stranger to tell me what I should/shouldn't do as a new mom.
It was overwhelming.
And truthfully, not much of it lasted long in my head because it was already crammed full of a mile long to do list before Lily arrived.
But I wish someone would have told me something that I think has taken me about 18 months to learn on my own.
I wish someone would have told me to pick my battles.
It sounds so simple.
Aren't you supposed to do that with everything? Aren't you supposed to decide to ignore or let go of those minor, unimportant things so you can save your energy for something that's waaaay more important?
In a perfect world, that's exactly what I would do. And you know what – I'm sure my relationships, and career, and house, and everything else in my life would thrive because of it.
But I wish someone would have really pushed for me to pick my battles when it came to raising a child. Because sometimes… I get caught up in a lot of super unimportant, minor things. And there are days where I've exhausted my energy before the day even truly begins.
The battles are endless with a child.
How/what they eat, where/how they sleep, what they learn, how they play, screen time or no screen time, daycare or no daycare – the list is endless. You're fighting these battles every single day. You're trying to guarantee the best when sometimes what you think is the best isn't even an option.
And that's just with your actual child.
What about all the "stuff" that comes with a child?
The types of toys they play with, the clothes they wear, the type of crib or stroller to get, the perfect car seat, what type of diapers to use, etc. These battles are hard to win because there's always something new coming out and money isn't endless.
I'm grateful that a battle we never had to fight was what diapers were right for Lily. We started with Pampers Swaddlers and now we're switching to Pampers Pure Diapers
We're making the switch because Pampers Pure Diapers protects baby's skin with 0% chlorine bleaching, fragrance or parabens. Not only that, but they're clinically proven hypoallergenic and are made with cotton and soft, plant-based fibers. With 12 hours of leak protection and how comfortably they fit her – it's a no brainer for us.
I'm also excited about the new Pampers Aqua Pure wipes. These wipes are made with 99% water and are free of alcohol, parabens, dyes and fragrance. These cotton-enhanced wipes are perfect for getting the job done.
These diapers take away a portion of my worry. They make a battle that I've seen many mamas fight disappear entirely for me. Especially because they're available from Walmart stores and Walmart.com (with FREE shipping on orders over $35!) so even purchasing them comes easy. And for that, I'm grateful.
Because these battles – they're tough on mamas.
They leave us nervous and unsure if we're making the right decision. But they also make us hopeful that we're doing what's best for our child. Unfortunately, we just never know for sure that what we're doing is going to work out so it feels like a constant push and pull from nervous to hopeful and back again.
Maybe we can just chose to focus on the things that are most important to us. Like selecting quality diapers so our babies are comfortable all day and showing our babies that they are loved.
And maybe we can just let some things slide. Like a little extra screen time or getting takeout because we're just gassed for the day.
Maybe then we could find a little grace, stop beating ourselves up, and bring back some of those joy-filled moments that babies naturally bring to us.
PIN ME↓
Comments submitted may be displayed on other websites owned by the sponsoring brand.
This is a sponsored conversation written by me on behalf of Pampers Pure at Walmart. The opinions and text are all mine.