This is a sponsored post written by me on behalf of Tetra Pak. All opinions are 100% mine.
Environmentally friendly shopping sounds much harder than it actually is. Eco friendly products can be found in every aisle of the grocery store. Learn how to become a more environmentally friendly shopper with this quick guide.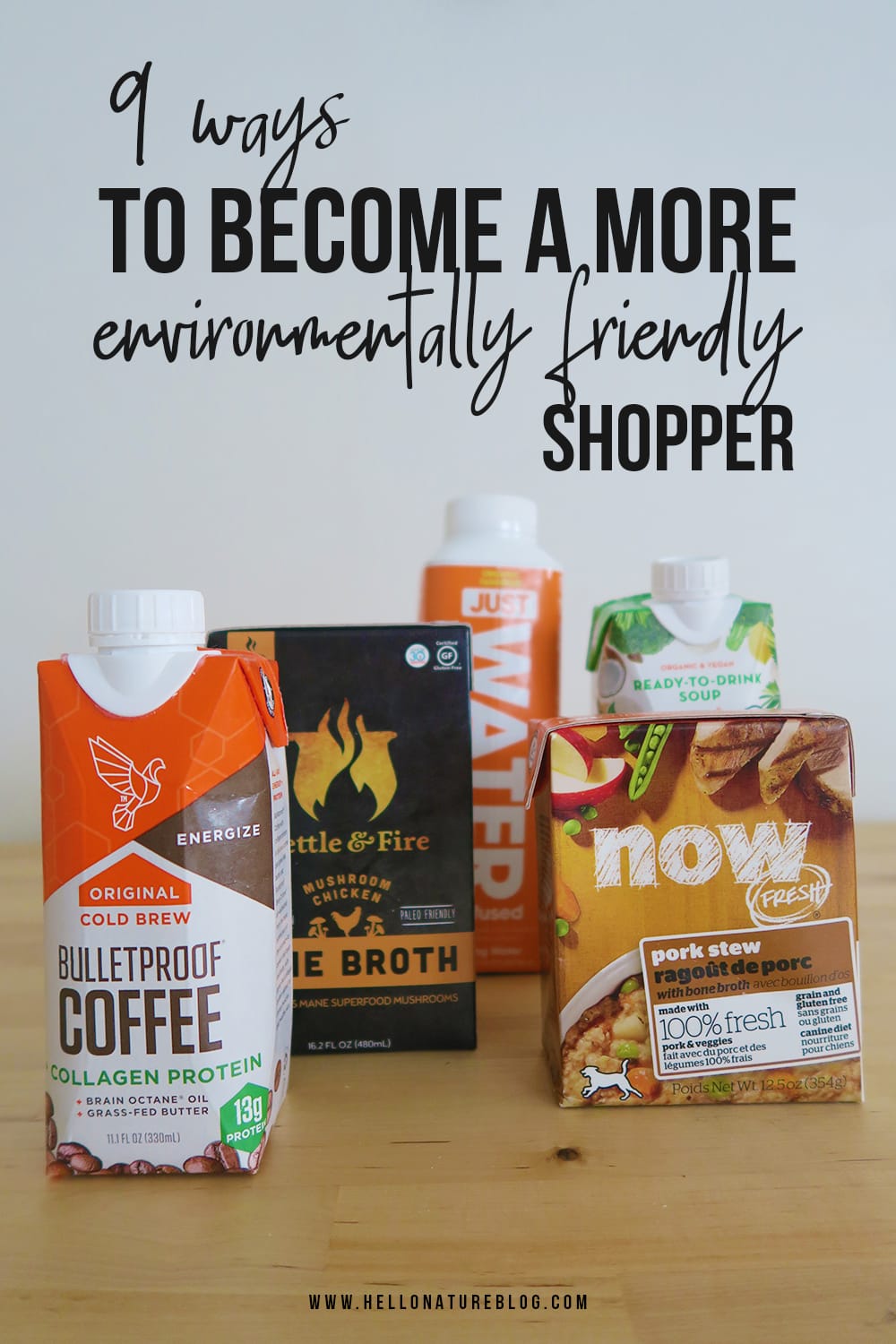 In a perfect world, environmentally friendly shopping would be a given. All packaging would be created equal and there would be minimal waste when it comes to the food or packaging that we purchase.
Unfortunately, we don't live in a perfect world.
Luckily, we can make choices to purchase more eco friendly products and make our shopping habits more green.
To become a more environmentally friendly shopper, you need to really think about the product you're buying. Specifically, you need to think about the effects the product/product packaging has on the environment when you make the purchase.
Learn how to select more eco friendly products and pursue being a more environmentally friendly shopper with these nine tips.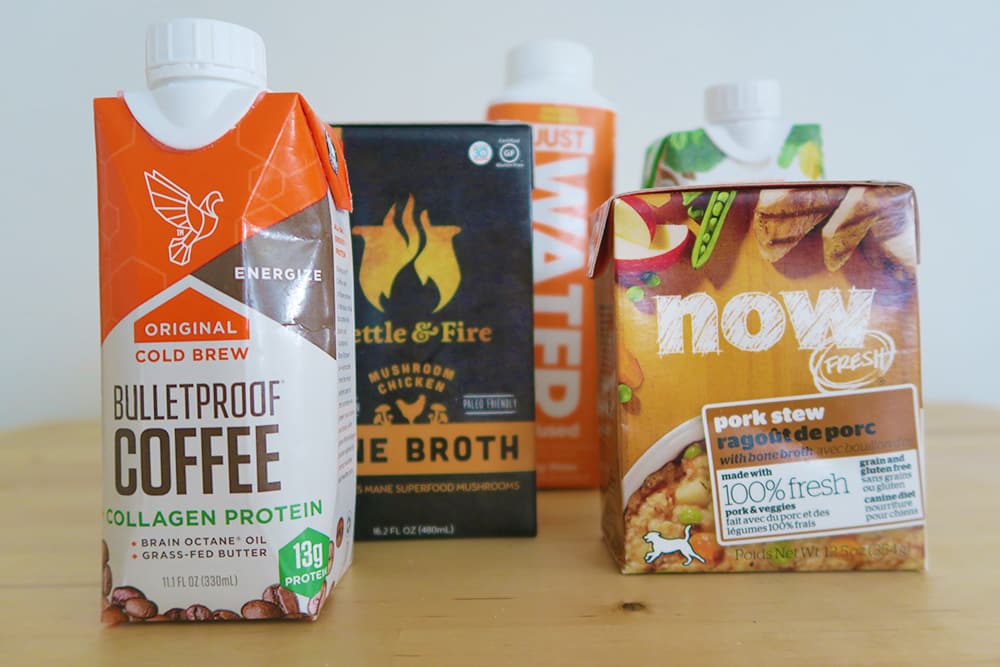 Opt for Recyclable Packaging
Recycled or recyclable packaging is much more environmentally friendly and sustainable. When you can't purchase reusable eco friendly products, recyclable is the next best thing.
We love selecting food products packaged in Tetra Pak cartons because of their recyclable packaging. Their cartons are made of renewable materials from sustainable sourcing. This means they help protect natural resources while reducing climate impact. So not only do Tetra Pak cartons help protect our food, they help protect our environment and our future.
Buy in Bulk or Select Minimal Packaging
Buying in bulk allows for less packaging to be used which means fewer resources are used for the final product. This also means there is less than is likely to end up in the growing heap at the landfill. Just be sure to only buy what you can easily consume, or consider the next tips.
Share/Borrow
If you're buying in bulk and can't consume enough of the food before it goes bad, consider sharing with friends. Or if you just need to use an item once or twice (think yard tools, kitchen gadgets, power tools, etc) – considering borrowing from a friend. If you don't have a friend with the tool you need, many hardware stores rent out tools for a few days.
See other ways to save money on produce.
Choose Reusable Goods over Disposable Goods
Looking for an easy way to select eco friendly products? Opt for ones that are reusable, like reusable water bottles or rechargeable batteries. These will last longer, will product less waste and should result in less energy being used to create the product since you'll need to buy fewer items.
This is another great reason to choose Tetra Pak cartons. They are a great alternative to plastic and are still durable, high quality, and convenient.
Buy Secondhand
Nothing says eco friendly products like secondhand goods. For things like clothing, shoes, toys, housewares and more – consider shopping used. This requires fewer resources since a new product does not have to be created.
Look for Energy Efficient Products
Buying new electronics? Pay attention to the ones that say that they use less energy. Make sure the appliances and electronics you're considering are a part of the U.S. Environmental Protection Agency and the Department of Energy's Energy Star program to ensure you're making a smarter choice.
Use Household Items for as Long as Possible
Sure, that hybrid car is probably a better option for the environment. And that new washer and dryer you want are most likely more energy efficient than your 15 year old washer and dryer. But do you really need a new car or washer and dryer yet? Energy and resources go into producing new items. If your car is still running, drive it! And if your washer and dryer are still, you know – washing and drying clothes, keep using them.
Eco friendly products are only the smart choice when you have to replace them because they're no longer performing like they should.
Think Ahead
Impulse purchases and purchases made when we're in a hurry aren't always the most eco-friendly purchases. When you don't have time to research what you're buying, it can be tough to be an environmentally friendly shopper since eco friendly products aren't always easy to spot. So when you can, think ahead and try to plan for life's busy moments. Skip the impulse purchases. And when you're likely to make decisions in a hurry, try to plan ahead.
For us, that means planning ahead for our travels. We love shelf-safe products that come in Tetra Pak cartons because they're portable, convenient, and don't require refrigeration before opening. They're great for road trips, camping, and when we're away from home for the day.
Use a reusable shopping bag
Many cities are banning plastic bags while others are taxing you if you don't use your own bag making this an eco-friendly and money saving option. Buy your own bag (make sure it's durable so you don't have to keep replacing it) and bring it to the store to purchase your groceries. And when possible, skip the plastic produce bags for your own to reduce your waste even further.
To be an environmentally friendly shopper, sustainability is the main goal. And the best way to do all of this is to focus on the reduce, reuse, recycle mantra.
Reduce the amount of purchases you make so you don't buy unnecessary products (and even reduce the amount of food you waste.) Reuse as much as possible from the product packaging itself to how you carry/store the products. Recycle as much of the product packaging as possible and compost what you can from the food and packaging to yield less to zero waste.
PIN ME↓