Not only is this Instant Pot Rice Pudding recipe quicker than traditional stovetop rice pudding, it's creamy and custard-like consistency is to-die for! It will quickly become one of your favorite easy Instant Pot recipes!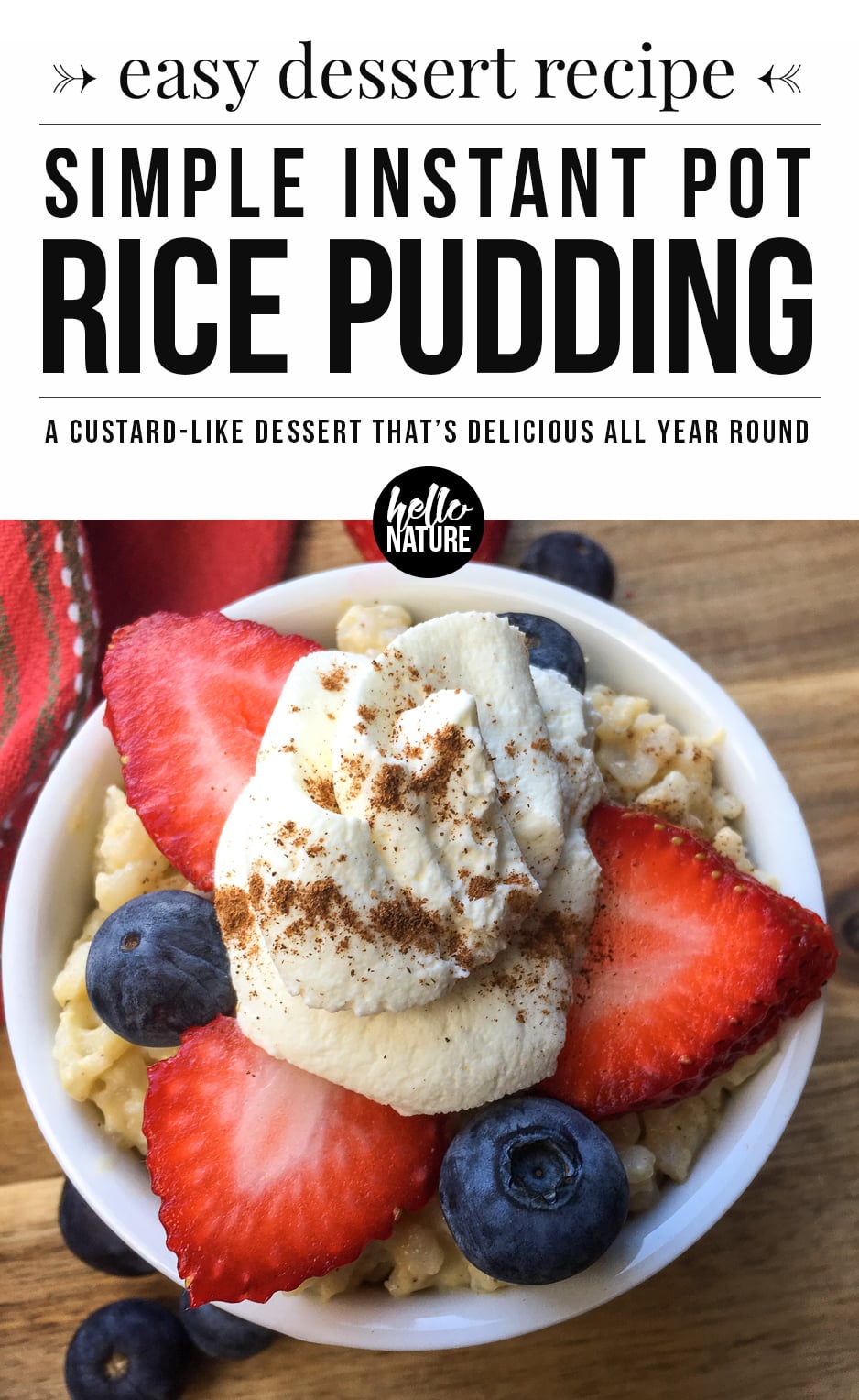 I have quite a few food-related memories, most of them revolving around vacations since we don't tend to eat out that often at home. There are certain foods that stick with me and every time I eat them, I think back to moments in time that are forever etched in my memory.
And while this is fairly common for me, it's rare that I have two distinct memories related to some of my favorite foods. But rice pudding is one of those rarities for me.
The first memory I have is when we went to Mexico and they had it at one of the all-inclusive resorts. It was the perfect hot weather dessert and I always scooped from the sections that had extra cinnamon sprinkled on. I probably consumed my weight in rice pudding over our stay, but it was totally worth it.
The second memory I have is eating it with my grandma when we stayed with her a few years ago. She raved about how good it was and how excited she was to find it at Costco, her second favorite place to shop. I remember eating it constantly with her at her kitchen table.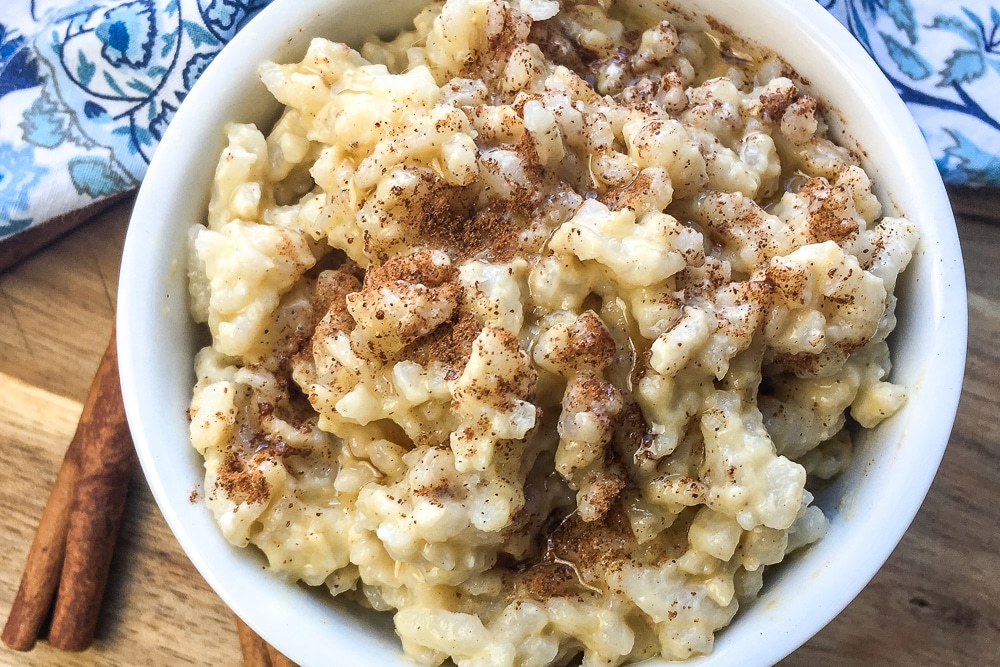 I never got around to making it at home because it took so long though. Luckily, we've gotten around that with this delicious Instant Pot Rice Pudding recipe!
Not only is this version easy to make, but it's even tastier than I remember the rice pudding tasting in both of those memories. This Instant Pot Rice Pudding is super creamy and has a delicious custard-like texture that is mouthwateringly good.
And while it's great on it's own, it's also delicious when it's jazzed up a bit.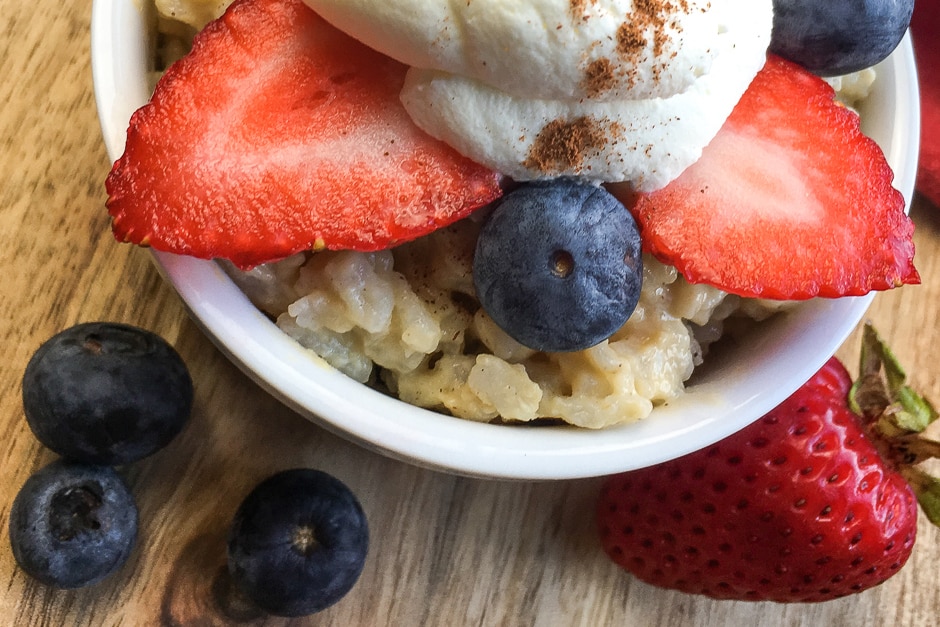 Some of my favorite Instant Pot Rice Pudding Additions are:
An extra sprinkle or two of cinnamon and maple syrup
Fresh berries and whipped cream
Sliced banana
Shaved coconut
Raisins
Warm berry compote
Or a combination of a few of these!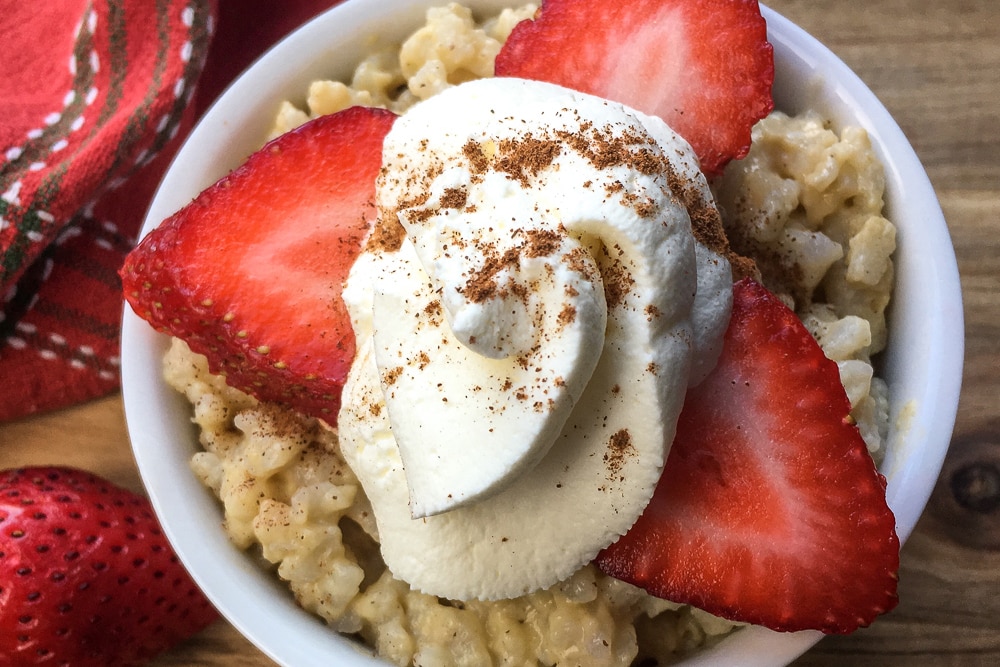 Instant Pot Rice Pudding Recipe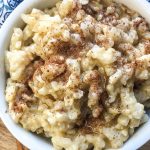 Instant Pot Rice Pudding
Ingredients
2

Tbsp

Extra Virgin Olive Oil

1

Cup

Arborio rice

Rinsed and drained

2 1/2

Cup

Almond Milk

Divided

2

Tbsp

Maple Syrup

1

Tsp

Vanilla Extract

1

Tsp

Ground Cinnamon

1/4

Tsp

Salt

2

Eggs
Instructions
Add the olive oil to Instant Pot and press the "Sauté" button. Adjust the heat setting to normal. Add rice and stir until it's coated in the oil and lightly toasted (approximately 2 minutes.)

Turn the Instant Pot off and add 2 cups of almond milk. Also add in the maple syrup, vanilla extra, cinnamon, and salt. Combine thoroughly.


Place the lid on the Instant Pot and lock it into place. Press the "manual" button and adjust the setting to high. Set cook time to 10 minutes and set the pressure valve to "sealing."

While that is cooking, whisk the eggs with the remaining almond milk in a medium-sized bowl and set aside.

When it's finished cooking, turn the Instant Pot off to prevent scorching. Allow pressure to release naturally for approximately 15 minutes and then release the remaining pressure manually.


Remove the lid and transfer a scoop of the hot rice to the beaten eggs. Whisk to combine. Repeat with another scoop of rice and then whisk the tempered egg mixture into the hot rice mixture in the Instant Pot.

Press the "Sauté" button and adjust the heat setting back to normal. Stir the mixture regularly until the pudding thickens and the egg is thoroughly incorporated. (Approximately 4 minutes.)

Turn the Instant Pot off and immediately remove the container to prevent scorching. Allow the rice pudding to cool slightly before serving or storing.


Serve warm, hot or even chilled and top with your favorite toppings/garnishes.
Recipe Notes
Optional toppings and garnishes include: fresh berries, whipped cream, warm berry compote, ground cinnamon, real maple syrup, raisins, and cinnamon sticks.
And if you're looking for more easy Instant Pot recipes, try these Thai-Inspired Instant Pot Chicken Thighs Recipe, this Simple 30 Minute Instant Pot Baby Back Ribs Recipe, Loaded Low Carb Cauliflower Soup, or you can make Instant Pot Iced Tea.
If you found this helpful, I would greatly appreciate you sharing this on Pinterest!