Just looking at the pictures of this recipe make me want to go back and remake the entire dish again. Because it's so easy. And so good!
We're trying really hard to make better choices with our food. But I don't want to feel like I'm missing out on the food I love. Which is why this eggplant parmesan with zucchini dish is so fantastic. It's vegetable packed, light on the not as healthy stuff, and it's super light.
And for me, that's key. Nathan loves Italian. Much to his dismay, I do not. I cannot stand heavy meals. I love to eat, but I just cannot stomach the meals that leave me feeling like I'm Violet from Willy Wonka. And a lot of Italian food that I like feels that way.
But not this dish.
Not even a slight resemblance to heaviness unless you count how much eggplant I'd pile on my plate.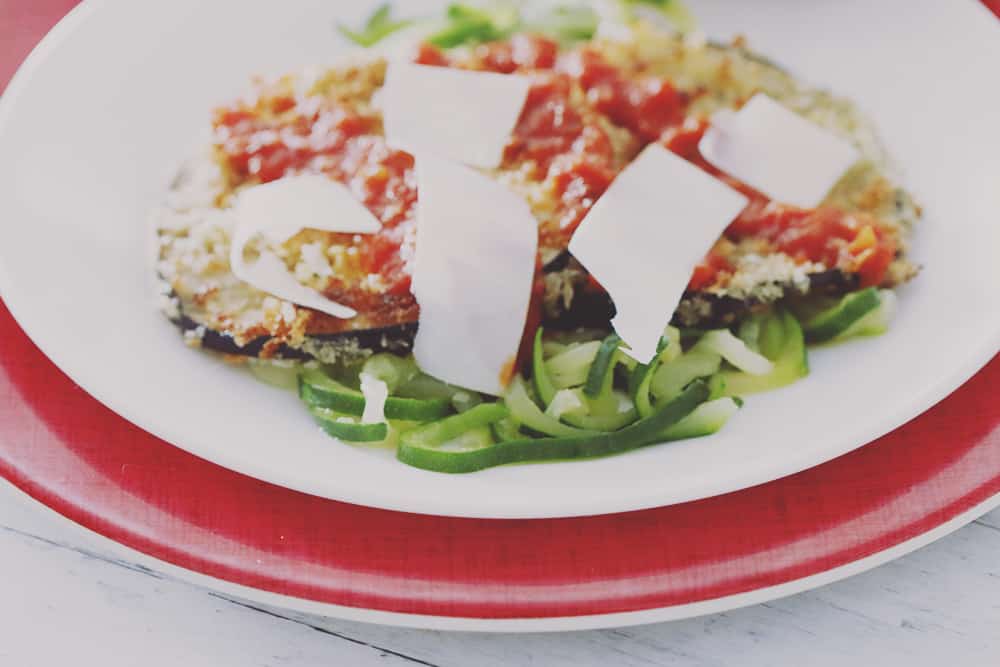 I think a lot of that is due to the noodles though. We spiralized zucchini with our KitchenAid Spiralizer.
Side note from the recipe: the spiralizer is also super amazing. It's so flippin' easy to spiralize everything. And I'm convinced that it makes everything taste better. If you don't own a KitchenAid or want something that's a little more inexpensive, we had a manual vegetable spiralizer that worked pretty well until we upgraded!)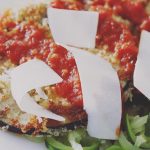 Eggplant Parmesan with Zucchini Noodles
Ingredients
1

Medium to Large Eggplant

3

Eggs

beaten

1 1/2

Cups

of Panko Breadcrumbs

2

Tsp

Garlic Salt

3

Tbsp

Olive Oil

2-3

Medium Zucchinis

3-4

Cups

Marinara Sauce

more if desired

Parmesan Cheese

optional
Instructions
Heat 1 tbsp oil in a pan over medium heat.

Beat the eggs in a shallow dish. Combine the garlic salt and breadcrumbs in a separate shallow dish.

Slice eggplant to approximately 1/8″ slices. Coat the eggplant in the eggs and then cover in the breadcrumbs.

Place in the pan and cook for 3 minutes per side, or until each side has started to lightly brown. Repeat with all slices.

While cooking the the eggplant, spiralize the zucchini according to the machine's instructions.

Boil enough water to cover the zucchini noodles and drop them in. Boil for 5 minutes.

Serve the eggplant slices on top of the zucchini noodles, top with sauce and parmesan cheese if desired.
See? SO easy! And if I haven't convinced you to indulge in this vegetable heavy dish on taste alone, eggplants are crazy good for you! Fiber and vitamin packed, they're also great for cardiovascular health and filled with antioxidant compounds. Good tasting food that is good for you = double win!
You might also like: