In need of some inexpensive date night ideas that aren't super cheesy? I've got you covered with this list of over twenty ideas. Date night will never be boring again!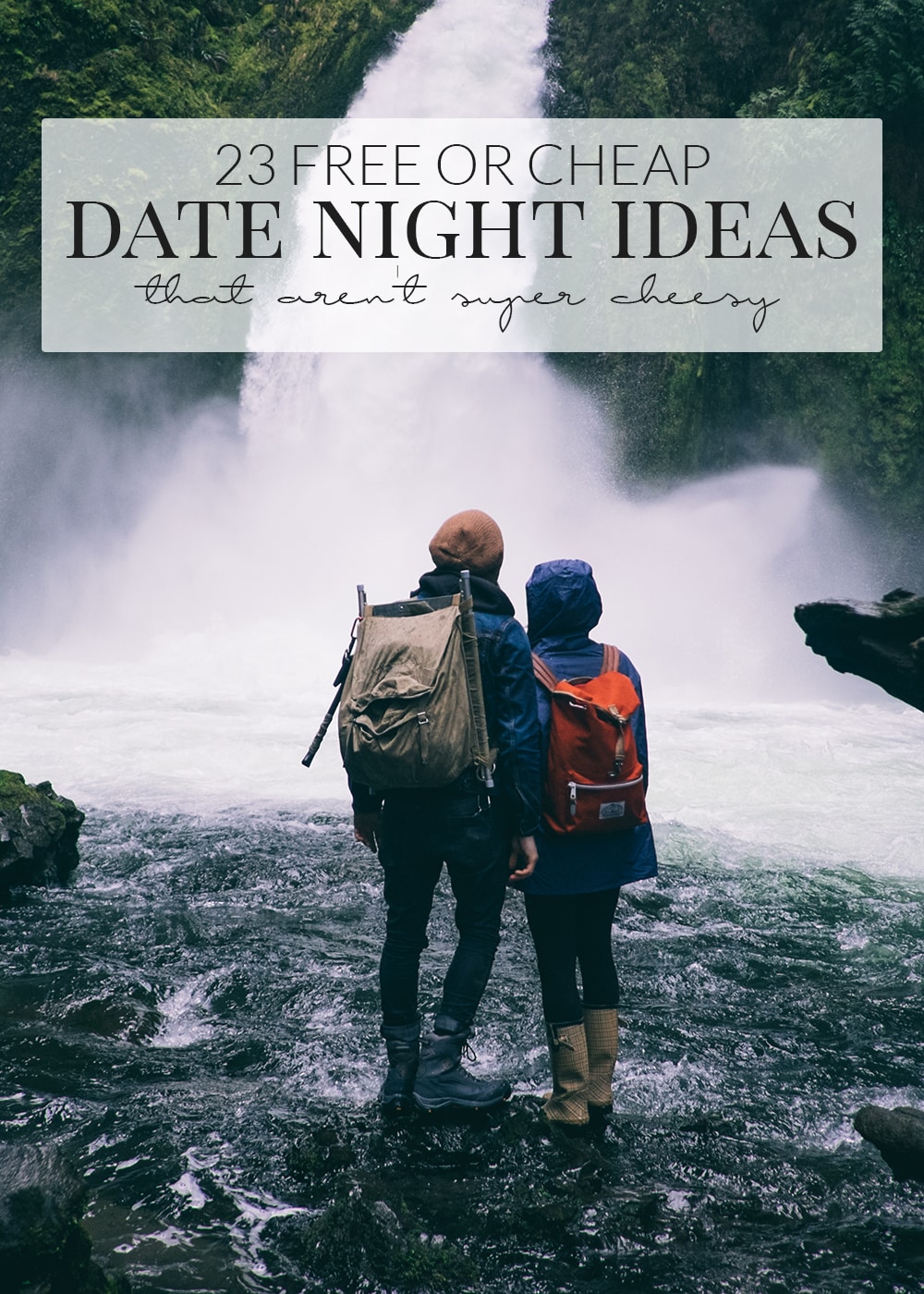 You can find a long list of date night ideas on Pinterest in seconds. Especially inexpensive date night ideas because frugality is super fun when you're trying to bring the romance back into your life.
What you can't seem to find as quickly are inexpensive date night ideas that aren't ridiculously cheesy. Spa days, dancing lessons, tandem bikes – no thanks. If that's your thing, more power to you. No judgement here. But I'm guessing it might not be since you're here, reading this post.
In our house, we don't do overly romantic.
We do however do easy and fun. Which is why in this list of inexpensive date night ideas, there will be no mentioning of feeding each other chocolates or bubble baths. Well, from this moment going forward there won't be at least. Mostly because A) I want all the chocolate to myself and B) I hate bubble baths.
Bring The Movies To You
Netflix Movie Night | If you each have separate queues, pick two movies – one from each queue. Have your significant other pick from your queue and vice versa. Don't have separate queues? Pick a few movies each, write them down on pieces of paper, crumple/fold the paper, mix together and take turns picking from the pile. (Can be done with TV shows, too.) Don't forget the Popcorn and Candy Movie Night Bites!
Host Your Own Drive-In Movie | Head out to the backyard with some blankets, pillows, movie snacks and your laptop to enjoy a movie night outside. Or, do what we did and get a projector and screen to really embrace the idea! Outdoor movie nights are pretty much my favorite thing to do when the weather is warm now.
Theme Night | Decide on a theme and have dinner and a movie that corresponds to it. For example, create your favorite Mexican dish and margaritas then watch The Mexican. Or make a meal similar to the meal you had at your reception, or even get a small cake from the bakery that made your cake, and watch The Wedding Singer.
Related Reading: 43 Free or Cheap Fall Date Ideas
Get Cooking
Visit The Farmer's Market | Head to your local Farmer's Market and create a meal based off of what you purchase there.
Choose Each Other's Meal | Go to a restaurant and pick out the other person's dish. (Hopefully you'd pick something you think they'd like or else I'm not sure that there will be a second date.) Eating at home? Cook each other a different meal instead!
Head to an Orchard | Go apple, cherry, or strawberry picking. See who can find the biggest or strangest piece of fruit.
Make Fondue at Home | I love going out for fondue, but if you ever look at the price compared to making it at home – it is CRAZY expensive. Make fondue at home with some cheese, chocolate and different dippers.
Make Drinks for Each Other | Make a drink (alcoholic or non) that you think the other person would like. Or give the other person certain ingredients that they need to make a drink out of.
Related Reading: 13 Fun Home Date Night Ideas
Head Outside
Go For a Hike | Head out to a local park or forest and hit the trails. Learn about the day hike or figure out what you need for a day hike ahead of time.
Have a Picnic | You can double up on your hike date and bring one along, too. If packing light is preferred, you can always grab a GoPicnic meal or two to share and bring along your own beverages!
Art/Concerts in the Park | We never took advantage of this as much as we should have, but the last city we lived in had music or art outside/at a park nearly every weekend. They're usually free or just a few dollars to get into.
Tour Your City | Act like you're tourists in your own city and check out TripAdvisor for must-see places. Who knows – you may even find something you didn't know existed!
Watch the Sunrise or Sunset | Find an area that you can get a beautiful view of the sun rising or setting, grab a blanket, and enjoy each other's company while you take in the views.
Head to a Local Park | Head to a local park and spend the day together their with each other or even your pups. Toss a frisbee, read, push each other on the swings, or get each other sick on the merry-go-round. (Just me? I used to love these and tire swings. Growing old sucks.)
Go Camping | This can even be done in your backyard, but a night spent under the stars and away from technology does wonders for actually connecting with your significant other. Check out the Best Places to Camp in All 50 States for nearby camping spots.
Go Kayaking | This is one of my favorite inexpensive date night ideas to do because I love the water. However, if either of you are A) uncoordinated or B) really sucky at working as a team, I'd suggest single kayaks. Otherwise you may end up more likely to be swimming than kayaking during your date. Just sayin'.
Related Reading: Seven Inexpensive Ways to Celebrate Valentine's Day
Everything Else
Go to a Book Reading | These are almost always free and you can grab a cup of coffee while you're there. Small, local bookstores are much more likely to have these and tend to create a much more intimate experience.
Head to the Museum | Most museums have free or reduced prices during certain days or times of the week.
Act Like a Kid Again | Relieve the things you used to love doing when you were a kid. Blow bubbles, draw with chalk, finger paint, make art with your food, etc.
Go Window Shopping | Even if you're not in the market to buy a home or a car, it never hurts to dream a little. Look at homes that are for sale in your area or test-drive your dream car. Or even plan a fake vacation (just like we did) – maybe you'll be able to actually go on it some day!
Go Thrifting | Head to your local thrift store and pick something out for the other person. Set a limit (say $10) and then part ways until you've found that perfect item. (This can be serious or funny depending on the route you want to go!)
Go Without Electricity | Turn off your iPhone, your laptop, the tv, and even the lights. Use candles and enjoy the evening without technology! Have a candlelit meal, play a board game, or even just talk. Check out how we celebrated Earth Hour for more ideas.
Build a Blanket Fort | No explanation because I don't care if you're 5 or 50 – blanket forts are amazing.
What are your go-to inexpensive date night ideas that aren't ridiculously cheesy? Share in the comments!